Mining Industry Apps
View


The latest from the
World Mining Equipment
2nd Hand Market
View





The World Grows Smaller



One re-occurring term readers will notice in this edition is complacency. Anglo American's new CEO Mark Cutifani warned delegates about it at the World Mining Congress (See : WMC) and it's mentioned again in CSR, Sustainability and the Mining Business (See: CSR). Defined as self-satisfaction accompanied by unawareness of actual dangers or deficiencies, it's a term that could be used to describe the state-of-mind of many mining companies in their approach to R&D, public relations, corporate social responsibility (CSR), sustainability and transparency.
When it comes to community relations, many of the top mining companies believe they are doing a great job and they are, especially compared to what was happening just five or 10 years ago. No one wants to brag, but it's safe to say that some companies are reasonably satisfied. At the same time, others are becoming more aware of the actual dangers related  to communication and community relations......... read more



Steve Fiscor, Editor in Chief

Cameco Starts Production at Cigar Lake
Cameco reported in mid-March that ore production is under way at its Cigar Lake uranium mine in northern Saskatchewan. The mining system and underground processing circuits are operational, and ore is being transported to the McClean Lake mill operated by Areva Resources Canada 70 km northeast of the mine site. Uranium concentrate production from Cigar Lake ore at the McClean Lake mill is forecast to ramp up to design capacity of 18 million........ read more
Western Australia: Most Attractive Destination for Mineral Investment


Fraser Institute's annual Survey of Mining Companies, 2013 ranks 112 jurisdictions worldwide for: government policies as they relate to mining, mineral potential, and attractiveness for mineral investment. The latter category, investment attractiveness, is a composite ranking that takes both government policies and mineral potential into consideration. The survey was released in early March. Jurisdictions posting the top 10 highest scores for the investment attractiveness....... read more

Top
FMC Splitting into Two Independent Companies


Food Machinery Corp. (FMC) announced on March 10 plans to separate into two independent public companies: New FMC and FMC Minerals. New FMC will be comprised of FMC's current Agricultural Solutions and Health and Nutrition segments; FMC Minerals will be comprised of its current Minerals segment, which includes its Alkali Chemicals and Lithium businesses. The company expects the separation, which remains subject to final board approval and other customary conditions, to take the form of a tax-free distribution of shares to existing FMC shareholders..... read more

Top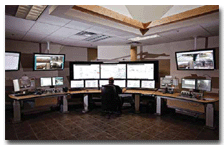 Vale Opens Newest Sudbury Mine


Vale celebrated the official opening of its Totten mine on February 21, after seven years of development and a budget of more than $700 million. Approximately 500 people were employed at the site during peak development periods. At the mine's opening ceremony, Peter Poppinga, president and CEO of Vale Canada and Vale's executive director of base metals and information technology, said, "Totten mine is Vale's first new mine in the Sudbury Basin in more than 40 years..... read more
| | |
| --- | --- |
| AROUND THE WORLD - USA & CANADA | |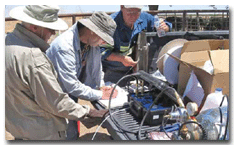 IC Potash Nears Construction Start at Ochoa Project


IC Potash Corp. has published the final feasibility study and announced completion and publication of the environmental impact statement (EIS) for its Ochoa potash project 60 miles east of Carlsbad, New Mexico. As of early March, the company was anticipating receipt of a Record of Decision from the U.S. Bureau of Land Management in April and start of project construction during the second quarter of 2014. Capital cost to develop the Ochoa project is estimated at $1.018 billion, with a payback period of 5.4 years. The financial model provides for...... read more
EPA to Further Review Pebble Project


The U.S. Environmental Protection Agency (EPA) announced of February 28, initiation of a 404(c) review process under the Clean Water Act "to identify appropriate options to protect the world's largest sockeye salmon fishery in Bristol Bay, Alaska, from the potentially destructive impacts" of Northern Dynasty Mineral's proposed Pebble copper-gold-molybdenum project. Initiation of the 404(c) process followed the January release of the EPA's "Assessment of Potential Mining Impacts on Salmon Ecosystems of Bristol Bay, Alaska,".... read more

Top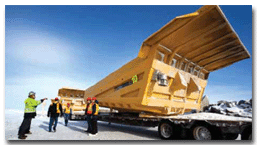 Gahcho Kué Diamond Project Remains on Schedule


De Beers and Mountain Province Diamonds reported in late March 2013 that, contrary to news reports, their Gahcho Kué diamond project in Canada's Northwest Territories remains on schedule for first production in the third quarter of 2016. The project is a joint venture between De Beers Canada (51%) and Mountain Province (49%). De Beers confirmed there had been no change in the project schedule and that "both partners are happy with the progress to date." A total of approximately 670 truckloads of equipment.... read more

| | |
| --- | --- |
| AROUND THE WORLD - Latin America | |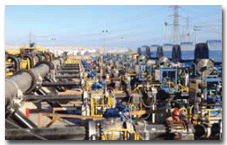 Overland Pipeline Completion is a Milestone for Sierra Gorda Startup


KGHM International recently announced that construction of a 142-km-long seawater pipeline for its Sierra Gorda mine in Chile has been completed. Sierra Gorda, which will be the world's seventh largest copper project, is more than 90% complete overall and on target for commissioning and initial production in mid-2014, according to the company. When completed, the project—which is located in Chile's Antofagasta region, the country's chief copper producing district— will produce copper, molybdenum and gold ore by open-pit methods. Downstream processing…… read more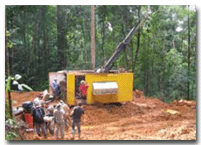 Columbus Gold Likes What it Sees in French Guiana


Columbus Gold Corp. has reported two recent developments in French Guiana that have positive implications for its 5.37- million-oz Montagne d'Or gold deposit, which forms part of its more extensive Paul Isnard project. First, French gold producer Auplata SA has received required authorizations to construct and operate a centralized cyanide plant to treat gold gravity concentrates from its various mines and mining sites in French Guiana. Auplata reported that it ultimately intends to establish cyanide plants directly at its mine sites…. read more

| | |
| --- | --- |
| AROUND THE WORLD - Australasia | |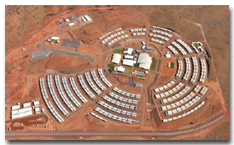 Roy Hill Secures Long-term Project Financing


Roy Hill Holdings has signed a $7.2 billion long-term financing agreement that completes necessary funding for its $10 billlion, 55-million metric tons per year (mt/y) Roy Hill iron ore mining project in the Pilbara region of Western Australia. The agreement comprises loans and guarantees from five Export Credit Agencies and a consortium of 19 commercial banks from Australia, Japan, Europe, China, Korea and Singapore. Substantial support from Japan Bank for International Cooperation, Korea Eximbank, Korea Trade Insurance Corp., Nippon Export…. read more



Vista's Mount Todd Agreement Extended for Three Years


Vista Gold Corp.'s agreement with the Northern Territory of Australia for Vista's Mount Todd gold project has been extended for an additional three-year period to December 2018. Additionally, the company reported progress on the environmental impact statement (EIS) permitting process for the project and has updated the resource estimate for the Quigleys deposit, a satellite deposit to the project's main Batman deposit. Vista President and CEO Fred Earnest said, "The advanced stage of our technical studies together with this …. read more

Top
Vale Nearing Completion of Malaysian Distribution Hub
Vale's Teluk Rubiah Maritime Terminal and iron-ore distribution center, currently commissioning in Malaysia, received its first Valemax iron ore carrier, the Berge Everest, on March 24. The vessel's arrival marked an important milestone as Vale looks toward completion of the distribution hub by the second half of 2014. The Berge Everest embarked from Brazil on its maiden voyage to Malaysia loaded with 382,500 metric tons (mt) of iron ore. The unloaded ore will be stored in the distribution center for future commercial shipments. With a total investment of…. read more


Mongolia's Mines Minister Predicts Exploration Licensing Restart
A moratorium on new mining exploration licenses in Mongolia could be lifted during the spring session of parliament as the north Asian country attempts to lure back foreign investment. A ban on the issuing and processing of licenses has been in place since June 2010, leaving many projects in limbo. Mongolia Mines Minister Gankhuyag Davaajav told a gathering in Toronto earlier this year that the impasse could change if parliament next month addresses discrepancies in previous mining laws. "I do believe in the spring…. read more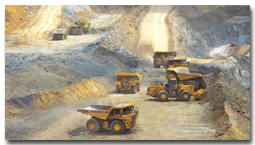 Barrick Sells Part of its African Barrick Stake


Barrick Gold announced on March 11, that it had sold 41 million shares of its holding in African Barrick Gold, raising gross proceeds of about $188 million. Following the sale, Barrick still held approximately 262 million ordinary shares of African Barrick, representing approximately 64% of the company. Barrick Gold President and CEO Jamie Sokalsky said, "After this transaction, Barrick will still be a controlling shareholder…. read more

Waterberg PEA Describes Potential Major PGM Mine


Platinum Group Metals has reported results from an independent preliminary economic assessment (PEA) of the Waterberg Joint Venture project in northern South Africa. The project is based on a blind discovery under cover of rocks off the north end of the Northern Limb of the Bushveld Complex. The PEA describes a shallow, underground mining project that would produce 655,000 oz/y combined of platinum, palladium and gold (3E)l…… read more

Top
| | |
| --- | --- |
| THIS MONTH IN COAL | |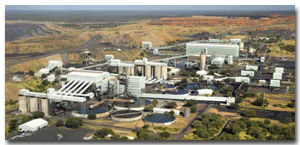 Grootegeluk Back on Track after Heavy Rains


Exxaro reported that its Grootegeluk mine in South Africa was impacted by the higher than normal, heavy rains experienced in early March. Production fell to 70% of normal levels by mid-March during the worst of the rains, however, since then production has steadily increased and returned to normal. There has been no material impact on the supply of coal to the Matimba power station, nor to other customers, including the export market. This is due to the availability of sufficient stockpiles, which were used …. read more

Alpha, Subsidiaries Pay Record Environmental Settlement


Alpha Natural Resources, Alpha Appalachian Holdings (formerly Massey Energy) and 66 subsidiaries will pay $200 million for installation and operation of wastewater treatment while upgrading cross-system discharge reduction after polluting hundreds of Appalachian rivers and streams under a Clean Water Act (CWA) settlement, said federal officials. Upgrades will reduce discharges of total dissolved solids by more than 36 million lb/yr, and will cut metals and other pollutants by approximately 9 million lb/yr in Kentucky, Pennsylvania …. read more

ACWA to Build Power Plant in Mozambique
The Saudi Gazette reported that the Mozambican government and the Saudi ACWA Power signed a concession agreement in Maputo for the construction of a coa-fired power station in Moatize district, in the western province of Tete. The power station, which will produce 300 MW in its first phase, will be built at the mouth of the gigantic open-cast coal mine in Moatize, operated by Vale. It will…. read more
| | |
| --- | --- |
| FEATURE - Shafts & Raises | |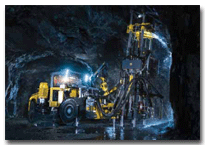 Drilling Enhances Shaft Safety
Shaft sinking and raising are the focus for an increasing number of equipment manufacturers. E&MJ looks at some of the newest machines and concepts

By Simon Walker, European Editor

One of the most hazardous yet essential operations within mining, shaft sinking and installing raises is a highly specialized occupation. As with many other facets of the industry, the continuing trend has been toward greater mechanization and, wherever possible, the use of fewer people in high-risk positions. Sinking stages have become multilevel workplaces capable of supporting the full range of activity from shaft-bottom drilling to final lining, while the increased use of mining methods such as caving has led to a new generation of raise-drilling equipment that does away with the need for personnel access during development……. read more


For more companies with products in the Raise Borers market -
Go Here
| | |
| --- | --- |
| FEATURE - Ore Sorting & Sampling | |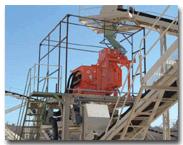 Ore Sorters and Analyzers: The Technology Develops


Once the domain of the diamond industry, ore-sorting technology has become much more sophisticated in recent years. E&MJ looks at some of the systems now available, together with analyzers that are bringing real-time capabilities to exploration

By Simon Walker, European Editor

Ore sorting has been an essential part of the upgrading process since time immemorial. Bronze Age miners would certainly have been highly selective in their approach to copper ores, using mineral color to choose between good material and waste. Handsorting was a feature of most base- and precious-metal mining well into the 20th century, while historical images of children employed to sort stone from coal are a pointed reminder of past practices and working conditions. In each case, the aim was to remove waste before time and money were spent on upgrading the valuable component... read more

Top

For more companies with products in the Sampling Devices market -
Go Here
| | |
| --- | --- |
| FEATURE - Euro Mine Expo 2014 | |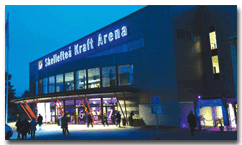 Skellefteå Hosts Euro Mine Expo 2014


The Swedish conference and exhibition promises to be the best ever.

By Steve Fiscor, Editor-in-Chief

Preparations are well under way for Euro Mine Expo 2014. The event is quickly becoming one of the more popular mining fairs in Europe. Why not? Sweden has been ranked by the Fraser Institute as the No.1 mining-friendly jurisdiction. The venue, the Skellefteå Kraft Arena in central Sweden, is located near some remarkable mines in a region many mining equipment vendors call home. Euro Mine Expo 2014 will be the fourth rendition of this event. Taking place every two years on the even years, the conference and exhibition has grown consistently since its inception in 2008. A total of more than 2,000 people attended Euro Mine Expo 2012, according to Jaana Tengman, project manager for Nolia, the group organizing the event in conjunction with Georange…... read more


For more companies with products in the Software market -
Go Here
| | |
| --- | --- |
| FEATURE - Mining Software | |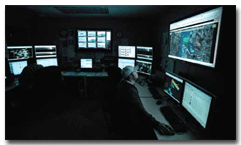 Digital Tools for Mines Help Maintain a Competitive Edge


Many mining executives are convinced there's really no alternative: either join the industry's quickening interest in digital technology or risk losing ground

By Russell A. Carter, Managing Editor.

The array of digital products and service choices available to mining companies is growing—as information technology (IT) consultants like to say—at the "speed of business." For an industry that has traditionally viewed disruptive technologies with suspicion, generally espousing a "you try it first" approach, this can be an uncomfortable environment, particularly when commodity markets are soft and shareholders are closely watching how companies spend their money. Recent survey results show that the industry realizes the demand for digital tools extends literally from its grassroots—exploration- data management—to daily operational and human-resource activities, and to..... read more

Top


For more companies with products in the Software market -
Go Here
| | |
| --- | --- |
| APPS | |
Current and active 'Apps' from the mining market.
Sandvik Mining

- Offering Guide

Sandvik Mining offering to mining customers, showing the depth of our product range, as well as its functionality and suitability to the mining processes.
When you explore this Offering Guide, you will see not only the breadth of the line, but also the many ways our products and services work together to give you a synergistic effect

Get the App - Go Here


Grindex

- Toolbox

Grindex Toolbox, for hand held devices, provides a range of features to support a quick and easy selection of Grindex pumps as well as identification of Grindex original spares.
With this app you get a very convenient access to the wide range of Grindex offerings.

The application offers several powerful and easy to use functions: Pump selection, Spare parts identification, Cart function and Grindex Pumps school
All major languages are supported.

Get the App - Go Here


E&MJ - Engineering and Mining Journal



Engineering & Mining Journal (E&MJ) is the voice of the international mining community providing in-depth editorial to mining companies and the mining industry..

Get the App - Go Here


Sleipner

- Benefit Calculator

The Sleipner benefits calculator is an innovative tool that just with a few steps gives you the opportunity to calculate the benefits of using the groundbreaking Sleipner System in your mine. This powerful tool will provide you with information such as increase in production, fuel savings, reduction in CO2 emissions and all the other benefits you get out of the Sleipner Systems.

Get the App - Go Here


Orica



Pocket Blast Guide from Orica Mining Services provides access to blast calculations, conversions, product information and tools for managing blasting operations on mobile devices.

Get the App - Go Here

For more details on our Apps listing or details on how to list your App - Go Here
| | |
| --- | --- |
| 2nd HAND MARKET | |
The latest listings from the World Mining Equipment Market - for more details click the image
For more details on our Apps listing or details on how to list your App -

Go Here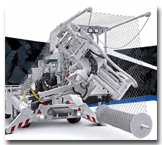 New Roof Bolter Targets Chilean Mines


Mine Master recently told E&MJ that it will introduce a new, innovative bolting equipment solution for roof support, designed especially for the Chilean market, at the upcoming EXPOMIN trade show in Chile. The new Roof Master 2.3 bolter emerged from a cooperative effort involving Mine Master, J.H Fletcher, HRI and the end user, Chilean copper producer Codelco. Its design allows the entire roof support process to be carried out by one machine in three steps: 1) drilling of bolt holes, 2) lining both side walls and roof with wire mesh (carried onboard in rolls) and 3) installing and…. read more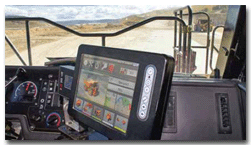 Wenco, Hitachi Collaborate with Teck to Improve System Efficiency


Heavy equipment manufacturer Hitachi and Wenco International Mining Systems, a Canadian subsidiary of Hitachi Construction Machinery, are involved in a joint Proof of Concept (PoC) project with the Canadian diversified mining company Teck that combines Hitachi's cloud service and Wenco's Fleet Management System (FMS) with Teck's mining operation team to demonstrate how much the efficiency of the system will be improved through these services…… read more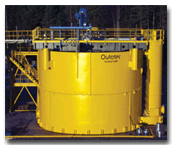 TankCell e500 Goes to First Quantum in Finland


To address the mineral processing market's demand for increased capacity and volume, Outotec developed a "mega" size flotation cell, and announced recently that the first of these large units, the TankCell e500 cell, will be installed at First Quantum Minerals' Kevitsa operation in Finland. According to the company, it is one of the world's largest flotation cells with an effective volume of more than 500 m3. First Quantum Minerals' Kevitsa operation, commissioned in 2012, is a nickel- copper-platinum group elements (PGE) mine located north-northeast of Rovaniemi in Finnish Lapland. "The TankCell e500 will provide significant additional…. read more

Top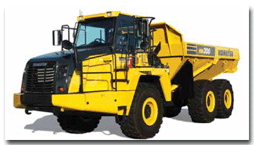 New Articulated Dump Truck is Tier 4 Final Certified


Komatsu America's new HM300 articulated dump truck, powered by a 325-hp (242-kW) Komatsu SAA6D125E-7 engine that is EPA Tier 4 Final emissions certified, carries a 30.9-ton (28-mt) payload and has a gross vehicle weight of 117,881 lb (53,470 kg). The engine uses an advanced electronic control system to manage the air-flow rate, fuel injection, combustion parameters, and aftertreatment functions to optimize performance, reduce emissions, and provide advanced diagnostic capability. This control system is .…… read more
Upgraded Scrapers Offer Enhanced Features


Cat announced that its new 620 K Series wheel tractor-scrapers—the 621K, 623K and 627K—offer features such as highpressure steering, engine overspeed protection, tire spin reduction, differential lock engagement protection, machine/groundspeed control and payload estimator. Payload capacity of the open-bowl 621K and open-bowl, twin-engine 627K is 28.8 tons (26.2 mt), and 27.6 tons (25.1 mt) for the elevating 623K…. read more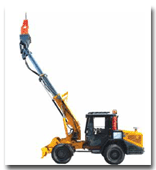 Scalers Can Maneuver in Tight Spaces


NPK Construction Equipment announced that it will begin marketing Paus scaling machines in the U.S.—primarily Paus' model 853 S8 and 1253 S10 scalers equipped with NPK's GH-2S tunneling hammers. According to Germany-based Paus, the 853 S8 and 1253 S10 are a new breed of scaler, designed and built for lower ceilings and narrower spaces underground without sacrificing operator safety. The scalers offer articulated steering, combined with a pivoting boom to give the operator nearly limitless maneuverability at the face…. read more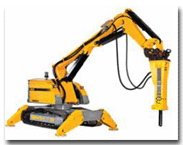 Robots for Extreme Mining Conditions


Brokk recently unveiled new 800-series demolition machines. Its 800S is built for extreme tunneling, mining and construction work, and the 800P is for hot ladle, converter cleaning or refractory renovations. The 800S features Brokk's signature three-arm system, and offers a maximum reach of nearly 30 ft (9.1 m). When equipped with the Atlas Copco MB 1000 breaker, the Brokk 800 robots produce 1,500 ft-lb of force at the tip of the tool, nearly twice the hitting power of Brokk's 400. Brokk specially  .…. read more

Top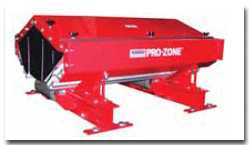 New System Completely Seals Conveyor Load Zone


ASGCO's new Pro-Zone is a patent-pending, conveyor belt load-zone system that optimizes sealing for air/dust tightness on the receiving conveyor belt. This skirtless, fully self-contained system includes the company's Slide-N-Roll beds, removable slide-out UHMW and steel side supports and center rolls. Side guards, internal splash sealing system, dust curtains and angled hoods (aluminum or steel) completely enclose the entire system. Among the system's claimed….read more
MAY 11–12, 2014: Geominetech 14th Annual Symposium on New Equipment New Technology Management and Safety in Mines and Mineral, Bhubaneswar, India Contact:JK Hota, editor and organizing secretary; E-mail: hotaeditor@sify.com or hotaeditor@gmail.com; Web: www.lusa.info/geominetech
MAY 11–14, 2014: CIM 2014 Convention, Vancouver, Canada Contact: Lise Bujold, director of events; Tel: 514-939-2710 ext. 1308; E-mail: lbujold@cim.org; Web: www.cim.org/en.aspx
MAY 20–22, 2014: 11th International Gold & Silver Symposiuym, Lima, Peru Contact: Web: www.simposium-del-oro.snmpe.pe
JUNE 12–13, 2014: MEMSA Technical Symposium, Clearwater Beach, Florida, USA Contact: Web: www.miningelectrical.org/this-year-s-meeting.html
JUNE 10–12, 2014: Euro Mine Expo, Skellefteå, Sweden Contact: Web: www.euromineexpo.com
AUGUST 24 - 26, 2014: AUSASIA MinTech 2014 Conference & Exhibition, Perth, Australia. Contact: Teresa Bildstein - Programme Director; Tel: +61 2 2992 1023; E-mail: teresa.bildstein@iqpc.com.au or lidrus@mining-media.com ; Web: www.ausasia-mintech.com
SEPTEMBER 23–25, 2014: IMEX 2014, Las Vegas Convention Center, Las Vegas, Nevada, USA. Contact: Tim Fearney, show director. Tel: +1 678-822-9804; E-mail: tfearney@mining-media.com; Web: www.imex2014.com
OCTOBER 22 - 24, 2014: SUMATRA MINER Innovations in Coal, Mining, Energy, Oil & Gas Conference & Exhibition, Palembang, South Sumatra, Indonesia. Contact: Dimas Abdillah - Event Director; Tel: +62 85711225699; E-mail: dabdillah@mining-media.com or lidrus@mining-media.com; Web: www.sumatra-miner.com
For a full calendar of mining industry conferences and events - click here
| | |
| --- | --- |
| WHO'S MOVING WHERE | |

Alberto Fabrini has been appointed executive vice president and head of the Bauxite & Alumina business area in Norsk Hydro ASA. The appointment of Fabrini, currently head of operations in Bauxite & Alumina, will be effective June 1. After 36 years in Hydro, Johnny Undeli, currently executive vice president and head of Bauxite & Alumina, will take up a position as special advisor to Hydro's CEO and pursue board positions.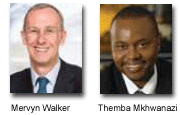 Anglo American announced that Mervyn Walker, group director of human resources and corporate affairs, will retire June 30. Walker's successor has not been announced. And Themba Mkhwanazi was appointed the CEO of its coal business in South Africa, effective during the second quarter of 2014, following Godfrey Gomwe's decision to retire. Mkhwanazi is currently Rio Tinto's regional general manager for the Americas.

The Society for Mining, Metallurgy and Exploration (SME) presented Michael J. Mankosa, Eriez vice president of operations, with the 2014 Frank F. Aplan Award during the society's awards banquet, which was held in conjunction with the SME Annual Meeting in Salt Lake City, Utah.
Rio Tinto Chief Executive Sam Walsh will be awarded the Honorary Degree of Doctor of Commerce at the University of Western Australia's graduation ceremony. He will also deliver the graduation address.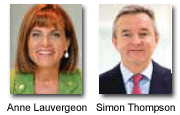 Anne Lauvergeon and Simon Thompson will join the boards of Rio Tinto plc and Rio Tinto Ltd. as non-executive directors and both will become members of the Sustainability and Nominations Committees. Lauvergeon served as CEO of AREVA Group from 1999 to 2011. Thompson joined the Anglo American group in 1995 where he had a number of senior roles, including that of executive director, a position from which he retired in 2007. The boards also announced the retirement of Vivienne Cox as a non-executive director.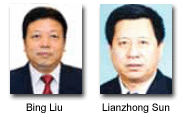 China Gold International Resources Corp. Ltd. announced that Bing Liu, a non-executive director, has been re-designated an executive director and appointed CEO. Lianzhong Sun has been appointed as a non-executive director. Sun also serves as vice president of China National Gold.

Bowie Resource Partners hired Manie H. Dreyer as CEO. He most recently served as president of BHP Billiton Energy Coal South Africa.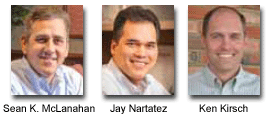 Sean K. McLanahan has been named CEO of McLanahan. Michael W. McLanahan continues as chairman of the board, while George L. Sidney Jr. remains president and COO. Together, these three serve as McLanahan's executive team. Also, Jay Nartatez has been promoted to executive vice president, corporate shared services, and will also serve as CFO. Ken Kirsch has been promoted to executive vice president, business operations.
About - providing an abreviated version of the current print edition of E&MJ, WOMP is distributed throughout the world to decision makers in the global mining industry, the last week of every month.

Subscribe to E&MJ - To receive your own copy of the print edition of E&MJ, click here , and complete your details. E&MJ is available free of charge to qualified readers.

Contact - if you have views, opinons or comments or editoral that you would like to submit, we would be delighted to hear from you - click here

Top