Overland Pipeline Completion is a Milestone for Sierra Gorda Startup
---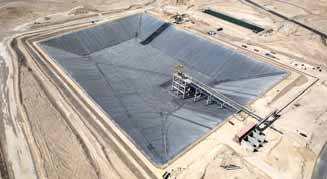 Cooling water from a power plant located on Chile's Pacific Coast will be pumped from a nearby facility (left) 142 km (88 miles) overland to a receiving pond (right) at KGHM's
Sierra Gorda copper mine. The system has a rated capacity of 1,500 liters per second. (Photo courtesy of KGHM)

KGHM International recently announced that construction of a 142-km-long seawater pipeline for its Sierra Gorda mine in Chile has been completed. Sierra Gorda, which will be the world's seventh largest copper project, is more than 90% complete overall and on target for commissioning and initial production in mid-2014, according to the company.

When completed, the project—which is located in Chile's Antofagasta region, the country's chief copper producing district— will produce copper, molybdenum and gold ore by open-pit methods. Downstream processing will include crushing, grinding, flotation, and drying to obtain copper and molybdenum concentrates. When production begins, the Sierra Gorda mine will process 110,000 tons per day (t/d) of ore, producing 120,000 t/y of copper. In addition, the project will be one of the largest molybdenum producers in the world, averaging about 50 million lb of molybdenum production annually during the early years of mining.

Sierra Gorda will operate using seawater captured from the cooling systems at a thermal power generating plant located on the coast at Mejillones. Instead of being discharged into the sea, the water will be piped to the Sierra Gorda mine and plant, crossing a coastal plain and hills. The pipeline system's key infrastructure includes the coastal station and two inland pump stations, with a total of 24 pumps providing a pumping rate of 1,500 liters per second, plus port facilities and a fiber optic cable network that parallel the pipeline route.

"Our project is located in [the Atacama Desert], with extremely dry conditions and scarce water reserves. That is why our top priority was securing water supply and eliminating the risk of exhausting this resource in the region. An important design innovation was made to incorporate the use of seawater on the project site through the pipeline," said Jarosław Romanowski, executive vice president and CFO of KGHM, parent company of KGHM International.

The pipeline's hydraulic tests, critical to the project's commissioning, began in mid-December 2013 and were successfully completed February 28. Seawater pumping to a receiving pond holding 750,000-m3 capacity was scheduled to start in March.

"We are proud to see the on-time delivery of the pipeline construction, with all hydraulic and pressure tests for the pipe and pump stations. This success is definitely one of the key milestones toward technical commissioning of the Sierra Gorda project, which is planned for June 2014," said Maciej Ściążko, general manager at Sierra Gorda SCM. "The whole project development, from exploration to initial production, took 10 years, which is considerably shorter than a project of this size normally takes."

After the start of production, the mine will use 251,808 m3 of water daily. On a yearly basis, this equals a capacity of 92 million m3 . With plans under way to increase ore processing from the initial 110,000 t/d to 190,000 t/d, which would result in average annual copper production of about 220,000 tons over a 20-year life, the amount of water used daily in the mine will grow to 442,000 m3 /d.
---
As featured in Womp 2014 Vol 04 - www.womp-int.com