Features

REGIONAL PROFILE
Australian Mining Technology
Despite a shortage of professionals, Australia continues to lead the world in.....read more
By Steve Fiscor, Editor-In-Chief

LONGWALL MINING
Top Coal Caving
Austar's longwall system offers opportunities in seams thicker than 4.5 meters.....read more

SURFACE MINING
Maximizing Mining Tire Life
An end to the mining tire shortage could be years away. Experts offer advice on.....read more.
By Russell A. Carter, Managing Editor

BLAST HOLE DRILLING
What's New in Blasthole Drilling
Reliability has always been key for drill builders and their customers, but intelligence......read more.

PLANT CONTROLS
Getting It Under Control
Namibia's mine operators are focusing on efficiency, and doing it by the numbers.....read more.



To update your details or renew your current print subscription or to receive your own edition of the print version of E&MJ -

CLICK HERE

Democrats Revive Efforts to Overhaul Mining Law - During late July, the U.S. House of Representatives Subcommittee on Energy and Minerals held a hearing on H.R. 2262, the Hardrock Mining and Reclamation Act of 2007, to consider updating the Mining Law of 1872. Taxpayer advocates and environmentalists have asked U.S. lawmakers to overhaul a law they say is out of date. According to the Washington Post, they found stiff opposition from mining industry officials and Republican lawmakers at the hearing.
The bill, which was introduced by Rep. Nick Rahall, a Democrat from West Virginia and longtime advocate of reforming the Mining Law of 1872, would add an 8% royalty on hard-rock mining operations and a number of water and air protection rules. It also would grant more discretion for federal regulatory agencies to deny mining permits when they identify land conflicts ........ read more

Steve Fiscor, Editor in Chief

Rio Tinto Tops Alcoa's Bid for Alcan; Alcoa Seen as Next Acquisition Target - Rio Tinto and Alcan announced on July 12, 2007, plans for an agreed acquisition of Alcan by Rio Tinto for $38.1 billion in cash. The offer provided Alcan shareholders with a 65.5% premium over the company's all-time high closing share price prior to May 7, 2007, when Alcoa started the bidding with a cash and share offer for Alcan. Rio Tinto's offer provided a 32.8% premium over Alcoa's offer, based on Alcoa's......... read more

PWCSizes, Up the Booming Mining Industry - A report by PricewaterhouseCoopers (PWC), Mine—Riding the Wave, published June 21, 2007, puts some numbers to the magnitude of the boom that the global mining industry has been experiencing over the past four years. The annual study is the fifth in a series that began in 2003 for financial year 2002. The current study focuses primarily on aggregate 2005–2006 year-toyear comparisons for 40 of the mining industry's largest companies and also includes a table of five-year trends, showing year-by-year aggregate gains in....... read more

Top

NorilskCVRD Control of LionOre - Norilsk Nickel announced on June 29, 2007, that approximately 90% of the common shares of LionOre Mining had been tendered to its all-cash offer of C$27.50 per LionOre share. Norilsk extended its offer to July 10 to allow remaining LionOre shareholders additional time to accept the offer. The offer valued LionOre at about C$6.8 billion..... read more

TeckCominco Makes Friendly Bid for Aur - On July 3, 2007, Teck Cominco and Aur Resources announced an agreed C$4.1- billion cash and share offer by Teck Cominco to acquire all of the outstanding shares of Aur Resources. Aur's principal assets are its 76.5% interest in the Quebrada Blanca copper mine in Chile, its 90% interest in the Andacollo copper mine and Andacollo hypogene coppergold deposit under development in Chile, and its 100% interest in the Duck Pond copper-zinc mine....read more

Yamana Gold and Northern Orion Seek Hookup with Meridian Gold - On June 27, 2007, Yamana Gold and Northern Orion Resources announced that they had entered into a business combination agreement and were making a concurrent proposal to Meridian Gold with respect to the combination of the three companies. Closure of the Yamana/Northern Orion transaction was conditioned on successful acquisition of two-thirds of Meridian's shares by Yamana ...... read more

Top

NovaGold Board Okays Galore Creek Construction - NovaGold Resources said it has received all necessary federal and provincial authorizations and permits, allowing board of director approval to start construction at the Galore Creek copper-gold project in northwestern British Columbia. The company said board approval for construction activities was contingent on receiving full regulatory authorization for the project. Federal authorization was posted to the Canadian Environmental Assessment Registry on June 4, 2007. Significant mobilization and other pre-construction activities had been carried out over past months... read more
Cameco Progresses with Cigar Lake Mine Repair, Encounters Problem at Port Hope Conversion Plant - Cameco Corp. reported in July that it continues to make progress on its phased plan to restore the Cigar Lake uranium project in Saskatchewan, Canada, after a water inflow on October 23, 2006, flooded the underground development. The first phase of the remediation plan involves drilling holes down to the source of the inflow and to a nearby tunnel where reinforcement is needed, pumping concrete through the drill holes, sealing off the inflow with grout and drilling dewatering holes..... read more

Alcan Hires Bechtel to Conduct Kitimat Smelter Expansion Study - Alcan Inc. announced that it has signed a contract with Bechtel to produce a detailed feasibility study and preliminary engineering to confirm the cost estimate and overall project and execution schedule of the planned expansion of Alcan's Kitimat smelter as announced on August 14, 2006. Terms of the contract were not disclosed. The contract with Bechtel aims to provide all the planning, engineering and site investigation work necessary to submit to Alcan's board of directors for final approval of the project.... read more

Top

Fort Hills Oil Sands Project Moves Forward with Design Decision - Teck Cominco announced in late June that Fort Hills Energy L.P. has adopted the formal design basis for its Fort Hills project, an integrated oil sands mining project that includes a mine and bitumen extraction plant 90 km north of Fort McMurray, Alberta, and an upgrader in Sturgeon County northeast of Edmonton, Alberta. According to the company, this milestone marks the partnership's commitment to proceed with the front-end engineering and design (FEED) stage. The FEED process will take about 12 months to complete, producing a definitive cost estimate and the basis upon which the final go-ahead decision on the project will be made.... read more

Days of Unrest in Codelco's Mines - Editor's note: The following is a special report written by E&MJ's South American correspondent, Oscar Martinez, editor of Mining Media's Equipo Minero magazine.

A mobilization of workers such as had not been seen for many years recently occurred in Chile, when approximately 28,000 contractor and subcontractor workers from various divisions of copper producer Codelco, including El Salvador, Andina, El Teniente, Ventanas and Radomiro Romic, struck on June 25. Demonstrators placed rocks and barricades to block access roads leading to the mines. However, the most serious incidents took place at El Teniente, where a group of strikers entered the mine facilities, knocked over a minibus and a pickup truck, and burned eight buses used to transport personnel …… read more

Coeur d'Alene Mines, Bolnisi Gold and Palmarejo Silver to Merge - Coeur d'Alene Mines Corp., Bolnisi Gold NL and Palmarejo Silver and Gold Corp. announced during early May that they have entered into agreements, which have been approved unanimously by their respective boards of directors, as well as a special committee of independent directors of the Palmarejo board of directors, to merge creating the world's leading primary silver producer. The agreement calls for Coeur to acquire all of the shares of Bolnisi, and all of the shares of Palmarejo not owned by Bolnisi, in a transaction valued at approximately $1.1 billion…. read more

Top

CVRD, Hydro to Build Brazilian Alumina Refinery - Companhia Vale do Rio Doce (CVRD) has signed a Memorandum of Understanding to develop a new alumina refinery in northern Brazil with Hydro, a leading Norwegian producer of aluminum. The refinery will be located in Barcarena, in the Brazilian state of Para, Brazil. "Participation in the new refinery project is an important element of Hydro's strategy to expand our global primary aluminium and raw materials production," said Hydro President and CEO Eivind Reiten…. read more



Rio Tinto to Spend $1.8 Billion on Yarwun Alumina Expansion - Rio Tinto has approved a $1.8 billion expansion of the Yarwun alumina refinery in Gladstone, Queensland. The expansion will more than double annual production, increasing output by 2 million metric tons (mt) to 3.4 million mt by 2011. Rio Tinto's operation at Weipa in northern Queensland will supply bauxite to the refinery. The Yarwun expansion will have the benefit of substantial scale efficiencies gained from the construction of the first stage of the refinery…. read more


Atlas Looks to Fortescue Subsidiary for Iron Ore Shipping Services - Atlas Iron Ltd. announced in June that it entered into a Memorandum of Understanding (MoU) with Fortescue Metals Group that calls for Fortescue, through its subsidiary The Pilbara Infrastructure Pty Ltd. (TPI), and Atlas to negotiate an agreement by which TPI will provide Atlas with interim port handling and ship loading services from March 2008 to March 2009 at a rate up to 1 million mt/y of iron ore from Atlas' Pardoo DSO (direct shipping iron ore) project located 50 km east of Port Hedland, Western Australia…. read more

Top

China's AnSteel to Invest in Gindalbie Iron Ore Group - Western Australian iron ore group Gindalbie Metals Ltd. announced that it has reached agreement with its joint venture partner in the Karara iron ore project, Chinese steel and iron ore company Anshan Iron & Steel Group Corp. (AnSteel), for AnSteel to take a strategic equity position in Gindalbie. Under an agreement signed with AnSteel, Gindalbie will issue 65 million shares at A$0.60 each to AnSteel's Hong Kong investment …. read more


Aluminum Producer RUSAL Spending Billions to Boost Refining and Smelting Capacity - United Company RUSAL, the world's largest producer of aluminum, began construction in late July on the Taishet aluminum smelter located near Irkutsk, Siberia. The smelter project, with an annual capacity of 750,000 mt of aluminum, will cost approximately $2 billion. A feasibility study of the smelter's construction was conducted by Bechtel Corp. with the assistance of specialists from UC RUSAL's engineering and construction division. The Taishet smelter will comprise four pot rooms equipped with RA-400 cells developed by UC RUSAL's Engineering & Technology Center …. read more



African Copper Inks Mining Contract for Dukwe Copper - African Copper has signed a five-year contract with Moolman Mining Botswana, an operating group of Aveng Ltd., to conduct mining at its Dukwe project located 120 km northwest of Francistown, Botswana, in southern Africa. According to the company, the contract includes both mobilization and demobilization of the mining fleet which at full strength will consist of three…. read more


Katanga Mining's Kamoto Mill Commissioned - Katanga Mining Ltd. reported that commissioning of the Kamoto concentrator began on schedule in mid-July at its copper- cobalt mine complex in the Democratic Republic of Congo. Commissioning of the sulphide circuit will be followed by commissioning of the oxide circuit. In total, two mills and 88 flotation cells will be operational in phase one. When fully operational in 2011, the total capacity of the concentrator will be 7.5 million mt/y of ore…… read more

Top
China, Japan in Coal Price-Hike Deal - Coal miners in the north of China have agreed with Japanese buyers on a 2007 price hike of about 28% for thermal coal, while other suppliers have unprecedentedly refused to join the deal, Shenzhen Daily reported. Due to strong demand in China, which has pushed up domestic prices to historic highs, domestic miners are reluctant to sell much of the fuel abroad, especially as the government has scrapped tax rebates…. read more

Indonesia Targets Rise in Coal Production - Indonesia's largest natural resource firm PT Bumi Resources Tbk and other coal producers are increasing production. Japanese trading house Itochu Corp. is considering building a railway exclusively to transport coal on Kalimantan, the Indonesian part of the island of Borneo, jointly with the Indonesian government to support the increasing output. According to The Nikkei, the country's coal production is expected to grow 10% this year from…... read more

Top

South Africa's Coal Unions Declare a Dispute - NUM, Solidarity and UASA declared a dispute with the Chamber of Mines on the third round of coal mining wage negotiations held at the Chamber of Mines offices in Johannesburg during mid-July. Eric Nwedo, the chamber's negotiator for coal, indicated that the Unions' demands, put together, still have significant cost implications for the companies.…... read more


CVRD to Start Moatize Construction This Year - Brazilian miner Companhia Vale do Rio Doce plans to start construction on the massive Moatize coal project in Mozambique in the second half of the year, with production expected in the second half of 2010, Reuters reported. Roberto Castello Branco, CVRD's investor relations director, pegged capital costs for the project at $1.6 billion. "We will be able to produce about 14 million metric tons of coal products per year, given the reserves…... read more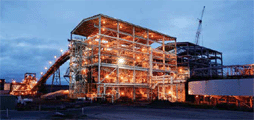 Australian Mining Technology
Despite a shortage of professionals, Australia continues to lead the world in production and exports its know-how globally.

By Steve Fiscor, Editor-in-Chief

Australia has an abundant supply of mineral resources. The country also has some challenges with complex deposits in remote locations and the associated logistical requirements of getting those resources to market. Combine those issues with a shortage of skilled professionals to operate the mines, and one has an accurate understanding of the Australian mining market. But, even in the face of those challenges, the country remains a leader and it manages to export its services and expertise abroad……. read more

Top Coal Caving Longwall Maximizes Thick Seam Recovery
Austar's longwall system offers opportunities in seams thicker than 4.5 meters.

By Greg Duncan, Glenn Sobey and Tim Clarke

Introduced and improved over the last 20 years, the Longwall Top Coal Caving (LTCC) method, used for extracting thick seams (greater than 4.5 m), was recently launched in Australia. More than 90 such longwalls already operate in China. The method and technology was introduced through a joint development between the Yankuang Group of China and DBT. Despite the technical and regulatory challenges associated with the introduction of brand new technology into the Australian industry, the first LTCC longwall successfully commenced production in September 2006. The longwall is operating at the Austar mine, which is owned and operated by...... read more

Top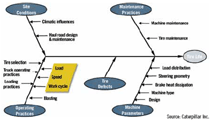 Maximizing Mining Tire Life
An end to the mining tire shortage could be years away. Experts offer advice on getting longer life out of your current inventory.

By Russell A. Carter, Managing Editor.

With demand for giant mining tires still exceeding tire manufacturers' production capacity by as much as 30%, and the global population of mining-class haul trucks expanding at an unprecedented rate, the ongoing tire shortage appears likely to persist at least through the end of 2008 and quite possibly years beyond that, even with new capacity coming online in the near future. The shortage has resulted in a sense of tire-care awareness among mine operators that is probably unmatched in the annals of modern mining, along with some fairly bizarre economics…... read more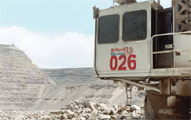 What's New in Blasthole Drilling
Reliability has always been key for drill builders and their customers, but intelligence—in both equipment design and drill program management— is becoming a dominant factor for success.

As is the case with most of the world's major mining districts, these are good times for the state of Nevada—the world's fourth largest gold producer following South Africa, Australia and China, and the source of 78% of gold production in the United States. Nevada's mines produced 6.305 million oz of gold in 2006, down from the 2005 production level of 6.85 million oz. However, because the average price of gold increased from $445/oz in 2005 to $603/oz in 2006, the value of the state's 2006 gold production increased to approximately $3.8 billion, up from $3.05 billion in 2005..... read more

Top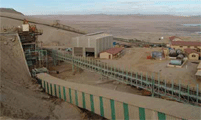 Getting It Under Control
Namibia's mine operators are focusing on efficiency, and doing it by the numbers

The West African nation of Namibia has ample resources of diamonds and uranium— two of the most sought-after commodities in today's minerals market. In turn, Namibia-based producers are seeking commodities of an entirely different type: high-tech plant control, automation, and reporting systems that will allow them to maximize production and profit in the current boom..... read more
Transportable Filtration System Offers Improved Application Flexibility - BakerCorp's new 10K Specialty Media System is claimed to provide improved operational flexibility for certain filtration applications. The new filtration system comprises dual vessels containing up to 10,000 lb of media per vessel; an integrated lead-lag pipe rack with backwash capability; and a safety work platform conveniently mounted on a compact skid…. read more

New Operator Seat Dampens Vibration Automatically - One of vehicle seating specialist Grammer's recent product developments, the Actimo Evolution seat—unveiled in 2006 and available in versions for wheel loaders and dump trucks with controls on the left, or for excavators with the controls in front and an interface for connecting a lever console—has been joined by the…. read more

Air Compressor Line Offers Energy Efficiency - Sullair has announced the availability of its energy-efficient S-energy Series air compressors. S-energy Series compressors are equipped with low package pressure drop and an optimal cooling system with a low-noise centrifugal cooling fan. Variable-speed drive models are available that yield optimum energy savings and the additional dividends of operating consistency.…… read more

Stable Water Wagon Uses ADT Components - John Deere's new 300D water wagon features a low center of gravity due to its long, low tank and an extended truck frame. According to the manufacturer, the unit's six-wheel-drive Deere power train delivers excellent traction, gradeability and fuel efficiency; a standard transmission retarder extends brake life…. read more

Top

New Features for Mine Modeling Software - Terex O&K recently released two new hydraulic excavators: the RH 340-B and the RH 70. The mining-class RH 340B— successor to the popular RH 340, — is available in both front shovel and backhoe configurations, each powered by twin Caterpillar 3512C or optional Cummins QSK 45 diesels, with both options delivering 2,240 kW (3,000 hp). The new model features a more powerful hydraulic system with higher-capacity…. read more

System Ensures Safe Grounding to Dissipate Static Charges - According to Cenelectrex, the bonding connections provided on most special purpose trucks, mobile service vehicles or trailer-mounted equipment can easily fail if not used properly or if they are not in good working condition. Also, such equipment is typically grounded through the equipment it is serving, making it doubly difficult to be certain that static electricity will be safely dissipated…. read more

New Wheel Loader Boosts Productivity and Fuel Economy - Volvo Construction Equipment says that field testing of its new flagship wheel loader—the 54-metric ton L350F— achieved an 18% increase in productivity and 46% better fuel economy than its predecessor. These improvements, according to the company, are due to the L350F's new Tier 3/Stage IIIA Volvo engine, stronger hydraulics, an improved lift arm, a new Volvo transmission with lockup, and new axles…. read more

Top

Durable Work Clothing - Swedish work-clothing maker Blaklader has introduced its internationally known product line to North America. Representative of what the company calls "unique, durable and innovative" products is the Blaklader line of pants, available in a variety of materials and with features that include reinforced utility pockets that are easily accessible….read more

Faster, Sturdier Boomer S1 D on the Way - Able to drill faces up to 31m2 in cross section quickly and accurately, the Atlas Copco Rocket Boomer RB 281 has proved an excellent choice for many kinds of mine around the world and has been very successful. But technology moves on and the company will shortly launch a replacement, the Rocket Boomer S1 D—built on a new carrier offering higher ground clearance and higher tramming speed…. read more
SEPTEMBER 9-13, 2007: Dam Safety '07, Austin, Texas, USA Contact: Association of State Dam Safety Officials; Tel: 859-257-5140; Fax: 859-323-1958; E-mail: info@damsafety.org

SEPTEMBER 10-14, 2007: Extemin 2007, Lima, Peru Contact: Mariel Sovero; Tel: (51-1) 313-4160; Fax: (51-1) 313-4160; E-mail: msovero@iimp.org.pe

SEPTEMBER 12-14, 2007: International Symposium on Rock Slope Stability, Perth, Western Australia. Contact: Australian Center for Geomechanics; Tel: 618 6488 3300; Fax: 61 8 6488 1130; Web: http://www.slopestability.com

SEPTEMBER 18-21, 2007: SIMINERA 2007–International Salon of Mining Works and Exhibition, San Juan, Argentina Contact: Exposium América Latina S.A.; Tel: 54 11 4328 5886; Fax: 54 11 4328 5859; E-mail: info@siminera.com.ar; Web: http://www.siminera.com.ar

OCTOBER 22-24, 2007: World Gold 2007, Cairns, Australia Contact: Alison McKenzie; Tel: 61 3 9662 3166; Fax: 61 3 9662 3662; E-mail: conference@ausimm.com.au

OCTOBER 31–NOVEMBER 3, 2007: Mining Indonesia 2007, Jakarta, Indonesia. Contact: Maysia Stephanie; Tel: 62 21 316 2001; Fax: 62 21 316 1983/4; E-mail: maysia@pamerindo.com; Web: www.pamerindo.com

NOVEMBER 5-11, 2007: 2007 Alaska Miners Association Annual Convention, Anchorage, Alaska, USA. Contact: AMA; Tel: 907-563-9229; Fax: 907-563-9225; E-mail: ama@alaskaminers.org; Web: www.alaskaminers.org

For a full calendar of mining industry conferences and events - click here

BHP Billiton announced that Marius Kloppers will succeed Chip Goodyear as CEO in October. The company also reported that Chris Lynch has retired from the board and from the company, and Chief Legal Counsel and Head of External Affairs, John Fast, also is retiring

Newmont Mining Corp. announced the retirement of Wayne W. Murdy as CEO, and the appointment of Richard T. O'Brien as CEO and president. O'Brien also was elected to the board of directors. Murdy will continue to serve as chairman of the board until the end of 2007.

Top

Silver Standard Resources Inc. announced the appointment of George N. Paspalas as senior VP, Operations. The company also announced that President Robert Quartermain has been elected as the new president of the Silver Institute.

Michael Johnson was recently named the environmental planning and permitting service director for Kleinfelder, Inc.

The Canadian Institute of Mining, Metallurgy and Petroleum (CIM) honored several individuals in April. The CIM Distinguished Service Medal was awarded to John S. Cooke, former publisher of The Northern Miner. The Inco Medal was presented to Terry A. Lyons, chairman of Northgate Minerals Corp. The Selwyn G. Blaylock Medal was presented to Russell E. Hallbauer, president and CEO, Taseko Mines..

Cleveland-Cliffs Inc. announced the appointment of William C. Boor as senior Vice President, business development. The company also announced that President and CEO Joseph A. Carrabba has been named chairman of the board.

Gindalbie Metals Ltd. announced two additions to its senior management team: David Stokes to the newly created role of general counsel and company secretary and Greg Kaeding as community relations and environmental manager.

Dr. Fanus Viljoen has been named technical specialist diamonds for Mintek's Mineralogy Division.
About - providing an abreviated version of the current print edition of E&MJ, WOMP is distributed throughout the world to decision makers in the global mining industry, the last week of every month.

Subscribe to E&MJ - To receive your own copy of the print edition of E&MJ, click here , and complete your details. E&MJ is available free of charge to qualified readers.

Contact - if you have views, opinons or comments or editoral that you would like to submit, we would be delighted to hear from you - click here.

Top