What's New in Blasthole Drilling
Reliability has always been key for drill builders and their customers, but intelligence—in both equipment design and drill program management— is becoming a dominant factor for success.
---
In Service…
As is the case with most of the world's major mining districts, these are good times for the state of Nevada—the world's fourth largest gold producer following South Africa, Australia and China, and the source of 78% of gold production in the United States.

Nevada's mines produced 6.305 million oz of gold in 2006, down from the 2005 production level of 6.85 million oz. However, because the average price of gold increased from $445/oz in 2005 to $603/oz in 2006, the value of the state's 2006 gold production increased to approximately $3.8 billion, up from $3.05 billion in 2005.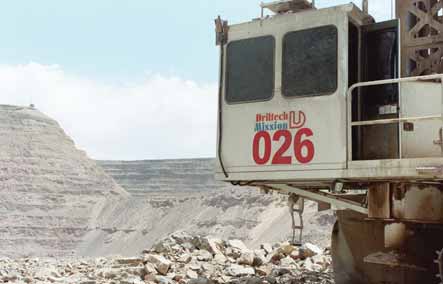 Two of Cortez Gold's Sandvik D75KS blasthole drills have been operating at the mine for
more than 11 years. The mine added two more D75KSs to its fleet late in 2006, and also
has four Sandvik D55SPs.
One of the major producers in the state is Cortez Gold Mines, located about 75 miles southwest of Elko in the Crescent Valley near the Cortez Mountains. Opened in 1968, Cortez Gold Mines is a joint venture of Kennecott Minerals and Barrick Gold. Operated by Barrick (which acquired former operating partner Placer Dome, Inc. early in 2006), Cortez Gold Mines has the distinction of being the oldest and longest continuously running gold operation in Nevada, with gold discovered at a nearby site as early as the 1930s. Presently, Cortez is a complex of several open-pits that extract ore from two major deposits.
Mining at Cortez is by conventional truck/shovel methods, employing mostly Komatsu equipment ranging from haul trucks, loaders and bulldozers, to utility vehicles such as fuel trucks and skid steer loaders.
The drilling fleet at Cortez includes Sandvik Driltech D55SP and D75KS rigs. Two of the D75KS drills have been operating at the mine for nearly 11 years. Two more D75KS drills were added to the fleet in November 2006. The four D55SPs have been in service for more than two years.
Typically, as many as five drills are needed to complete a blasthole pattern comprising 100 to 140 holes, resulting in a blast yield of about 200,000 tons of broken ore when employing the smaller pattern. The rigs typically drill 55-ft blastholes that are 9-7/8-in. in diameter; if they split a bench at approximately 20 ft, they drill 8-3/8-in. holes. The drills use Sandvik TriCone bits, which typically achieve 60,000 ft of drilling per bit, and are changed about once a month.
Cortez Gold Mines employs 35 certified drillers and seven blast crew members. Drillers such as Justin "Tiny" Hanson split their attention between the drill string outside and a computer screen inside which guides them in setting the drill patterns. Each pass with the drill is recorded by pattern number, hole number, hole depth, ground elevation and phase number (Cortez Gold currently has nine phases of excavation).
Hanson's been running both a D55SP and a D75KS for two years, and has 10 years' experience as a driller. He said he appreciates the drills' single-pass drilling package, which means he doesn't have to "step out of the cab and change drills rods all the time."
Both the D55SPs and the D75KSs are diesel-powered track rigs. The D55SP is capable of sinking 6.75-in. to 10-in.-diameter holes when rotary drilling—although most Sandvik drills can also be outfitted for DTH drilling, with optional high-pressure compressors adding flexibility to drill with 8-in. to 10-in. DTH hammers. Maximum pulldown is 45,000 lbf. The D75KS can drill 9-in. to 11-in.-diameter holes. The drills are powered by Cat 3412E diesels rated at 760 hp at 1,800 rpm.
John Humphreys, a driller for 25 years and Cortez Gold's drill and blast lead man, calls the D75KS drills "good and reliable." "They keep up with our production schedule," he added. "Although we have six Sandvik drills, we are able to fill our production schedule using just four of them." Humphreys said the drills achieve 90% availability. "That means they are pretty low maintenance."
Komatsu Equipment, distributor of the Sandvik Driltech drills used at Cortez, is a wholly-owned subsidiary of Komatsu America. Komatsu Equipment was formed in 1997 through the merger of Rocky Mountain Machinery, with headquarters in Salt Lake City, Utah, and Pioneer Equipment of Reno, Nevada. Komatsu staffs a service technician for the drills on-site five days a week. Komatsu Equipment also maintains a Sandvik drill at Newmont Mining Corp.'s Twin Creeks, Nevada, operation, and four Sandvik drills at the Florida Canyon mine, 140 miles west of Elko.
…On the Market…
Machine dependability such as that achieved by Cortez's rigs is a hallmark that any major drill builder must support to have any hope of business success, but today's market demands more than simple dependability. Sandvik's latest surface drill, for example—a tophammer rig that is the first model in a new series, as well as the first to display the company's new numbering system and colors—is also much smarter than its predecessors.
Sandvik's new DP1500i tophammer rig is the first in the company's new DPi series of drills.
The new Sandvik DP1500i, the initial unit in Sandvik's new DPi series, is based on the Tamrock Pantera line of rigs capable of sinking holes in the range of 3- to 6-in. diameter using high-frequency drifter drills. But a suitably equipped DP1500i can monitor and collect information that includes drilling footage, engine and percussion hours, fuel consumption and—perhaps most importantly— machine health, thus allowing orderly planning of work and maintenance schedules. The rig's data processing system will also indicate what service parts are needed and is remote-access ready.
According to Sandvik, all drilling system parameters can be set from inside the cabin. The DPi rigs have an advanced user interface with simple screen views for different operations. There are a number of preset drilling setups for different rock conditions as well as an optional automatic drill-to-depth feature. Automatic feed alignment capability also is available as an option.
Sandvik says the DPi series machines are easy to service and maintain, with a logical layout and wide-opening service doors for convenient access. Typical daily and weekly service points are accessible from the ground level, and lubrication fluid drain points are centralized. Adding to maintenance efficiency are built-in, step-by-step troubleshooting instructions and a self-diagnostics system specifically designed to quickly zero-in on malfunctioning systems, circuits or components.
Drill intelligence can take many forms, ranging from advanced electronics to innovative mechanical design: At the lower end of the blasthole rig size range, Atlas Copco has upgraded its ROC D3 series—built around the twin characteristics of excellent climbing performance and efficient small hole drilling capability— with a new stronger engine, more air for flushing, and new rock drills. The result, according to the company, is the capability of drilling of larger blastholes up to 3.5 in. diameter with the same size, weight and terrain characteristics.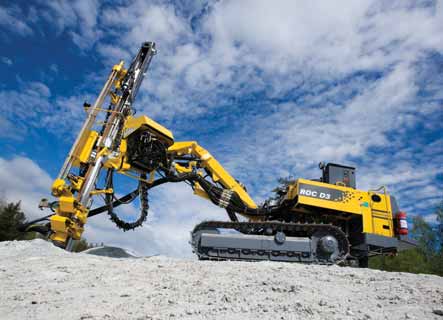 Atlas Copco's upgraded ROC D3 features a stronger engine, higher flushing air capacity,
and new rock drills.
However, the new drills are also equipped with dual fuel-economy features that include the typical fuel-saving controls that automatically adjust the engine to idle rpm during periods of no load; as well as variable electronic RPM adjustment that can be set to suit the prevailing rock conditions and the drill string in use.
The new COP 1640 and COP 1240 rock drills have beefier drivers and an evolved spline design that extend the life of the driver as well as of the shank adapter. The shank adapters for each of the new rock drills are identical to each other as well as to the adapter used with the COP 1840 hydraulic drill installed on the ROC D7 series. Due to the cost savings from extended component life, a customer's inventory of shank adapters is also minimized.
The increased fuel tank capacity offers 12 hours of operation without need of refueling for the rig's new Cummins QSB4.5 turbocharged diesel, which replaces the Deutz BF4M1013EC on the older models.
The new ROC D3 comes in three versions: ROC D3-01 with folding boom and Rod Handling System (RHS), ROC D3-03 with extended folding boom and Rod Adding System (RAS), and the ROC D3-03 with extended folding boom and rod rack.
In 2006, Terex Reedrill introduced its R20T "Texas Twister" track drill, claimed to be the first of its kind to provide full 360° rotational capability. The new drill joined a stable of Reedrill models that include the larger SCH5000 rig.
According to the company, the R20T's ability to rotate completely on its undercarriage and safely tram down a steep embankment enhances drilling safety and productivity. It is a self-contained hydraulic unit mounted on a Caterpillar 312 excavator undercarriage, and fitted with Reedrill's HPR45 hydraulic rock drill capable of sinking blastholes from 2-1/2 in. to 3-1/2 in. in diameter. The HPR45 is mounted on a newly designed cylinder/ cable feed system that reduces noise levels and provides for smoother operation. The R20T is equipped with the hydraulically operated SmartDrill drilling system, which features self-adjusting feed force logic designed to reduce operating costs and extend the life of consumables.
Equipped with a Caterpillar C11 diesel rated at 310 hp engine, the SCH5000 delivers 2,500–3,100 bpm while drilling holes up to 6 in. diameter. The SCH5000 is equipped with an HPR5128 rock drill that is field serviceable, and according to the company has almost half the total parts of competitors' models for easy maintenance. The SCH5000 also features a heavy-duty, long-life mainframe weldment mounted on the excavator undercarriage for advanced stability in rough terrain. For optimal operator visibility and comfort on the job, the SCH5000 has a unique, two-man "Swing Cab," ultimately adding to the machine's productivity.
The quest for effective design innovation extends to the end of the drill string: Earlier this year, Rockmore International unveiled the ROK, a new design approach for DTH hammers. Offered in the 3- to 8- in. diameter range, ROK hammers are intended to maximize high-pressure air flow for overall greater efficiency.
Rockmore claims that, prior to the development of the ROK, airflow paths in conventional DTH hammers passed through multiple turns and angled orifices, which often create flow turbulence and pressure changes. To lower the turbulence, maximize airflow continuity, and increase hammer performance, Rockmore's engineering team developed the concept of SonicFlow Technology.
SonicFlow, according to the company, strongly increases airflow efficiency within the ROK hammer and ensures that the high-pressure air paths are optimized to deliver the greatest amount of energy to the piston. At the center of the SonicFlow concept is a new, patent-pending Top Sub. As pressurized airflow enters the sub, it is distributed through strategically located ports. These radial port designs provide efficient paths for the airflow to enter the hammer chamber at a high velocity and with minimal back-flow interference. To minimize back-flow of air and debris into the hammer, an efficient check-valve system was incorporated in the sub design.

Rockmore's new ROK DTH hammer features a radically new piston, designed to provide
higher energy transfer for more efficient drilling.
The new SonicFlow hammer features a radically new piston design with distinctive physical features, all of which evolved from the airflow design. The most notable of these features is a venturishaped radius located in the top of the piston. This radius reduces undesired turbulence in the chamber and increases airflow pressure in the piston's air cycles, leading to higher energy transfer between the pressurized air and the piston.
Rockmore said its engineers found that simplifying and minimizing the number of individual components used in the hammer design itself allowed more direct and unrestricted air paths, less wear points, and simpler service.
…And on Paper
Despite the technological sophistication of newer rigs and drillstring systems, it's possible to fritter away the potential advantages offered by the equipment through drill-program management errors and oversights. In a presentation given at the MineWest 2006 conference sponsored by Mining Media, Kay Sever, president of OptimiZ Consulting LLC, discussed "drills…the forgotten fleet."
According to Sever, the current record high prices and demand for mineral commodities are resulting in unprecedented expectations for daily and annual mine tonnage, along with the generation of increased capital funds for buying bigger equipment—but this money is often spent on new trucks and shovels. Since drills do not physically move tonnage, they may get less attention from management, and be assigned a lower priority for maintenance than that given to loading and haulage equipment. Management may also assume that the drill fleet has capacity to spare because of low utilization, which can lead to unrealistic drilling-footage goals and difficulty in justifying new or bigger drilling equipment.
However, Sever contends, in today's business environment efficient management of the drill cycle—the process steps required for production drilling, plus the activities that facilitate production drilling—is more important than ever. Defining the cycle can help Mine Operations view the activities that support production drilling as "controllable events," may identify hidden additional capacity that can be captured with little or no cost, increases the mine's ability to maintain minimum levels of blasted ore inventory without new equipment purchases, and positions the operation for success with continuous-improvement initiatives including ISO-9001 and Six Sigma.
"Controllable" delays in the drill cycle generally fall into a few major groups, including planned maintenance delays (waiting for parts and/or labor); and planned production cycle delays. The latter may occur at the beginning or end of shift (shift change and travel, inspections, etc.), or as interruptions during production (equipment moves, pad preparation and delivery of consumables such as water, fuel or bits).
The rewards for uncovering any "hidden" capacity and utilization in the drill fleet can be considerable, as shown in the accompanying table. However, even after careful analysis of "what's possible" to achieve improved drilling performance and budgeting for the results of those evaluations, there may remain challenges that are simply built into the system. As stated above, drilling equipment might get lower priority for maintenance and replacement than other types of equipment. Drilling personnel may not be included in mine planning meetings or engaged in the budgeting process. The daily plan may not be communicated to drillers, and drill operators might be pulled off their rigs to operator other equipment. Last but not least, there is often little data to measure performance, since drill fleets are the last to receive computerized drill monitoring systems.
Key to overcoming some of the lessobvious problems, said Sever, is to set standards and measure performance. Establish standards for each discrete step in the drilling process; chart the improvement, if any, comparing current and past-year actuals with budgeted goals and optimum goals; and expand management focus beyond traditional measurements. For example, instead of focusing simply on total bit cost based on number of bits used multiplied by cost per bit, expand the focus to look at such things as excessive time spent waiting for delivery of new bits, or excessive downtime when actually changing bits.
Unlocking Hidden Availability and Utilization in the Drill Fleet
Example 1: Drill Availability = 70%
Maintenance delays account for 30% of calendar hours due to 15% active repair time and 15% of hours spent waiting for parts or labor. If 50% of this wait time could be reduced due to better planning, availability would increase by 7.5% for little or no cost.
Example 2: Drill Utilization
Two hours per day are lost due to the current process for water and bit delivery. If 50% of these delays could be reduced by improving the delivery process, utilization would increase 4%-6%, depending on whether utilization is calculated on calendar time or available time.
If both improvements were achieved and sustained,
they are worth 12%-14% additional online drilling time (>1,000 hours/year).
Source: K. Sever, OptimiZ Consulting, MineWest 2006.