NovaGold Board Okays Galore Creek Construction
---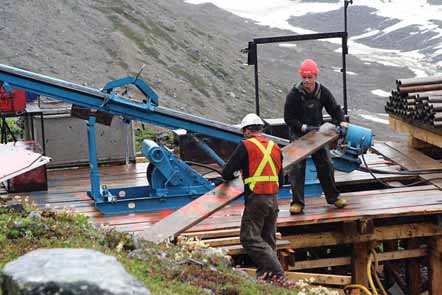 Drill pad construction at NovaGold/Teck Cominco's Galore Creek copper-gold project.

NovaGold Resources said it has received all necessary federal and provincial authorizations and permits, allowing board of director approval to start construction at the Galore Creek copper-gold project in northwestern British Columbia.

The company said board approval for construction activities was contingent on receiving full regulatory authorization for the project. Federal authorization was posted to the Canadian Environmental Assessment Registry on June 4, 2007.

Significant mobilization and other pre-construction activities had been carried out over past months. With key provincial permits received and the surface lease offer accepted, federal approval thus allowed full construction to begin immediately.

The Galore Creek deposit will be developed as an open-pit mine running at a 65,000-mt/d processing rate over a minimum 20-year mine life. Management anticipates the project will create up to 1,000 jobs during the construction phase and approximately 500 full-time jobs during operation.

Galore Creek construction has been planned in two phases. Phase 1 construction will focus on providing access to the Galore Creek Valley, and will include construction of mine access roads, bridges, access tunnels, concentrate and diesel pipelines and a power transmission line from Bob Quinn to the Galore Creek Valley. Phase 1 construction is expected to take 24 months, with access to the Galore Creek Valley in the second half of 2009. Phase 2 construction will focus on mine facilities and earthworks, including construction of mine infrastructure, a tailings dam, open-pit stripping and process plant facilities. Mine production start-up is anticipated to begin in mid-2012 after three months of commissioning.

On May 23, 2007, NovaGold announced its partnership with Teck Cominco to build the Galore Creek mine.

NovaGold has an option agreement with Copper Canyon Resources Ltd. on the adjoining Copper Canyon property, under which NovaGold is earning up to an 80% interest; as well as an option on the adjoining Grace properties with Pioneer Metals Corp., under which the NovaGold is earning a 60% interest. This option agreement is currently the subject of litigation between NovaGold and Pioneer.