Atlas Looks to Fortescue Subsidiary for Iron Ore Shipping Services
---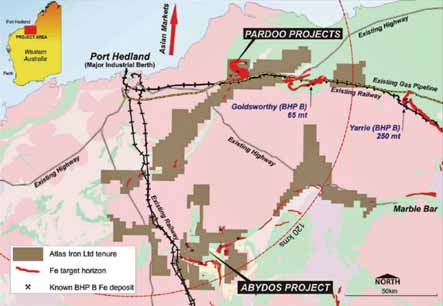 Map of Atlas Iron Ltd.'s project locations in Western Australia.

Atlas Iron Ltd. announced in June that it entered into a Memorandum of Understanding (MoU) with Fortescue Metals Group that calls for Fortescue, through its subsidiary The Pilbara Infrastructure Pty Ltd. (TPI), and Atlas to negotiate an agreement by which TPI will provide Atlas with interim port handling and ship loading services from March 2008 to March 2009 at a rate up to 1 million mt/y of iron ore from Atlas' Pardoo DSO (direct shipping iron ore) project located 50 km east of Port Hedland, Western Australia. This service, according to a press release issued by the two companies, will be provided for approximately 12 months or until such time as the pending expanded public access berth is commissioned at the Utah Point terminal. The MoU also includes port handling and ship loading services for up to 10 million mt/y of magnetite concentrate from the Pardoo magnetite project; and rail haulage, port handling and ship loading services at a rate up to 3 million mt/y of iron ore from Atlas' Abydos DSO project.

Fortescue and Atlas said they would seek to agree on commercial terms for the interim port handling and ship loading services for the period of March 2008 through to March 2009, within 60 days of the date of signing the MoU.

"Being able to load iron ore through the TPI ship loader until the new government facility is completed will minimize our impact on dust and road train traffic through the town of Port Hedland. That is a key objective," said David Flanagan, Atlas' managing director. "While Atlas is planning to haul Pardoo iron ore to Port Hedland by road transport, we believe that rail is the safest and most commercially viable means to haul iron ore. Wherever we can work with infrastructure owners to achieve a workable rail solution, we will. Access to a cape size berth with capacity for 10 million mt/y of concentrates is a major advantage to the Atlas magnetite project."

On July 24, Atlas announced that the Definitive Feasibility Studies (DFS) on the Pardoo DSO project had been completed and that its board of directors had endorsed project development based on the favorable results presented by the study. Among the study outcomes were a startup capital estimate of A$9.9 million (US$8.4 million); mine upgrade capital estimated at A$14.5 million; operating margins of A$15–$21 per mt; and an initial mine life of 4.5 years that is expected to increase with further exploration. Atlas is targeting the commencement of production at 1 million mt/y in its first year of operation, with production growing to 3 million mt/y by 2010.

The construction of the proposed expanded public access port facilities in Port Hedland is scheduled to be completed during 2008 (with capacity up to 15 million mt/y), with exports from this facility commencing by early 2009.

Atlas is also currently exploring the Abydos project, 100 km south of Port Hedland and has previously reported that Abydos potentially contains a resource of 15 to 20 million mt of iron ore grading 58% to 61% Fe. The company has not yet formally reported iron ore resources from the project.

The company is also working to complete a scoping study and initial inferred resource on a proposed magnetite development at Pardoo, estimated to contain as much as 1 to 1.5 billion mt of magnetite iron ore grading 35% to 38% Fe.