Australian Mining Technology
Despite a shortage of professionals, Australia continues to lead the world in production and exports its know-how globally
By Steve Fiscor, Editor-in-Chief
---
As mining companies rush to take advantage of the latest commodities cycle, more are looking to outside sources for help. Some are even outsourcing operations after construction such as the Hailcreek coal handling and prep plant. (Photo courtesy of Sedgman)

Australia has an abundant supply of mineral resources. The country also has some challenges with complex deposits in remote locations and the associated logistical requirements of getting those resources to market. Combine those issues with a shortage of skilled professionals to operate the mines, and one has an accurate understanding of the Australian mining market. But, even in the face of those challenges, the country remains a leader and it manages to export its services and expertise abroad.

When faced with tough challenges, Aussies use innovation to get the job done and to do more with less in ways that haven't been done before. A lot of that innovation stems from technology.

Similar to many industries, mining is experiencing a fundamental drain on technical resources. The universities have not churned out enough mining engineers and metallurgists, and with the rising markets, that lack of resources is having a compounding effect.

To gauge the current state of affairs in Australia, E&MJ spoke to four Australian firms: Byrnecut Mining, Runge, Immersive Technologies, and Sedgman. All of them are naturally looking to grow their book of business. Byrnecut is an engineering and production contractor with clients that have complex underground mining scenarios. Runge deals in both surface and underground mining and it has a collection of software that it is exporting to the world. Immersive Technologies developed the first advanced simulator for the mining business, and it is growing faster than ever with more features. Lastly, Sedgman talked about growing a company from a coal-only business to one that knows mineral processing abroad.

Byrnecut Mining Does More with Less
The labor market environment in Australia has eliminated bureaucratic layers of management in successful companies, explained Steve Coughlan, managing director, Byrnecut Mining. The lack of people has made companies more efficient, particularly in the case of mining contractors who have long driven the competitive edge of the value/cost equation. "This environment has resulted in real alliance contracts whereby duplication of roles has been eliminated and sensible analysis of risk has been undertaken to determine which party is best equipped to deal with the risk," Coughlan said. "In an open forum with all alliance members on the same page, enthusiasm and productivity thrive providing there is still a hard edge based on key performance indicators. From a contractor's perspective, the market has evolved where long term contracts are common allowing investment in modern equipment and substantial systems in areas of training, OH&S and maintenance. We would argue, in many cases, better than many mining companies."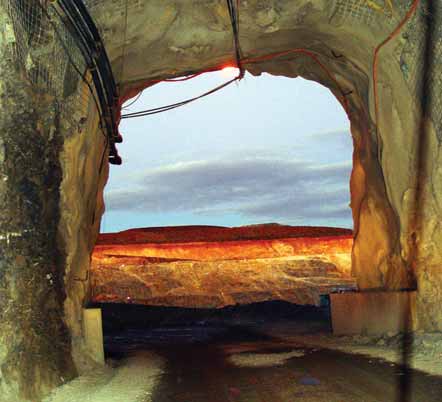 Byrnecut Mining specializes in underground mining and it sees a lot of potential for
improvement within the industry.
The issue of labor skills across the board from professionals to operational staff will continue to be a problem. "In Australia, it's hard to see how we can provide that without increasing skilled immigration—there are just not enough people," Coughlan said. "There is competition from other industries and lifestyle issues that also need to be countered. Not everyone wants to work in mining camps, regardless of the money. A greater emphasis needs to be placed on females in the workforce as a source of labor."
Byrnecut Mining is purely an underground contractor. "Complexity of deposits is not an issue," said Coughlan. "In our view, it comes down to economics. We see a long-term role for contractors in providing significant productivity skills and capability to a range of companies regardless of the size of the company or the deposit. There is no question Australian underground productivity and costs are driven by competition between contractors."
Byrnecut Mining exports its skills internationally. "We now work in Europe, Indonesia, New Zealand, Central Asia and Africa in addition to Australia," Coughlan said. "The benefits we offer are immediate first world productivity and systems that would take generations to develop in third world countries. Our challenge is to transfer those skills to various national employees working for us in those countries as, one, Australian expatriate labor is expensive and, two, we would like to use those nationals in our global workforce outside their country of residence."
Byrnecut's strength is its core of long-term employees and the intrinsic knowledge that they bring to a project. "You just cannot buy that off the shelf," Coughlan said. "Similarly, systems and procedures have been honed over more than a generation in the Australian mining environment, which demands a strong safety culture, and a competitive "can do" innovative work ethic. Byrnecut Mining, and Australian business in general, is rightly perceived as being very straight, i.e. they do not tolerate any corruption, wherever they work."
Underground mining is a tough business and Byrnecut Mining has steadily improved safety performance over a long period of time by developing systems that concentrate on leading indicators (as opposed to lagging statistics). "If you concentrate on compliance with quality systems, training and procedures, and give ownership to the workforce, safety and productivity will follow," Coughlan said. "Our Lost Time Injury rate is around 2.5 per million man-hours worked and we can do better than that. There are no quick fixes but you must be prepared to go the long road and invest in the people and systems to get there."
Some of Byrnecut Mining's recent accomplishments include:
• The introduction of a Sandvik Tamrock T08 tunneling drill jumbo with TCAD and incycle hydroscaling and fibrecrete at Prospero decline for Jubilee nickel in WA. This resulted in +5.5-m rounds to rapidly develop a single heading 1:7 decline.
• The introduction of a MINEGEM auto-remote loader in a narrow vein operation at the Jundee gold mine in alliance with Newmont. Productivity improvement and reduction in loader damage have been very encouraging.
• Successive world records for development jumbo-drilled meter performance have been achieved at several sites including Jundee (Newmont), Telfer (Newcrest) and Nifty copper mine (Birla). The current world record was achieved at Nifty where one jumbo completed 63,726 drilled meters during the 30 days of June 2007.
Runge Integrates Operations with Mine Planning
Necessity is the mother of invention. "In the days gone by, once a mine confirmed a resource, it was on the downhill run," said Pat Williams, general manager-strategic development, Runge Mining. "That's the start of the marathon today. Bringing the operations to fruition and then operating them with reliable consistent modern discipline is a constant challenge."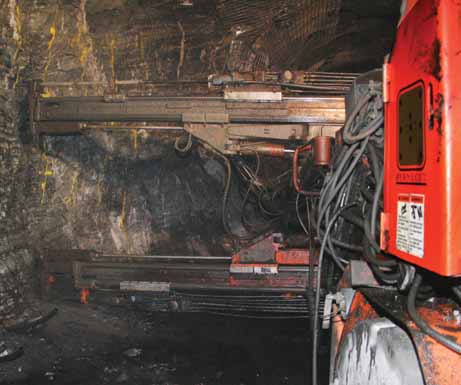 Byrnecut Mining introduced a T08 tunneling jumbo drill to increase development rates at
Jubilee's Prospero decline.
"Mining companies have either found or are operating good large deposits," said Williams. "They have consolidated them and they have those sorts of efficiencies. They have maximized the equipment sizes and all of the physical assets. The remaining nuggets of value to be converted are operating excellence—knowing and getting a closer feedback loop in the workflow as to: what should be there, how we should get it, what's required to get it, and getting it, so that the show can be kept on the road."
What Williams is talking about is complete integration of operations planning and delivery of the product. "Mines need to use technology and systems to support the operation in a very connected way," said Williams. "The mining company doesn't need a bunch of isolated scientists [geologists, engineers, etc.] working in a back room, while the crusty operations types run the mine. There is an identified value to having those two worlds joined together– and it's being expressed at serious levels within mining corporations. We need to bring the planning, the technology and the science into the operation. There often has been a disjoint between the planning and design stage vs. the execution of mining operations. The challenge is to operate with discipline, efficiency and certainty but please no surprises."
The position or footprint that Runge fills, according to Williams, is 1-in. wide and 25 miles deep. "Runge is that keystone between the world of science, engineering and geology, and the operation of the mine," Williams said. "We join two worlds together by providing, not just software and technology systems, but the sustainable processes that put them in place. We translate the technical data—tons, grade, and all of the physicals—into an executable business plan and do it in such away where the operators at the mine can execute with a very valid road map in front of them." Williams explained that Runge's role is not just to develop some software for the mines and hopefully they like it and want more. He said it's the stewardship of bringing sustainable technology systems into the mine in that particular niche that joins those two worlds.
Runge works with all commodities and mining methods from the biggest underground metalliferous mines to the largest open-pit mines. "We do everything," Williams said. "There's no exclusion. Where there is complexity and non-intuitive requirements, that's where we work well."
Mining companies can't fill the vacancies, so now the remaining people have to do more with less. "That's driving the efficiencies of what people do," Williams said. "Once upon a time, engineers had a large degree of autonomy in the technical world. People could come in and create their own 'patch' to solve problems, but there is a strong business requirement for standard processes because people come and go. Mining companies can no longer afford the inefficiencies of having to relearn. This is not just a quality assurance drive. These are sustainable dynamic business processes that transcend the people in the chair and allow the business to move forward independent of who's behind the wheel."
In Australia, there is a lot of creativity today. "The owner-operated, fullyemployed workforce is almost a thing of the past," Williams said. "A variety of outsourced involvement, not just contractors, is being offered and orchestrated through a single point of contact. Runge has a variety of people that are not necessarily on the payroll, but provide their service to the mining customer as part of one so there's only one neck to strangle if there's a problem."
Runge has been around for about 30 years and has 15 offices in different parts of the world. "We own and operate all of them," Williams said. "Runge does not work through distributors, agents, or resellers. The length of time it took for the company to grow from one to three offices was almost 18 years, and the jump from three to 15 has taken less than 10 years. And, all of the last 10 offices have been outside Australia."
Emerging markets, such as China and Eastern Europe [Russia particularly] and India to a lesser extent, do not want to reinvent the wheel. "These companies are broad minded and global thinking," Williams said. "If Australians have cut their teeth on this, the emerging markets are driven by picking up on the gains that others have made. They don't want to take the same baby steps. In the last year, Runge has opened offices in Beijing and Indonesia. Those markets want to get into the game at the current level of understanding."
Runge uses acquisitions to retain talent. "In the last six months we have added two companies," Williams said. "We are acquiring another in very short order. They are either domain experts (more engineers, geologists, operations) or it's technology." Williams believes that mines want on-site service by firms with broad experience rather than companies that have grown up serving a few mines in the region.
Williams explains that Runge has more than a global footprint; it has global consistency. "The name Runge means the same thing in Russia as it does in Brazil," Williams said. "That's kind of unique. And, that's something our customers regard highly. Our customers do not want surprises. We are not trying to be all things to all people.
"There's a big requirement in the mining industry to join the operations to the business of the rest of the enterprise," Williams said. "What happens in the mining operation is industry-specific. There is no manufacturing or bulk commodity model that applies to what mining companies do. We understand that and we service it with a combination of relevant technology and people that can back it up. We use domain specialists with practical experience that put themselves in the job to get it done."
With every acquisition, there is a bidirectional exchange, according to Williams. Prior to the acquisition, there has to be a cultural fit. "That is a strictly scrutinized part of selecting an acquisition target," Williams said. "In addition to an operational fit, the assessment criteria determine whether we see life the same way and can work together. Our acquisitions keep the brands. They have invested a lot of time and money in those brands. Basically, we are a brand aggregator.
"Knowing that the acquired firms have strength, history and a reputation in a particular space, we place a lot effort going into common back office systems and common infrastructure," said Williams. "The process really is a synthesis rather than a concentrated indoctrination. The hard work starts after the deal is worked to make sure that we integrate with effectiveness."
Immersive Unlocks Money from Inefficiencies
Immersive Technologies began producing computer-based training systems for the mining industry in 1993. In 1995, the company made a significant commitment to a mining simulator research-and-development program. In 1997, working with Westrac (a Western Australia Caterpillar dealer), it developed the first commercial haul truck simulator for the mining industry. Cat purchased that unit in 1998. Since that period the company has experienced a phenomenal growth rate.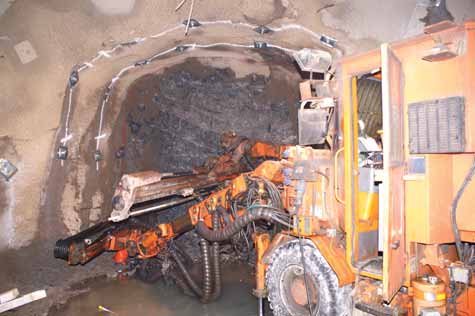 Byrnecut Mining has set successive world records for developments with jumbos.
The company has established strategic working alliances with the leading original equipment manufacturers (OEMs) to ensure a high level of realism and accuracy. Immersive Technologies offers simulators for six machines classes: haul trucks, excavators, shovels, dozers, wheel loaders, and draglines. More than 55 different mining machines can be simulated, with new models currently in development.
Today, Immersive Technologies' Advanced Equipment Simulators are in use around the world and have trained and assessed thousands of personnel. Multi-national mining companies, equipment manufacturers and dealers, and training schools use the simulators in their operator training programs.
"This particular technology is an excellent—maybe the best ever—facilitator of workforce development," said Steve Altman, vice president-North America, Immersive Technologies. "There are a lot of inefficiencies in mining. These inefficiencies are born out of non-optimal use of equipment. Similar to most initiatives based on human resources, the subjectivity and the expense that's traditionally required to tap into that pool of money which will be borne out of higher efficiencies, was cost prohibitive. Managers didn't have enough objective information to invest on a quarterly basis in those human resources initiatives."
The simulator brings objectivity to skill levels and operator performance that wasn't possible before. It does it in a very automated and efficient way. Once those assessments are made, the users have the ability to modify operator behavior. "It's really a business improvement tool regarding the performance of operators," said Altman. "The potential impact for those using it correctly is huge."
Technology has improved with time and so have the simulators. The most significant changes have been the progression of computing speed, graphics, and interrupt rates. Those improvements allow a smoother type of simulation. "The realism that we can put into the simulation continues to increase," said Altman. "Based on a software business model, every six months Immersive Technologies issues a new software release. That allows us to incrementally improve the units in the field. Even the ones that we sold first are upgradable and ongoing."
The largest advancements in relating value to the end-user is the company's understanding of best practices in mining and it has translated that understanding into specific features for the simulators. Immersive Technologies now has more than 100 simulators commissioned worldwide and it has access to all of those users. "One of the luxuries that we enjoy is a 90% to 95% marketshare in above ground simulators in mining," Altman said. "Through our user group forum, which takes place every 18 months, and continuous feedback through customer services, our sales staff, and ongoing contact with our customers, we polled best practices to help guide the industry in general as to how this technology can have the biggest impact on the bottom line."
That understanding of the business intelligence around how to use the technology is an area where the company sees a lot more potential for the mining business. "We refer to these tools as Business Intelligence and it is an important part of Immersive's Value Proposition being built into the simulators," Altman said. "It's a new feature that incorporates business reporting and cost accounting."
In the future, users will see more automation. Altman draws parallels to PCs, where the first applications were extremely rudimentary and so much had to been done with coding and programming. As an example, when running a training program, there are many different training objectives from prescreening of equipment operators to continuous improvement to U.S. Mine Safety and Health Administration (MSHA) yearly refreshers. Many of those repetitive tasks such as government reporting could be automated.
What mining companies like most about the simulators are the uses in training endeavors, such as new hires and adhoc training. A prime example of ad-hoc training would be a program to retrain operators for excessive brake usage or reaction to critical events such as a major systems failure (brakes, fire from a turbo, blown tire, etc.). More advanced uses revolve around analysis and assessment. "When a driver is placed in a high fidelity simulated circuit in a custom mine site and allowed to drive, the simulator records the areas where the operator is deficient," Altman said. "The overall goal would be to tighten up standard deviations on the cycle times. They are a little more laborious to achieve and it takes a more organized effort on the users' part, but some users are endeavoring to do that and we are waiting on the official results."
Like any other technology, these simulators are enablers. Operating efficiency is predicated on good behavior. This particular technology will enable a regimented continuous improvement approach that's documentable and reportable— something that management can act on.
Sedgman Acquires Intermet, Looks for Outsourcing Opportunities
Sedgman Limited is transitioning from an Australian coal-only player to a leading provider of engineering services to the global resources industry. The company, established in 1979, listed on the Australian Stock Exchange in June 2006 and has been expanding steadily into the metalliferous sector since. Recognized internationally for its engineering design, construction and operation of coal handling and preparation plants (CHPPs), the company entered the metals market in December 2006 by purchasing, for A$65 million, Pac-Rim, an ore crushing and screening services provider. In July, Sedgman acquired Intermet, a minerals process engineering and project management company based in Perth, for A$32.75 million.
The Intermet acquisition allows Sedgman to further expand into mineral processing and to grow outside of Australia. The company now has a presence in Western Australia with a firm that has metals project delivery experience in both Australia and overseas. "This is an excellent fit for Sedgman's existing business, especially as far as shared resources," said Peter Hay, managing director, Sedgman. "The Intermet acquisition brings increased operations service opportunities and synergies with Pac-Rim."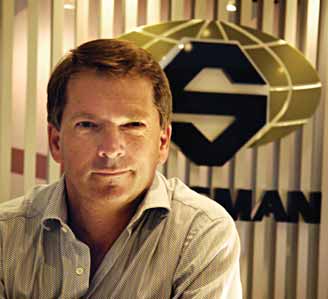 Peter Hay, managing director, Sedgman Limited.
Intermet's core capabilities consisted of metallurgical test works, process development and design, feasibility studies, engineering design and costing, and project evaluation. Approximately 85% of Intermet's revenues were sourced from EPCM-style contracts and it employed 80 people.
What excites Hay the most about the acquisition is the technical competence of the Intermet crew. "Sedgman's coal business is based on its technical excellence and Intermet had that same core capability," he said. "Over a period of time we have developed a system that we believe can leverage the Intermet expertise. The group had a strategic presence in Western Australia. It was in the metals sector, which is an area we are trying to grow, and it had the international experience."
When Sedgman scouts for acquisitions, explained Alan Wigan, CFO, Sedgman, it looks for niche players that have the technical expertise. Essentially it looks for other companies that have what it has. The company gets exposed to their level of professionalism and skills. "Recently, there has been an enormous drain on our engineering capabilities especially during this current boom in commodity prices and the minerals cycle," said Wigan. "There's a lot of competition to get skilled people."
Cross-pollination between the coal and mineral guys is part of the opportunity in terms of attracting people with broad skills. "There are people that like to see that, in terms of career opportunities, we will be encouraging that and it will also ensure that we get the appropriate utilization of our resources. In terms of demand, it might change from time to time from one sector to the other," Hay said.
The recent acquisitions give Sedgman the opportunity to do in metals what it has done in coal where it is recognized internationally in terms of coal preparation expertise. "That expertise has been developed because of the relationship between our engineering services and our operations, and the feedback we get from being a plant operator," Hay said. "That model is what we are seeking to emulate in the metals industry. With the expertise and niche skills available to us through Intermet, we have the opportunity to do that again."
Ideally, Sedgman would like to run the CHPP. "It depends of the facility, but a typical coal plant would have 20 to 30 people on site," Hay said. "We have about 100 people working in our operations area in coal and we have about the same within Pac-Rim on the metals side. Organizationally, Sedgman now stands at 550 people."
"Most mining companies operate their own mineral processing plants," Hay said. "That's certainly an area where we are trying to change the client approach and offer an outsourcing service. Coal has historically been like that. We now have five operations. It's probably not unrelated to the access to skills and resources. Having the skills and resources makes Sedgman more attractive to prospective clients."
A prime example of how Sedgman would like to see a deal structured is the Middlemount contract that the company recently signed. During June, Sedgman signed a A$65 million contract for the design and construction of a CHPP at the Middlemount coal project in Queensland, together with a 10- year operations agreement. Hay said the contracts were awarded to Sedgman without a tender process and was illustrative of Sedgman's expertise and reputation. "The planned 400 mt per hour CHPP will process up to 2.9 million mt per year of coking and thermal coal. The 10-year operations contract will bring the number of CHPPs which Sedgman operates to five."
The CHPP operations contract will deliver recurring income over a 10- year period, commencing in the 2009 financial year, following the commissioning of the CHPP in 2008. "Sedgman's approach of working directly with the client to identify their needs ensures the seamless delivery of the whole project, right through from design to operations," Hay said. The Sonoma project is similar. Sedgman has announced the first stage of that project, which is the design and construction of the CHPP. The company is currently in negotiations for the operating contract, but it expects it to be very similar to the Middlemount contract.
"The recent acquisitions confirm our strategy to grow the commodity base outside of coal," said Hay. The company also wants to grow globally, in terms of where it is providing services. "In coal, that's already starting. We are working with CVRD in Mozambique on the Moatize project. We are working with existing clients in other parts of the world. We are looking at opportunities in India and China. Intermet is already in Asia and Africa."
The greatest challenge facing Sedgman is people, according to Hay, and it's something the company really does focus on organizationally in terms of personal and professional development. "The structures that we have available to us now that we are listed have provided us we flexibility as to how we engaged them," Hay said. "The other major area that we focus on is safety. In Australia, it's very important, but there are challenges as we diversify internationally in terms of maintaining that safety culture. Other things we are pursuing are R&D activities. Some of those are associated with sustainability in terms of water recovery and power efficiency. We are looking at other technologies that will enhance the utilization of the resources we are exploiting. We are investing in our future in that regard."