CVRD, Hydro to Build Brazilian Alumina Refinery
---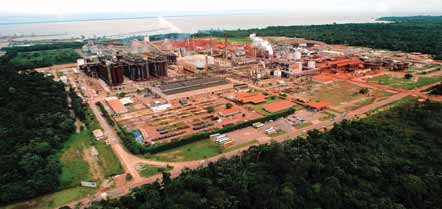 An aerial view of Alunorte, the world's largest alumina refinery, which will eventually be
capable of producing 6.5 million mt/y.

Companhia Vale do Rio Doce (CVRD) has signed a Memorandum of Understanding to develop a new alumina refinery in northern Brazil with Hydro, a leading Norwegian producer of aluminum. The refinery will be located in Barcarena, in the Brazilian state of Para, Brazil.

"Participation in the new refinery project is an important element of Hydro's strategy to expand our global primary aluminium and raw materials production," said Hydro President and CEO Eivind Reiten. "We will grow our upstream aluminum activities with a focus on alumina and primary aluminum, in parts of the world with access to natural resources on competitive terms."

Investment cost in the first stage of the project is estimated at $1.5 billion. Construction is expected to begin mid- 2008, following an anticipated final build decision in first quarter 2008. Production start-up is scheduled for the first half of 2011. The plant is to be developed in four stages, each designed to add 1.85 million mt/y of alumina production capacity for an ultimate total output of 7.4 million mt/y. Hydro will have the right to participate with the same share in all future expansions.

Bauxite for the new refinery will be delivered by CVRD from its operation in Paragominas, in Para, through capacity in the existing bauxite slurry pipeline, currently partly supplying Alunorte.

Hydro also is participating in the third expansion of Alunorte, the world's largest alumina refinery, which will reach total annual production capacity of approximately 6.5 million tons. This expansion, combined with participation in other alumina projects, provides Hydro with an equity coverage in excess of 70% alumina.