Getting It Under Control
Namibia's mine operators are focusing on efficiency, and doing it by the numbers.
---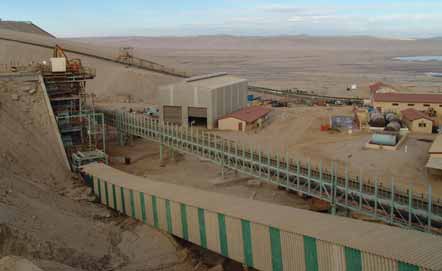 A new control tower at diamond miner Namdeb's Elizabeth Bay operations in Namibia
provides a 270° view of the facilities, which process between 50 million and 70 million t/y
of diamond-bearing sand and rock.

The West African nation of Namibia has ample resources of diamonds and uranium— two of the most sought-after commodities in today's minerals market. In turn, Namibia-based producers are seeking commodities of an entirely different type: high-tech plant control, automation, and reporting systems that will allow them to maximize production and profit in the current boom.

Diamond miner Namdeb, a business partnership inaugurated in 1994 between the government of Namibia and De Beers Centenary AG, is the largest exporter in Namibia with annual shipments accounting for more than 30% of Namibia's total exports and 10% of its gross domestic product (GDP). The company has recently invested substantial capital to find new reserves and to discover ways of economically mining and treating previously uneconomic reserves.

Namdeb currently holds six mining licenses, three of which are named Mining Area No.1, Bogenfels and Elizabeth Bay, respectively, and which extend from the Orange River in the south to Lüderitz in the north, and approximately 5.5 km off shore in the Atlantic Ocean to approximately 20 to 35 km inland.

At the Elizabeth Bay operation, the costs involved in mining 50- to 70-million metric tons (mt) of sand and rock each year are considerable, and Namdeb is continually looking for innovative ways to improve production and reduce costs.

When Elizabeth Bay needed a new mine control room, the operations manager at the time, Ian Holl, gave the consulting company a simple brief: "Give me something from which I can see everything." Creating a world-class control room and operations was not an easy feat. At E-Bay, as it is called, the desert environment poses unique challenges. Dust is stirred by prevailing winds on the west coast, and fog combined with salty air offers another challenge in the form of corrosion which, according to Holl, is the worst he has encountered in his career.

However, the project's result is a distinctive building that the staff quickly nicknamed "the E-Bay flight control center." Inspired by the control tower at Johannesburg International Airport, this threestory building on the Namibian coast was designed by a Japanese firm and sub-contracted by Bateman Consulting. The structure has a 270° view of the entire function including workshops, the tipping and crushing site, metallurgy, the mining fleet and the whole surface mining operation. Now operators can see everything that is occurring—from a truck standing idle that is supposed to be active, to the status of the primary crushers and tipping area.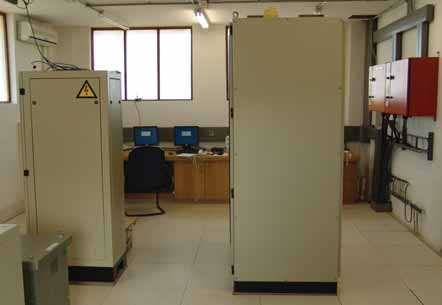 Special window frames and glass had to be installed in the E-Bay control room to protect
sensitive equipment from desert dust and heat as well as salt fog from the nearby ocean.
The tower has three floors with the control room occupying the top floor, housing LCD display screens. The extreme environmental conditions required the use of special frames, designed to eliminate dust ingress, for the control room windows. Because of the east-facing aspect, tinted glass was used. The floor below the control room is windowless and houses Citect SCADA equipment, PLCs and other hardware in a controlled environment.
Namdeb implemented CitectSCADA to enable centralized control of the plant as well as monitor and control the diamond recovery process. CitectSCADA monitors and controls the processes from the primary crushers and tipping to the diamond recovery plant. Citect installed two redundant servers and two display clients at the mine that link seamlessly to a 45,000-I/O tag system. CitectSCADA monitors and controls all field parameters of the crushers: oil pressures, hydraulic pressure, temperatures, gap settings and startup sequences.
At E-Bay, the crushed gravel is conveyed to a liberation plant where scrubbers and vibrating screens are used to sort and wash it. At this stage, CitectSCADA is used to monitor and control the water flow and start/stop motor sequences. The diamond recovery process at E-Bay uses a lot of seawater in the process. A pump station controlled by CitectSCADA and Siemens technology pumps water to the plant from an inlet located 1.5 km out to sea. Over approximately nine months, Citect's Professional Services team collaborated closely with Namdeb's plant and operations management to ensure the system optimizes the diamond recovery process at the plant. The result is a highly efficient, low cost extraction process.
Namdeb intends to use CitectSCADA for further plant enhancements and expansions. According to Holl, "Citect's scalability facilitates future plant upgrades without requiring modification to the existing hardware or software. Its single global database simplifies SCADA software management by allowing changes to be made at a single point that are immediately updated at all CitectSCADA stations."
In June, Citect announced that after successful testing and performance at Elizabeth Bay, Namdeb also selected Citect's Ampla Manufacturing Execution System (MES) for company-wide installation to help eliminate downtime.
The pilot installation at Elizabeth Bay consisted of five Ampla modules: Downtime, Quality, Metrics, Maintenance and Production. These modules identify where, how and why production delays occur. Using the information provided by this system, Namdeb now can monitor and tweak production processes for improved efficiency. Citect also assisted with support and maintenance at the site by providing operator and maintenance training that allows Namdeb employees to troubleshoot on their own.
Control at Langer Heinrich
Sydney, Australia-based Citect, which claims to be the largest independent supplier of industrial automation software in the world, also was instrumental in getting another Namibian producer, in this case the Langer Heinrich uranium project owned by Australia's Paladin Resources Ltd., into the production phase following an extremely tight 15-month construction effort.
Yellowcake production at Paladin Resources' Langer Heinrich mine in Namibia is targeted
at 2.6 million lb/y.
Langer Heinrich is a large greenfield site located in west-central Namibia, with a targeted annual production of 2.6 million lb U3O8 and a minimum mine life of 17 years. Officially opened in mid- March this year, Paladin reports that the alkaline leach process used at Langer Heinrich has been successfully proven through production of commercially acceptable yellowcake. Production to the end of June 2007 was expected to approach 270,000 lb.
Paladin chose Citect to install the mine's complete control automation system, consisting of CitectSCADA and CitectSCADA Report combined with Siemens S7-400 PLCs. The project was completed in 10 months and, once again, the scalability capabilities of the Citect automation package were a significant factor in system selection—allowing engineering to be completed in a controlled test environment before being rolled out to the entire plant.
The SCADA implementation process began with a design phase in which technical clarification was completed and a functional design specification was created. Citect created a "mimic" plan from various device lists that received client approval before the mimics were made. All screens were then drawn in static form. When the client approved the mimics, the animation and database generation started. All SCADA objects were tested with an in-house PLC before the final acceptance test and release to site.