Education, Empowerment and Exposure



During May, Engineering & Mining Journal (E&MJ) hosted the Haulage & Loading conference in Phoenix, Arizona. More than 300 people attended the three-day event, where experts talked about all aspects of operations and management. The technical program kicked off with a session on safety training. Two experts talked about successful strategies that they had implemented. Most of the discussion boiled down to better educational procedures, treating people like people, and eliminating the potential for accidents to occur. Implementing these programs requires leadership, which differs from management skills, and a big commitment as far as effort.

Today most of the safety dialogue revolves around the constant pursuit of zero— zero fatalities, zero lost time accidents, etc. While that is an ambitious goal, safety experts doubt that any company can achieve it until ......... read more


Steve Fiscor, Editor in Chief



Labor Issues Continue to Roil South Africa's Mining Industry
Impending wage negotiations between labor unions representing workers at South Africa's gold and coal mines and the Chamber of Mines of South Africa, representing the mining companies, were scheduled to begin in early June 2013. In late May, the National Union of Mineworkers (NUM) said in a submission to the Chamber of Mines that it would be seeking an entry-level minimum monthly wage of R7,000 for gold and coal surface workers, up 49% from about R4,700,  60% from about R5,000. (The South Africa rand/U.S. dollar conversion rate at the end of May was about R10 = $1, near a 10-year low for the rand). NUM also said it wanted......... read more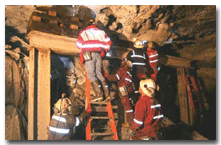 Tunnel Collapse Kills 28 at Freeport Indonesia Underground Training Facility


A tunnel and underground training classroom at Freeport Indonesia's Grasberg operations in Papua province, Indonesia, collapsed on May 14 killing 28 people, while 10 escaped. Rescue and recovery operations were difficult and required several days to complete. The last of the victims' bodies were recovered on May 22. The Freeport Indonesia underground training facility was located some distance from the nearest mining operations—the mines were not impacted. However, the company halted mine operations....... read more

Top
Schweitzer Replaces McAllister at Stillwater


Stillwater Mining Co. announced on May 20 that Brian Schweitzer, former governor of Montana, had been elected chairman of the company's board of directors, replacing Frank McAllister. McAllister had served as Stillwater chairman and CEO since 2001. He will continue in the role of CEO and president of the company during an interim period while the board seeks a successor. Stillwater owns and operates the Stillwater and East Boulder platinumgroup- metals (PGM) mines in south-central Montana, the primary product being palladium. The company operates a smelter, refinery and laboratory at Columbus, Montana, to upgrade..... read more

Top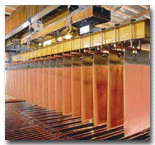 Capstone Buying Pinto Valley Mine from BHP


Capstone Mining and BHP Billiton announced in late April 2013 a definitive agreement whereby Capstone will purchase BHP Billiton's wholly-owned Pinto Valley open-pit copper mining operation and the associated San Manuel Arizona Railroad Co. (SMARRCO) in Arizona for $650 million. The Pinto Valley mine is located in the Globe-Miami mining district, approximately 125 km east of Phoenix. It is projected to produce 130 million to 150 million lb/y of copper in concentrate and approximately 10 million lb/y of copper cathode, along with by-product molybdenum and silver, at an estimated cash cost of approximately $1.80/lb net of by-product credits, over the next five..... read more

| | |
| --- | --- |
| AROUND THE WORLD - USA & CANADA | |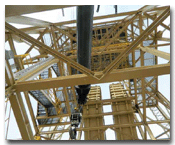 Nevada Copper Plans Two-stage Development at Pumpkin Hollow


Nevada Copper announced it will develop its Pumpkin Hollow copper project near Yerington, Nevada, in two stages. Stage 1 will be a 6,500-mt/d underground mine and concentrator based on the property's East deposit, where shaft sinking is currently in progress. An updated feasibility study for Stage 2 development of open-pit mines on the property's North and South deposits is currently targeted for completion on or before August 2013. Cash flows from the underground operation.... read more
Maudore Pours its First Gold at Sleeping Giant


Maudore Minerals announced on April 22 the pouring of its first two gold bars, totaling approximately 945 oz of gold, at its Sleeping Giant processing facility in Quebec. Maudore acquired the facility when it acquired North American Palladium's gold division, NAP Quebec Mines Ltd., in March. The purchase included the Sleeping Giant mine and mill complex, the Vezza mine, and a nearby portfolio of exploration properties. With the pouring of its first gold at Sleeping Giant, Maudore transitioned from an exploration company into a gold producer. The company also reported that it has renamed the former NAP Quebec Mines operations as Aurbec Mines Inc... read more

Top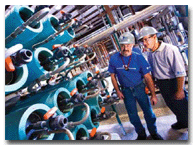 Cameco Begins Production at North Butte


Cameco began production at its new North Butte in situ uranium mine in Campbell County, Wyoming, on May 13. North Butte is a satellite facility to the company's Smith Ranch-Highland in situ operations in Converse County, Wyoming. Uranium-bearing resin from North Butte is being transported to an existing central processing plant at Smith Ranch-Highland for production of uranium concentrate. North Butte is expected to contribute about 300,000 lb (136,000 kg) of uranium concentrate in 2013 and ramp up to a targeted annual production rate of more than 700,000 lb/y by 2015. Cameco operates Smith Ranch and.... read more
| | |
| --- | --- |
| AROUND THE WORLD - Latin America | |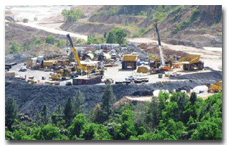 Pueblo Viejo Dominicana Agrees to Lease Amendments


Barrick Gold reported on May 8 that Pueblo Viejo Dominicana Corp. (PVDC) had reached an agreement in principle with the government of the Dominican Republic concerning amendments to the Pueblo Viejo special lease agreement. PVDC is the operating company at the Pueblo Viejo open-pit gold mine and is jointly owned by Barrick (60%) and Goldcorp (40%). The mine achieved commercial production in January 2013 and is expected to produce more than 1 million oz/y of gold over its first five full…… read more
Chile Fines Barrick, Halts Construction at Pascua-Lama


Chilean environmental authority Superintendencia del Medio Ambiente (SMA) announced on May 24 that it was fining Barrick Gold about $16 million for violations of Chilean environmental regulations at the company's cross-border Chile/ Argentina Pascua-Lama gold-silver project and ordered a halt to construction in Chile until all requirements of the project's environmental permit are satisfied. The fine was the maximum permitted under Chilean law. Barrick had…. read more

| | |
| --- | --- |
| AROUND THE WORLD - Australasia | |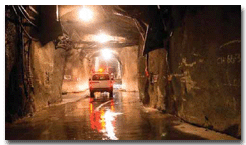 Rio Tinto Opens Argyle Underground Mine


Rio Tinto officially opened its new blockcave Argyle underground diamond mine in the east Kimberley region of Western Australia in late April. The move from openpit to underground mining will extend the life of Argyle until at least 2020. The $2.2-billion underground development uses the latest in block caving technology and is the first of its kind in Western Australia. The mine will generate around 9 million mt/y of ore and, on average, approximately 20 million carats/y of diamonds over…. read more



Queensland Shortlists Five Groups for Aurukun Bauxite Development


The government of Queensland announced on April 23 a short list of five groups approved to submit detailed mine development proposals for the Aurukun bauxite deposits on the western Cape York Peninsula in north Queensland. The groups are Aluminum Corporation of China (Chalco), Glencore International, Rio Tinto Aluminum, Australian Indigenous Resources Pty Ltd. (AIR) and Cape Alumina Consortium. Chalco, Glencore and Rio Tinto are wellknown international mining companies; AIR is a special-purpose vehicle formed to submit a proposal for the Aurukun project …. read more

Top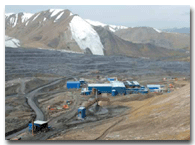 Centerra Dealing with Waste-rock Dump Movement at Kumtor
Centerra Gold reported in early May that a large section of the principal wasterock dump at its Kumtor gold mine in the Kyrgyz Republic was experiencing a greater-than-anticipated rate of movement, requiring acceleration of planned relocation of some mine infrastructure. Employees in the affected buildings were moved to temporary work locations until new facilities are constructed. Kumtor operations are located in the Tien Shan mountains 350 km southeast of the Kyrgyz capital of Bishkek at mining elevations ranging up to 4,400 m. Local valleys are occupied by active glaciers that extend down to elevations of 3,800 to 3,900 m…. read more

Tethyan Withdraws from Reko Diq Project
Tethyan Copper Co., a joint venture of Antofagasta plc and Barrick, announced on May 8 that it has withdrawn its request for specific performance in the international arbitrations it has brought against the governments of Pakistan and the province of Balochistan in Pakistan. As a result, Tethyan will no longer seek the grant of a mining lease for its Reko Diq copper-gold project in the Chagai district of northwest Balochistan and instead will seek solely monetary damages as compensation for Pakistan's and Balochistan's breaches of Tethyan's contract and treaty rights. The government of Balochistan province rejected Tethyan's application for a mining lease…. read more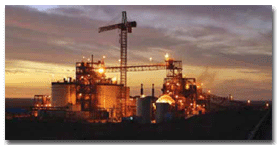 Kinross Studying 38,000-mt/d Mill for Tasiast


Kinross Gold announced on April 29 the results of its pre-feasibility study (PFS) for a 30,000-mt/d expansion project at its Tasiast gold operations in northwest Mauritania. The PFS assumed retention of the existing 8,000-mt/d Tasiast mill. At the same time, Kinross announced a decision to proceed with a feasibility study based on a new 38,000-mt/d mill after trade-off studies concluded that such a mill would be expected to provide the optimum economics for an expanded project. Under this scenario, the…. read more

Swakop Uranium Starts Construction at Husab
Swakop Uranium reports that construction is in progress at its $2.5-billion Husab uranium project in Namibia, following an official ground-breaking ceremony on April 18. The Husab project is located 60 km northeast of the major deep-sea port of Walvis Bay. The project feasibility study, reported in April 2011, was based on an initial reserve of 205 million mt grading 497 ppm U3O8 for a total of 225 million lb of contained U3O8. Husab production capacity is targeted at 15 million lb/y of U3O8, which will rank it among the largest uranium mines in the world…… read more

Top
| | |
| --- | --- |
| THIS MONTH IN COAL | |
Bankruptcy Judge Allows Patriot to Abandon Union Contracts


On May 29, a federal bankruptcy judge in St. Louis ruled in favor of officials at Patriot Coal seeking to annul union contracts, a move allowing the financially distressed company to impose sharp wage and benefit concessions on current and retired miners. In a 102-page decision, Judge Kathy A. Surratt-States of the U.S. Bankruptcy Court granted Patriot's motion to reject collective bargaining agreements…. read more

Canadian Court Clears HD Mining in Worker Dispute


A federal Canadian court has dismissed a complaint filed by two unions against HD Mining International alleging the company hired 201 unqualified short-term Chinese employees for a coal mine in British Columbia in lieu of Canadians. Representatives of International Union of Operating Engineers and the Construction and Specialized Workers Union both claim HD Mining granted work permits for the…. read more

Linc Energy Finalizes Exxaro UG Gasification Project
Linc Energy has formalized a deal with Exxaro Resources to jointly develop its first commercial underground coal gasification (UCG) project in sub-Saharan Africa, including the use of synthesis gas for power generation and gas-to-liquids, according to company officials. Under the agreement, Linc said it will receive $19 million in licensing fees, royalties indexed to Australian CPI from Q4 2012, indexes for synthesis gas, $6.7 million pending UCG's initial regulatory approval in 2017 and engineering partnership fees. Linc Energy…. read more
| | |
| --- | --- |
| FEATURE - Underground Haulage | |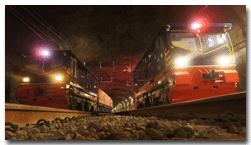 Underground Rock Handling
Recent developments in both traditional and unconventional systems for moving rock in underground mines

By Simon Walker, European Editor

In many respects, the choice of haulage system for an underground mine is dictated by the orebody geometry. Narrowvein systems or orebodies that are elongated vertically lend themselves to an LHD-based system centered around a series of orepasses. For ore zones that are more tabular, or are geographically spread out, using LHDs to load mine trucks that then transport material either to an orepass or directly to surface via a ramp may be a better option. High-capacity, bulk-tonnage mines, by contrast, may find that a fixed infrastructure network using either high-tonnage trucks or rail-bound haulage is the most economical way of moving their ore. And, while conventional belt conveyors are less-commonly used in hard rock mining than in coal, for instance, there are always innovations being developed and trialed that offer an alternative means of rock transport……. read more

| | |
| --- | --- |
| FEATURE - Exploration | |

Dynamic Earth Model Offers New Exploration Insights


Miners looking deeper underground for new mineral deposits need better tools to reduce risk and identify favorable locations. Comprehensive digital subsurface models offer improved technology to accomplish both of those goals

By Simon Walker, European Editor


According to Dr. Graeme Nicoll, head of the minerals exploration group at the U.K.-based earth-science research company, Neftex, as the number and quality of new mineral deposit discoveries continue to decline, miners are being forced deeper into the subsurface realm to access mineral wealth. This, he said, then exposes the sector to greater risk and financial uncertainty. While the tools and technology for accessing and exploiting subsurface deposits are advancing, Dr. Nicoll explained, identifying the right location to explore is increasingly becoming more of a challenge. New tools are therefore required that will identify subsurface or "blind" deposits, and offer a predictive model to increase discovery and exploration efficiency ..... read more

Top
| | |
| --- | --- |
| FEATURE - Maintenance | |

Leveraging Lubrication


It's a time-worn adage, but still true: pay now or pay later. When it comes to proper lubrication of mine equipment, a few dollars spent now can help avoid major unplanned costs in the future.

Mine operators—pressured on one side by rising material and labor costs, and on the other by softening commodities markets— are naturally interested in getting the last ton of productivity out of their primary fleet equipment, at the lowest operating cost. Under these circumstances, it's tempting to consider measures that could lead to lower expenses for two of the major consumables involved in loading and haulage: fuel and lubrication products such as engine oil. But when it comes to lubrication, cutting corners—extending oil change intervals, using cheaper filters, or simply ignoring oil condition, for example—can result in false economies. As the following case histories illustrate, real savings are often generated by investing attention and relatively small amounts of money to maintain proper lube standards and service, avoiding the much larger costs of premature engine overhauls, unscheduled downtime and failure to reach projected equipment service-life goals, among others…... read more

| | |
| --- | --- |
| FEATURE - Online Analysis | |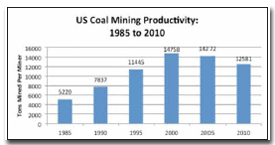 A Promising New Development in Coal Analysis


By Richard Woodward

Productivity growth in the U.S. coal industry from 1985 to 2000 was remarkable, from about 5,200 tons/ miner per year in 1985 to almost 15,000 tons/miner per year in 2000, a compound annual growth rate of almost 8% per year (See Figure 1). Admittedly, some of those efficiency gains can be attributed to the Powder River Basin's increasing share of production and its scale advantage. Yet, productivity growth of 8% is hard to ignore. What's equally remarkable is that this growth occurred without any significant breakthroughs in mining technology. Everything that characterized stateof- the-art mining equipment in 2000— from longwalls to heavy media cyclones to high-speed rail loadouts—already existed in 1985, although belt speeds and haul truck capacities continued to increase..... read more

Top

For more companies with products in the Electric - Generators market -
Go Here
Sandvik Alpha 330
To match the increased energy output from modern high-power rock drills in drifting and bolting, Sandvik brings further developments to the Alpha 330 - delivering straighter holes, higher penetration rates and 30 to 80 per cent more rod life. The drill string rod / bit connection features an entirely new thread design. The short thread on the hexagonal rods in the tool system result in a rigid, integrated powerpack drill string with superior resistance to bending stresses, improved bit guidance and perfect energy transfer... watch the video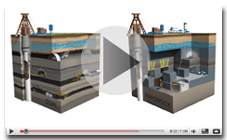 Whatever your challenges are: BASF - your mining partner
BASF Construction Chemicals serves the mining industry with much more than just equipment and chemicals for sprayed concrete. Its innovative MEYCO® solutions span everything from injection and backfill to thin spray-on liners, backed by the support and expert engineering knowledge of its global mining team ... watch the video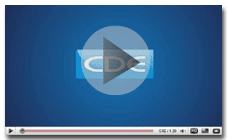 CDE to unveil new Evowash sand washing plant at Bauma
Following an extensive research and development programme CDE have announced that the launch of the next generation EvoWash sand washing plant, M2500 mobile washing plant and AggMax portable logwasher will take place at Bauma Munich in April.... watch the video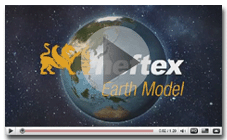 ASSA ABLOY helping you to go to extremes - Automated entrance solutions for the mining industry
ASSA ABLOY Entrance Systems introduces its combined offering of Albany and Megadoor industrial door solutions for the mining industry.... watch the video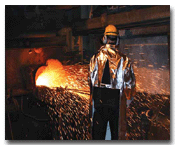 Taking the Heat…Seriously


Cintas Corp., a provider of first-aid and safety personal protective equipment (PPE), offers suggestions for limiting heat stress in the workplace. When the body is unable to cool itself by sweating, heat stress can occur. According to the Occupational Safety and Health Administration (OSHA), five to 10 million workers are exposed to heat-related illnesses each year. "Heat-related illnesses can jeopardize …. read more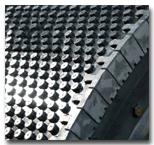 Weir Expands in Comminution Market


The Weir Group PLC recently expanded its market presence in mining and minerals markets through a number of agreements, which, according to the company, significantly enhance its platform for growth in the comminution segment of minerals processing. Weir said it signed an exclusive license with KHD, giving direct control over the design, manufacture and distribution of High Pressure Grinding Rolls (HPGR) in minerals processing applications using KHD technology. KHD will receive royalty payments on equipment sales…… read more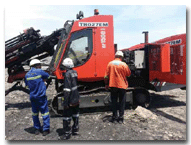 New Sandvik Facility Serves Mozambique Mining


Sandvik Mining, recognizing the opportunities offered by Mozambique's burgeoning mining industry, has established a full-service office to support its customers' operations in the country. The office is located in the northwestern town of Tete, central to current mining efforts. Tete is regarded as the mining capital of the country, and also is situated on what has been described as thebiggest coalfield discovery worldwide in the past 50 years, Sandvik said. Sandvik Mining Territory Manager Hosea Molife said the establishment of a …. read more

Top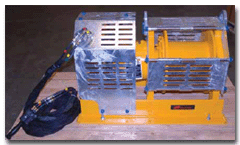 Air Winches are Compact, Powerful and Easy to Transport


Ingersoll Rand has introduced a new line of Infinity Series customized mining air winches. The new FA2i Infinity Series air winch has a rated capacity of 4,400 lb (2,000 kg) with a 4,400-lb top layer-rated line pull. A 9.4-hp (7-kW) radial piston motor provides positive starting torque and precise spotting control. Ingersoll Rand designed the Infinity Series winches to be compact, with longer side rails  .…… read more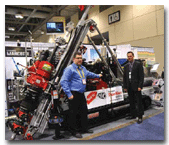 Helicopter-portable Exploration Drill Rig


Marcotte Machining's new Mancore 600TA is a demountable, heli-portable exploration drill rig specifically designed for operations in hard-to-reach or difficult areas. The new rig joins Marcotte's existing product line, which includes the model STM1500 for underground drilling and HTM2500 for surface drilling. The Mancore 600TA is a modified version of the base model Mancore 600, incorporating a track system for maneuverability in all types of terrain. Like the 600, the 600TA…. read more



Peristaltic Pump Solves Tough Application Problems


Verderflex's Dura 45 peristaltic pump solves a number of pumping problems for medium flow applications up to 12m3/h, according to the company. These could include dry-running liquid streams, shearsensitive polymers, high-viscosity sludge and pastes, variable-speed dosing, abrasive solids in suspension and off-gassing fluids. According to the company, the Verderflex Dura 45 delivers 25% more flow per revolution than equivalent models, requiring 300 less revolutions to pump 2,000 liters and outperforming its competition at pressures up to 16 bar. Notable features include an innovative quarter-turn-to-lock system for…. read more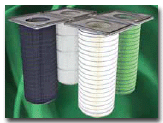 Dust Collector Filters


New HemiPleat eXtreme nano fiber filters from Camfil Air Pollution Control (APC) offer high filtration efficiencies and greater durability with better resistance for pulse-cleaning. These advantages can extend filter life and reduce operating and energy costs associated with industrial cartridge dust and fume collectors. The standard eXtreme media delivers MERV 15 efficiency—higher than the base media rating of MERV 10. Also available is a high efficiency (HE) MERV 16 eXtreme media that delivers tested efficiency of 99.99% on 0.5 micron and larger particles by weight .…. read more

Top

Ultra-fines Recovery System


Deister Machine Co. offers its new Ultra- Fines Recovery System (UFR), which is designed to recover ultra-fine sands and silts in quarry applications, or to recover tailings in various mining applications, allowing operations to eliminate or greatly reduce the use of maintenance-intensive settling ponds. As a more cost-efficient alternative to the use of plate filter presses, for example, the Deister Ultra-Fines Recovery System enables producers to create a dry tailing or silt product, which can be stockpiled prior to removal, or used as a saleable product. The Deister UFR System is capable of….read more
APRIL 15–21, 2013: bauma 2013, Munich, Germany. Contact: Messe München GmbH; Tel: 49 89 949-11348; Fax: 49 89 949-11349; E-mail: info@bauma.de; Web: www.bauma.de
APRIL 16–18, 2013: Minex Central Asia 2013, Astana, Kazakhstan. Contact: Arthur Poliakov; Tel: 44 (0) 207 520 9341; E-mail: admin@minexforum.com; Web: www.minexasia.com
APRIL 16–19, 2013: 23rd International Mining Congress and Exhibition of Turkey, Antalya, Turkey. Contact: IMCET; Tel: 90 312 425 10 80; Fax: 90 312 417 52 90; E-mail: imcet@maden.org.tr; Web: www.imcet.org.tr
MAY 5–8, 2013: CIM 2013 Convention, Toronto, Ontario, Canada. Contact: Canadian Institute of Mining, Metallurgy and Petroleum; Tel: 514-939-2710, ext. 1311; E-mail: mbell@cim.org; Web: web.cim.org/toronto2013
MAY 6–10, 2013: SYMPHOS 2013, the International Symposium on Innovation and Technology in the Phosphate Industry, Agadir, Morocco Contact: OCP Group, Morocco; Tel: 212 5 23 34 51 22; Fax: 212 5 23 34 50 64; E-mail: info@symphos.com; Web: www.symphos.com
MAY 7–9, 2013: Arminera, Buenos Aires, Argentina. Contact: Viewpoint SA; Tel: (011)4814-3833/4816-5818; E-mail: info@viewpoint.com.ar; Web: www.arminera.com.ar
MAY 11–12, 2013: Geominetech 13th Annual Symposium on New Equipment New Technology Management and Safety, Bhubaneswar, India Contact: JK Hota, editor and organizing secretary; E-mail: hotaeditor@sify.com; Web: www.geominetech.webs.com
MAY 19–22, 2013: Haulage & Loading, Litchfield Park, Arizona, USA Contact: Tanna Holzer; Tel: 303-283-0640; E-mail: tholzer@miningmedia.com; Web: www.mining-media.com
For a full calendar of mining industry conferences and events - click here
| | |
| --- | --- |
| WHO'S MOVING WHERE | |

Goldcorp Inc. has appointed Russell Ball executive vice president of capital management.

Midway Gold Corp. has appointed John Labate CFO.

Royal Gold Inc. has appointed Karli Anderson vice president of investor relations.

Former New Mexico Rep. Heather Wilson (R) has been appointed president of the South Dakota School of Mines & Technology. Wilson succeeds the late Robert Wharton, who died in September. She will begin her duties on the Rapid City campus in mid-June, and will become the first female president in the school's 128-year history.

Richard Bishop , who earned his bachelor's in mining engineering at Virginia Tech in 2002, recently received Virginia Tech's College of Engineering Outstanding Young Alumnus Award for 2013. While Bishop was enrolled at Virginia Tech, he completed an additional year of mining engineering studies in Europe. Post-graduation, he continued to further his knowledge in economics at the University of South Florida and mineral economics at the Colorado School of Mines. Bishop began his professional career working for Mosaic as a process engineer and was promoted to operations supervisor of its largest phosphate mining operation, with more than 250 personnel in three short years. Then, Bishop joined Harrison Western in Denver, Colorado, USA, as a project manager where he hired, trained, and managed hard rock miners to complete underground mining construction and mine rehabilitation projects in the western U.S. In 2008, Bishop was offered a job in Toronto, Canada, as a mining equity research associate for RBC Capital Markets, where he evaluated potential investments. Currently, he serves as vice president of investments for Aberdeen International, also located in Toronto. Bishop also currently serves as president and CEO of a new investment company in Mongolia, funded by Aberdeen.

Modular Mining Systems has appointed Greg Lanz general manager, North America.

Hardide Coatings has appointed Dan Wilson North American business development manager.

Guardvant Inc. has appointed John Capehart vice president of global business development.
About - providing an abreviated version of the current print edition of E&MJ, WOMP is distributed throughout the world to decision makers in the global mining industry, the last week of every month.

Subscribe to E&MJ - To receive your own copy of the print edition of E&MJ, click here , and complete your details. E&MJ is available free of charge to qualified readers.

Contact - if you have views, opinons or comments or editoral that you would like to submit, we would be delighted to hear from you - click here

Top