New Sandvik Facility Serves Mozambique Mining
---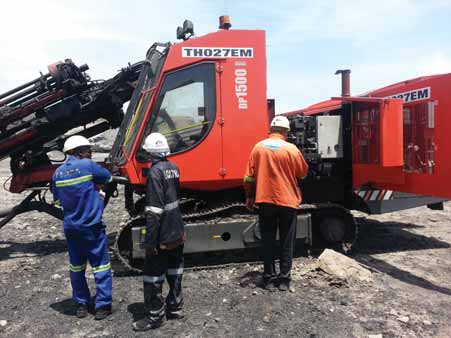 The recent opening of a full-service facility serving Mozambique's growing mining industry will allow Sandvik
to provide on-the-spot support for its drill rigs such as this DPI1500.

Sandvik Mining, recognizing the opportu-nities offered by Mozambique's burgeon-ing mining industry, has established a full-service office to support its cus-tomers' operations in the country.

The office is located in the northwest-ern town of Tete, central to current min-ing efforts. Tete is regarded as the mining capital of the country, and also is situat-ed on what has been described as the biggest coalfield discovery worldwide in the past 50 years, Sandvik said.

Sandvik Mining Territory Manager Hosea Molife said the establishment of a strong presence in Mozambique is a time-ly move. "We are seeing massive invest-ment in Mozambique's mining industry from all the big players worldwide, many of whom have global contracts with Sandvik for the supply and support of equipment, as well as the provision of mining services to our customers.

"Mozambique is a new territory with many different challenges and opportuni-ties. We have been supporting most of the mining operations from across the border in South Africa and Zimbabwe. Having a permanent local presence means we now get to deal with all the players in the industry on a daily basis. We are not only able to assist our existing clients, but also establish relationships with new customers in industry.

"The office is located near the head-quarters of all the major mining compa-nies and as a result we are already able to give close support to major operations such as Rio Tinto's Benga mine, all Vale's operations, as well as to contracting giants like Eqstra wherever they are min-ing," said Molife.

Most current mining activities there are centered on the extraction of coal, he explained. Consequently, the products and services currently in demand are pri-marily tailored to these activities, with the main focus on supporting exploration-related equipment. However, Sandvik said drill rigs such as its D75Ks also are pop-ular in the area, and there is growing demand for its DPI 1500 production drills as mines come into full production.

"Since fulfilling all statutory require-ments in November 2012 we have set-tled down to begin trading in earnest this year; and thus far, our presence in Mozambique has been well received. Although our efforts are currently focused on the growing coal mining industries, we are in a position to supply all products and services available from our global offering," said Molife.
---
As featured in Womp 2013 Vol 06 - www.womp-int.com