Tunnel Collapse Kills 28 at Freeport Indonesia Underground Training Facility
---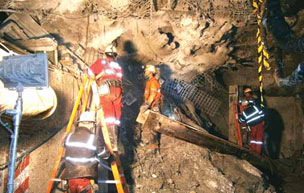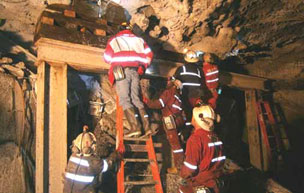 Freeport Indonesia rescue team works to clear fallen ground in the
collapsed tunnel at the company's underground training facility.
(Photo taken May 17, 2013; rights owned by PT Freeport Indonesia)


A tunnel and underground training class-room at Freeport Indonesia's Grasberg operations in Papua province, Indonesia, collapsed on May 14 killing 28 people, while 10 escaped. Rescue and recovery operations were difficult and required sev-eral days to complete. The last of the vic-tims' bodies were recovered on May 22.

The Freeport Indonesia underground training facility was located some distance from the nearest mining operations—the mines were not impacted. However, the company halted mine operations out of respect for the dead and to allow its employees to focus on recovery efforts.

The training facility had been in use since 1998. As of late May, both Free-port and the government were conduct-ing investigations into the cause of the tunnel collapse, which came with little or no warning.

Freeport-McMoRan Copper & Gold CEO Richard Adkerson traveled from the company's headquarters in Phoenix, Arizona, to Indonesia to provide support for the workers' families and to lend weight to the company's investigative efforts. "With the recovery work complet-ed, we are now focusing on reviewing safety throughout our underground oper-ations and in determining what caused the collapse. We will take all actions required to provide for the safety of our workforce," Adkerson said at a press con-ference in Jakarta on May 22.

Freeport Indonesia is owned 90.64% by Freeport-McMoRan and 9.36% by the government of Indonesia. The Grasberg mines produce about 220,000 mt/d of ore, 140,000 from an open pit and 80,000 mt/d from underground.

Some mine workers returned to work on May 25 to perform maintenance operations. How long it would take to get the mines back into production remained an open question.
---
As featured in Womp 2013 Vol 06 - www.womp-int.com