Kinross Studying 38,000-mt/d Mill for Tasiast
---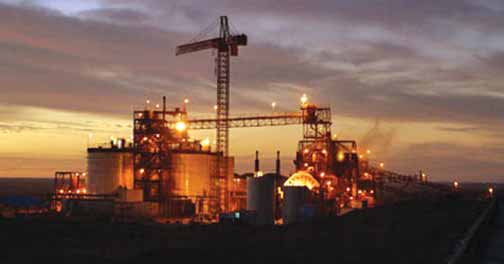 Following receipt of results from a pre-feasibility study for a 30,000-mt/d expansion to its Tasiast mine and millin
Mauritania, Kinross Gold is now studying the possibility of building a new 38,000-mt/d mill to handle the higher mine output.
If the project is approved, the existing mill will be closed.

Kinross Gold announced on April 29 the results of its pre-feasibility study (PFS) for a 30,000-mt/d expansion project at its Tasiast gold operations in northwest Mauritania. The PFS assumed retention of the existing 8,000-mt/d Tasiast mill.

At the same time, Kinross announced a decision to proceed with a feasibility study based on a new 38,000-mt/d mill after trade-off studies concluded that such a mill would be expected to provide the opti-mum economics for an expanded project. Under this scenario, the existing mill would be shut down.

The existing open-pit Tasiast mine and mill produced 185,334 gold equivalent oz in 2012 at cost of sales of $889/oz. The property had 7.97 million oz in proven and probable reserves at the end of 2012.

Work on the feasibility study for a new, 38,000-mt/d mill has begun and is sched-uled for expected completion in the first quarter of 2014. The study will assess con-struction of a standard carbon-in-leach cir-cuit with a primary crusher and SAG mill, in addition to existing dump leach facilities.

The study will assume an open-pit min-ing sequence based on developing a series of pushbacks that would allow the mine to encounter expected higher-grade ore early in the mine life. A variable cut-off grade strategy is expected to be applied to bring gold production forward, while stockpiling lower-grade material for processing later in the mine life.

Kinross CEO J. Paul Rollinson empha-sized that undertaking the feasibility study does not imply that the new mill will be constructed. When the study is complete, a go or no-go decision will be made that will depend on a range of factors, including gold price assumptions and projections, expected economic returns, and various technical and other considerations. "As we continue to evaluate the project, we remain firmly focused on preserving the strength of our balance sheet," Rollinson said.

The completed PFS for a 30,000-mt/d mill assumed a $1,500/oz gold price for overall project economics and, consistent with the Kinross year-end mineral reserve estimates, a $1,200/oz gold price for pit design purposes. The PFS estimates were based on a pit-design mineral resource esti-mate of approximately 10 million recovered gold ounces, which did not include addi-tional known resources. In addition, the PFS estimates did not include potential district exploration upside.

The PFS found that during the first five years of production, a 30,000-mt/d mill would be expected to produce approxi-mately 830,000 gold equivalent oz/y, with average cash costs of approximately $500/oz and average all-in sustaining costs of approximately $735/oz. The expected initial capital cost would be approximately $2.7 billion. The mining rate would peak at 120 million mt/y.

The Tasiast mine began commercial operations in 2008 under the ownership of Red Back Mining. Kinross acquired its 100% interest in the mine on September 17, 2010, when it completed its acquisi-tion of Red Back.

Current mining operations utilize con-ventional open-pit methods. High-grade ore processing is based on three-stage crush-ing, ball milling, and a carbon-in-leach cir-cuit. Lower-grade oxide ore is processed in a run-of-mine heap leach facility.
---
As featured in Womp 2013 Vol 06 - www.womp-int.com