Rio Tinto Opens Argyle Underground Mine
---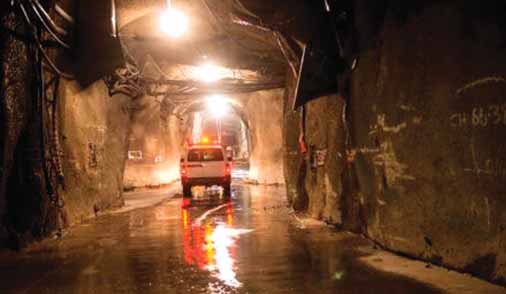 The recent opening of Rio Tinto's Argyle underground diamond mine is expected to extend the life of the Argyle operation
until 2020 or beyond.

Rio Tinto officially opened its new block-cave Argyle underground diamond mine in the east Kimberley region of Western Australia in late April. The move from open-pit to underground mining will extend the life of Argyle until at least 2020.

The $2.2-billion underground develop-ment uses the latest in block caving tech-nology and is the first of its kind in Western Australia. The mine will generate around 9 million mt/y of ore and, on average, approx-imately 20 million carats/y of diamonds over the life of the block cave.

The Argyle underground extraction level is 500 m long by 240 m wide (1,640 x 787 ft). Around 40 (24 miles) km of tun-nels are being built to access the orebody. The main thoroughfares are four tunnels: two for vehicles, one for ventilation and one for conveying ore. Driverless 14-mt loaders operated from surface will access the ore via 16 production tunnels, drawing ore from 273 drawpoints and transporting it to two large underground crushers.

A 2.2-km (1.4-mile) underground con-veyor belt connects with a 1.2-km convey-or belt above ground to transport the crushed ore to the processing plant.

Western Australia's Minister for Mines and Petroleum Bill Marmion attended the Argyle underground commissioning cere-mony and was joined by traditional owners, government representatives, Rio Tinto executives and employees.

Rio Tinto Diamonds and Minerals Chief Executive Alan Davies made note of the fact that the Argyle mine has produced some of the world's most spectacular dia-monds and has delivered many benefits to the local region. "The new Argyle under-ground mine has allowed us to extend the life of this iconic asset for Rio Tinto and Western Australia. I am proud that we can continue our contribution to local employ-ment and the economic development of the East Kimberley region, as we have over the past quarter of a century."

The Argyle mine has produced about 800 million carats of rough diamonds over its 25 years of operation, including a small but consistent supply of the world's rarest pink diamonds. The mine's production is characterized by smaller, affordable dia-monds ideally suited to creating afford-able, daily-wear diamond jewelry.
---
As featured in Womp 2013 Vol 06 - www.womp-int.com