Centerra Dealing with Waste-rock Dump Movement at Kumtor
---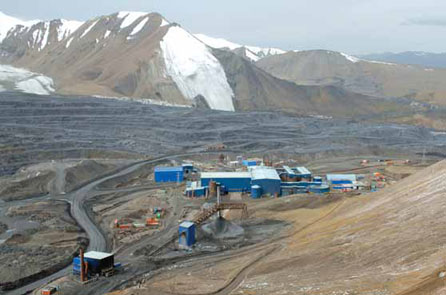 Centerra Gold has been forced to relocate some mine infrastructure elements at the troubled Kumtor gold
operation in the Kyrgyz Republic due to accelerated ground movement in the mine's waste dump area.

Centerra Gold reported in early May that a large section of the principal waste-rock dump at its Kumtor gold mine in the Kyrgyz Republic was experiencing a greater-than-anticipated rate of move-ment, requiring acceleration of planned relocation of some mine infrastructure. Employees in the affected buildings were moved to temporary work locations until new facilities are constructed.

Kumtor operations are located in the Tien Shan mountains 350 km southeast of the Kyrgyz capital of Bishkek at min-ing elevations ranging up to 4,400 m. Local valleys are occupied by active gla-ciers that extend down to elevations of 3,800 to 3,900 m.

The movement of the waste-rock dump has been ongoing for some time and is described in a Kumtor technical report dated December 20, 2012, and in the life-of-mine plan. As indicated in the report, the waste-rock dump movement requires the relocation of certain mine infrastructure, including workshops, administrative facilities and electrical substations. Centerra has expedited the relocation of the infrastructure to ensure continued safe operations, and planned gold production to date has not been affected.

As a result of the increase in dump movement, Centerra has discontinued deposition of waste-rock on the affected portion of the dump. In the short-term, the company is placing waste-rock on permit-ted sites currently unaffected by the move-ment. An alternative, long-term waste-rock dumping plan is being finalized.

Centerra is working with Kyrgyz regula-tory authorities and external engineering advisers to expedite approval of such a plan. Based on discussions with the authorities, the company believes such approvals are likely but said it cannot pro-vide assurances that such will be the case.

The Kyrgyz government has estab-lished a special commission to visit the Kumtor mine site and inspect the waste-rock dump movement. Centerra is coop-erating with the commission.

The Kumtor mine produced 89,618 oz of gold in the first quarter of 2013, up from 60,707 oz in the first quarter of 2012. The increase was mainly due to processing of higher-grade ore that was mined and stockpiled during the fourth quarter of 2012. Full-year 2012 produc-tion totaled 315,238 oz.
---
As featured in Womp 2013 Vol 06 - www.womp-int.com