The latest from the
World Mining Equipment
Video Library
View




US Drags Its Feet on Mineral Policy

While scrolling through the news this month, you will notice a few mining companies that are working with customers to attract investment for the supply of minerals rather than simply selling ore.
As an example, a European battery maker (Umicore) purchased a cobalt refinery in Finland from an American mining company (Freeport-McMoRan). Umicore also struck an agreement with Swiss miner Glencore to buy cobalt from its mines in the Democratic Republic of Congo (DRC). The refined materials will be shipped to a battery factory in Poland. This is one example that demonstrates how European companies secured a supply chain for lithium-ion batteries and battery- grade minerals, essentially preparing for future demand and profiting from it.
Similar activitites are taking .... read more


Steve Fiscor, Publisher & Editor in Chief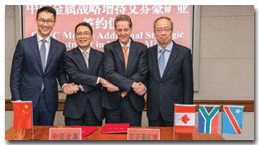 Ivanhoe Mines Secures Financing for First 2 Mines in DRC
Thanks to additional investments of more than $503 million, Ivanhoe Mines said it will be able to fi nance its fi rst two mines, Kakula and Kipushi, to commercial production. CITIC Metal, through a subsidiary, is investing an additional $454 million in Ivanhoe and Zijin Mining Group exercised its anti-dultion rights generating $49 million.... read more
Ma'aden Building 250,000- oz/y Gold Project
The Saudi Arabian Mining Co. (Ma'aden) is proceeding with construction of its Mansourah & Massarah gold project in the Central Arabian gold region. The project includes two open-pit mines and a central processing plant. At average production of 250,000 ounces per year (oz/y), the project will be Ma'aden's largest gold project and will lift the company closer to its goal of becoming a 1-million-oz/y gold producer by 2025. Ma'aden produced 415,000 oz of gold in 2018. Total investment to build the .... read more

Top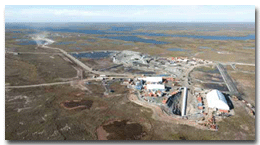 AEM Declares Commercial Production at Meliadine
Agnico Eagle Mines Ltd. (AEM) reported that the Meliadine mine achieved commercial production on May 14. Located near Rankin Inlet, Nunavut, Canada, the Meliadine project was acquired in July 2010 and is Agnico Eagle's largest gold deposit in terms of mineral resources. The company owns 100% of the 111,358-hectare .... read more


Rafaella to Acquire Spanish Tin and Tungsten Project
Rafaella Resources Ltd has entered into an agreement to acquire 100% of the shares of the private Spanish company Galicia Tin & Tungsten (GTT), which owns the mining licenses comprising the Santa Comba tin and tungsten project in northwest Spain. To support the development of Santa Comba, Rafaella has proposed a share placement to raise a targeted $2.6 million at 20c per share. Located close to deep-water ports, the Santa Comba project .... read more

| | |
| --- | --- |
| AROUND THE WORLD - USA & CANADA | |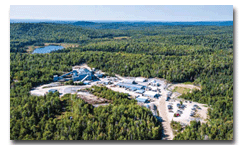 Alamos Gold Receives Phase II Expansion Permit for Island Gold
Alamos Gold Inc. has been granted amendments to its existing operational permits from the Ministry of the Environment, Conservation and Parks, Ontario, allowing for the Phase II expansion of the Island Gold Mine to 1,200 metric tons per day (mt/d). These amendments were received ahead of schedule and will allow underground mining .... read more


Glencore Will Support Restart of Cobalt Refinery
First Cobalt Corp. and Glencore AG have signed a memorandum of understanding to supply cobalt feedstock and financing to recommission the First Cobalt Refinery in Ontario, Canada. First Cobalt and Glencore will collaborate on final flowsheet design to accelerate the restart of North America's only primary cobalt refinery. Glencore intends to provide feedstock ....read more

Top
St. Barbara Acquiring Atlantic Gold
St. Barbara Ltd. announced in mid-May it has entered into a friendly agreement to acquire Atlantic Gold Corp., which owns and operates the Moose River Consolidated gold operation in Nova Scotia, Canada. St. Barbara is an Australian company headquartered in Melbourne. It owns and operates the Gwalia gold mine in Western Australia and the Simberi gold mine in Papua New Guinea. Gwalia is scheduled .... read more

| | |
| --- | --- |
| AROUND THE WORLD - Latin America | |

Barrick Will Invest $1B in Pueblo Viejo
Barrick Gold proposed an investment of more than $1 billion for Pueblo Viejo gold mine in the Dominican Republic. Already one of the world's Tier 1 gold mines, the plan is to expand the mine's processing plant and tailings capacity. The investment could potentially extend the life of the mine into the 2030s and beyond. Barrick said it expects to complete a feasibility study for the expansion project during 2020 .... read more


Top
SolGold PEA Sees Long-life Underground Mine for Alpala
SolGold has reported the results of a preliminary economic assessment (PEA) of the Alpala copper-gold-silver deposit on its Cascabel project in northern Ecuador. The study considers four underground mining scenarios, each based on block caving. Mine life, depending on annual tonnages mined, could range from 49 to 66 years. Resources considered in the block cave designs total 2.4 billion metric tons (mt) at a copper equivalent grade.... read more

| | |
| --- | --- |
| AROUND THE WORLD - Australasia | |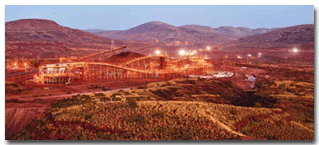 Fortescue Approves Development of Queens Valley
Fortescue has announced the development of the Queens Valley mining area at its Solomon Hub in the Pilbara region of Western Australia. Development of Queens will maintain production of the low-alumina Kings Fines product and is consistent with Fortescue's strategy of optimizing margin through an enhanced product …. read more


Top

West Angelas Mine Expansion Gets Environmental Approval
The Western Australia Environmental Protection Authority (EPA) has recommended approval of the expansion of River Robe Joint Venture's West Angelas iron ore mine in the Pilbara region. The approval is subject to conditions, including the protection of national park water resources and threatened ghost bats, the EPA said. The recommendation comes after a public review process and assessment of the environmental impacts of the proposal to expand to open-cut mining at West Angelas, which is owned 53% by Rio Tinto …. read more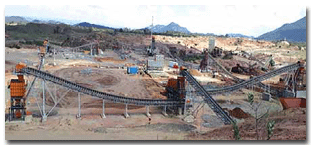 Marange Will Open New Exploration Zones
By Gavin du Venage, South African Editor
CAPETOWN, South Africa—Zimbabwe is moving to bring the Marange diamond field back into full production by opening new exploration zones and entering into partnerships with mining companies. Marange is one of the world's largest alluvial diamond deposits, which at its height in …. read more
Top
Perseus Building Yaouré Gold Mine in Côte d'Ivoire
Perseus Mining is proceeding with construction of open-pit mining operations at its Yaouré gold project in central Côte d'Ivoire. The project is planned to produce an average of 215,000 ounces per year (oz/y) of gold for the fi rst fi ve years, with average all-in site costs of $734/oz. Capital costs to develop the project are estimated at $265 million. Probable ore reserves at Yaouré are estimated at 26.8 million metric tons …. read more




Alrosa Advances 2 Major Projects at Aikhal Division
Russian diamond mining company Alrosa has begun open-pit mining on the Zarya pipe and initiated work to deepen the underground Aikhal mine at its Aikhal Mining and Processing Division in central Russia. Development of Zarya deposit has been one of Alrosa's major investment projects, with a total investment of 12 billion rubles (about $180 million at current exchange rates). Production from the deposit will …. read more


Top
PFS Supports Myanmar's Starter Pit Development
Myanmar Metals has reported the results of a prefeasibility study (PFS) that supports development of a high-grade, 13- year "Starter Pit" at the Bawdwin leadzinc- silver project in northeast Myanmar. In steady state production, the Starter Pit would become the world's third-largest lead mine, its 10th-largest silver mine, and a globally significant zinc producer. Project development is a joint-venture between Myanmar Metals (51%) and local .… read more



| | |
| --- | --- |
| THIS MONTH IN COAL | |

South Africa Awaits Coal Asset Sale
By Gavin du Venage, South African Editor
CAPE TOWN, South Africa—The sale of the South African coal assets of Australia- listed South32 is nearing completion, with final bids expected in June. This will be one of the largest coal transactions in the country to date. South32 was established in 2015 when it was spun out of Australian mining conglomerate BHP into a separate listed entity, mostly consisting of BHP's South African assets .... read more


Top

Queensland Approves Olive Downs Coking Coal Project
Pembroke Resources reported that its Olive Downs coking coal project has been approved by Queensland's coordinator general and is expected to begin producing next year. Located 40 kilometers (km) southeast of Moranbah in Queensland's Bowen Basin, a well-established coking coal area with existing infrastructure, the project is backed by its major shareholder, Denham Capital, a leading global energy and resources private equity firm …. read more


-->
| | |
| --- | --- |
| FEATURE - Material Handling | |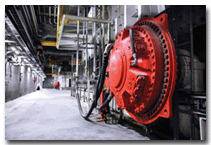 Making the Most of Material Gains
Moving massive volumes of mine ore, waste or product is never easy, cheap or trouble-free, but new material handling tech can help smooth the bumps, cut costs and break bottlenecks.
By Russell A. Carter, Contributing Editor

In the mining industry, material at rest doesn't make money. Regardless of whether it's newly mined ore, concentrates or even tailings, a near-constant, smooth progression of raw feed, fi nished product and waste from one location to another is necessary for planning, productivity and profits. An exception to the rule might apply to heap-leach operations, but even those depend on material being in the right place, at the right time, and in the right condition or blend. That's why successful mine operators are masters of material handling. In an industry that moves billions of tons of dirt .... read more


| | |
| --- | --- |
| FEATURE - In-Pit Crushing | |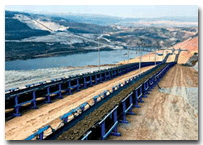 IPCC Steadily Gains Traction
It has been a slow burn for the uptake of IPCC systems, but now, as interest in truckless mining operations builds, the technology is coming into its own.

By Carly Leonida, European Editor.

Interest in in-pit crushing and conveying (IPCC) technologies continues to grow and, with some fl agship projects nearing completion, now seems a good time to review activity in the sector. "The last year was good for new orders," Thomas Jabs, senior vice president for mining at FLSmidth, told E&MJ. "The mining market is recovering, predominantly fueled by battery metals, but there have been investments in IPCC from gold and also coal in 2018, as well as during the current year. We are expecting this trend to continue." It has been a busy year in the IPCC space for FLSmidth, and not just through the booking of new orders. The company completed its acquisition of Sandvik Mining Systems in March 2018, creating the most comprehensive offering in the industry for mines looking to implement IPCC-based mining systems ..... read more

Top
| | |
| --- | --- |
| FEATURE - Crushers | |

Crushing Innovations Meet Basic Needs
As futuristic as the current offerings are, the latest innovations aim for perennial targets.

By Jesse Morton, Technical Writer

Recent headlining innovations and developments from the crushing solutions space are about focusing on the basics and solving age-old challenges. Crushing solutions marketed today almost universally feature the general Industry 4.0 capabilities that enable miners to draw up a slick digital plant or mine and to monitor machine health in near-real time. They almost universally claim to offer the highest throughput in a reduced footprint. Where suppliers are really competing is on putting more horsepower into crushing ore, increasing output, improving overall performance and uptime, offering more dynamic customized services, and delivering real cost savings. The latest news from some of the bigger suppliers in the space reveals that the new horizon in crushing solution research and development, and in business strategy, remains the old one and centers on getting more done with less — less people, less kilowatts and less dough.... read more


For more companies with products in the Crushers market -
Go Here
| | |
| --- | --- |
| FEATURE - Conveyors | |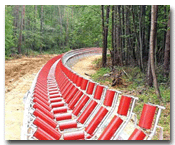 Curved Conveyors Cut Costs
The most efficient way to transport material from point A to point B is not necessarily a straight line.

By Steve Fiscor, Editor

The theme of this edition is material handling. Really, no informed discussion of material handling can take place without conveyors. At some point between the pit and the port, conveyors enter the transportation chain and, with all the improvements taking place, the mining business will only continue to embrace their use. Today, curved conveyors span tens of kilometers. Hugging the ground, they roll with hills and make turns around bends. The companies that specialize in these bulk material-handling marvels make it look simple, but designing these conveyor systems is an engineering art form. The use of curved conveyor systems eliminates transfer points, a source for noise and fugitive dust, as well as the constant maintenance on chute work, wiper blades, water sprays .... read more



Top


For more companies with products in the Conveyors market -
Go Here
| | |
| --- | --- |
| Video Presentations | |
The latest listings from the World Mining Equipment Video Library - to view the video, click the image.
For more details on the Video Hub -

Go Here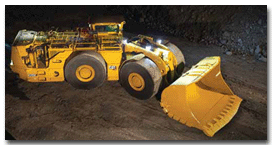 Loader Offers Emissions Control Options
Caterpillar reported the Cat R2900 Underground Loader offers configurations to meet the strictest diesel engine emissions standards, including those in Europe and North America, and delivers the high performance and 17.2-metric-ton (mt) payload of its proven predecessor .... read more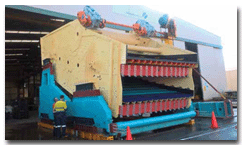 Screen for Protective Failure System Trialed
Shenck Process developed a prototype vibrating screen equipped with sensors to provide data used to assess the health of the screen and the performance of the processing cycle. A standard screen comes equipped with two sensor nodes. On the prototype, four additional sensors have been fitted, the company reported. The additional sensors are measuring tonnage ....read more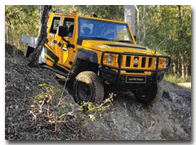 Electric Vehicle With Onboard Charging
Safescape announced its prototype electric vehicle, the Bortana EV, which is designed for the mining space. Leveraging the chassis of the diesel-powered Agrale Marruá, the Bortana EV features e-mobility solutions .... read more

Top

Strictly Mechanical Safety Brake
FLSmidth launched the Cage Guardian Safety Brake for steel guides. The brake uses mechanical systems to keep underground mine workers safe in the event of slack-rope or a rope-break event. It is built to withstand even the toughest underground mine environments and meet the most stringent regulations for safety catches, the company reported ....read more

Wireless Flow Rate Transmitter
AW-Lake added the battery-powered RT- 50 Flow Rate Transmitter to its Bluetooth Series of Products that support remote monitoring and programming via a smart phone. The transmitter offers a local and remote display of flow rates in locations where equipment is exposed to different elements. When operating .... read more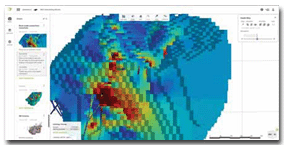 Seequent Upgrades Mine Modelling Software
Seequent launched new releases for its mining solutions Leapfrog Geo, resource modeling solution Leapfrog Edge, model management solution Seequent Central and View. Leapfrog Geo 4.5 includes performance improvements designed to smooth day-to-day workflows for users, including informed .... read more

Titanium Op Gets New Trommel
Tronox's Namakwa Sands mineral sands operation in Brand se Baai, West Coast Region, South Africa, selected Multotec to replace a trommel at the Primary Concentration Plant East (PCPE). The scope of supply included the trommel screen, screen panels and ancillary equipment. The new trommel was to perfectly replace .…. read more

Top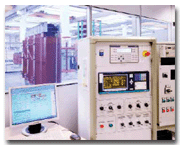 Dry-type Transformer Delivered in 5 Weeks
Trafo Power Solutions reported it successfully designed, built and delivered a non-standard cast-resin replacement transformer for a mine in KwaZulu-Natal, South Africa in five weeks. After the failed transformer was assessed, the miner ordered a dry-type transformer from the supplier. The mine required a 1,600-kilovolt-amperes ....read more
AUGUST 27-29, 2019: AIMEX, Sydney Showgrounds, Sydney, Australia. Contact: Web: www.aimex.au
SEPTEMBER 6-7, 2019: Annual Meeting of the Mining Electrical Maintenance and Safety Association, Sheraton Sand Key, Clearwater Beach, Florida, USA. Contact: Web: www.miningelectrical.org
SEPTEMBER 9-12, 2019: Exposibram, the Brazilian Mining Expo & Congress, Expominas, Belo Horizonte, Brazil. Contact: Web: www.portaldamineracao.com.br/exposibram
SEPTEMBER 16-20, 2019: 37th International Conference and Exhibition of ICSOBA, Krasnoyarsk, Russia. Contact: Web: www.icsoba.org
SEPTEMBER 16-20, 2019: Perumin, Centro de Convenciones Cerro Juli, Arequipa, Peru. Contact: Web: www.perumin.com/perumin34/
OCTOBER 9-10, 2019: China Mining 2019, Tianjin Meijiang Convention Center, Tianjin, Peoples Republic of China. Contact: Web: www.chinaminingtj.org
OCTOBER 22-25, 2019: Convencion Internacional de Mineria, Mundo Imperial Acapulco, Mexico. Contact: Web: www.expomineria.mx
OCTOBER 30-NOVEMBER 2, 2019: China Coal & Mining Expo, New China International Exhibition Center, Beijing, China. Contact: Web: www.chinaminingcoal.com
For a full calendar of mining industry conferences and events - click here
| | |
| --- | --- |
| WHO'S MOVING WHERE | |

Corvus Vale appointed Marcello Spinelli as executive director of ferrous and coal. Spinelli has served as CEO at VLI Logística since 2010.

Turquoise Hill Resources Ltd. appointed Jo-Anne Dudley as COO. For the past nine years, she has been a key member of the Oyu Tolgoi technical team. Most recently, she led Oyu Tolgoi's 30-person Strategic Mine and Resources Planning unit.

Barkerville Gold Mines Ltd. welcomed Sean Masse to its executive team as the vice president of operations. He was formerly mine manager at New Gold's New Afton Mine and more recently project manager at Centerra Gold's Kemess Project. François Vézina, COO, will be stepping down at the end of June. Vézina will continue leading economic and technical studies for the Cariboo Gold Project.

Champion Iron Ltd. appointed David Cataford to the board of directors. Cataford was appointed CEO on April 1, having joined the company in 2014 as vice president, engineering, and then serving as COO from 2017 to 2019.

Excellon Resources Inc. announced the resignation of Rupy Dhadwar from his position of CFO. Ronald Mariño, vice president of finance, will serve as interim CFO in the near-term.

The Minerals Council of Australia announced former Cabinet minister, lawyer and experienced board director the Hon. Helen Coonan as its new chair. Coonan will begin as chair when current Chair Dr. Vanessa Guthrie steps down following the MCA's board meeting on June 18. Her appointment is for a two-year period. Dr. Guthrie has been MCA chair for the last three years after joining the board in 2014.

Motion Industries Inc. named John Watwood group senior vice president of the Southeast group. Previously, he was division vice president, general manager, of the Nashville division.

Normet appointed Ed Santamaria president and CEO of Normet Group. He takes over from Interim President and CEO Aaro Cantell and he will start in his new role at the latest in November. He is currently president, parts and services division at Sandvik Mining & Rock Technology.
About - providing an abreviated version of the current print edition of E&MJ, WOMP is distributed throughout the world to decision makers in the global mining industry, the last week of every month.

Subscribe to E&MJ - To receive your own copy of the print edition of E&MJ, click here , and complete your details. E&MJ is available free of charge to qualified readers.

Contact - if you have views, opinons or comments or editoral that you would like to submit, we would be delighted to hear from you - click here

Top