Fortescue Approves Development of Queens Valley
---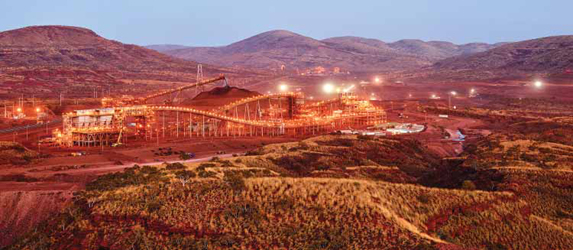 Production from Queens Valley will feed into the Solomon Hub (above), which currently processes 70 million mt of iron ore.

Fortescue has announced the development of the Queens Valley mining area at its Solomon Hub in the Pilbara region of Western Australia. Development of Queens will maintain production of the low-alumina Kings Fines product and is consistent with Fortescue's strategy of optimizing margin through an enhanced product mix.

"Fortescue's integrated operations and marketing strategy defines a product portfolio that maximizes value from the Fortescue orebodies over the long term, ensuring the continued delivery of returns to shareholders," Fortescue Chief Executive Officer Elizabeth Gaines said. "The Queens mining area development will maintain our highly valued Kings Fines low-alumina sinter fines product, which supplies Fortescue's key customers in China as well as in Japan and Korea."

The Queens development is located approximately 15 kilometers (km) from the Kings ore processing facility (OPF) and has an expected life between 10-15 years, with an initial strip ratio of 1.4, maintaining Fortescue's low operating cost of production. Environmental and heritage approvals are in place to commence the development of Queens. Total capital expenditures for the Queens Valley development are estimated at US$287 million and will be incurred as follows: Fortescue FY19 US$10 million, FY20 US$151 million, FY21 US$98 million, and FY22 US$28 million.

The Queens Valley development will include construction of an innovative hydraulic barrier wall in accordance with environmental approvals. It will also include the relocation of the Solomon mobile maintenance facilities closer to the Queens Valley operation to minimize travel distances, lower operating costs, and provide access to additional tonnes in the vicinity of the Kings ore processing facility. Fortesue's Solomon Hub is located 60 km north of Tom Price and 120 km west of the company's Chichester Hub. It currently comprises the Firetail and Kings Valley mines, which together have production capacity of 70 million mt/y.

Solomon represents a valuable source of production by blending higher-irongrade, low-cost Firetail ore with low-phosphorous Chichester ore to create the high-quality Fortescue blend. Fortescue successfully deployed CAT autonomous haulage technology at the Solomon Hub in 2012. Today, the autonomous haulage fleet consists of 70 trucks, delivering a 30% improvement in productivity.
---
As featured in Womp 2019 Vol 06 - www.womp-int.com