Crushing Innovations Meet Basic Needs
As futuristic as the current offerings are, the latest innovations aim for perennial targets.

By Jesse Morton, Technical Writer
---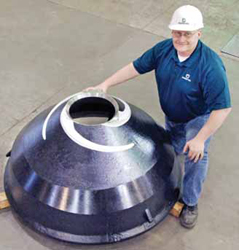 Above, Product Engineering Manager Steve Dolezal poses
with a patented mantel prototype designed to up production.
(Photo: Columbia Steel)


Recent headlining innovations and developments from the crushing solutions space are about focusing on the basics and solving age-old challenges. Crushing solutions marketed today almost universally feature the general Industry 4.0 capabilities that enable miners to draw up a slick digital plant or mine and to monitor machine health in near-real time. They almost universally claim to offer the highest throughput in a reduced footprint. Where suppliers are really competing is on putting more horsepower into crushing ore, increasing output, improving overall performance and uptime, offering more dynamic customized services, and delivering real cost savings. The latest news from some of the bigger suppliers in the space reveals that the new horizon in crushing solution research and development, and in business strategy, remains the old one and centers on getting more done with less — less people, less kilowatts and less dough.

Increasing Output
Columbia Steel reported field results demonstrate its newly patented cone mantle design improves crusher output. "A secondary benefit could be an increase in net-sized product, depending on the nature of the material being reduced," Steve Dolezal, product engineering manager, Columbia Steel, said.

Results from trials where the mantles were installed on crushers in the tertiary position in plants at sites in Canada and the American Southwest "are promising," the company reported. "We've found that filling a crushing chamber via typical gravity feed may not provide optimum, or maximum, material flow," Dolezal said. "Our high-output mantle design works by consistently drawing material into the chamber, producing a higher volume of crushed product." The design has three feed arms cast on the crushing surface on the top third of the mantle, Dolezal said. "With the crusher choke fed, the feed arms use the action of the crusher to help cut into and meter the feed material into the crushing chamber and though the sizing zone."

The design for each mantle is based on the mantle pattern of the machine for which it is being built. "If Columbia has the base mantle pattern, the added expense of pattern work to add the helical feed arms is minimal," he said. Field results suggest deployment of the mantle adds to neither energy nor consumables-related costs. "The amp-draw on the electric motor running the machines has not seen a signifi- cant increase using the high-output mantles," Dolezal said. Deployment requires only routine installation procedures, he said. "It would be best if the customer had a belt scale in place or installed immediately after the machine to qualify the difference in throughput between the high output and base mantle."

Meeting Deand for Quality
CMS Cepcor closed on purchasing a 6,000-m2 warehouse adjacent to its manufacturing facility and near its headquarters in Coalville, North West Leicestershire, England. The development resulted from a period of sustained growth, the company reported. "The business has been looking for further premises locally for a number of years as sales growth and increased stocking was creating operating pressures," Matthew Weare, managing director, CMS Cepcor, said. "We had been in consultation with a developer who was exploring options for new-build sites in the local area, but in October last year we learned of the possible relocation of a company on a neighboring site and swiftly negotiated the purchase without it going on the open market."
To meet growing demand for quality precision-machined non-OEM spare parts for
crushers and other mining machines, CMS Cepcor purchases a 6,000-m2 facility
near its Coalville, U.K., headquarters. (Photo: CMS Cepcor)


The 6,000-ft2 warehouse will enable CMS Cepcor to relocate and centralize its precision-machined mining components. "More importantly, this will enable the business to further expand our CNC manufacturing facilities, assembly and crusher service operations," Weare said. The added space will allow the company to increase stocks of crusher spare parts and expand the product ranges offered. "Customers will benefit from an increased offering of parts available from stock but also increased capacity of our manufacturing facilities, enabling us to react to urgent requirements," Weare said. The development will mandate relocating large quantities of sizeable stock and modifying longtime procedures, Weare said. "We successfully completed a similar task only 3 to 4 years ago when our headquarters and warehouse facility was built."

The Global Parts Centre will create recruitment opportunities in all areas of the business, Weare said. "We believe recruitment of skilled staff coupled with the further development of our apprenticeship training will address recruitment needs, most importantly ensuring all new members of the team share the CMS Cepcor approach to customer service is key." Weare said the company has seen sustained growth spanning three decades that has been largely non-impacted by market downturns. "We believe this is as a result of our expanding product range and large stock inventory that covers parts only previously available from the OEM," he said. "Where the OEM is unable or perhaps unwilling to meet the mines' requirements, we try to lead the aftermarket offering with not only competitive prices and high-quality products, but also unrivaled customer service."

Stepping Forward and Up
Telsmith's new Titan T900 cone crusher represents a giant step forward that hasn't been seen in the mining crusher solutions space in 15 years, according to Jeff Gray, vice president, sales and marketing, Telsmith. The unit's design, with patented hybrid thrust-bearing technology, ensures a number of benefits that enable it to start paying for itself almost immediately, the company reported. Beyond a boon from increased crushing capacity and efficiency, the T900 offers cost savings in the form of reduced downtime for maintenance. The latest edition to the Titan Series, which has largely proven itself in other industries, the T900 also represents an attempt by the company to expand market share. "Historically, Telsmith is viewed as a company that built crushers and screens for construction aggregate companies," Gray said. "That was probably because we didn't have 900-hp machines. We consciously made the decision to develop the T900 that had the features that would get us A) the size of the crusher, and B) an all-bushing machine."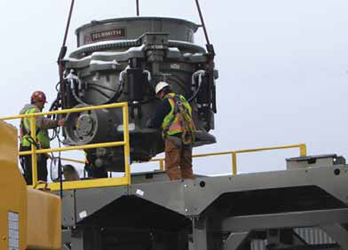 Proven in construction aggregates, Telsmith's Titan series crushers, including the
new T900, are designed to propel the company further into the mining space.
(Photo: Telsmith)


Gray described the Titan Series as originating from a "clean sheet" design. "Obviously, we took everything we learned from previous series, but then we also looked at what the market wanted and what the market was already using," he said. Design concept testing was completed a little more than a decade ago. The first Titan Series crushers, previously called the TSeries, were being announced and showcased in 2012. The series includes 300-hp, 400-hp and 500-hp units. The 900-hp unit features most of the same parts and the same basic design as the others in the series. What sets the series apart, Telsmith reported, is the hybrid bearings. "The hybrid bearing replaces what the predominant players in the mining crusher market are using and what they call a head socket on their cone crushers," Gray said. "Our hybrid bearing is new to the crushing world and the mining world."

The bearings "replace conventional socket, socket liner, and head ball design with a simplified washer and ramp design," Telsmith reported. The hybrid bearings are positioned lower in the machine. "Depending on the size of the crusher, it could be as many as 4 or 5 feet lower in the machine verses a competitor's machine," Gray said. That allows for a larger bearing surface area. "The competitors are limited to the diameter of the main shaft of the machine," Gray said. "That is as large as they can make their socket bushing. We have a larger diameter and more surface area, which correlates into a higher load carrying capacity."

The hybrid bearings enable the machine to crush "at lower horsepower because improved lift helps carry the crushing forces better than roller bearing machines," Telsmith reported. Gray said the bearings "allow us to run tighter and put more power into crushing." The T900 features a 15-in. feed size and is designed for the second or third position in the lineup. "Offering a capacity throughput range from 500 to 2,134 metric tons per hour, it's the perfect fit for processing material for ball mill feed in mining applications or crushing and sizing material in aggregate operations," the company reported.

It has an 88-in. head diameter, replaceable main frame liners, a 675-kW drive motor, and the "largest-in-class clearing stroke," at 10 in. It offers a host of benefits, foremost of which translates to cost savings. "The biggest area where we would save labor hours would be maintenance at a 24/7 operation," Gray said. "The time involved to take the machine apart for liner changes and then to inspect all bearings is probably half that of competitive machines." Whereas bearing service on a competitive machine could span between six and eight hours, "for ours, it is about two hours," Gray said. "Add on roughly 20 minutes you can actually lift the eccentric out of the machine and look at the gears and ball-bearing surfaces. So, you are helping yourself avoid unplanned downtime, and you have a way to plan for preventative maintenance."

Other listed benefits include fewer cylinders, the Telsmith anti-spin system, and its Trac10 Automation package with auto- wear functionality. The machine is designed for large, high-production operations, such as big copper or iron ore projects. It has the same bolt-hole pattern as competitor machines, Gray said. Shorter, but with the identical mounting footprint, it was purpose-built to replace existing crushers in an established circuit. The company hopes to partner with a miner interested in trialing a unit. "We are actually looking for an opportunity for a location where we could actually install it as a partnership, and after a period of time, if we meet the objectives for uptime and performance, then we would convert to a sale," Gray said. "The ideal location would be in a location that has four to 20 cones, or more than four cones in a one operation. A large-scale crushing operation would be ideal."

Telsmith has a machine and spare parts ready to ship. It is expected to, among other things, dispel any myths that it is the same as the other bushing cone-based solutions on the market. "If they don't understand the hybrid bearing, they just assume that," Gray said. "But it is far from that."

Analytics, Expertise for Hire
Metso reported it is seeking more partners interested in increased crusher uptime. After receiving positive feedback from early trials, the supplier is seeking to expand the pool of customers using the company's new data analytics service package, Metso Metrics, Olli Luukkonen, director, data and analytics, Metso, said. The service was released globally in mid-November 2018. "For the first parts of last year, we had a piloting phase where we attracted the first customers onboarded," Luukkonen said. "We have been able to look into the cone crushers, the data that we get out of them, and with the analytics and our experts we have been able to prevent some of the incidences happening at the customer sites. Now in 2019, we are looking forward to expanding the pilot phase."

The data is collected by either sensors that are already built into the crusher and by those supplied by Metso. "This sensor data can be regulatory control information such as flows, levels, pressures, and temperatures coming directly from the instrumentation, as well as health and performance gauges," the company reported. The data flows to "the cloud so that now we share the same visibility into the equipment that the customer has," Luukonen said. "We deploy the analytics on that data and then our experts can see what is happening. With the help of the analytics and our expertise we can derive an understanding and see where corrective actions are needed."

Customers access the analytics over the web via an online portal co-created with Rockwell Automation and Microsoft Azure. Metso Metrics "provides the highest level of cybersecurity and multiple connectivity options to suit your needs," Metso reported. "Accessible through any internet-connected device, you know exactly what is happening with your equipment 24/7." The value added comes from the Metso performance teams, Luukonen said. "It is more about the people," he said. Most customers have capable personnel to track data and adjust maintenance schedules accordingly. Many, however, lack the time or the tools. "We take care of that for the customer and then, of course, share the insights with the customer, so they know what needs to be done," Luukonen said. The team is "trained to spot trends in alarms and aid in interpreting the data for your specific operations," the company reported. "They can provide customized solutions so you can see the benefits right from the start."
Configurable and efficient, Raptor Crushers offer the highest throughput possible, the
company reports. (Photo: FLSmidth)


In early trials, a team was able to save a customer from a costly repair that would have meant a "very expensive shutdown," Luukonen said. Thus, the benefits offered by the service include increased uptime, improved energy efficiency, reduced variability in quality, and a lower overall maintenance cost, the company reported. Luukonen said he anticipates growing awareness of those benefits translating into increased demand for the service in the near future. "We had good experiences with the pilot customers," he said. "We are looking forward to expanding that base in 2019."

Upping the Reduction Rate
FLSmidth reported the next generation of smaller Raptor Cone Crushers is set for release. "We have developed and tested it during the last two years," Sven Hörschkes, global product director, cone crushers, FLSmidth, said. "The XL 250 and XL 350 machines are ready. And the XL 450 should be finalized in the first half of 2019." Designed for the aggregates industry, previous models were advertised as configurable and capable of handling maximum throughput. Comparatively, the new generation offers more power, Hörschkes said. "This enables us to generate a higher reduction rate and minimize the circulation load in a closed crushing circuit," he said. "By creating a higher pressure we improve the particle shape."

The higher reduction rate enables the customer to minimize the number of required machines or to use smaller screens. "By minimizing the circulation load you also can decrease to production of sand," Hörschkes said. "In some places sand is not required." Ensuring ease of use and reduced maintenance, the new Raptors require no back-liner material. "They have in the control system a function that optimizes the wear rate," Hörschkes said. "Both will help the customer to change the liners fast, easy and at the right time."

The biggest of the three, the XL 450 is ideal for tertiary applications where the customer needs a cubical material in a range of 5 mm to 11 mm. "A typical application in Europe is low-noise emission asphalt," Hörschkes said. "Here you need a very sharp cut point, which is only possible with a cubical material." The machines require a material buffer up front to equalize the feed. "To have no buffer silo in front of the crusher and a too small screen in a closed circuit will affect the particle shape and the circulation load negative," Hörschkes said. Servicing will be provided by Excel Foundry & Machine. That, combined with analytics options offered by FLSmidth, should produce real savings, Hörschkes said. "We have developed tools to help optimize the OPEX cost's and educate the service crews of our customers," he said. "With these activities, it is possible to arrange savings of more than 10%."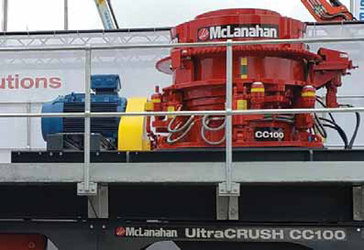 McLanahan releases the new, transportable UltraCRUSH Modular Cone Crusher at
bauma 2019. (Photo: McLanahan)


Individually, Raptor Crushers employ sensors to monitor performance. "Our advanced automation system can take necessary corrective actions," the company reported. "The same advanced automation system can be used to optimize crusher performance with feed control, setting adjustment and monitoring of critical lubrication and hydraulic parameters." The result is improved efficiency. Developing efficient, rugged, configurable solutions that meet the exact needs of the customer speaks to a couple of the company's primary missions, Hörschkes said. "With our own simulation tool and project engineers who have solid knowhow in building plants, we try to offer custom-made solutions," he said. "Each material has different characteristics we try to develop the right solution to meet the specific demands of our customers."

Modular for Mobility
At bauma, McLanahan showcased the new UltraCRUSH Modular Cone Crusher, which the company described as modular, easy to install and transportable. The crusher features a "heavy-duty cast steel base frame" and includes "replaceable base frame wear liners," the company reported. The design includes "a rotating bowl for even liner wear, a bronze inner and outer eccentric bushings for more load-carrying capability, and a large unobstructed feed opening." For improved longevity, it offers a hydropneumatics tramp iron relief system.

Letting Torque Spikes Slip
Voith reported SafeSet torque limiting couplings (TLC) now come standard on many OEM crushers. Manufacturers and miners who adopt the solution for new equipment realize a couple key benefits, Stephen Klein, application engineer, Voith, said. "Integrating the SafeSet in from the start will save the end-users significant costs in the future, but also it can be a little difficult to retrofit one in after the fact because things have to be moved back and a lot of times the equipment doesn't allow that," he said. "If we can get the Safe- Sets in at the start, it also helps the OEM of the crusher sell it because the maintenance will be significantly less." This also means maintenance-related downtime will be reduced. Adoption comes at a cost that Klein said is muted when in the right context. "There is a high initial cost at the beginning," he said. "But when you think about how much money you are going to be saving not repairing equipment or trying to get whatever back up and running, it is worth that money." Installed on a driveline, SafeSet, the simplest and flagship offering from Voith's line of TLCs, cuts maintenance and downtime by preventing torque spikes from damaging a system when, for example, a crusher jams.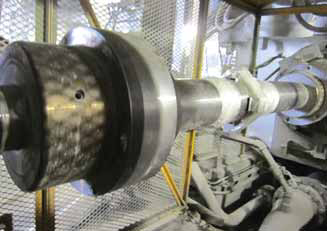 To protect drives and motors, Voith's torque limit coupling, the SafeSet, is
designed to release during torque spikes. (Photo: Voith)


SafeSet contains two specially coated friction sleeves that are engaged with applied hydraulic pressure. Like a fuse, in an overload situation, the coupling releases the hydraulic pressure instantly and freely rotates on internal bearings, transmitting no torque through the driveline, and saving it from failure. "There is no metal on metal," Klein said. "What it does is it will release the oil pressure, allowing it to free spin and preventing that torque from transmitting back to your very expensive gearbox or motor and saving you the expense of costly damage from the shockwaves coming back through the equipment."

In the event of a shutdown, the coupling will indicate if a torque overload and corresponding release occurred. "There will be a little bit of an oil mist and you will see there will be a brass cap missing," Klein said. "It will be very obvious that it is the SafeSet, and then you can reset it really quickly." As part of the reset, "you have to re-pressurize it," he said. "You can have these reset in 10 minutes, once they are down." That's nothing compared to the downtime resulting from a damaged motor or drive. "With breakage, you could be down for a whole shift," Klein said.

For use with a crusher, the torque threshold setting on a SafeSet coupling is constant for the life of the coupling. "Safe- Set will not fatigue at all," Klein said, and thus "will not give a false release." Company literature stated the coupling is rated for up to 20,000 kiloNewton-meters and can be configured for process- specific requirements. A similar solution that would be advantageous for certain crushing systems is Voith's SlipSet TLC. For a system processing ore replete with tramp materials, SlipSet can act as a shock absorber for short-duration torque overloads. Instead of releasing, the coupling slips temporarily, allowing the system to clear blockages. It ensures continuous production, the company reported.

The torque threshold can be set to the needs of the crusher system. When required, SlipSet can slip continuously until the drive is stopped and the jam rectified. The couplings have been on the market for years and the feedback from customers is uniformly positive, Klein said. "On SlipSet, our customers really like that because they don't have to spend the time re-pressurizing it," he said. "They also have reduced breakages on their gearboxes." Installation is easy. "Setting them is very simple," Klein said. "When you get that coupling, it will have a nameplate on it, and it will have what it needs to be set to." Further instructions come with the packaging.

The training offered includes on-site demos overseen by Voith and video instructions. Voith also offers the newly released Condition Monitoring System (CMS) 310, which leverages sensors mounted on the couplings, collects data, and provides remote users with information via an HMI panel or web portal. "Slip angle is continuously measured and calculated to determine if and how much the TLC has slipped," the company reported. "The status information can then be used to quickly identify any need for action." The initial cost of adoption of the couplings is more than balanced by the cost-savings that result from reduced damage, maintenance and downtime, Klein said. "It is a very simple piece of equipment that will save you a lot of money," he said. "You take multiple shutdowns, all that cost, you've more than paid for that SafeSet just in the first couple of shutdowns that you prevent."

Getting Guidance to Haulers
Komatsu Mining subsidiary Modular Mining Systems reported its new ProVision Guided Spotting System could soon be used in directing haulers to dump sites for crushers. "We have the ability to provide guidance back in to some of those tight dumping areas," Braden Weisheit, global sales manager, machine guidance, Modular Mining, said. "The crushing application will be an available option in 2019." ProVision, announced in Q1 2019, provides situational awareness to hauler operators. It uses advanced guidance technologies, high-precision GNSS positioning and proprietary onboard software "to provide centimeter-level accuracy for equipment operators," Modular reported.

It "automatically tracks, collects, captures, stores and utilizes, in real-time, all GPS information," on the hauler, Weisheit said. "The truck system utilizes real-time positional information, dynamically providing truck operators with guidance to the optimum location." Two in-cab LED interfaces display the information. When the hauler approaches the tip point, the displays present detailed guidance. The guidance is based on the specs of a "load zone polygon" at the dump site, Weisheit said. When the truck breaches the polygon, instructions on maneuvering into the designated "spot" are generated, he said.

Because a tip point for a crusher is "a static, fixed dumping point, it is just a matter of surveying in that dump spot," he said. "Once the truck breaches that polygon around the dump point, they receive guidance to get to the exact designated spot." The primary tangible deliverable of the system is exact "continuous guidance and navigation information," Weisheit said. Results include improved compliance to plans along with potentially big gains in productivity, the company reported.
---
As featured in Womp 2019 Vol 06 - www.womp-int.com