South Africa Awaits Coal Asset Sale
---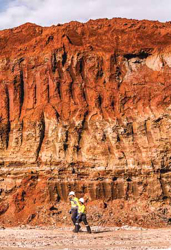 South32's South Africa Energy Coal
division produces 30 million mt/y of energy
coal or about 10% of South Africa's total
output.

By Gavin du Venage, South African Editor

CAPE TOWN, South Africa—The sale of the South African coal assets of Australia listed South32 is nearing completion, with final bids expected in June. This will be one of the largest coal transactions in the country to date. South32 was established in 2015 when it was spun out of Australian mining conglomerate BHP into a separate listed entity, mostly consisting of BHP's South African assets.

The sale of South32's coal division has been in the works since 2017, when CEO Graham Kerr announced the company had started a "process to broaden and transform the ownership of South Africa Energy Coal (SAEC)." SAEC includes four coal mining operations east of Johannesburg in Mpumalanga province: Khutala, Klipspruit, Middelburg and the Wolvekrans collieries. It also owns three processing plants, producing energy coal for the domestic and export market.

The Khutala Colliery is an underground room-and-pillar operation while the Klipspruit, Middelburg and Wolvekrans collieries are open-cast mines using dragline, as well as truck and shovel operations. SAEC can produce up to 30 million metric tons per year (mt/y) of thermal coal, or 10% of South Africa's total output. About 8 million mt are sold domestically and 12 million mt exported. Its principle domestic customer is Eskom, the country's energy utility.

The sale is part of South32's drive to clean up its portfolio of grab-bag assets it inherited from BHP. BMO analyst Edward Sterck said in a note in April that SAEC's cost structure left it more vulnerable to cost fluctuations than rival producers such as Anglo American, Glencore and Vale. "Of this group, we estimate that South32 is the most sensitive to lower prices (-2% to FY2019 EBITDA at spot, -9% to FY2020), followed by Glencore (-3% to 2019, -4% 2020), and Anglo American (-3% to 2019, -4% 2019)," Sterck said.

Last year, disruptions in coal production weighed on South32's earnings. The company reported a tough first quarter of 2018 at its coal assets, as volume dropped 13% from the previous quarter and, notably, export sales declined 40%. This was impacted by an incident that caused damage to the dragline at Klipspruit and reduced export coal production by 2 million mt, the company said. Then in April, the company lowered its guidance for production at its South African units. South32 said in a regulatory filing in Sydney it had reduced output of energy coal by 11% for the coming financial year. Community protests that disrupted operations, and a delay in introducing a new worker shift pattern had hampered production. Export guidance was cut by 7%, South32 said.

SAEC's revenue for the first half of 2019 has also declined to $517 million, down from $622 million for the same period last year. Production, meanwhile, is expected to rise to 29 million mt this year and to 30 million mt in 2020. Production came to only 27 million mt in 2018. Production costs will also rise however, to $38/mt in the first half of this fiscal year, from $36/mt in the previous financial year. A sale of SAEC would leave South32 to focus on its higher margin assets, such as its alumina and manganese operations in Australia, and as one of the world's largest ferronickel producers in Colombia.

SAEC's disposal will be the largest mining transaction South Africa has seen for some time. As such, it has drawn considerable interest with up to 50 companies reportedly showing an interest in acquiring SAEC. A figure of around $540 million was floated for the assets when SAEC was first put up for sale in late 2017. The final price is likely to be lower however, as the coal price has tumbled around 20% since the sale was first announced. Current free-on-board coal price at the Richards Bay Coal Terminal (RBCT) are $78/mt.

Whoever wins the bidding process must be anchored by a black-owned company to meet the government's longterm requirements to create more black businesses. The winner must also have the financial resources to take on further mine development, and to cover the nearly $700 million in site rehabilitation charges as older operations are closed. The final contenders have been whittled down to a handful, according to local reports with local companies Exxaro, Wescoal and Seriti among those expected to be leading the pack for SAEC. Each claim to be black-owned and have the solid balance sheets to fund an acquisition of this size. Earlier this year, Exxaro CEO Mxolisi Mgojo said he was indeed looking at the SAEC assets.

"We have expressed interest at this very early round in the South32 assets," he told Reuters in Johannesburg. "Our primary objective is to get further exposure on the export side and the South32 assets also come with Richard Bay Coal Terminal entitlements." Export entitlements are an important factor for local coal producers, as they essentially serve as quotas for users of the RBCT. As such, they are a limiting factor on offshore sales. Domestic sales, meanwhile, are almost exclusively to Eskom, and priced at a cost-plus basis. Eskom pays the cost of production with a small percentage added on for revenue. Exports, however, are priced according to international benchmarks providing a greater potential upside.

Local producers must also contend with Eskom's schizophrenic buying policies. The utility is in a financial crisis that has interfered with coal purchases. Even though global demand is currently slack, export entitlements help offset the risk of being tied to a single domestic customer. Besides, Eskom, like utilities around the world, is under pressure to close coal plants in favor of renewables.
---
As featured in Womp 2019 Vol 06 - www.womp-int.com