IPCC Steadily Gains Traction
It has been a slow burn for the uptake of IPCC systems, but now, as interest in truckless mining operations builds, the technology is coming into its own.

By Carly Leonida, European Editor
---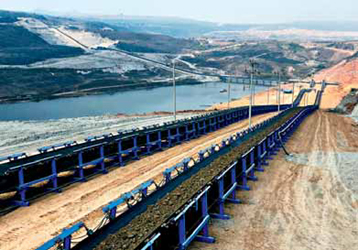 Load testing at the Mae Moh IPCC operation in Thailand. (Photo: FLSmidth)


Interest in in-pit crushing and conveying (IPCC) technologies continues to grow and, with some flagship projects nearing completion, now seems a good time to review activity in the sector. "The last year was good for new orders," Thomas Jabs, senior vice president for mining at FLSmidth, told E&MJ. "The mining market is recovering, predominantly fueled by battery metals, but there have been investments in IPCC from gold and also coal in 2018, as well as during the current year. We are expecting this trend to continue."

It has been a busy year in the IPCC space for FLSmidth, and not just through the booking of new orders. The company completed its acquisition of Sandvik Mining Systems in March 2018, creating the most comprehensive offering in the industry for mines looking to implement IPCC-based mining systems. In a recent article for FLSmidth's Discover Mining magazine, Jabs explained that by bringing together the mining and mineral processing aspects of the value-chain in one portfolio, the company hopes to be able to streamline the entire mining process and create savings for its customers.

"We can add to the productivity gains that our customers are looking for and close productivity gaps that we currently see on the market," he said. In addition to the improved synergy and coherence created between products, FLSmidth believes that through having one supplier deliver and engineer the entire mining process, clients will see significant time and costs savings as well as increased productivity.

The general uptick in IPCC feasibility studies and, more importantly, equipment orders, has been noted at other suppliers, too. Stefan Ebert, global product lifecycle manager for mining systems at thyssenkrupp Industrial Solutions, said, "We see that an increasing number of mining companies are considering IPCC as a mandatory case within their prefeasibility and feasibility studies when evaluating new prospects. It is obvious that there is more and more awareness in the market of the huge potential IPCC offers with regard to operational costs, work safety and CO2 emissions."

German firm RWE is in the unique position of being both a consultant and a mine operator. Arie-Johann Heiertz, sales manager for mining at RWE Technology International, saw many miners investigating IPCC as a tool to combat rising operational costs and higher stripping ratios. "Many clients are asking us to help them to lower their operational costs in large greenfield and brownfield mining operations worldwide, and asking to proof the implementation of IPCC components," he explained. "Over the past 10 years, we have seen strong and growing demand for continuous mining in all commodities," he added. "This is mostly driven by the last resource super cycle when commodity prices skyrocketed but operational costs also rose sharply."

Driving Forces
Eco-efficient mines, in-pit ore sorting, and water scarcity are all trends that support the use of IPCC-based mining systems. However, despite the raft of benefits on offer, many mines continue to rely heavily on the flexibility of trucks, and it seems that vendors are still having trouble convincing them otherwise. Guillaume Lambert, vice president for mining crushers at Metso, said, "This solution is part of almost all future operations trade-off studies. However, the lack of flexibility in addition to the industry's conservatism has slowed down the adoption of IPCC in existing operations."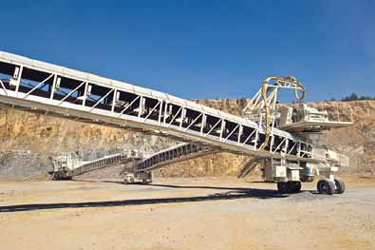 Metso's Lokotrak-Lokolink conveyor setup for IPCC systems. (Photo: Metso)


Metso is currently installing and commissioning two primary gyratory crushers as part of IPCC solutions, and has several mobile machines in gold and copper operations that will be commissioned this year, too. "There is for sure an increased interest in the technology," Lambert added. "However, mining companies like the flexibility of trucks. The main trend today is to crush closer to the pit and use trucks. In this case, a semi-mobile primary crusher is connected to the comminution plant through an overland conveyor.

"On the other hand, we are delivering more and more crushing solutions for small projects encompassing ore sorting and IPCC." Two more trends that are accelerating the implementation of IPCC systems in mines are digitalization and recruitment. A shortage of skilled labor, which is often exacerbated for mines in remote locations, makes it extremely difficult to entertain a large truck fleet. IPCC systems lend themselves well to automation, and fewer machines naturally require fewer operators.

"Obviously a mine with reduced or completely eliminated truck traffic makes digitalization easier as there is much less equipment to be connected and managed," Jabs explained. "All elements of an IPCC system are perfectly adaptable to a digital approach, and this also solves a great part of the resource problem." While there is greater awareness today of IPCC options, and the benefits in efficiency and economy they can bring to mines, Heiertz believes more could be done to instruct students in this respect. The fact remains that most mining educational courses globally still base their syllabuses on truck and shovel operations.

"For many decades, we have been supporting German and European universities in the education of their students in the field of continuous mining," he said. "In our mines, many students are taught how to operate continuous mining equipment in the most efficient way, mostly in the form of internships or master's theses.
As part of its consultancy work, RWE offers training for other IPCC
operations. (Photo: RWE)


"Back in 2015, we were asked by the University of Queensland to support them to build up a lecture chair for continuous mining. Our Australian office in Brisbane was supporting the university in Brisbane directly in the form of lectures. Students also came from Australia to Germany for several months to do internships in our mines, and be trained on continuous mining equipment and its planning approach."

Shaking Off the Past
IPCC-based solutions can trace their roots back to German lignite mines in the 1950s. These operations first conceived the idea of crushing material in the pit before removing it to the processing plant or stockpiles using a system of conveyors, and continuous mining systems are still prevalent in these operations today. When the first commercial-scale systems were introduced in the 1970s/80s, there were a few unsuccessful projects. This was mainly due to incorrect setup and operation, but the negative attention these installations received resulted in the concept being dismissed by many operators, and the idea of IPCC fell out of fashion.

"At that time, it was impossible to develop high-capacity mobile crushing, or systems allowing the use of light infrastructure solutions," Lambert explained. "Today, with partners, Metso can offer IPCC solutions for more than 100,000 tons per day of ore." Heiertz added, "Unfortunately in the past, several IPCC systems were installed and operated with the wrong setup. We analyzed several of these installations and found out that these systems were implemented with the wrong planning approach.

"IPCC technology can't be implemented with standard shovel and truck planning. The mine planners need a different mind-set for a successful installation. In most of the large mining companies, this is clearly understood, and they are nowadays relying on experts in the field of IPCC." By the 1990s, the capabilities of crushing stations and conveyors had evolved significantly, and promising results from new pilot projects demonstrated that the concept was worth another shot.
Careful mine planning is required to ensure that IPCC operations run smoothly,
using a truck and shovel-based plan will not work in this instance. (Photo: Metso)


Ebert explains: "Over time, there have been tremendous improvements in crushing technology, which have further pushed the rise of IPCC over the years. Today's systems strongly benefit from these improvements. "The development of new technologies further promotes the use of IPCC for various applications and opens up new possibilities for the industry. A good example is the ERC, our new eccentric roll crusher, which increases the range for inpit crushing and mobile crushing solutions."

Jabs is pragmatic. "We have to determine the different IPCC approaches," he stated. "Semi-mobile primary crushing stations with connected conveyor systems are still the most used IPCC technology. It is safe to say that today, this is a mature technology and it works hand in hand with shovels and trucks. "Nevertheless, it is important to discuss the requirements in mine planning and operations with the customer upfront to make this technology successful. Even more so if the choice is fully-mobile crushing. Fully-mobile crushing is the most efficient way of mining, but also more challenging when it comes to mine planning.

"The technology is not as mature as semi-mobile IPCC but is clearly gaining traction. Vale's S11D project was clearly a milestone for this technology, and proof that a paradigm shift in operations can boost productivity to new levels."

Why Consider IPCC?
In general, IPCC represents a safer, more economic and less fossil-fuel-dependent alternative to conventional truck haulage. In many cases, these systems require a higher upfront CAPEX than truck fleets and their payback period can be significant. However, if the installation runs to plan, a large reduction in OPEX through minimized maintenance and fuel costs as well as high availability can mean that these systems are a smart investment in the long term. IPCC systems also have a much longer life span than truck and shovel fleets, requiring fewer investments over their duration and, as a result, they are more suitable for long-life projects.

"The parameters that impact net present value (NPV) target in traditional layout versus IPCC systems consist mainly of electricity/diesel cost, and the additional CAPEX required for conveyors versus truck haulage," Lambert explained. In the past, operators would consider truck and shovel as their only option for material handling, but today, every project, regardless of whether it's a greenfield, brownfield or expansion is investigating alternatives. The greatest interest in IPCC naturally comes from mining companies that have already introduced conveyors and understand the savings that can be made, as well as the changes required in mine planning and maintenance regimes.
Semi-mobile solutions allow the benefits of IPCC to be combined with the flexibility
of truck and shovel operations. (Photo: thyssenkrupp


Jabs explained some of the key drivers for the use of IPCC. "The higher the required capacities, the more interesting it becomes," he said. "The shape of the orebody in general is an important factor: orebodies with a wide, horizontally oriented configuration are usually better suited than predominantly vertically oriented orebodies." He added that the vertical component, while also diffi- cult and costly for trucks to negotiate, has a negative effect on ramps for conveyors — something high angle and sandwich belt conveyor concepts aim to address — and this can also make it difficult to bring large items of equipment into the pit.

High stripping ratios, difficult ground conditions that affect truck operation, and high personnel costs also have a role to play in the decision-making process, as material transport costs form a large part of overall mine OPEX.

S11D Leads the Way
Vale's S11D operation located in southeast Pará, Brazil, is the current poster child for IPCC. Vale announced at an event in London, U.K., last November that it would be injecting a further US$770 million into the project to boost its production from 90 million metric tons (mt) to 100 million mt. The company has already sunk US$14.3 billion into the fully-truckless mine which is widely billed as the world's biggest mining project. The mine utilizes four PF200 fullymobile crushing stations from Sandvik Mining Systems paired with Cat 7495 rope shovels and around 30 kilometers (km) of conveyors instead of a fleet of 100-ton capacity trucks. Vale said that, in addition to reducing waste generated through consumables such as tires, filters and lubricants, the use of an IPCC-based system has cut its fuel costs at S11D by 77%.

ABB masterminded installation of the S11D control system in 2014 to a tune of US$103 million. Using a high degree of automation and, with the aim to cut energy consumption, smart devices are employed to inform downstream equipment about raw material supply, helping to optimise processing operations. The network controls all variables, deactivating unnecessary equipment and consumption points in case of low demand or load. Drones are also used at the mine to survey work areas, plant and ore stockpiles, with the images generated used to support short-term mine planning. FLSmidth inherited management of S11D's IPCC system in 2018 with its takeover of Sandvik's assets, and reports on progress from the site have been quiet of late. Nonetheless, Jabs believes the mine is a solid example of what can be achieved using an IPCC system.
RWE points to German lignite mines as a good example of
what can be achieved with IPCC technology. (Photo: RWE)


"No question that Vale's S11D mine is the lighthouse operation when it comes to IPCC," he told E&MJ. "The selection of fully truckless mining with a high degree of automation and digitalization is certainly remarkable. But there are also other mines that have paved the way for IPCC in the last two decades: Chuquicamata and Escondida have both been front runners in the development of semi-mobile IPCC, as well as the EGAT-mines of Mae Moh in Thailand, to name only a few." FLSmidth currently has eight IPCC projects under execution globally, including several new installations coming up in India and China.

Jabs added, "Also, we are currently executing the next semi-mobile [IPCC] expansion in a Brazilian iron-ore mine." RWE is also working on S11D. The company was contracted in 2013 to provide expert consultancy services for the mine, which include: help with mine planning, implementation and support for the mining systems, and training. The RWE team has played host to many Vale employees since June 2016, conducting training for the group at one of its truckless thermal coal mines in Germany as well as an operation in Hungary. Heiertz explained, "We would like to highlight these German lignite mines: the mines are 100% continuous mining operations. Also, when they are not crushing the waste rock, the operational mode of the large bucket-wheel excavators is very similar to the operation of fully-mobile crushing units. In these mine operations, RWE is training international mining operators in IPCC technologies and planning capacity."

He continued, "The S11D operation in Brazil is one of the flagship projects globally for large-scale, fully-mobile IPCC operations, which are running very successfully. Several mine operators in Chile, such as Los Pelambres from Antofagasta Minerals, are using semi-mobile IPCC in their operations very successfully, and in many quarry operations worldwide small, fully-mobile IPCC units are also used very efficiently." In addition to its work at S11D, RWE is currently involved in the development of IPCC-based and continuous mining systems for operations in South America, Australia, China, Southeast Asia and Scandinavia.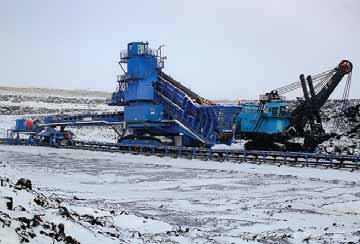 An MC3000 crusher from thyssenkrupp Industrial Solutions at
the YiminHe coal mine in inner Mongolia. (Photo: thyssenkrupp)


thyssenkrupp meanwhile pointed to the YiminHe coal mine in Inner Mongolia, as a successful example of IPCC technology. "This mine is equipped with both semi-mobile and mobile crushing plants from thyssenkrupp," explained Paulo Costa, head of OU mining systems at thyssenkrupp Industrial Solutions. "The operation utilizes a highly efficient bench operation with a mobile crusher on the one hand. On the other hand, where operational flexibility is required, a semi-mobile crushing plant is installed. With this combination, the operator achieves the benefits of conveying by still having the flexibility of trucking, where needed.

"Additionally, a barracuda compact bucket-wheel excavator system will soon be in operation to strip overburden. After being extracted by the barracuda, the material is taken by the belt wagon to the conveyor system, which transfers the overburden to the dumping site." thyssenkrupp is currently commissioning another IPCC system at PhosAgro's Apatit mine in Russia. This consists of a semi-mobile crushing plant, and a set of three conveyors connecting the mine with the external dump area and a spreader. "In this mine, the switch from truck and shovel to IPCC leads to tremendous savings of operational costs, increased safety in operations as well as reduced CO2 emissions," Costa added.
---
As featured in Womp 2019 Vol 06 - www.womp-int.com