Marange Will Open New Exploration Zones
---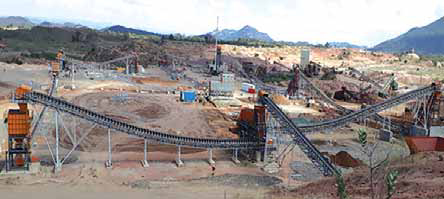 Zimbabwe Consolidated Diamond Co. is constructing a 450-mt/h conglomerate crushing and processing plant.

By Gavin Du Venage, South African Editor
CAPETOWN, South Africa—Zimbabwe is moving to bring the Marange diamond field back into full production by opening new exploration zones and entering into partnerships with mining companies. Marange is one of the world's largest alluvial diamond deposits, which at its height in 2013 produced around 15% of the world's diamond supply, according to Reuters. Located in the Chiadzwa area in eastern Zimbabwe, Marange is not a single site, but a sprawling hodgepodge of diggings over many miles of territory.

Marange had been actively worked since 2006, after the existing exploration rights holder de Beers' license expired. Ever since, the site has been in the news for the wrong reasons; allegations of child labor, the Zimbabwe military forcing villagers at gunpoint to work in the diggings, and other human rights abuses were rife.

Control of the diggings was poor, and it was overrun by artisanal miners, who competed with the Zimbabwean military and Chinese contractors. In 2008, the army launched a brutal clampdown on informal miners in Marange in which an estimated 200 people were killed, according to human rights organization Global Witness. "The decade-long looting of Zimbabwe's diamonds and the associated violence and abuses were aided by a lack of transparency and oversight," Global Witness said in a statement.

In 2016, then-president Robert Mugabe ordered production shutdown, and the largest contractor Chinese-owned Anjin be expelled, allegedly for smuggling undeclared diamonds out of the country. At the time, Mugabe complained to parliament that billions of dollars in diamond revenue were unaccounted for. "We have not received much from the diamond industry at all. I don't think we've exceeded US$2 billion or so, and yet we think that well over US$15 billion or more has been earned in that area," Mugabe told the Zimbabwean parliament in 2016.

However, Mugabe was overthrown by a coup in 2017, and his successor Emerson Mnangagwa has worked to restore the country's mining capacity. In this regard, Marange is a low hanging fruit, since alluvial mining requires less capital and project development than underground mining. Mining minister Winston Chitando told state run media in March that the country's mining industry was poised for a boom, with diamonds alone expected to contribute $1 billion a year by 2023.

"In terms of the development of the diamond industry, last year we produced 2.8 million carats and the whole idea is for this to go up to at least 10 million carats by the year 2023," Chitando said. "I said at least 10 million because that projection is based on geologically proven sites and with the exploration which is now taking place, who knows what can happen?" In January this year during a trip to Moscow, Mnangagwa announced that Russian diamond producer Alrosa would participate in developing Marange.

Then in March, Zimbabwe's mining ministry made the surprise announcement that Anjin had been invited back as well. Together, Anjin and Alrosa will partner with the state-owned Zimbabwe Consolidated Diamond Co. (ZCDC). It is uncertain whether Anjin's return means it has been cleared of smuggling allegations. Another recently announced participant in developing Marange is Vast Resources, an AIM-listed company with operating mines in Romania, as well as the Pickstone-Peerless Gold Mine in Zimbabwe. Vast has partnered with the Chiadzwa Community Development Trust to meet local ownership requirements for a mining license.

The company said an agreement in principle been granted for a joint venture on the Heritage Concession, which consists of Block T1A of Marange. "We're now waiting for the final contracts to be drafted and signed," said Andrew Prelea, CEO of Vast. "It's wonderful for the company — we've been waiting over 12 years to get the rights to mine in Zimbabwe." He said diamonds recovered will be flown out of the country to be auctioned off on a monthly basis. Destinations include Dubai, Antwerp and other global diamond centers, Prelea noted. "It's actually quite a fluid cashflow process."

Vast will use an on-site mobile screening plant that will manage initial sorting of ore, and then feed a dense media separator, before sending the material to a containerized final diamond sorting area that includes X-ray facilities. Meanwhile, it still remains to be seen whether Marange can lure further investors. The country has struck down most of its "indigenousization" law that previously required all mining operators to have a 51% majority Zimbabwean owner in a project. However, the law still applies to diamonds and platinum. Indigenization has been a major obstacle for foreign investors, who are reluctant to bankroll a project while handing ownership to an outside party.
---
As featured in Womp 2019 Vol 06 - www.womp-int.com