| | |
| --- | --- |
| | To receive your own edition of the print version of E&MJ - Go Here |




A Lack of Clarity



In the last year, executives at mining companies have adopted a new catch phrase: "A Lack of Clarity." This phrase supplanted the previous challenge of "Operating in Uncertain Times." There are very noticeable, common trends taking place industry-wide. Mining companies are gravitating toward plans that embrace Tier 1 assets, optimizing existing production processes at those operations, and selling non-core assets. The honeymoon period for many of these executives is about to expire and they find themselves in an awkward position. They have to explain a new strategy to shareholders who are unhappy about the company's stock performance while at the same time they are selling off mining operations—sometimes at a steep discounts over what the company paid only a few years ago. When shareholders and analysts ask about the outlook? The answer more recently has revolved around a lack of clarity, as if the future was previously predictable......... read more



Steve Fiscor, Editor in Chief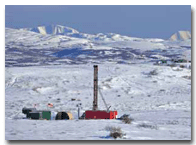 EPA Offers Negative Assessment of Potential Mining on Bristol Bay Watershed
The U.S. Environmental Protection Agency (EPA) on January 15, released An Assessment of Potential Mining Impacts on Salmon Ecosystems of Bristol Bay, Alaska, a 630-page document that has mostly negative implications for Northern Dynasty Minerals' Pebble copper-goldmolybdenum project in the region. Bristol Bay supports the largest sockeye salmon fishery in the world, producing nearly 50% of the world's wild sockeye salmon with runs averaging 37.5 million fish each year. The EPA assessment concludes that largescale mining on the Bristol Bay watershed poses numerous risks to the salmon and to Alaska Native cultures........ read more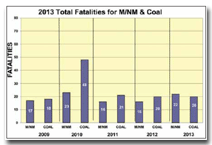 MSHA Reports Increase in U.S. Mine Deaths in 2013


The U.S. Department of Labor's Mine Safety and Health Administration (MSHA) reported in early January that preliminary data show 42 miners died in work-related accidents at the nation's mines in 2013, an increase from the 36 in 2012. While mining fatalities occurred at a record-low rate during the first three quarters of 2013, during the fourth quarter, nine metal/nonmetal miners and six coal miners died in mining accidents, a significant increase from the same period in 2012, when two metal/nonmetal miners and four coal miners died....... read more

Top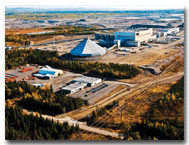 Osisko Board Opposes Hostile Goldcorp Offer


On January 20, Osisko Mining's board of directors unanimously recommended that the company's shareholders not tender their Osisko shares to a hostile take-over bid announced by Goldcorp on January 13. At the time of the Goldcorp announcement, the cash and share offer valued Osisko at about C$2.7 billion, a premium of 15% more than Osisko's TSX closing share price on January 10. Goldcorp said its offer would remain open for acceptance until 5 p.m. EST on February 19, unless extended or withdrawn..... read more

Top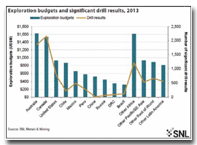 Further Exploration Spending Decreases Expected


SNL Metals & Mining reported that exploration spending in the top 10 mineral exploration countries in 2013 totaled $7.8 billion for all stages of gold, base metals, platinum group metals and uranium exploration. Examining data drawn from its annual Corporate Exploration Strategies study, SNL commented that it is evident that exploration spending in countries with the highest levels of junior activity, such as Australia, Canada, and the United States, resulted in far more reported significant drill results than in countries with weaker junior sectors or reporting regimes..... read more
| | |
| --- | --- |
| AROUND THE WORLD - USA & CANADA | |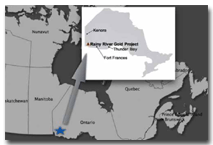 Rainy River Gold Production Forecast at 325,000 oz/y During Early Years


New Gold released the results of the feasibility study for its Rainy River gold project in western Ontario in mid- January. Highlights of the study include average annual gold production of 325,000 oz/y at total cash costs of $613/oz and all-in sustaining costs of $736/oz during the first nine years of production. Mill head grade over that time frame will average 1.44 g/mt gold. Life-of-mine production is projected at 3.4 million oz of gold and 6 million oz of silver at total cash costs of $663/oz and all-in sustaining costs of $765/oz...... read more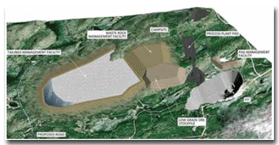 Pre-feasibility Study Supports Argonaut's Magino Gold Project


Argonaut Gold has reported the results of a pre-feasibility study (PFS) for its Magino open-pit gold project 40 km northeast of Wawa, Ontario. The study is based on a December 2013 probable reserve estimate of 60.2 million metric tons (mt) grading 0.90 g/mt and containing 1.75 million oz of gold. Project life is planned at 13 years, producing an average of 127,000 oz/y; however, production is planned to be substantially higher during the first seven years of operation, averaging 185,000 oz/y during that period.... read more

Top

Excelsior Advances its Gunnison In-Situ Copper Project in Arizona


Excelsior Mining has announced positive results for a pre-feasibility study of its Gunnison in-situ copper mining project 65 miles southeast of Tucson, Arizona. The focus of the project is the North Star deposit, which currently hosts total measured and indicated mineral resources of 3.91 billion lb of copper in 683 million st grading 0.29% copper and inferred resources of 1.40 billion lb of copper in 338 million st grading 0.21% copper. Probable mineral reserves stand at 3.61 billion lb of copper in 632 million st grading 0.29% copper.... read more

| | |
| --- | --- |
| AROUND THE WORLD - Latin America | |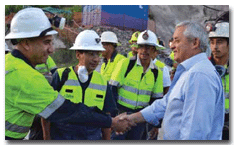 Tahoe's Escobal Mine Starts Commercial Production


Tahoe Resources announced on January 14 that its newly developed Escobal silver mine had reached commercial production 70 km southeast of Guatemala City, Guatemala. Operations began in late September 2013, and production has been ramping up toward a targeted 3,500-metric-ton-per-day (mt/d) mill throughput since that time. Mill throughput averaged 2,895 mt/d during the period January 1 to 12, and as of January 14, the mill had produced 5,970 mt of silver-bearing concentrates with an estimated net value of approximately $54.3 million. The concentrates are bagged and placed in containers for shipment to smelters…… read more
Iamgold Building Solar Power Project in Suriname


Iamgold and its subsidiary, Rosebel Gold Mines N.V., are funding the development and operation of a solar power project with an installed capacity of 5 MW in Suriname. In developing the project, Iamgold is delivering on a prior commitment to the government of Suriname in connection with an agreement that significantly lowered the company's cost of power. The cost to build the solar project is expected to be in the range of $12 million to $14 million, including work necessary to prepare and provide access to the site. Iamgold plans to have the project operational at the start of the third quarter of 2014. The project will be managed and operated by…. read more

| | |
| --- | --- |
| AROUND THE WORLD - Australasia | |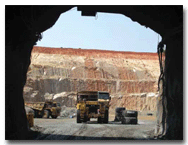 Northern Star Expanding Through Mine Acquisitions


Northern Star Resources has agreed to purchase Barrick Gold's Plutonic gold mine, its 51% interest in the East Kundana joint venture (EKJV), and its Kanowna Belle gold mine, all in Western Australia. The acquisitions will lift Northern Star's annual gold production to more than 350,000 oz/y. Prior to the acquisitions, Northern Star was a one-mine company, owning and operating the Paulsens underground gold mine in Western Australia. In Northern Star's fiscal year ended June 30, 2013, Paulsens produced 88,614 oz of gold…. read more



BHP Billiton to Replace Shiploaders at Nelson Point, Shut Perseverance Mine


BHP Billiton is investing $301 million to replace two shiploaders at its Nelson Point port operations in Port Hedland, Western Australia. The new shiploaders will replace two shiploaders that are more than 40 years old and that currently load iron ore at a rate of approximately 10,000 metric tons per hours (mt/h). Each of the new shiploaders will have a loading capacity of 12,500 mt/hr. The investment will increase the reliability of BHP Billiton's inner harbor port facilities and will create additional port capacity that can be utilized as a series of…. read more

Top
Polyus Slows Natalka Gold Project Development
Polyus Gold International announced in late December 2013 that it is re-sequencing the development of its Natalka gold project in Russia's Far East and delaying the launch of the plant to summer 2015 from the previously announced target of the summer of 2014. The Natalka project is located about 400 km inland from the port of Magadan and is based on one of the world's largest undeveloped gold deposits. Proven and probable gold reserves stand at 31.6 million oz, and measured, indicated and inferred gold resources stand at 59.7 million oz…. read more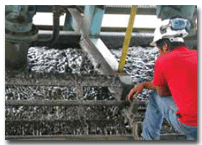 TVI Pacific Shuts Down at Canatuan
TVI Pacific stopped milling operations in mid-January 2014 at its Canatuan copper and zinc mine in Zamboanga del Norte province on the island of Mindanao in the Philippines after having exhausted its remaining stockpile. The Canatuan processing plant will be cleaned, but equipment will not be dismantled while TVI Pacific continues to assess mine-life extension and expansion opportunities, including possible processing of mineralized waste-dump material, possible new discoveries from exploration…. read more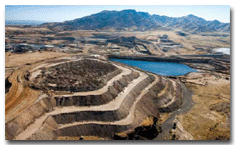 Paladin Sells 25% Interest in Langer Heinrich to CNNC


Paladin Energy signed an agreement on January 18 to sell a 25% joint-venture equity stake in its flagship Langer Heinrich uranium mining operation in Namibia to China Uranium Corp., a wholly owned subsidiary of China National Nuclear Corp. (CNNC), the leading Chinese nuclear utility, for consideration of $190 million. An off-take component of the agreement will allow CNNC to purchase its pro-rata share of Langer Heinrich production at the prevailing market spot price. Paladin may…. read more

Strikes Hit South Africa's Top 3 Platinum Producers
The Association of Mineworkers and Construction Union (AMCU) initiated strikes at the mines of Anglo American Platinum, Impala Platinum and Lonmin in South Africa on January 23. Estimates of the number of miners on strike ranged upward from 70,000. Government-mediated negotiations between the two sides were held briefly on January 24 and then scheduled to resume the following week. However, both sides remained insistent that they would not accept demands that were being made by their opposite numbers.…… read more

Top
| | |
| --- | --- |
| THIS MONTH IN COAL | |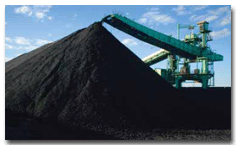 BHP Reports Record 2013 Half-year Performance


The world's top diversified miner, BHP Billiton, reported strong half-year performances ending in December 2013, with records across 10 operations. In particular, Queensland coal hit peak production. "Our productivity continues to improve and this was most clearly demonstrated by our Queensland Coal business which ran at a rate of 68 million metric tons per year (mt/y) in the December 2013 quarter," said BHP CEO Andrew Mackenzie. "Our productivity agenda is in full swing and we expect to carry strong momentum into the second half of the financial year." The operations in Queensland posted …. read more

EIA Sees Short-term Rebound for U.S. Coal Miners in 2014


The U.S. coal mining sector will witness a modest, brief rebound this year, boosted by greater production in Western states following two years of declines, according to a report released this week by the Energy Information Administration (EIA). Short-term impacts are expected heaviest in terms of volume in the Powder River Basin of Wyoming and Montana, which accounts for 40% of U.S.-produced coal. In all, the government agency predicts a 36-million-ton increase in production for 2014 to 1.04 billion tons, up 3.6% from 2013  …. read more

BMX to Begin Production Soon
CONSOL Energy Inc. reported 2013 growth with "distinction" during a major asset sale, said CEO J. Brett Harvey, citing annual production at 28.5 million tons, an increase over 2012's total production of 27.2 million tons. Altogether, CONSOL produced 7.1 million coal tons in Q4 2013, including 1.2 million tons of low-volume coking coal from the Buchanan mine—an increase over 6.6 million tons and 700,000 tons from Buchanan, year-on-year. All coal tons, added CONSOL officials, were restated to reflect the sale of five mines in Q4…. read more
| | |
| --- | --- |
| FEATURE - Safety & Training | |

Training: The Foundation for Safety
Across the world, improving worker safety in mining is a key target. And, while there have been some major successes in terms of reducing injuries and deaths, the very nature of mining activity presents huge challenges, both physical and cultural.

By Simon Walker, European Editor

In public perception, mining still has an unwelcome reputation when it comes to worker safety. And, to be fair, in some parts of the world—where regulatory oversight is lax or where artisanal mining provides an economic lifeline—that reputation is probably justified. However, widely reported incidents in such places are often "flash" news items, soon to be superseded by more pressing stories with no more than a cursory explanation of the occurrence and the toll.
All of which does a great disservice to companies large and small for whom safety is not only a key concern, but is also culturally inbuilt. To put it bluntly, any serious accident carries substantial economic as well as personal costs, an ……. read more


For more companies with products in the Safety market -
Go Here
| | |
| --- | --- |
| FEATURE - Wear and Corrosion | |
Progress in Pipe Wear Protection


Whether it's an elastomer lining or a plasma-transferred coating, a natural rubber sleeve or high-tech ceramic casting, the key to a successful pipeline-abrasion solution is picking the right wear product from a wide array of choices

By Russell A. Carter, Managing Editor

The steadily rising productive capabilities of mobile and stationary mining equipment means that the arrival of an "ultra-mine"— capable of extracting 1-million-tons-perday (t/d) of ore—may not be too far into the future. At last year's annual meeting of the Society for Mining, Metallurgy and Exploration, a paper addressed that exact possibility1, noting that: 1) it could happen within 10-15 years; 2) it would be technically feasible using either conventional truck haulage or in-pit conveyors; and 3) moving 1 million t/d of ore out of a single pit with a strip ratio of 3:1 or 4:1 would actually involve a total removal rate of 4–5 million tons of material each day .... read more

Top

For more companies with products in the Pipes market -
Go Here
| | |
| --- | --- |
| FEATURE - Grinding Mills | |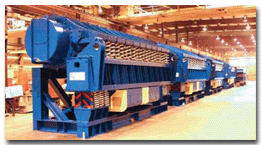 Putting Destructive Vibratory Energy to Productive Use in Grinding


The use of vibration, in combination with grinding media, for material size reduction significantly increases the number of material impacts per minute, decreasing product-extraction time and creating a more desirable fractured product

By Ronald Fruit and Amy Donahue

The first vibratory mills to be developed for material grinding were relatively simple devices, utilizing an eccentric drive system mounted to a tube to create an elliptical motion suitable for attrition grinding. These devices were limited in throughput and efficiency. They also had complicated drive connections with very high power consumption per pound of material produced. General Kinematics began developing vibratory grinding mills in the 1980s, applying their knowledge of vibratory sand reclamation from the foundry industry to fine grinding applications for other products and materials. Since then, vibratory…... read more


For more companies with products in the Mills market -
Go Here
| | |
| --- | --- |
| FEATURE - Production Drilling | |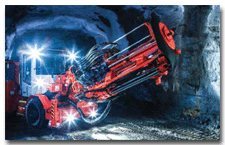 New Rigs Bring Higher Performance



Job versatility, boring accuracy and operator ease are high on the list of new features

By Russell A. Carter, Managing Editor

The industry's major underground drill suppliers have provided a steady flow of product announcements and introductions for underground production applications over the past year, ranging from performance, control and safety enhancements on highoutput tophammer rigs, to quieter, more efficient and user-friendly designs for jackleg- mounted drills, and completely new models for special purposes. Here's a quick rundown of the highlights:
Sandvik Upgrades Tophammer Line
During the second half of 2013 Sandvik Mining announced a significant performance upgrade to its DL401-series underground top hammer production drills—an effort that the company said is intended to ensure continued and high drilling productivity, rock tool performance and process optimization in a wide range of mine conditions..... read more

Top


For more companies with products in the Drilling market -
Go Here

Metso Lands Rotary Dumper Contract in Africa, Adds U.S. Service Center


Metso and industrial service provider Ferrostaal Industrieanlagen GmbH, Germany, reported receipt of a joint contract to build a railcar dumper facility for iron ore producer Société Nationale Industrielle et Minière (SNIM) at the harbor of Nouadhibou, Mauritania. The contract's value was not disclosed. SNIM's director said, "SNIM's ambitious strategy is to boost our annual iron ore production capacity up to 40 million tons in 2025 through the start-up of a new iron ore plant in mid-2014. As a consequence, we need more loading capacity and facilities in the harbor of Nouadhibou for loading the iron ore onto ships." …. read more

Michelin Opens New Plant for Earthmover Tires


Michelin recently celebrated the grand opening of a 800,000-ft2, $750 million off-road tire-manufacturing facility in Anderson, S.C. Michelin executives and employees were joined by state dignitaries to celebrate the plant opening, which took place less than a year and a half after breaking ground on the facility. The project completion is the fastest greenfield construction in Michelin's history, according to the company. The state-of-the-art plant will build earthmover-class tires, up to the largest sizes used on 400-ton mining trucks. Michelin…… read more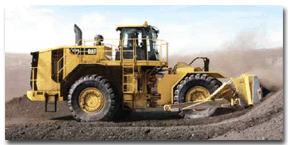 Wheel Dozer has New Cab, Refined Transmission and Safety Enhancements


Caterpillar's model 834 wheel dozer has been an industry workhorse for almost 50 years. With the recent introduction of the 834K model, Cat has added significant improvements to the 105,000-lb (47,750- kg) unit that include a completely new cab, drive train refinement, new monitoring and diagnostic features, new safety features and structural enhancements. Available blade types include straight, universal, semi-universal and coal, ranging in capacity from 10.3 to 29 yd3 (7.9 to 22.2 m3). Rated at 496 net horsepower (370 kW), the Cat C18 engine used in the 834K is available in three configurations to tailor the machine…. read more

Top
Lab-scale Sieve Shaker is Easily Configurable


Cleveland Vibrator is now offering the model HK dual drive laboratory sieve shaker (DDLS) to complement its growing line of fine mesh vibratory sieves. The DDLS is available in various sieve frame sizes and can accommodate up to eight sieves. Enhancements to the DDLS include dual vibratory electric drives mounted on opposing sides of the test sieves, creating a three-dimensional motion. This allows the sample to work over the entire area of the sieve surface. The DDLS operates on standard 110V and comes equipped with .…… read more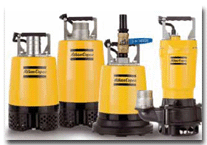 Portable Dewatering Pumps for Specific Applications


Atlas Copco has introduced a range of smaller WEDA portable pumps for dewatering. The new WEDA04 and WEDA08 models provide drainage pumping, the WEDA08S is designed for sludge pumping and the WEDA04B for low-suction pumping. The WEDA04 is equipped with a 400- watt electric motor and the WEDA08 features a 750-watt motor. A polyurethane semi-vortex impeller on these models reduces the risk of clogging, and both models are fitted with built-in motor protection…. read more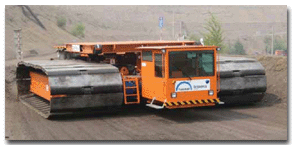 Crawler Transporters Move Ulta-heavy Mine Equipment


Tenova Takraf said its custom-engineered transport crawlers are ideal for transport of heavy surface-mining equipment such as head or tail stations of conveyor systems or semi-mobile crushing plants. Crawler capacity ranges from a payload rating of 250 metric tons (mt) to 1,200 mt, with gradeability of up to 20 %. The main component of the machine is its substructure, featuring dual travel gear that is rigidly connected on smaller crawler models; however, hinged crawler girders are used in crawlers…. read more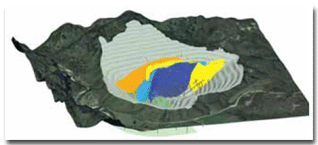 Geological Modeling Software Speeds Workflow


Aranz Geo, developer of Leapfrog 3-D geological modeling software, has released Leapfrog Geo 1.4, described as a major advance to their workflow-based solution for modeling geology and mineralization. According to the company, users now can model more geologies, draw curved polylines, perform vein modeling with pinch-out, and further refine models for even better realism and understanding. Advanced generic tools and workflows allow the user to easily develop their ideas for more modeling freedom. This, when combined with the increased functionality, delivers smoother, better .…. read more

Top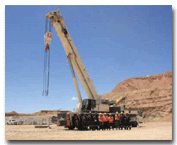 New All-Terrain Crane for Grupo Mexico Mine


Grupo Mexico has taken delivery of its first Terex AC 350/6 all-terrain crane. Supplied by Megamak, the regional Terex cranes distributor, the unit is now on site at the company's Buenavista Del Cobre (Cananea) mine in Sonora, Mexico, where it is being used to move and maintain heavy mining equipment such as crushers, screens, drilling machines and trucks. The six-axle crane has a main boom length of 64 m, maximum system length of 126 m, is rated at 350-ton capacity and is fitted with the Terex lC-1 control system delivering intuitive operation via a touch screen interface….read more
MARCH 3–6, 2014: PDAC 2014, Metro Toronto Centre, Toronto, Canada. Contact: Prospectors and Developers Association of Canada; Tel: 1 416 362 1969; E-mail: convention@pdac.ca; Web: www.pdac.ca
MARCH 4–8, 2014: 2014: CONEXPO-CON/AGG, Las Vegas, Nevada, USA. Contact: CONEXPO-CON/AGG Show Management; Tel: 1-800- 867-6060 (USA and Canada), 1 414-298-4167 (International); E-mail: info@conexpoconagg.com; Web: www.conexpoconagg.com
APRIL 21–25, 2014: Expomin 2014, Santiago, Chile Contact: FISA S.A.; Tel: +56 (2) 530 7000; E-mail: info@fisa.cl; Web: www.expomin.cl
MAY 11–12, 2014: Geominetech 14th Annual Symposium on New Equipment New Technology Management and Safety in Mines and Mineral, Bhubaneswar, India Contact:JK Hota, editor and organizing secretary; E-mail: hotaeditor@sify.com or hotaeditor@gmail.com; Web: www.lusa.info/geominetech
MMAY 11–14, 2014: CIM 2014 Convention, Vancouver, Canada Contact: Lise Bujold, director of events; Tel: 514-939-2710 ext. 1308; E-mail: lbujold@cim.org; Web: www.cim.org/en.aspx
JUNE 12–13, 2014: MEMSA Technical Symposium, Clearwater Beach, Florida, USA Contact: Web: www.miningelectrical.org/this-year-s-meeting.html
JUNE 10–12, 2014: Euro Mine Expo, Skellefteå, Sweden Contact: Web: www.euromineexpo.com
SEPTEMBER 23–25, 2014: IMEX 2014, Las Vegas Convention Center, Las Vegas, Nevada, USA. Contact: Tim Fearney, show director. Tel: +1 678-822-9804; E-mail: tfearney@mining-media.com; Web: www.imex2014.com
For a full calendar of mining industry conferences and events - click here
| | |
| --- | --- |
| WHO'S MOVING WHERE | |

Jim Gowans has been appointed COO of Barrick. He was most recently managing director of Debswana, a joint venture between the government of Botswana and De Beers SA.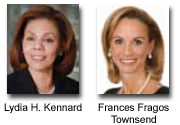 Freeport-McMoRan Copper & Gold Inc. appointed Lydia H. Kennard and Frances Fragos Townsend to its board of directors.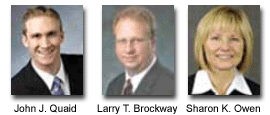 U.S. Steel named John J. Quaid, vice president-iron ore, and appointed Larry T. Brockway as senior vice president, chief risk officer and treasurer. Sharon K. Owen will retire from North American Flat-Rolled Operations.

BHP Billiton appointed Tony Cudmore as president, corporate affairs, effective March 3. He joins BHP Billiton from Exxon Mobil Corp.

Hecla Mining Co. appointed Luke Russell vice president, external affairs. Prior to joining Hecla, he was senior vice president of environment and community at Coeur Mining.

Peak Resources Ltd. appointed Darren Townsend to managing director. Most recently, he was president and CEO of Pacific Wildcat Resources Corp. Executive Chairman Alastair Hunter will resume his previous position as non-executive chairman.

The National Mining Hall of Fame and Museum appointed Dr. Stephen L. Whittington as its new executive director.

Zinken Enterprises Inc. hired Gerald P. "Jerry" Willnecker.
About - providing an abreviated version of the current print edition of E&MJ, WOMP is distributed throughout the world to decision makers in the global mining industry, the last week of every month.

Subscribe to E&MJ - To receive your own copy of the print edition of E&MJ, click here , and complete your details. E&MJ is available free of charge to qualified readers.

Contact - if you have views, opinons or comments or editoral that you would like to submit, we would be delighted to hear from you - click here

Top