Osisko Board Opposes Hostile Goldcorp Offer
---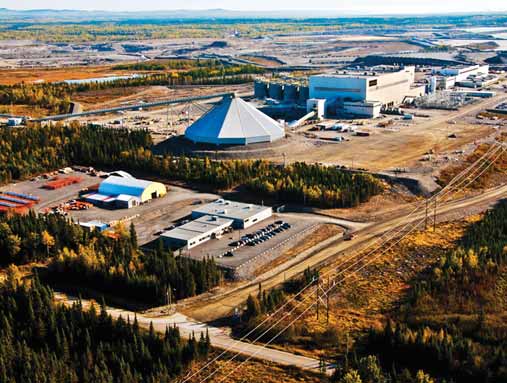 Osisko Mining's main asset, the Canadian Malartic mine in Quebec, produced more than 137,000 oz of gold in the
fourth quarter of 2013. Osisko is battling a hostile takeover by Goldcorp. (Photo courtesy of Osisko Mining)

On January 20, Osisko Mining's board of directors unanimously recommended that the company's shareholders not tender their Osisko shares to a hostile take-over bid announced by Goldcorp on January 13. At the time of the Goldcorp announcement, the cash and share offer valued Osisko at about C$2.7 billion, a premium of 15% more than Osisko's TSX closing share price on January 10.

Goldcorp said its offer would remain open for acceptance until 5 p.m. EST on February 19, unless extended or withdrawn.

Osisko responded, "Tendering Osisko shares to the Goldcorp offer before the board of directors and its advisors have had an opportunity to fully explore all available strategic alternatives may preclude the possibility of a superior alternative transaction emerging."

Osisko's primary asset is its Canadian Malartic open-pit gold mine 20 km west of Val d'Or, Quebec. The mine reached commercial production in May 2011 and will produce 500,000 to 600,000 oz/y of gold over a 16-year mine life. Production during the fourth quarter of 2013 totaled 137,321 oz at estimated cash costs of $713/oz. Proven and probable reserves exceed 10 million oz.

In recommending that Osisko shareholders reject the Goldcorp offer, Osisko's board of directors offered a 13-point list of reasons to reject. Primarily, the Osisko statement said, "Goldcorp's offer significantly undervalues Osisko's world-class Canadian Malartic mine and the rest of the company's portfolio of high-potential projects in North America. The premium offered by Goldcorp, as well as the transaction multiples implied by the offer, are both significantly below the relevant precedents."

Osisko reported that it had several preliminary discussions with Goldcorp over the past five years but that those discussions had never led to a credible proposal from Goldcorp. "Instead, Osisko has been presented with highly conditional and nonbinding proposals that offered inadequate premiums and value propositions that did not warrant further consideration or engagement by Osisko. The current Goldcorp offer implied a meager 15% premium at the time of announcement and is significantly less today."

Osisko also stated that the Goldcorp offer was opportunistically timed to occur before the Canadian Malartic mine enters what Osisko expects will be its most productive years.
---
As featured in Womp 2014 Vol 02 - www.womp-int.com