TVI Pacific Shuts Down at Canatuan
---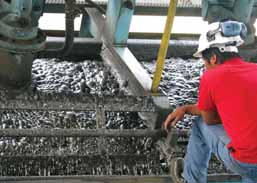 A worker observes flotation circuit operations at TVI Pacific's
Canatuan Cu/Zn mine. (Photo courtesy of TVI Pacific)

TVI Pacific stopped milling operations in mid-January 2014 at its Canatuan copper and zinc mine in Zamboanga del Norte province on the island of Mindanao in the Philippines after having exhausted its remaining stockpile.

The Canatuan processing plant will be cleaned, but equipment will not be dismantled while TVI Pacific continues to assess mine-life extension and expansion opportunities, including possible processing of mineralized waste-dump material, possible new discoveries from exploration drill targets outside of the pit area, possible production of pyrite concentrates, reprocessing of tails, and exploitation of possible economic deposits (Malusok and SE Malusok) outside the current Mineral Production Sharing Agreement (MPSA). TVI is continuing to seek regulatory approval for expansion of the current MPSA to include these deposits.

Since completion of construction of the sulphide concentrator at Canatuan in November 2008, the project has shipped 195,660 dry metric tons (mt) of copper concentrate and 30,548 dry mt of zinc concentrate.

Reserves mined significantly exceeded initial reserves as a result of additional material found and mined. This material, consisting of banded sulphides with low-grade chlorite schists, was used in ore blending to optimize mill recoveries and was located both inside and outside the pit shell and not included in the original ore reserves.
---
As featured in Womp 2014 Vol 02 - www.womp-int.com