Tahoe's Escobal Mine Starts Commercial Production
---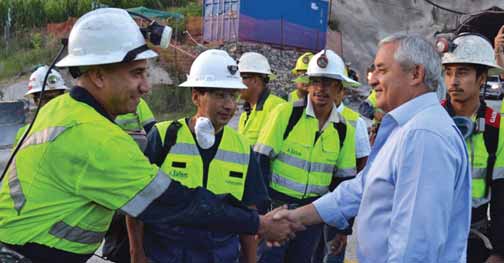 President of Guatemala Otto Perez Molina (right), meets with Escobal mine staff. Escobal, according to Tahoe Resources,
has reached the commercial production stage and is in the process of ramping up to full 3,500 mt/d of mill throughput.
(Photo courtesy of Tahoe Resources)

Tahoe Resources announced on January 14 that its newly developed Escobal silver mine had reached commercial production 70 km southeast of Guatemala City, Guatemala. Operations began in late September 2013, and production has been ramping up toward a targeted 3,500-metric-ton-per-day (mt/d) mill throughput since that time.

Mill throughput averaged 2,895 mt/d during the period January 1 to 12, and as of January 14, the mill had produced 5,970 mt of silver-bearing concentrates with an estimated net value of approximately $54.3 million. The concentrates are bagged and placed in containers for shipment to smelters.

Escobal's indicated resource currently stands at 27.1 million mt at grades of 422 g/mt silver, 0.43 g/mt gold, 0.71% lead and 1.28% zinc. Tahoe expects to produce 18 million to 21 million oz of silver contained in lead and zinc concentrates during 2014. Production over the first 10 years of operation is planned at 20 million silver equivalent oz/y, which will rank Escobal among the world's largest silver mines. Total cash cost is expected to come in at less than $5/oz net of by-products credits.

Tahoe President and CEO Kevin McArthur said, "Our Guatemalan team has done a terrific job in delivering this world-scale silver mine within four years of the company's initial public offering. While we continue to optimize the mill, tailings filtration and paste backfill operations, this has been a remarkable start-up for a precious metals flotation plant over a very short time period."

Primary underground mine development at Escobal has been completed for approximately five years of mill feed. Stope development is proceeding on four sublevels, with several stopes currently in production on the 1265 level. The location and thickness of the Escobal vein as modeled in Tahoe's May 2012 preliminary economic assessment is being confirmed by mining and close-spaced stope definition drilling.

"While it is too early to draw any conclusions given the limited number of stopes in production, silver grades as predicted by the resource model in the areas being mined appear to be slightly conservative," the Tahoe press release stated. "The average production grade to date is slightly higher than modeled estimates, and there is only minor variance between the overall predicted and actual production tonnages to date."

Development to access a second mining front on the 1190 level continues to advance in each of the two primary development ramps. Development of a third internal ramp to access the Escobal East Zone began in the fourth quarter of 2013. Excavation of the primary ventilation exhaust shaft was nearing on-time completion, with fan installation scheduled for the first quarter of 2014.

During the remainder of 2014, Tahoe expects to complete an Escobal resource update, optimize life-of-mine operations with a feasibility study, and calculate proven and probable reserves.
---
As featured in Womp 2014 Vol 02 - www.womp-int.com