Progress in Pipe Wear Protection
Whether itís an elastomer lining or a plasma-transferred coating, a natural rubber sleeve or high-tech ceramic casting, the key to a successful pipeline-abrasion solution is picking the right wear product from a wide array of choices
By Russell A. Carter, Managing Editor
---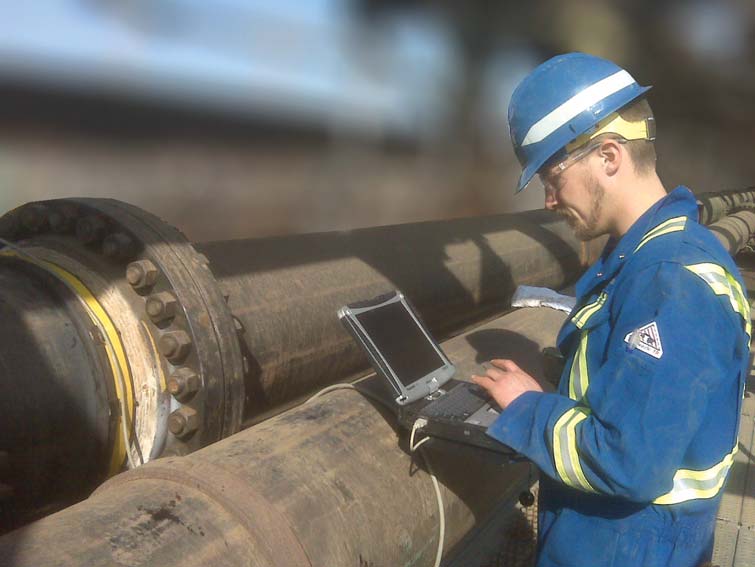 Internal wear from abrasive material is a cause of concern for many mining operations that pump tailings, slurries and product through pipeline. Measurement of wear rates is
necessary to estimate maintenance intervals and identify problem areas. Pictured here, a technician uses CiDRA's HALO SMARTring technology to collect internal wear measurements.

The steadily rising productive capabilities of mobile and stationary mining equipment means that the arrival of an "ultra-mine"— capable of extracting 1-million-tons-perday (t/d) of ore—may not be too far into the future. At last year's annual meeting of the Society for Mining, Metallurgy and Exploration, a paper addressed that exact possibility1, noting that: 1) it could happen within 10-15 years; 2) it would be technically feasible using either conventional truck haulage or in-pit conveyors; and 3) moving 1 million t/d of ore out of a single pit with a strip ratio of 3:1 or 4:1 would actually involve a total removal rate of 4–5 million tons of material each day.

Considering the huge number of trucks and the elaborate pit layout and traffic flow arrangements needed to move that much material, a mine operator might understandably look at a conveyor-based haulage system instead. But even that approach, given current conveyor-capacity ranges, could require as many as eight to 10 large, parallel systems to handle the volume, and would bring an entirely different set of logistical problems.

However, no matter what the final transport scheme may be, the prospect of that many tons of generally abrasive— and possibly corrosive—material moving through mine and plant systems would be a daunting proposition for maintenance departments charged with the responsibility for equipment upkeep. Material movement volumes in today's mines alone are problem enough when it comes to wear and corrosion repair.

The routine tasks of inspecting, repairing or replacing corrosion-prone components, or choosing the most cost-effective wear materials for a harsh application that eventually destroys any kind of protection, may not be in total harmony with an emerging image of mining as an increasingly hightech activity, but the relationship between equipment preservation and productivity to higher output is clear to the industry.

For example, one component of the National Research Council (NRC) of Canada's High Efficiency Mining program is a focus on wear and corrosion throughout the industry. The mining program, according to the NRC, is designed to spur development of cost-effective technical solutions to economically mine remote and lower grade ore and ensure the competitiveness of Canada's mining sector.

"We take a systems engineering approach that considers both the technology needs of mining companies and the innovation capacity of their supply chains," said Andy Reynolds, general manager of Energy, Mining and Environment at the NRC. Targeted projects are intended to help optimize mining processes, improve equipment durability, and reduce the risk of technology adoption and integration across mining operations through technoeconomic assessment and systems analysis. These collaborative activities, according to the NRC, will result in practical technology solutions to save companies hundreds of millions of dollars in operating and maintenance costs.

MRO costs are a $15 billion per year expense for Canada's mining sector. A significant proportion of these high costs can be attributed to equipment wear and corrosion damage—with at least one Canadian oil sands producer reportedly estimating its overall wear-related repair costs at more than a billion dollars per year. As part of the High Efficiency Mining program, NRC said the Mining Materials Wear and Corrosion Consortium offers clients and collaborators benefits derived from NRC's multidisciplinary capabilities and facilities across Canada, drawing on core mining expertise. The consortium, according to the NRC, can help reduce wear and corrosionrelated costs, extending the life of equipment and increasing energy efficiency and productivity of mining and mineral processing operations.

Membership is open to both producers and suppliers. Current research priorities include advanced material development and optimization, material coatings and protection systems, and failure analysis and testing.

New and improved products and processes for wear protection undoubtedly will emerge from this and other research efforts, and there are currently many types, sizes and grades of wear-material products commercially available for customers in need of a cost-effective solution. However, the basis for any successful product selection process is, according to industry experts, identifying the specific challenges of the application and determining the correct protection "philosophy" for the job.

One Way, or the Other
Roplast, a subsidiary of the Rosen Group, is one of Europe's largest manufacturers of cast polyurethanes. When it comes to wear protection, there are two common philosophies, according to the company. One is: "The harder the stationary surface, the less the wear." Materials or methods for employing this philosophy include:

• Material alloying;

• Steel hardening (induction heating);

• Cemented carbide or ceramic wear tiles;

• Double wall pipes; and
In addition to developing high-performance polyurethane (PUR) coatings for superior
abrasion resistance in pipeline applications, Roplast has cast PUR into long-lasting
ball-mill lifter bars that can be configured with a system to measure their wear rates and
report the data to a central location.
• Bimetallic pipes (weld overlays).
The other approach is: "The more elastic the stationary surface, the less the wear," usually implemented by using:
• High-density polyethylene (HDPE) liners;
• Rubber liners, rubber cladding;
• Polyurethane (PUR) liners or cladding; and
• High-performance elastomer liners, coatings and cladding.
Either approach can be satisfactory, depending on the circumstances of the application, according to a paper presented by Roplast representatives at the World Mining Congress2 . The Roplast presentation focused on the benefits provided by its high-performance elastomer products, made possible by the unique nature of polyurethane chemistry, which allows customized development of solutions. Polyurethanes in general exhibit extreme resistance to abrasion and tear propagation, but, according to Roplast, certain high-performance polyurethane elastomers exceed the performance of standard polyurethane elastomers not only with respect to these properties but others as well, such as temperature and hydrolytic resistance.
Roplast offered two real-world examples—an interior abrasion protection coating for slurry pipelines; and "intelligent" ball mill lifters fabricated from high-performance elastomers, incorporating a realtime wear monitoring system.
The harsh conditions encountered during mining and processing of Alberta oil sands present special problems for equipment—and for pipeline systems in particular. Pipes transporting bitumen or process tailings must be rotated frequently to distribute interior wear evenly, and entire pipeline systems often have to be replaced after only a year or two. Various types of steel are used in pipeline system fabrication, often uncoated internally. Coatings and linings offer options for increasing pipeline service life.
Any type of interior coating must have a reasonably high degree of adhesion to carbon steel in order to be reliably effective. The Roplast presenters noted that most polyurethanes generally show moderate adhesion to steel, but they often can't stand up to water—in some cases they absorb it. An elastomer pipe coating in an environment where the product stream is warm or hot and the pipe wall is below freezing temperature—a typical scenario in the Alberta oil sands—is prone to the socalled "cold wall effect" where water from the slurry, after penetrating the elastomer, reaches the pipe wall and freezes instantly. The continued expansion of water upon freezing blisters the coating, causing it to detach from the steel pipe wall.
In laboratory testing, several of Roplast's high-performance elastomer grades were found to exhibit higher adhesion to steel than any polyurethane tested, according to the paper, and in a field test conducted at an oil sands operation, a 30-in.-ID test spool with a 1-in.-thick highperformance polyurethane elastomer interior coating was installed on a tailings line carrying rocks up to 5 in. size. After 11,000 hours of operation, inspection showed that less than half of the sacrificial coating's thickness was eroded at the 6 o'clock position, without pipe rotation. On this same tailings line, uncoated carbon steel pipes typically last 2,500 to 3,000 hours without rotation. Erosion in the test section at positions other than the area between 5 and 7 o'clock was below the tolerance limit of optical measurement.
That successful test prompted the company to develop a proprietary, in-the-field pipe joining process for large-scale installations of its RoCoat polyurethane elastomer coating, and a field kit to repair smaller defects in the elastomer layer. To date, steel pipes coated with these interior high performance elastomer wear material have been used for several mining operational and field-test applications, including oil sands tailings and hydrotransport, station piping for phosphate slurries and mine tailings transport in mountainous areas of Chile.
Roplast also pointed out that high-performance PUR elastomers can be cast into any moldable shape—ball mill lifters are a good example. Normally made from rubber, these lifters must be replaced at intervals that depend mostly on the ore type, but also on other conditions such as pH and temperature. Using a high-temperature/high-pH resistant high-performance PUR elastomer, initial lab tests comparing lifters from this material to rubber ball mill lifters encouraged an initial field trial at a copper concentrator. In this particular application, rubber lifters lasted a maximum of 11 months. According to Roplast, inspection following installation of high-performance PUR elastomer test lifters indicated that the PUR lifters would last at least twice as long as rubber lifters.
The company also has developed an elastomer lifter that continuously measures its own wear and monitors the temperature. A complete monitoring system including data transmission modules and a central control unit are part of this system.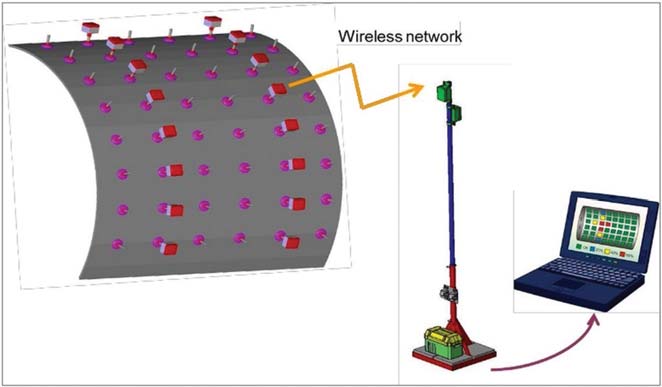 Made for the Job
Iracore International is a major fabricator and supplier of polyurethane lining materials for the global mining industry. The Minnesota, USA-based company reported not too long ago that it had provided more than 625,000 linear meters of lined pipe to various mining and other industrial projects, and currently is operating some of the largest PUR casting machines in the world.
Iracore has provided lined pipe solutions to major oil sands mine developers in northern Alberta for more than a decade, the company said, noting that it has worked at developing and testing its proprietary urethanes and manufacturing processes to meet the severe operating conditions encountered in this sector.
The company currently is in a threeyear agreement with Shell Canada for the supply of lined pipe and fittings for use in the Alberta oil sands. The agreement provides Shell access to a number of Iracore's proprietary products and services for use at the Muskeg River and Jackpine oil sands mining projects.
Iracore, according to the company, is a complete pipeline system consisting of pipe spools, Iracoupling end flanges and a full range of other fittings, all lined with a urethane-based compound that was developed specifically to protect hydrotransport and tailings pipe in the Canadian oil sands.
Iracore lined pipe spools are available in lengths up to 50 ft, and typical diameters are 18 to 36 in. Among the features that make it highly suitable for oil-sands use are its resistance to large particle impingement, with improved wear performance in fast velocities—the internal pipe coating can withstand particles up to 6 in. in diameter traveling at 6 m/sec. Iracore, according to the company, also resists disbondment from the cold wall effect, and is one of the few elastomers that can withstand long-term exposure to hydrocarbons.
Handling Wear with Hard Core Solutions
For mining applications that require hard wear-surface protection, several new cladding and coating technologies have recently emerged.
NanoSteel, which specializes in nano-structured steel materials design, announced recently that its Super Hard Steel (SHS) weld alloy has been selected by Trimay Wear Plate Ltd. to provide wear protection within the steel piping of a concrete slick line at an underground mine in northern Canada. NanoSteel said that in this application, SHS has been proven to provide dramatic wear-rate improvement over the previous solution. Combined with Trimay's casing design, this project represents the second line of identical configuration for the customer and will be installed during the first quarter of 2014.
NanoSteel said its patented SHS 9800 alloy is applied as a continuous spiral weld overlay to the inside diameter of carbon steel pipe. When welded, SHS 9800 forms a nano-scale microstructure resulting in a uniform hard matrix with maximum hardness and wear resistance consistent throughout the entire overlay. Bead orientation is perpendicular to material flow for even wear resistance. NanoSteel ID clad straight pipe is available in lengths up to 21.5 ft and is fitted with flange or threaded connecting joints. Bends and elbows are available in various sizes.
The slick line is a 600-m-long (1,968-ft) vertical borehole system of 9-5/8-in.-diameter casing used for delivering concrete to backfill mined out sections and reinforce rock walls. It consists of NanoSteel clad API L80 grade steel casing and Trimay's proprietary threaded joint system.
In its initial installation, thickness loss for the NanoSteel cladding was measured at 0.9 mm (0.035 in.), after delivering 120,000 m3 (288,000 metric tons) of concrete over 30 months of service. With this demonstrated wear rate of 320,000 mt delivered per millimeter of thickness loss, the coated pipe has provided a 30 times improvement over the previous solution, an uncoated API L80 bare casing with a wear rate of 10,500 mt per millimeter. Service life for the system is projected to achieve full "life of mine" duration, exceeding 19 years.
"The high hardness and toughness properties provided by our weld overlay result in the improved wear performance for this application," said Tom Santos, vice president and general manager of coatings. "Because of this, a slick line clad with our material eliminates several replacement cycles for a life of mine solution."
Trimay General Manager Doug Fraser added, "For this vertical slick line application, Trimay's casing design provides significant time and cost savings at installation. Compared to casing lines with welded flange connections, our threaded joint system connected by a zero-differential coupling can be fitted in the field faster and allow a smaller diameter borehole to be drilled at a lower cost."
MesoCoat, a nanotechnology specialty materials company based in Euclid, Ohio, USA, has developed CermaClad metal cladding technology that is claimed to bond state-of-the-art, wear-resistant coatings at lower cost and at two to three times the thickness of materials applied using conventional technologies. This translates to a double or triple increase in component lifetime, according to the company. Components that can be clad with this technology include pipes, pumps, screws, conveyance, pipes, wear plates, elbows and shear bars.
CermaClad is a patented process that uses high energy density infrared fusion to metallurgically bond a layer of API-compliant metal alloy such as 625, 316L, nickel tungsten carbide, etc., to a steel substrate. Due to input controllability and a scalable rate of application, a full range of long-term, functional alloys for chemical, temperature, and abrasion resistance can be applied.
Cast in Stone
Several suppliers, such as ITW Polymers Europe and Abresist Kalenborn Corp., manufacture cast-basalt piping components for specialized applications. In Abresist's case, its fused-cast basalt products have found a home in the potash industry as well as other mining applications. As the company explains, potash is not a singular material as it refers to a family of potassium-based compounds that differ in their physical characteristics such as solubility in water, color, density and of major importance to the maintenance department: abrasiveness and corrosiveness. Keeping potash process plants running requires constant management on a variety of components that suffer from wear and corrosion.
Basalt pipe has an outer steel casing of varying thickness depending on the operating conditions, particularly pressure and temperature. Connections are usually made with plate flanges, with compression couplings and grooved couplings used around pumps for ease of disassembly. The flanges are designed for each system based on the pressure requirements. The basalt lining is in cylinder form at least 3/4-in. thick, set in cement mortar and comes in internal diameters from 2 in. to 20 in. It is impervious to the corrosive effects of the potash solutions. The outer casing also needs corrosion protection and can be coated with any commercially available coating, or can be hotdipped galvanized, if deemed appropriate.
Basalt linings polish with use, and the glassy nature of the lining keeps materials moving in sloped gravity feed lines. With a Moh's hardness of 8, the lining is harder than the various potash compounds as well as the tramp minerals being removed. Abresist lines have lasted 15–20 years or more at potash plants in New Mexico and Saskatchewan. In Saskatchewan, with cold temperatures a potential problem, especially in long tailings lines, the insulating effect of the lining gives the plant more time to drain a line in an emergency.
Saving the Sprayer
In some industrial situations that require frequent or extensive spray-on application of protective material, not only can the spray-on product wear out—it also can wear out the equipment used to apply it, according to Belzona, a supplier of polymer repair composites and industrial protective coatings. Belzona said it has pioneered a new generation of spray-applied, filler-free polymer alloy that provides the protection of a ceramic coating without causing wear or damage to spray equipment.
In fluid conveying equipment such as pipelines, pumps, valves and chutes, a robust and durable filler may be used to protect against erosive conditions. When ceramic filler is used, the hard, angular nature of the ceramic particles can cause damage to spray-application equipment. Belzona's 1331 and 1381 coatings are claimed to overcome equipment-wear issues while providing superior erosion resistance.
The company said that as a "sprayfriendly" coating that does not wear or damage spray equipment, this class of erosionresistant coatings can also be used in a wide range of abrasive environments where brush or roller application is not practical.
Belzona 1331 is suitable for immersion at temperatures up to 50°C (122°F) while Belzona 1381 can be used in immersion at temperatures up to 95°C (203°F). Superior edge retention and film build-up of the polymer alloy means the material can also be used in a variety of geometries, including girth welds on pipeline internal field joints, according to the company.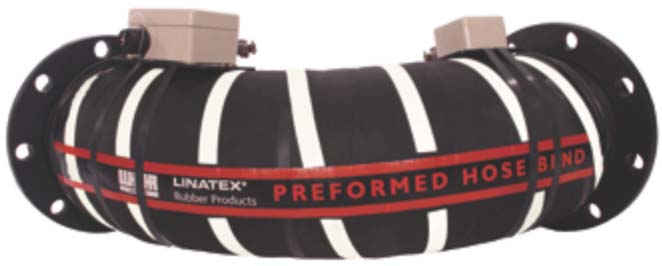 Linatexís Wear Indicator System is designed to detect abnormalities from wear in preformed rubber hoses and hose bends carrying highly abrasive materials.
The wear indicator system operates continuously, automatically monitoring pipe status and relaying information to mine operators.
Measuring for Maintenance
Despite the improvements in wear resistance offered by these and other products, wear will eventually win in any abrasive-material transport matchup. Measurement of wear rates is necessary to estimate maintenance intervals and identify problem areas.
Weir Minerals Linatex, a business unit of the Weir Group that manufacturers natural rubber wear products, introduced the Linatex Wear Indicator System at MINExpo 2012. The product is designed as an "early warning system" for its preformed hoses and hose bends that handle highly abrasive materials in mining operations. The wear indicator system operates continuously, automatically monitoring pipe status and relaying information to mine operators onsite.
According to Linatex, conventional wear indicator systems only check for a break in the wire (continuity) to detect a go/no-go hose failure point; the Linatex system constantly searches for wear and tear throughout the hose. It senses a change in resistance as measured by ohms.
CiDRA, which provides products and services that focus on slurry flow management and asset/process optimization, said its HALO SMARTring technology and service also is designed to overcome the deficiencies of traditional, manual methods used to measure pipe wear, applying expertise in differentiated sonar and signal processing to provide accurate pipe wear measurements and other relevant pipeline information and characteristics. The SMARTring pipe wear measurement tool clamps around the outside of the pipe and remains installed throughout the life of the pipe. CiDRA announced recently that a significant milestone has been met with the successful commissioning of more than 1,000 HALO pipe wear measurement and characterization systems.
On larger diameter pipes, the SMARTring solution features 12 measurement locations, equally spaced around the pipe. When inspection is necessary, a CiDRA technician connects a handheld readerprocessor to each SMARTring sensor band and records all 12 measurements simultaneously. Because measurement of all 12 points can be made virtually in seconds, tens of thousands of points on hydrotransport and coarse tailings slurry pipelines can be frequently measured, and repeatedly and reliably tracked, enhancing predictive modeling and action by pipeline and asset reliability teams. The system is certified for use in Ordinary Locations and Class 1 Division 2 environments.
1 The Next Step Change in the Size of Mining Projects, D. Morrison, Sinclair Knight Merz, Preprint 13-109, SME Annual Meeting, February 24-27, 2013.
2 Field Experience with Novel High Performance Polyurethane Elastomers for Wear Protection in Slurry Pipelines and in Ball Mills, Michael Magerstädt, Gunther Blitz, Thorsten Räth and Larry K.L. Lai, 23rd World Mining Congress, August 11-15, 2013.
---
As featured in Womp 2014 Vol 02 - www.womp-int.com