Paladin Sells 25% Interest in Langer Heinrich to CNNC
---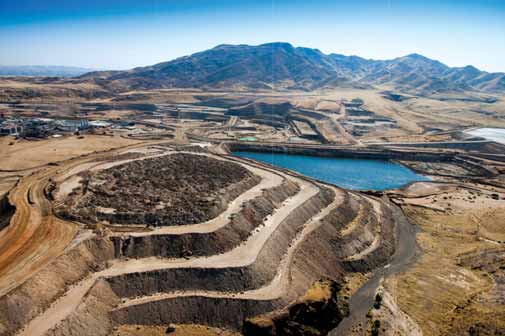 Paladin Energy's Langer Heinrich uranium mine in Namibia has been expanded twice since production began in 2007. The
company recently agreed to sell a 25% interest in the mine to China Uranium Corp. (Photo courtesy of Paladin Energy)

Paladin Energy signed an agreement on January 18 to sell a 25% joint-venture equity stake in its flagship Langer Heinrich uranium mining operation in Namibia to China Uranium Corp., a wholly owned subsidiary of China National Nuclear Corp. (CNNC), the leading Chinese nuclear utility, for consideration of $190 million.

An off-take component of the agreement will allow CNNC to purchase its pro-rata share of Langer Heinrich production at the prevailing market spot price. Paladin may also benefit by securing additional longterm off-take arrangements with CNNC at arm's-length market rates from Paladin's share of Langer Heinrich production.

The respective boards of Paladin and CNNC have approved the transaction. Completion is subject to certain Chinese regulatory approvals, which are expected to be obtained by mid-2014.

CNNC agreed to pay a $20 million nonrefundable deposit to Paladin.

The Langer Heinrich mine is located in the Namib desert, 80 km east of the major seaport of Walvis Bay. The surface-mining operation began uranium production in 2007 and has subsequently undergone two stages of expansion. The plant is based on a unique alkaline leaching process developed by Paladin.

Langer Heinrich has a current design capacity of 5.2 million lb/y of uranium concentrate; and, following successful optimization and debottlenecking, Paladin is targeting 5.7 million lb of production in its 2014 fiscal year, ending June 30.

The Langer Heinrich mine has a current 20-year life and, given sufficient uranium price incentive, is capable of being expanded to produce 8.5 million lb/y.

Paladin is headquartered in Perth, Western Australia, and is listed on the Australian, Canadian and Namibian stock exchanges. In addition to Langer Heinrich, Paladin owns and operates the Kayelekera uranium mine Malawi, which has production capacity of 3.3 million lb/y of U 3O8 .
---
As featured in Womp 2014 Vol 02 - www.womp-int.com