The latest from the
World Mining Equipment
Video Library
View





The Truth Hurts

In mid-March, Agence France-Presse (AFP) posted an article, "Jakarta Mining Policy Shift Sparks Turmoil," which was picked up by most of the wire services, especially the local news outlets in Indonesia. As far as mining pieces in the mainstream press go, it was fair. It documented Indonesia's about-face on its mineral exports, saying it is creating another headache for mining companies struggling to work with the country. That policy change has led to a standoff with one of its biggest partners in the mining business, Freeport-McMoRan.
At the beginning of the year, Indonesia relaxed a 2014 law, banning ore exports. While trying to spur domestic smelting, Indonesia discovered it had shot itself in the foot when the mines began to close. Jobs disappeared along.... read more


Steve Fiscor, Publisher & Editor in Chief




Goldcorp, Barrick Partner to Develop Gold Projects in Chile
Goldcorp entered into an agreement with Barrick Gold to leverage potential synergies within the Maricunga gold belt, located in the Chile's Atacama Region in northern Chile, through a 50:50 joint venture. A number of steps are being taken in order for this transaction to take place, including the acquisition of Kinross Gold's 25% interest in Cerro Casale and its 100% interest in Quebrada Seca; an additional 25% interest in.... read more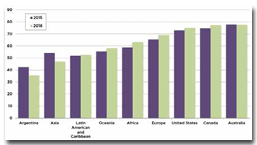 Saskatchewan Tops Fraser Mining Survey
The Fraser Institute's annual survey of mining companies, ranked Saskatchewan as the top jurisdiction for mining investment in 2016 based on the survey's Investment Attractiveness Index. The Canadian province moved up to fi rst place from second in the 2015 ranking. Manitoba moved up to second place from .... read more

Top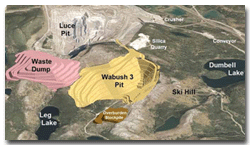 IOC Developing Wabush 3 Open Pit
Iron Ore Co. of Canada (IOC) is proceeding with the development of the Wabush 3 pit at its mining operations near Labrador City, Newfoundland and Labrador. IOC is a joint venture between Rio Tinto (58.7%), Mitsubishi (26.2%) and Labrador Iron Ore Royalty Income Corp. (15.1%). Rio Tinto is the manager. Investment in the Wabush 3 project is budgeted at C$79 million. Wabush 3 is a new pit that will be .... read more


Russia Suggests OPEC-type Association for Aluminum
Russia's Minister of Trade and Industry Denis Manturov suggested in late February that formation of an Organization of the Petroleum Exporting Countries (OPEC)-type international association might be useful for the aluminum industry. The suggestion is included in a report by the Russian news agency TASS. Speaking on the sidelines of a Russian Investment Forum, Manturov said, "This is at the proposal stage so far. We would like it to be similar to the OPEC, so that the organization would function with direct government participation and government representatives, industry ministers in particular .... read more

| | |
| --- | --- |
| AROUND THE WORLD - USA & CANADA | |
AuRico Recieves Approval for Kemess Underground
AuRico Metals reported that the Canadian Environmental Assessment Agency (CEAA) has issued a positive decision statement and that the British Columbia Environmental Assessment Office (EAO) has granted an Environmental Assessment Certificate for its Kemess underground project. The project still requires a number of additional licenses and permits, which are expected to be granted in early 2018. The Kemess underground project is a large gold-copper development project located in north-central British Columbia. The Kemess South open-pit mine operated successfully between 1998 and 2011 and produced approximately 3 million oz .... read more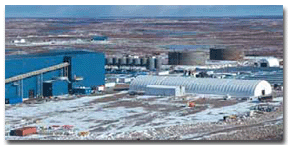 Newest Canadian Diamond Mine Reaches Commercial Production
Gahcho Kué, the world's largest new diamond mine in the last 13 years, officially began commercial production on March 2. The mine, a joint venture with De Beers Group (51%) and Mountain Province Diamonds (49%), is expected to produce approximately 54 million carats of rough diamonds over its lifetime. Production ramp up began on August 1 and the official opening .... read more

Top
IDM Expands Underground Drilling at Red Mountain
IDM Mining Ltd. has mobilized crews to its Red Mountain project near Stewart, British Columbia, to initiate its spring 2017 Phase I underground drilling program. The objective of the Phase I program is to expand mineralization to the north of the JW zone, following up on wide and high-grade historic intercepts. Additionally, drilling will step-out both up-dip and down-dip from the AV and JW zones, where mineralization can be traced for hundreds of meters from 2016 and historic drill intercepts, often with stacked, gently dipping mineralized zones .... read more

| | |
| --- | --- |
| AROUND THE WORLD - Latin America | |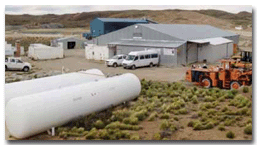 Lundin Gold Awards Fruta del Norte Mine Development Contract
Lundin Gold's wholly-owned subsidiary Aurelian Ecuador S.A. has awarded the mine development contract for its Fruta del Norte gold project in Ecuador to a 50:50 consortium of Ingenieria y Construcciones Mas Errazuriz of Chile and Sevilla y Martinez Ingenieros C.A. Semaica of Ecuador. The two companies are partnering as Lundin's key contractor for development .... read more
Production Advances at the Martha Mine in Argentina
After eight months of recommissioning of the Martha mine, located in Argentina's Santa Cruz Province of Argentina, the property is now accelerating Hunt Mining's transition from an exploration company to a full-fledged mining company. They recently announced their second shipment of silver-gold concentrate. While Hunt Mining may be Argentina's newest silver and gold producer, this is hardly an overnight success story. The company's operating experience in the region dates back more .... read more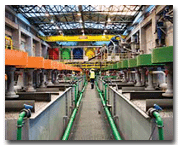 Eldorado: Olympias Phase II Commissioning on Track
Eldorado Gold Corp. reported that it has received multiple tenders for significantly better concentrate sales terms at Olympias Phase II, where wet commissioning at the project is currently underway. Under the new sales terms, gold payability rates have increased from 58% up to a maximum of 71%, which is expected to result in an increase of approximately 15,000 oz of payable gold production per year. Phase II production is now estimated to be approximately 85,000 oz/yr of gold …. read more


Top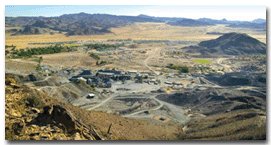 Trevali Buying Glencore Interests in Rosh Pinah, Perkoa
Trevali Mining has entered into definitive agreements with Glencore PLC and certain of its subsidiaries to acquire a portfolio of zinc assets from Glencore, including an 80% interest in the Rosh Pinah mine in Namibia, a 90% interest in the Perkoa mine in Burkina Faso, an effective 39% interest in the Gergarub project in Namibia, an option to acquire 100% interest in the …. read more
Top
Teck Sells Interest in Haib to Deep-South Resources
Teck Resources Ltd. announced it has entered into a definitive agreement to sell its 70% interest in Haib Minerals Ltd. to Deep-South Resources Inc., who holds the remaining 30% interest in Haib. Haib holds a 100% interest in the Haib copper project located in Namibia. As part of the consideration under the sales agreement, Teck will receive 13.6 million common shares of Deep-South at closing. The shares issued on closing, together with the 4.17 million common shares currently held by …. read more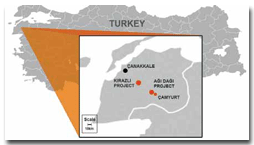 Alamos Sees Potential in Turkey
Alamos Gold has reported positive results from feasibility studies of its Kirazli and Aği Daği gold projects and from a preliminary economic assessment (PEA) of its Çamyurt gold project, all located in Çanakkale province in northwest Turkey. The Kirazli and Aği Daği projects are separated by a distance of about 25 km and will be developed sequentially as stand-alone projects, with Kirazli to …. read more


Top
Kumtor Receives Permit to Raise Tailings Dam
Centerra Gold reported that the Kumtor operation, located in the Kyrgyz Republic, has received the necessary permits from the state authorities to raise the tailings dam to the 3,674-meter (m) elevation. The construction permits enable the mine to commence the 3-year construction program to provide adequate tailings storage capacity for Kumtor's mill tailings deposition from 2021 through the end of 2024. The tailings dam construction in 2017 is the fi rst such construction required  .… read more



| | |
| --- | --- |
| THIS MONTH IN COAL | |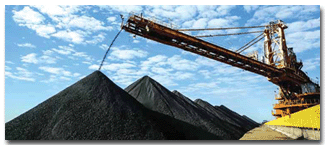 Vale Completes Moatize Coal Transaction With Mitsui
This week, Vale announced it had completed the $770 million equity transaction with Mitsui & Co. Ltd. (Mitsui) associated with the divestment of part of its interest in the Moatize coal mine and in the Nacala Logistics Corridor (NLC). Vale received $733 million and the remaining $37 million will be paid at the conclusion of the project finance transaction of as much as .... read more


Top

Cyclone Debbie Sweeps through Queensland
Cyclone Debbie struck Queensland at the end of March and rail provider Aurizon confirmed none of the four railways serving regional coal mines were in full operation while two of them were entirely out of action. The disruption will likely spark a short-term rally in coking coal prices given that Queensland produces more than half of the world's seaborne coking coal. The worst affected railway is the Goonyella railway system, which is also the most extensive rail network serving the world's top coking coal district in the .... read more


Teck Updates Coking Coal Guidance
Teck Resources expects coking coal sales volumes for the second quarter of 2017 to be at least 6.8 million metric ton (mt), and mining costs in the second quarter are expected to be in the range of $47/mt to $51/mt. For the fi rst quarter, Teck realized an average price between $209/mt to $212/mt, at the higher end of its previous guidance range. Sales volumes in March improved relative to weak sales in January and February, but not suffi ciently to result in sales above 5.8 million-6 million …. read more


-->
| | |
| --- | --- |
| FEATURE - Concentrates | |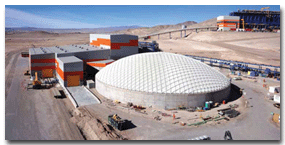 Keeping Concentrate Shipments Under Control
Moving metal concentrates from mine to market can present some operational challenges, especially from an environmental perspective

By Simon Walker, European Editor

Increasingly, few of the world's metal mines lie within easy transport distance of markets for their concentrates, the obvious exceptions being in places such as Chile, Zambia and Mexico, where nearmine smelting has long been established as part of an integrated production complex. Nonetheless, by no means all of the concentrates produced in these countries end up in local smelters, with seaborne trade playing a vital role in keeping the world's metal markets functioning. In essence, the requirement is for concentrates to be moved efficiently from mine to port by road, rail or (rarely) pipeline, and then from port to smelter by ship. At each stage of the operation, materials-handling systems are needed that .... read more


For more companies with products in the Mineral Processing market -
Go Here
| | |
| --- | --- |
| FEATURE - Renewable Energy | |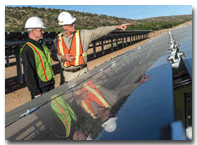 Cashing In On Renewable Energy
Costs, unfamiliarity and reliability concerns have kept mines from enthusiastically plugging into renewable energy systems. New technologies, along with more-affordable systems and setups, now offer the prospect of RE-sourced dependable power at reasonable prices.

By Russell A. Carter, Contributing Editor

Often referred to in the past as "the more expensive alternative" — a term guaranteed to elicit a certain level of concern from most industry CEOs — renewable energy (RE) is now shining more brightly as a viable option for powering mining operations in appropriate locales. Energy quality and security are not problems for every mine, particularly mature operations surrounded by ample infrastructure and served by established utilities. However, even mines located in those favorable environments can encounter difficulties, as illustrated by the South African mining industry's ongoing troubles with adequate supply from the country's largest electricity producer. New mines in off-the-grid areas are often restricted to a single choice for power supply: diesel-fueled generating plants, which bring with them inherent problems of fuel transport and supply, fluctuating costs and environmental impact ..... read more

Top
| | |
| --- | --- |
| FEATURE - Gold Miners Round Up | |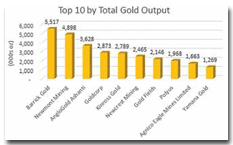 Peak Gold? Top 10 Gold Miners Process More Ore, Produce Less Gold
Despite higher prices and lower costs, world's top producers scramble to get out of debt as output falls

By Jesse Morton, Technical Writer

The box scores reveal the world's top gold miners saw diminishing returns for ore mining and processing in 2016. This means on average they mined or milled more ore, but saw total gold output fall. Meanwhile prices rose and costs fell. Raw earnings and revenue increased, as did revenue from gold sales. Companies on one hand trumpeted these increases and reported hitting numbers, and on the other, raced to get out of debt. This picture is abstract, but represents the numbers that were reported by the companies in January and February. A summary of the numbers and the questions they raise follows .... read more

| | |
| --- | --- |
| FEATURE - Underground Haulage | |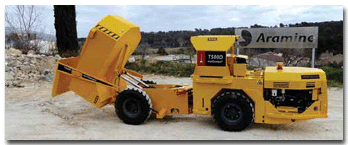 Size Matters
Recent truck launches cater to both ends of the underground haulage spectrum

What sets one mine apart from another are the site-specific conditions. These are dictated largely by geology and to a lesser degree by mining methods. When it comes to hauling ore with rubber-tired equipment, sometimes a smaller truck is more advantageous. Reverse the situation with no restrictions, then economies of scale rule and the largest truck provides the greatest advantage. Two recently introduced underground mine trucks cover both ends of the size spectrum: the French company Aramine just unveiled its smallest mine truck, the T500D mineDumper designed for narrow-vein operations; while Atlas Copco .... read more

Top


For more companies with products in the Haulage Equipment market -
Go Here
| | |
| --- | --- |
| Video Presentations | |
The latest listings from the World Mining Equipment Video Library - to view the video, click the image.
For more details on the Video Library -

Go Here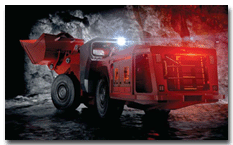 Sandvik, IBM Collaborate on Underground Productivity
Sandvik Mining and Rock Technology recently announced an agreement with IBM to jointly work on data-driven productivity and predictive maintenance services for the mining industry. Sandvik, in making the announcement, pointed out that improvements in onboard instrumentation and data gathering capabilities in heavy equipment offer opportunities to employ advanced analytics and models to .... read more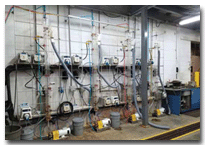 New Flotation Lab Circuit Will Cut Test Turnaround Time
Eriez Flotation Division (EFD) has commissioned a fully automated, four-stage lab-scale column circuit for flotation testing on sulfide and industrial minerals. Operating parameters such as air flow rate, wash water flow rate, reagent addition rates and pH level are regulated using a programmable logic controller (PLC). The flotation circuit can be altered to accommodate multiple circuit ....read more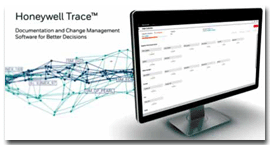 Software Improves Change Management Integrity
Honeywell Process Solutions (HPS) recently announced the introduction of documentation and change management software that it claims will help its customers' industrial control system integrity. Honeywell Trace replaces paper-based records and spreadsheets with an automated solution designed to minimize errors due .... read more


Top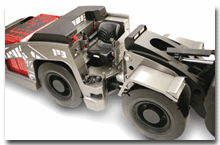 Silver Mine Gets Electric LHDs
Hecla's Lucky Friday mine deployed two Artisan Vehicle Systems 153 haulers, which are powered by lithium batteries. The mine is seeking to resolve ventilation and cooling issues, Hecla reported. The 153 was covered in the December E&MJ. Artisan reportedly designed the 153 around the electric powertrain, battery, and advanced operator control system. The 153 is smaller than a comparable diesel loader, but has 300% of the power ....read more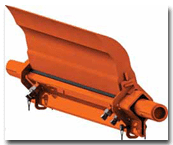 Conveyor Cleaner to Reduce Cost Of Ownership
Martin Engineering's QB1 Cleaner HD conveyor belt cleaner features a square mainframe positioned to shed dust and spillage. The urethane blade formulation can accommodate belt speeds of up to 900 feet per minute (4.6 m per second) and service temperatures of -40° to 160°F. It also features Constant Angle Radial Pressure (CARP) technology to maintain the most efficient cleaning angle .... read more



Cone Crusher Cuts Costs
Metso introduced the MX cone crusher, based on patented Multi-Action crushing technology which combines the piston and rotating bowl into a single crusher. The company reported the crusher cuts operational costs by 10% and improves uptime by 10% compared to the competition. Designed for the most demanding rock conditions and with a special focus on automated adjustment features, the MX provides a very high reduction .... read more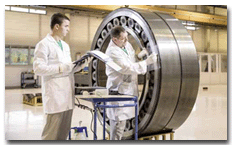 Sealed Ultra-Large Bearing
Schaeffler unveiled a sealed 241/1250 spherical roller bearing, reportedly a world's first. Featuring an outside diameter of nearly 2 m, the ultra-large bearing was specifically designed for the highest-capacity high pressure grinding roll crushers. It is engineered to prevent the crushing materials from contaminating its internal components .…. read more


Top

OTR Tires Showcased
Bridgestone Americas, Inc., showcased the Firestone VersaBuilt tire line, its first full line of off-the-road (OTR) radial tires. Key features include steel casing and SideArmor sidewalls; non-directional, self-cleaning tread; three different tread patterns, the Firestone VersaBuilt All Traction (G2/L2), the Firestone VersaBuilt All Purpose (E3/L3) and the Firestone VersaBuilt Deep Tread (E4/L4); 11 different size offerings; and a five-year limited warranty. Firestone VersaBuilt tires provide solid traction ....read more
MAY 7-10, 2017: Haulage & Loading, Wigwam Resort, Phoenix, Arizona, USA. Contact: Web: www.haulageandloading.com
MAY 8-10, 2017: The 4th International Symposium on Innovation in the Phosphate Industry, Congress Center, Mohammed VI Polytechnic University, Ben Guerir city, Morocco. Contact: Email: info@symphos.com
MAY 9-11, 2017: Arminera Centro Costa Salguero in Buenos Aires, Argentina. Contact: Web: www.arminera.com.ar
MAY 15-19, 2017: Exponor, Antofagasta, Chile. Contact: Web: www.exponor.cl
MAY 20-27, 2017: ALTA 2017 Nickel-Cobalt-Copper, Uranium-REE & Gold-PM Conference & Exhibition, Pan Pacifi c, Perth, Australia.Contact: Web: www.altamet.com.au/conferences/alta-2017/
JUNE 1-2, 2017: Mining Forum 2017, Berlin, Germany. Contact: Web: www.the-miningforum.com/
JUNE 13-15, 2017: Longwall USA, David L. Lawrence Convention Center, Pittsburgh, Pennsylvania, USA. Contact: Web: www.longwallusa.com
AUGUST 29-31, 2017: AIMEX, Asia-Pacifi c's International Mining Exhibition, Sydney Showground, Sydney, Australia. Contact: Web: www.aimex.com.au/home
For a full calendar of mining industry conferences and events - click here
| | |
| --- | --- |
| WHO'S MOVING WHERE | |

Rio Tinto Chairman Jan du Plessis intends to retire after the completion of an orderly succession process. A successor is expected to be announced before the end of 2017, with du Plessis retiring as chairman by no later than the 2018 annual general meeting in Australia. Rio Tinto has also appointed Philip Richards as group executive, legal.

Hecla Mining President and CEO Phillips S. Baker Jr. was presented with the William Lawrence Saunders Gold Medal Award from the Society of Mining, Metallurgy & Exploration (SME) at the SME 2017 Annual Conference & Expo in Denver, Colorado. This award recognizes Baker's "exceptional leadership by positioning Hecla Mining Co. with the highest silver reserves in its 125-year history and his significant contribution to the mining industry."

Clayr Alexander, vice president and general manager of Hecla's Lucky Friday mine in northern Idaho, was selected as the 2016 recipient of the M&E Division Miner of the Year Award from SME. The award recognizes Alexander for his "success at pioneering tunnel boring and his successful career in leadership in underground mining." The award recognizes signifi cant contributions of a mine site leader who is able to manage production, people, community, safety and be a good steward of the environment.

Keith Malone was appointed vice president-general manager of the Hecla Ltd.'s Greens Creek mine in Alaska in January. Prior to that, he was the Greens Creek mine manager from March 2014 to December 2016.
Newmont Mining named Alex Bates to lead the company's business in Australia. He has been serving as acting regional senior vice president since mid-January. Bates joined Newmont in 2015 to lead the company's Boddington operation which has made significant progess. Prior to joining Newmont, he was the General Manager of Rio Tinto's Brockman Iron Ore Region, accountable for three mining operations in the Pilbara region of Western Australia.

Tim Reyes, President of Alcoa Cast Products since 2015, which produces differentiated aluminum products, has been appointed President of the new Alcoa Aluminum. Since joining former parent company Alcoa in 1999, Reyes has led several commercial functions.

Millennium Minerals named Peter Cash CEO. He has held the position of general manager, corporate development at Millennium for the past two years. Cash replaces Glenn Dovaston, who resigned.

Maptek appointed James Moncrieff as general manager of Maptek. Until recently, he was managing the Maptek I-Site reseller distribution network in Asia.
About - providing an abreviated version of the current print edition of E&MJ, WOMP is distributed throughout the world to decision makers in the global mining industry, the last week of every month.

Subscribe to E&MJ - To receive your own copy of the print edition of E&MJ, click here , and complete your details. E&MJ is available free of charge to qualified readers.

Contact - if you have views, opinons or comments or editoral that you would like to submit, we would be delighted to hear from you - click here

Top