Goldcorp, Barrick Partner to Develop Gold Projects in Chile
---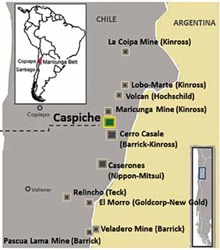 Acquiring the Caspiche project and a 50% stake in
Cerro Casale, Goldcorp grows its interest in the
Maricunga gold belt near the border with Chile and
Argentina.


Goldcorp entered into an agreement with Barrick Gold to leverage potential synergies within the Maricunga gold belt, located in the Chile's Atacama Region in northern Chile, through a 50:50 joint venture. A number of steps are being taken in order for this transaction to take place, including the acquisition of Kinross Gold's 25% interest in Cerro Casale and its 100% interest in Quebrada Seca; an additional 25% interest in Cerro Casale from Barrick; and the Caspiche project from Exeter Resource Corp.

Cerro Casale is one of the world's largest undeveloped gold and copper deposits. "We envisage jointly advancing the Cerro Casale and Caspiche gold deposits in a similar arrangement to our NuevaUnión project in Chile with Teck Resources," said David Garofalo, president and CEO of Goldcorp. "The joint venture with Barrick has the potential to allow us to consolidate infrastructure to reduce capital and operating costs, reduce the environmental footprint and provide increased returns compared to two stand-alone projects."

For the 25% stake it is acquiring from Barrick, Goldcorp will fund Barrick's first $260 million of expenditures on the project following the formation of the joint venture, and will spend an equivalent amount for a total project investment commitment of $520 million.

Under the agreement, Goldcorp must spend a minimum of $60 million in the twoyear period following closing, and then $80 million in each successive two-year period. In the event that Goldcorp does not spend the minimum amount, 50% of any shortfall will be paid directly to Barrick in cash. In addition, Goldcorp will pay Barrick $40 million in cash upon a construction decision.

Goldcorp will also fund the Cerro Casale joint venture's acquisition of a 100% interest in the adjacent Quebrada Seca property from Kinross upon closing. Goldcorp has granted Barrick a 1.25% royalty interest on 25% of gross revenues derived from metal production from both Cerro Casale and Quebrada Seca.

Under the new 50:50 ownership structure, the project's management team will be subject to oversight and direction by a joint venture board comprised of an equal number of nominees from Barrick and Goldcorp. The transaction is expected to close in the second quarter of 2017 and is subject to customary closing conditions.

Goldcorp entered into a separate $247 million transaction to acquire Exeter, whose sole asset is the Caspiche project, located approximately 10 kilometers (km) north of Cerro Casale. A gold-copper porphyry system with an oxide gold zone on surface and a high-grade gold-copper core, Caspiche has the potential to be developed as a high-tonnage, long-life mining operation. The plan has been unanimously approved by the boards of directors of Goldcorp and Exeter. Following closing of this acquisition, Goldcorp will commit the Caspiche project to the Cerro Casale joint venture. Half of the acquisition costs incurred by Goldcorp will be deducted from the $260 million expenditure commitment mentioned previously.

For Kinross Gold's 25% interest in the Cerro Casale project and its 100% interest in the Quebrada Seca project, Goldcorp will pay Kinross $260 million in cash at closing, which includes $20 million for Quebrada Seca. It will pay an additional $40 million in cash, following a construction decision for Cerro Casale. Goldcorp will assume a $20 million obligation due to Barrick Gold under the existing Cerro Casale shareholders agreement, which is payable when commercial production at Cerro Casale commences. It will pay a 1.25% royalty based on 25% of gross revenues from all metals sold at Cerro Casale and Quebrada Seca, with Kinross foregoing the first $10 million.

Additionally, on closing Kinross will enter into a water supply agreement with the Cerro Casale joint venture. After certain conditions are met, the agreement will provide Kinross with certain rights to access, up to a fixed amount, water not required by the Cerro Casale joint venture. Kinross expects to use this water for its Chilean assets and would be responsible for the incremental capital costs to accommodate the supply of water to the company along with its pro rata share of operating and maintenance costs. The entire transaction is expected to be completed in the second quarter of 2017, subject to customary conditions of closing.
---
As featured in Womp 2017 Vol 04 - www.womp-int.com