Software Improves Change Management Integrity
---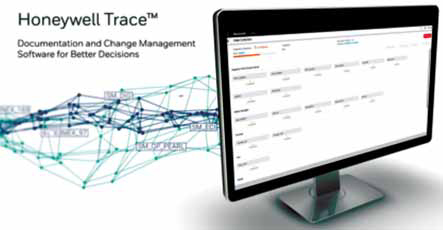 Honeywell says its new Trace change management software documents data up to 300 times more frequently than similar products.


Honeywell Process Solutions (HPS) recently announced the introduction of documentation and change management software that it claims will help its customers' industrial control system integrity. Honeywell Trace replaces paper-based records and spreadsheets with an automated solution designed to minimize errors due to changes in configurations, improve worker productivity, and simplify asset management by providing a single integrated view of complex system interactions.

Honeywell points out that, around the world, many process industry organizations need to meet critical management of change (MOC) challenges within their operations. In particular, plant owners/ operators need to know who is interacting with control systems and when changes have been made. They also require a clear understanding of configuration anomalies.

"Driven by the growth of our outcome- based programs and a commitment that all processes and tools deliver more efficient service, it is critical that we have the ability to quickly collect and accurately report on system information, configuration history and performance conditions," said John Rudolph, vice president and general manager, HPS Lifecycle Solutions and Services. "Honeywell Trace responds to these key requirements, providing critical data that lets users know what, when, and why actions were taken and how they compare to actions in the past. The precision and comprehensiveness of its change analysis can reduce several days of manual effort."

Honeywell says Trace is a data collection solution that helps expand the visibility of control configurations while automating the documentation of traditional tribal knowledge and actions taken by plant personnel. These improvements will enable companies to enhance regulatory compliance, reduce configuration errors, spend less time in project planning, and minimize troubleshooting and forensics effort.

"Honeywell customers employing the Trace solution can expect a substantial reduction in manual troubleshooting, reduced quality assurance and factory acceptance test (FAT) project activities, and dramatically faster data collection," Rudolph said.

Honeywell Trace enables plant managers, safety managers, engineers and others to see how the facility is divided and view changes that have occurred to a group of components over collected snapshots. Operations can continue as usual during data snapshots, as the software does not impact the engineering system during collection periods. Personnel can learn how changes impact performance through system health reports, better understand data flows and logic, and avoid problems during maintenance.

Trace makes it easy to identify and assign hardware statuses, reserve hardware, and improve project planning with I/O channel spare management. Engineering teams are able to maintain their network and hardware topology without having to redraw it every time a change is made. Honeywell Trace allows for better decision- making and ultimately improves operational effectiveness.

According to Honeywell, the new software documents data up to 300 times more frequently than other MOC tools and provides powerful search and parameter query functions. It offers smart change analysis, user-configurable defect definition capabilities, real-time system performance assessments, and an intuitive user experience design with dashboards and logical network views.
---
As featured in Womp 2017 Vol 04 - www.womp-int.com