Size Matters
Recent truck launches cater to both ends of the underground haulage spectrum

---

Aramine's T500D miniDumper can haul 2.1 m3 and is built with many of the same components used in the company's
complementary L150 miniLoader line.


What sets one mine apart from another are the site-specific conditions. These are dictated largely by geology and to a lesser degree by mining methods. When it comes to hauling ore with rubber-tired equipment, sometimes a smaller truck is more advantageous. Reverse the situation with no restrictions, then economies of scale rule and the largest truck provides the greatest advantage.

Two recently introduced underground mine trucks cover both ends of the size spectrum: the French company Aramine just unveiled its smallest mine truck, the T500D mineDumper designed for narrow- vein operations; while Atlas Copco rolled out its massive Minetruck 65 at MINExpo 2016.

Narrow vein mining requires less capital investment and allows faster return on the investment. Compliance with regulations in terms of safety and ergonomics is also motivating mining companies to develop narrow vein mining. These are important considerations with the recent swings metal prices and raw material costs.

Aramine engineers and manufactures a lot of mine-development equipment for narrow vein applications. The company's complete range of narrow vein machines integrates the latest technologies such as battery-powered loaders and radio remote control.

It believes the T500D is ideal for this type of mining — a simple and reliable dump truck for underground mining, especially suited for narrow vein applications. Based on the power frame and components used in the L150D mineLoader, the T500D miniDumper will help miners simplify parts inventory and fleet rationalization. Aramine believes the T500D will allow miners to increase productivity without the need for any special, additional skills.
Aramine's T1601C comes Canbus equipped with a Cummins Tier3 CE CMSHA Engine.


Designed with four-wheel drive, heavy duty articulated frame and oscillating axle, the T500D will smoothly carry loads over the tough road surfaces and short turn radius conditions often found in narrow vein operations. The 1,500-millimeter (mm) dump box has a safety raised locking device and can be equipped with a wide-opening automatic rear tailgate.

With safety and comfort in mind, the operator's compartment offers a comfortable seat with adjustable suspension, a safety door and a ROPS/FOPS certified canopy with back protection. Plus, the operator is side seated for better visibility in both directions.

The T500D can can carry 2.1 cubic meters (m3) (2.8 cubic yards [yd3]), or three times the capacity of the L130D/E miniLoader at top speed.

According to Aramine, the miniDumper is the perfect complement to the L130/ L150 miniLoader range, and could take narrow vein mining to a higher level of mechanization.

Two 15 Tonners
Aramine also decided to manufacture not one but two different 15-metric ton (mt) mine trucks and after much research and development, it has put on the market the T1601C and the T1601M.

Developed for small- to medium-scale underground operations, these machines would work well for sections between 12 to 18 m2 and even 3 x 3 m galleries. While the operator's compartments in the two trucks are quite different, they have both been designed to offer the highest comfort and ergonomics for the driver.

The trucks feature strong welded boxes with angled corners for better protection, smooth interior for easy material unloading, and rear duck tail configuration to avoid spillage during tramming. Customers can choose to add an optional rear mechanical tailgate to increase capacity and avoid material spillage on grade, and/or an optional telescopic dump box for unloading in low back height or back-filling applications.

Aramine's T1601M has a Deutz air-cooled engine and offers all-mechanical controls for design simplicity and reliability.


The T1601M mine truck is equipped with a Deutz air-cooled engine. The operator is side seated for better visibility in both directions. The machine features a mechanical gear shift and electric pilot control.

The T1601C, designed with a CAN bus system, is equipped with a Cummins Tier 3 CE CMSHA engine. The forward- seated driver operates the machine with an automatic gearshift and converter lock-up activation in an open cabin, or an optional fully enclosed pressurized cabin with sound suppression.

For both trucks, Aramine offers an optional 17-mt, X-tram Cap, which includes larger wheels: 16.00x25 and 2,150-mm wide. Aramine says 15Ts are currrently providing excellent service at mines in several countries, including Kazakhstan and Algeria.

In fact, Aramine and Normet recently announced a cooperative agreement for the distribution of equipment and aftermarket products, services and support for French-speaking Africa. "We are delighted that Aramine, with their track record of success in the targeted countries and their customer-focused culture, have agreed to carry the Normet brand to their existing and new underground customers in this emerging territory" said Mike Rispin, senior vice president, sales and marketing for Normet Group.

Aramine will represent Normet in Morocco, Tunisia, Algeria, Niger, Burkina Faso, Sierra Leone, Chad, Senegal and Ivory Coast. Aramine noted that product distribution has always been an important consideration, and the collaboration with Normet and its complementary product line will enable the French company to offer a wider range of equipment — supported by appropriate after-sale service — at its facilities located near mining districts.

The partnership agreement with Normet adds utility vehicles for underground mining and tunneling to Aramine's products panel. "This range is a perfect complement to the Aramine products and will enable us to meet all the needs of our customers," said Xavier Domenach, equipment sales director, Aramine.

Aramine previously represented Normet and helped establish that brand's market presence in the territory. "When the opportunity presented itself to rekindle a relationship with a worldclass OEM supplier of underground utility equipment, we thought immediately of Normet," said Marc Melkonian, co-president of Aramine.

Superior Performance in a Compact Profile
As mentioned earlier, the Minetruck MT65, the latest addition to Atlas Copco's Minetruck range, was introduced at MINExpo 2016. Building on Atlas Copco's years of underground haulage experience around the globe, the new Minetruck MT65 was built to offer superior performance in a compact profile. With a 65-mt capacity and an efficient powertrain, the Minetruck MT65 promises to dramatically increase productivity, according to the company. The truck is designed to maximize uptime thanks to its service friendly design and easy access to daily checkpoints. Comprehensive safety features, a comfortable work environment and a proven control system that enables smart solutions, all contribute to increased production and improved underground haulage.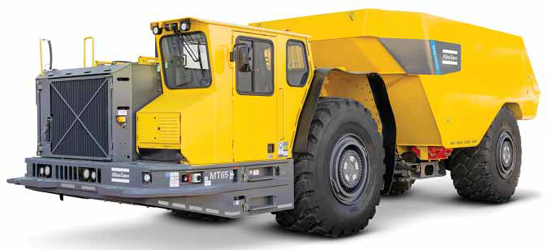 Atlas Copco's Minetruck MT65 hauls 65 mt in a compact profile.

Atlas Copco said the new Minetruck MT65 distinguishes itself from competitors based on several factors. For example, the increased tonnage capacity is higher than any other product in the underground haulage segment. It also comes with efficient and convenient serviceability, because its daily service points can be reached from ground level and its overall design facilitates easy service management.

Minetruck MT65 comes "automation ready," with capabilities of monitoring production data in real time from the operator cabin. It is also possible to extend the functionality by adding features such as load weighing and tire monitoring. When equipped with Atlas Copco Certiq, machine data can be collected and used to optimize production, operation and maintenance.
---
As featured in Womp 2017 Vol 04 - www.womp-int.com