IOC Developing Wabush 3 Open Pit
---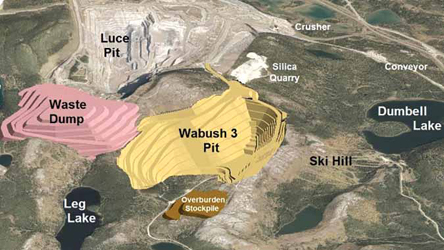 The Wabush 3 will increase IOCís iron ore production by 5 million mt/y.


Iron Ore Co. of Canada (IOC) is proceeding with the development of the Wabush 3 pit at its mining operations near Labrador City, Newfoundland and Labrador. IOC is a joint venture between Rio Tinto (58.7%), Mitsubishi (26.2%) and Labrador Iron Ore Royalty Income Corp. (15.1%). Rio Tinto is the manager. Investment in the Wabush 3 project is budgeted at C$79 million.

Wabush 3 is a new pit that will be developed within IOCís existing mine operations to extend the life of the mine, reduce operating costs, and increase production of iron ore concentrate and pellets. The pit will be developed adjacent to the existing Luce pit. The government of Newfoundland and Labrador has released the Wabush 3 project from the environmental assessment process, and construction is expected to start in the second quarter of 2017.

First ore from production mining of the Wabush 3 pit is scheduled for the second half of 2018 and will help IOC ramp up its annual capacity from 18 million metric tons per year (mt/y) to 23 million mt/y. Wabush 3 will be fully integrated into IOCís overall Labrador City operations, utilizing existing maintenance, ore delivery, processing and tailings management facilities, as well as other aspects of IOCís current infrastructure and activities in the region.

IOCís Labrador City operations produce iron ore concentrate and pellets for transport to the companyís port facilities at Sept-Iles, Quebec, via its wholly- owned, 418-km-long Quebec North Shore and Labrador Railway. From Sept- Iles, the products are shipped to markets throughout North America, Europe, the Middle East and the Asia-Pacific region. IOCís 2016 production totaled 9.8 million mt of pellets and 8.4 million mt of concentrate.
---
As featured in Womp 2017 Vol 04 - www.womp-int.com