| | |
| --- | --- |
| | To receive your own edition of the print version of E&MJ - Go Here |

Iron Ore Miners Take the Stage


During January, the world watched as seasonal rains wreaked havoc in the Southern Hemisphere. Flooding in Australia displaced thousands in Queensland and damaged the infrastructure within the province. At about the same time, mud slides ravaged Brazil. Both of these regions play a significant role in the mining and steel sectors, and our thoughts and prayers are with all of those who have been affected and we wish them a speedy recovery.
This edition carries the annual Project Survey, which is compiled by our colleagues at Raw Material Group in Sweden. The survey lists all of the major projects in the mining pipeline. It serves as a leading indicator for the mining business. This year the Project Survey bears good news —in recent years it hasn't. It's especially cool when the authors are surprised at how quickly the market improved. Latin America regained its position at the top of the list in 2010, attracting more than......... read more

Steve Fiscor, Editor in Chief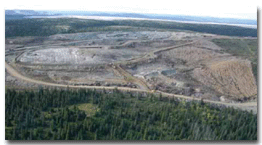 Cliffs to Acquire Consolidated Thompson for C$4.9 Billion
Cliffs Natural Resources and Consolidated Thompson Iron Mines entered into a definitive agreement in mid- January hereby Cliffs will acquire Consolidated Thompson in an all-cash transaction valued at about C$4.9 billion, including debt. Consolidated Thompson's board of directors recommended its shareholders support the transaction, and Cliffs has entered into a support agreement with China's Wuhan Iron and Steel, which owns nearly 19% of Consolidated......... read more
Molycorp and Hitachi Plan Joint Ventures


Molycorp and Japan-based Hitachi Metals jointly announced in late December 2010 that they have entered into an agreement to form joint ventures to produce rare earth alloys and magnets in the United States. The ventures would be focused on the manufacture of neodymium-iron-boron alloys and magnets that are vital to many clean energy, automotive, computer, health care, communications and other technologies. Molycorp currently produces about....... read more

Top

Rio Tinto Modernizing and Expanding Two Smelters


Rio Tinto announced in mid-December 2010 plans to invest more than $1 billion to modernize and expand its aluminum smelters at Saguenay-Lac- Saint-Jean, Quebec, and Kitimat, British Columbia. At Saguenay-Lac- Saint-Jean, the company will invest $758 to complete the first phase of its new AP60 smelting operation; at Kitimat, it will spend $300 million for further construction in preparation for a planned $2.5-billion modernization. The first phase of the AP60 plant at Saguenay-Lac-Saint-Jean is planned..... read more

Top
Nonferrous Exploration Up 44% in 2010


Responding to rising prices and more stable market conditions, most companies increased their exploration budgets in 2010, resulting in a 44% rise in the estimated worldwide exploration total for 2010. According to Metals Economics Group's (MEG) 21st edition of Corporate Exploration Strategies, the estimated total 2010 budget for nonferrous metals exploration reached $12.1 billion, reinstating almost twothirds of the industry's $6 billion in cuts to exploration in 2009. After rising for six straight years to an all-time high of $14.4 billion in 2008, nonferrous exploration..... read more
| | |
| --- | --- |
| AROUND THE WORLD - USA & CANADA | |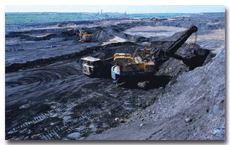 Suncor and Total Form Oil Sands Alliance


Total subsidiary Total E&P Canada and Suncor Energy have signed several agreements to form a strategic oil sands alliance encompassing the Suncor-operated Fort Hills mining project, the Totaloperated Joslyn mining project, and the Suncor-operated Voyageur upgrader project. All three projects are located in the Athabasca region of Alberta, Canada. Under the alliance, the companies will pool their combined interests in these projects, with the respective..... read more
Norilsk Sells Stillwater Stake


Stillwater Mining announced in mid- December 2010 that Norimet, a 100%- owned subsidiary of Russian nickel producer Norilsk Nickel, had sold its entire 49.8-million share interest in Stillwater. The sale represented about 51.3% of Stillwater's outstanding shares. The bulk of the sale, 37 million shares, was to the public at an offering price of $19.50 per share. Underwriters exercised their overallotment option to purchase an additional 3.8 million shares, and UBS Securities purchased 9 million shares. Stillwater did not receive any proceeds from the sale.... read more

Top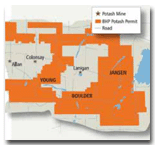 BHP Billiton Submits EIS for Jansen Potash Project


BHP Billiton submitted the environmental impact statement (EIS) for its proposed Jansen potash project in Saskatchewan to the Saskatchewan Ministry of Environment (MOE) in mid-December 2010. The Jansen project, located about 140 km east of Saskatoon, is being designed to produce approximately 8 million mt/y of potash at full capacity, potentially making it the world's largest potash mine. The proposed mine has resources to support about 70 years of operation. The Jansen EIS will be released for public comment by the MOE after the document.... read more
| | |
| --- | --- |
| AROUND THE WORLD - Latin America | |
Report Outlines Major Silver Prospect in Southeastern Guatemala


Tahoe Resources has released an NI 43- 101 compliant preliminary economic assessment (PEA) for its underground Escobal silver project in southeastern Guatemala that indicates potential for the project to become one of the world's premier silver mines in terms of size, cost and economics. Feasibility-level test work on the sulphide resources has demonstrated recoveries of 87% for silver, 75% for gold, 83% for lead and 83% for zinc, with the majority of preciousmetals…… read more
Vale Starts First Chilean Mining Project


On December 2, 2010, Brazil's Vale officially inaugurated operations at its Tres Valles copper project in Chile. Located 316 km north of Santiago at Salamanca in Chile's Region IV, Tres Valles is Vale's first mining project in Chile. The project will have capacity to produce 18,500 mt/y of electro-won copper cathodes when it reaches full production in 2012. Mine life is currently estimated at 11 years. Pre-production capital to develop the project totaled $140 million. Vale intends to invest all operating revenue from the project in new mineral exploration…. read more

| | |
| --- | --- |
| AROUND THE WORLD - Australasia | |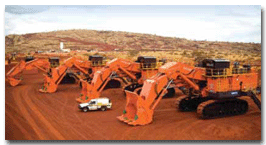 Rio Tinto Approves Expansions to Pilbara Mines


In December 2010, Rio Tinto approved investment of $1.2-billion for significant expansions of its wholly-owned Brockman 4 and Western Turner Syncline iron ore mines in the Pilbara region of Western Australia. The expansions are part of a wider program to lift Rio Tinto's Pilbara iron ore production from its current level of 220 million mt/y to 283 million mt/y by the second half of 2013. The investment brings to $7.2 billion (Rio Tinto's share, $5.1 billion) the amount in new Pilbara iron ore investment announced by Rio Tinto…. read more



Queensland Floods Impact Boyne Aluminum Smelter


Rio Tinto Alcan declared force majeure in mid-January on supply of aluminum from Boyne Smelters Ltd. near Gladstone, Queensland as a result of the severe flooding that has impacted the state. "The floods have cut road and rail access between Gladstone and Brisbane, and the Brisbane port is closed, preventing deliveries to some domestic and international customers," the Rio Tinto Alcan statement said. "Rio Tinto Alcan is investigating alternative arrangements for customers, including shipping aluminum directly out of the Gladstone port  …. read more

Top

Ivanhoe Budgets $2.3 Billion for Oyu Tolgoi in 2011
Ivanhoe Mines has budgeted $2.3 billion in capital spending during 2011 for the first phase of its Oyu Tolgoi copper- gold project in southern Mongolia. The coming year will be the peak year for construction activity on the project. Approval of the budget by the Ivanhoe Mines board of directors followed earlier full approval of the 100,000-mt/d project by the Ivanhoe Mines-Rio Tinto joint technical committee, which is overseeing the Oyu Tolgoi project, and the board of Oyu Tolgoi LLC, the Mongolian company that…. read more

European Nickel Shifts Focus to Philippines
European Nickel announced in December 2010 it had placed its Çaldağ project in Turkey on care and maintenance until receipt of a necessary forestry permit and that it will fast-track the definitive feasibility study for its Acoje nickel laterite project on Luzon Island in the Philippines. The Çaldağ technical team will be transferred to the Acoje project.The definitive feasibility study for the Acoje project has been in progress since March 2009. A heap leach trial will begin during the first quarter of 2011. According to the company, a significant amount of the…. read more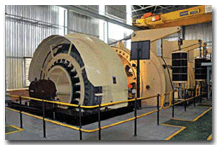 KCM Investing $1 Billion to Expand Zambian Copper Output


Konkola Copper Mines (KCM) has announced plans for new investments totaling about $1 billion to be spent over the next three to four years on expansions and upgrades at its copper operations in Zambia. KCM CEO Kishore Kumar said the funds will be spent on the company's Chingola Refractory Ore project, development of the bottom-shaft loading facility at its Konkola Deep mine project, and upgrades to the East…. read more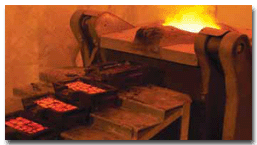 Nevsun Pours First Gold at Bisha
TNevsun Resources joined the ranks of producing mining companies in early January when it poured the first gold at its Bisha mine 150 km west of Asmara, Eritrea, East Africa. The first pour was part of the plant commissioning process and rendered two doré bars totaling 26 kg (approximately 920 oz). Nevsun, which is headquartered in Vancouver, British Columbia, anticipates ramp-up to full commercial production will be…… read more

Top
| | |
| --- | --- |
| THIS MONTH IN COAL | |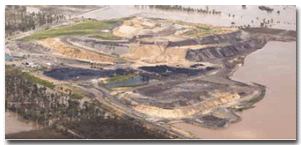 Queensland Flooding Impacts Global Coal Markets


By John Miller, Australian Editor

The impact of devastating floods in the Australian state of Queensland will be felt by the global coal industry for many months. The inundation is expected to cost the state's coal industry at least $1 billion in lost production with the cost of repairs likely to run into hundreds of millions. Internationally, coking coal supplies will be limited with prices already increasing, an effect that is flowing on to the steel industry, creating pressure on production and prices. The flooding in December and early January affected much of Queensland, including the Bowen Basin coalfields in the center of the state and the Surat Basin to the south, and covered an area greater than the size of Germany and France. It was brought about by above average rainfall …. read more

| | |
| --- | --- |
| FEATURE - Project Survey | |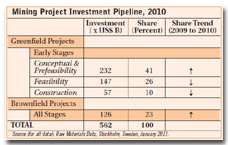 E&MJ's Annual Survey of Global Mining Investment
The volume of global mining investment grew at an unexpectedly quick pace in 2010

By Magnus Ericsson, Luleå University of Technology and Viktoriya Larsson, Raw Materials Group.

The slump in mining industry investment was shorter than most observers—including the Raw Materials Group (RMG)—expected only a year ago. In last year's project review we predicted renewed growth to take place mostly toward the end of the year. Mining investments did increase over the year but the start was faster than predicted and hence overall activity was much higher than projected. During 2010, 105 new mining investment projects with total announced costs of $60 billion were registered in our Raw Materials Data Metals Mines/Projects database. This represents sensationally healthy growth and the industry seems……. read more

| | |
| --- | --- |
| FEATURE - Heap Leaching | |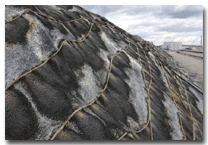 Heap Leaching: Extending Applications


A look at developments in heap-leaching technology and how mining companies are successfully extending its application range

By Simon Walker, European Editor

The concept of leaching metals from their host rocks was almost certainly discovered by accident, when an ancient found copper being deposited on a piece of iron lying in a stream. The realization that the stream emanated from rocks containing visible copper minerals must then have led to experimentation with the deliberate placement of iron in the watercourse, and the subsequent recovery of the naturally precipitated copper for smelting with natural ores. According to L J Morris in his contribution on solution mining to a 1984 publication from the Australian Mineral Foundation, the Chinese were the first to use solution mining to produce..... read more

Top
| | | |
| --- | --- | --- |
| | For more companies with products in the Dewatering market - Go Here | |
| | |
| --- | --- |
| FEATURE - Maintenance | |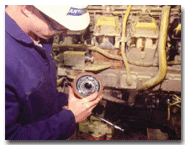 Clean Machines: Cut Operating Costs with Contamination Control


Investing in a clean-fluids strategy can pay dividends in machine availability.

By Russell A. Carter, Managing Editor

It's safe to say that in both surface and underground mining operations, cost per ton reigns as the main measure of mining efficiency. And, when the cost per ton yardstick is applied to mine loading and haulage operations specifically, it becomes immediately clear this critical measure of effectiveness is actually a gauge indicating how well mine management can maximize its average tons per hour rate while minimizing cost per hour. Although a myriad of factors with the ability to impact either ton/hour or cost/hour can be in play at any given time, OEM studies have shown that extending …... read more

| | | |
| --- | --- | --- |
| | For more companies with products in the Filters market - Go Here | |
| | |
| --- | --- |
| FEATURE - Gold Roundup | |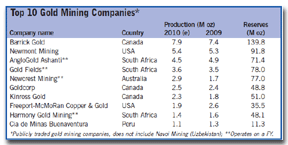 Gold Miners Bring More Production Online



Strong cash flows allow project pipeline and exploration investments

By Steve Fiscor, Editor-in-Chief

Gold mining was probably the only business that didn't suffer during the last two years. Gold miners prospered as investors sought gold as a means of wealth protection during the global economic meltdown. Even today, as business leaders try to gauge the eventual economic recovery, gold investors are feeling confident amid a rising level of sovereign debt and questionable currencies. The market has seen less selling from the central banks and more investment demand. In fact, investment demand drove gold prices to new highs in 2010. Several factors were attributable and most were related to the..... read more

Top


New DTH Hammers Have Fewer Parts for Simpler Service, Lower Costs


Rockmore International's latest additions to its ROK Series DTH Hammer product line are the ROK 500 and 500Q 127-mm (5-in.) diameter class hammers. Rockmore says its innovative design reduces the number of hammer components, thus reducing the amount of component wear points, making hammer service simpler and less expensive. The ROK 500 is rated for use with large compressors (24.1 bar / 350 psi at 28.6 m3/min / 1,038 scfm) while the ROK 500Q is designed for smaller compressors …. read more

Largest Jaw Crusher in Hydra-Jaw Line


Telsmith is preparing to introduce its newest jaw crusher, the H3244 Hydra- Jaw—the largest model to date within the Telsmith Hydra-Jaw Series. Engineered with a true 32-in. (813-mm) gape and 44-in. (1,118-mm) width, the H3244 is designed to accept larger feed but can be mounted on portable plants or modular fixed structure assemblies. Telsmith says its Hydra- Jaw toggle design provides hydraulic tramp iron relief with automatic reset, chamber…… read more

Prevent Air Line Freezeups


According to the suppliers of Polar-Lube, most air tool and pneumatic control users are unaware that air lines can freeze up at 40°F. As the pressure drops from 100 psi down to atmosphere through the tool or valve the compressed air, which is always at 100% humidity, super-cools rapidly and can freeze up the equipment. Polar-Lube…. read more

Top
Portable Machine Tools Allow On-site Repairs


Climax Portable Machine Tools offers a line of portable boring and welding machines for on-site, field machining on many types of mining equipment. These machines are specially designed to bore and weld simultaneously, significantly decreasing machining and weld time. The tools can machine bores in tractor frames, lifting mechanisms, bridge pieces, attachments, and other types of heavy equipment. The Climax BB5000 boring bar  .…… read more

Jumbo Jacks for Heavy Duty Lifting


Equipment Supply Co. (ESCO) has added high tonnage/high lift jacks to its line of heavy duty hydraulic lifting equipment. Five new models are available with lifting capacity of 100–250 tons. All models are air/hydraulic powered and are balanced for easy moving on 13-in. pneumatic tires/ wheels. Lift extension saddles are stored in the jack base for easy adjustments to various lifting heights of 5, 9 and 12 in. Stacking aluminum safety locking rings are an option, as is air-powered wheel drive…. read more



Vibration Analyzer has Broad Capabilities


SKF says its Microlog Consultant four channel vibration analyzer provides diagnosis for machinery troubleshooting and maintenance verification, among other applications. With a bright, 6.4-in., 25,600 line resolution VGA color screen, the Microlog Consultant can clearly display spectra, time waveforms, cross channel phase, Bode, Nyquist, waterfall, and color spectrograms. The unit also enables seamless data transfer for further analysis and report generation…. read more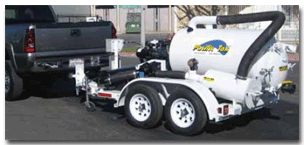 Low Clearance Vacuum for Underground


Pacific Tek's PV-160-TLO Power-Vac is designed to work in rough industrial areas with low overhead clearance, and weighing just over a ton, can easily be towed to a work site. Slightly more than 5 ft (1.5 m) tall, it is powered by a 25-hp diesel engine equipped with a catalytic converter approved for use in mines. The vacuum has a 3-in.-diameter pickup hose and a 150 gallon (568-liter) debris tank  .…. read more

Top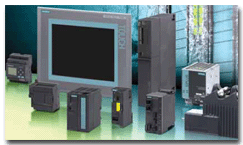 Communications Components for Harsh Environments


Siemens' Industry Automation Division announced it has expanded the range of applications of its Siplus extreme control and communication products that are particularly suited to harsh environmental conditions. The devices are now also certified for use in toxic atmospheres according to ISA-S71.04 GX, for salt mist and dense dust. The components were previously suitable for use in corrosive….read more
APRIL 4–8, 2011: Asia Mining Congress 2011, Marina Bay Sands, Singapore Contact: Christine Foo; Tel: 65 63222793; Fax: 65 62263264; E-mail: christine.foo@terrapinn.com ;
APRIL 5–7, 2011: MiningExpo Uzbekistan 2011, Tashkent, Uzbekistan Contact: Ahmad Ismoilov; Tel: 998 71 234 00 34/241 12 11 / 241 12 44; Fax: 998 71 241 12 11; E-mail: akhmad@zarexpo.com ; Web: www.zarexpo.com
APRIL 5–9, 2011: SMOPYC, International Show of Public Works, Construction and Mining Machinery, Zaragoza, Spain Contact: Alarcón & Harris; Tel: 34 91 415 30 20; Fax: 34 91 415 30 20; E-mail: info@alarconyharris.com; Web: www.smopyc.com
MAY 4–6, 2011: Arminera, Buenos Aires, Argentina. CAEM; Tel: (54-11) 4313-1652, (54-11) 4313-9331; Fax: (54-11) 4313-9328; E-mail: info@caem.com.ar; Web: www.arminera.com.ar
MAY 15–18, 2011: Haulage & Loading, Litchfield Park, Arizona, USA Contact: Tanna Holzer; Tel: 303-283-0640; E-mail: tholzer@mining-media.com; Web: www.mining-media.com
JUNE 21–23, 2011: Longwall USA, Pittsburgh, Pennsylvania, USA Contact: Tanna Holzer; Tel: 303-283-0640; E-mail: tholzer@mining-media.com; Web: www.mining-media.com
For a full calendar of mining industry conferences and events - click here
| | |
| --- | --- |
| WHO'S MOVING WHERE | |

After 13 years as the Chief Executive of the Chamber of Mines of South Africa, Mzolisi Diliza will retire and assume the role of executive chairman of Strategic Partners Group (Pty) Ltd..

Russ Fields has been appointed the new director of the Mackay School of Earth Sciences and Engineering at the University of Nevada, Reno.

Roskill Information Services Ltd. has appointed Mark Seddon Managing director. Retiring Managing Director Judith Chegwidden will continue as a director and focus on the company's consulting projects.

Wildcat Silver has appointed Gil Clausen vice chairman of the board of directors and Charles Magolske vice president of corporate development.

MWH Global has relocated to a new, larger office in Lima, Peru, and has named Andrew Watson Peru country manager to oversee the expanding operations.

Sandvik has appointed Olof Faxander president and CEO. He succeeds Lars Pettersson.

FLSmidth promoted Craig M. Sams to vice president of global product groups.
About - providing an abreviated version of the current print edition of E&MJ, WOMP is distributed throughout the world to decision makers in the global mining industry, the last week of every month.

Subscribe to E&MJ - To receive your own copy of the print edition of E&MJ, click here , and complete your details. E&MJ is available free of charge to qualified readers.

Contact - if you have views, opinons or comments or editoral that you would like to submit, we would be delighted to hear from you - click here

Top