Rio Tinto Modernizing and Expanding Two Smelters
---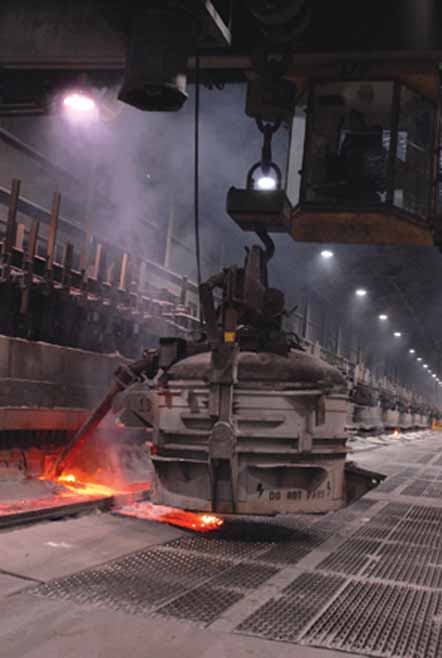 As part of a $1-billion expansion program, Rio Tinto plans to increase production at its Kitimat, British
Columbia, aluminum smelter (shown here) by almost 50% to 420,000 mt/y. (Photo courtesy of Rio Tinto).

Rio Tinto announced in mid-December 2010 plans to invest more than $1 bil- lion to modernize and expand its alu- minum smelters at Saguenay-Lac- Saint-Jean, Quebec, and Kitimat, British Columbia. At Saguenay-Lac- Saint-Jean, the company will invest $758 to complete the first phase of its new AP60 smelting operation; at Kitimat, it will spend $300 million for further construction in preparation for a planned $2.5-billion modernization.

The first phase of the AP60 plant at Saguenay-Lac-Saint-Jean is planned to have 38 pots and an annual production capacity of 60,000 mt of aluminum by 2013. The first phase of construction will include infrastructure required for subsequent phases, which are expected to lift total production capacity to 460,000 mt/y.

AP technology, developed by Rio Tinto Alcan, is designed to im- prove energy efficiency and reduce pro- duction costs. AP60 is the latest gener- ation of the technology, and metal out- put per pot at the Saguenay-Lac-Saint- Jean plant is expected to be 40% high- er than at existing smelters.
---
As featured in Womp 2011 Vol 01 - www.womp-int.com