Queensland Flooding Impacts Global Coal Markets
---
A coal mine is seen surrounded by floodwaters in Baralaba in Australia's state of Queensland January 2, 2011.
Large parts of Australia's coastal northeast were flooded in a spreading environmental disaster as thousands of
residents fled their homes to avoid the runoff from a Christmas deluge. (Photo courtesy of Reuters)
By John Miller, Australian Editor
The impact of devastating floods in the Australian state of Queensland will be felt by the global coal industry for many months. The inundation is expected to cost the state's coal industry at least $1 billion in lost production with the cost of repairs likely to run into hundreds of millions. Inter- nationally, coking coal supplies will be limit- ed with prices already increasing, an effect that is flowing on to the steel industry, cre- ating pressure on production and prices.
The flooding in December and early January affected much of Queensland, including the Bowen Basin coalfields in the center of the state and the Surat Basin to the south, and covered an area greater than the size of Germany and France. It was brought about by above average rainfall saturating catchments, followed by a tropical cyclone dumping near-record rain on many coastal and inland areas, and came at the start of the wet season, which traditionally brings consistent rain and a number of cyclones.
The floods swamped mines and dam- aged transport links, paralyzing operations that produce 35% of Australia's estimated 259 million metric tons (mt) of exportable coal. Australia contributes two-thirds of global coking-coal exports.
Queensland Resources Council (QRC) Chief Executive Michael Roche said the export of coal to countries in Asia and Europe has been delayed due to damage caused to railways linking mines to the state's shipping ports. This has raised fears of a global coal shortage as well as increasing the pressure on Chinese authorities trying to battle mount- ing inflationary pressures without causing the economy to slow too severely.
The Queensland coal industry now faces an elaborate logistics exercise to get its product to market, with mines to be de- watered, mine infrastructure to be repaired and rail, road and port links to be re-established.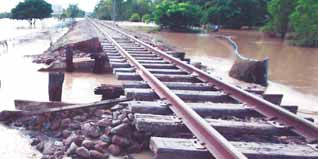 As flood waters receed, the damage to rail lines becomes more apparent.

Wood Mackenzie Analyst Ben Willacy estimates about 46 mines have been affected directly or indirectly. These mines account for 91% of Australian hard coking coal exports and 100% of (pulverized coal) exports. Based on his estimates, Australia would lose 14 million mt of exports if each of the mines was unable to operate for a month.

A number of miners including Rio Tinto, BHP Billiton, Xstrata, Vale, Anglo American, Peabody Energy, Cockatoo Coal, Macarthur Coal, Aquila Resources and Ensham Resources declared force majeure over mines while other companies in the Bowen and Surat basins, including Caledon Resources, Wesfarmers and Bow Energy, were impacted directly or indirectly at or near their operations.

The largest Bowen Basin port, Dalrymple Bay, is slowly recovering after being forced to operate at 60% capacity owing to the passage of coal trains being blocked by floods and rail line damage. Another large port, Gladstone, was forced to close for some time after exhausting supplies of stockpiled coal. Other export ports at Hay Point and Abbot Point were also impacted but both are now operating at full capacity.

The Blackwater coal rail system was inundated, cutting off the major supply line to Gladstone, the world's fourth-largest coal export terminal which normally exports 1.3 million mt/week. In the first week of January there were 18 vessels at anchor off the port with a further 12 ships expected in the following days.

Analysts expect coking coal prices to rise as much as a third, from US$246 to US$330/mt in the aftermath of the floods. Macquarie Commodities Research said this could be reflected in the next round of quar- terly export contracts while limited avail- ability could also generate a steel shortage and a strong increase in the price of steel.

The impact will be greatest in China and the rest of Asia, which depends heavi- ly on coal from Australia to make steel and feed electric utilities. Also affected will be buyers around the world who rely on Asian steel. Integrated steelmakers, who produce steel by melting raw materials such as iron ore and coal, have already been hit by ris- ing iron ore prices.

One obstacle preventing companies from resuming full production as soon as possible is they are only permitted to pump some water out of pits and into the still flooded rivers. Anglo American said it could take some weeks to pump water out of its flooded mines.

"It's going to take some months to come back fully online," said Queensland Mines Minister Stephen Robertson.
---
As featured in Womp 2011 Vol 01 - www.womp-int.com