Cliffs to Acquire Consolidated Thompson for C$4.9 Billion
---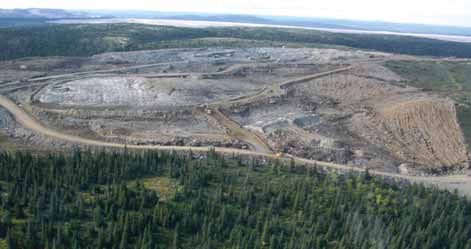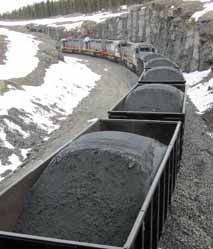 Cliffs Natural Resources intends to buy Consolidated Thompson Iron Mines and its main asset, the Bloom Lake
iron ore mine in eastern Canada, shown here, for C$4.9 billion. At full production, Bloom Lake will ship 8
million mt/y of iron ore concentrate by rail. (Photos courtesy of Consolidated Thompson Iron Mines).

Cliffs Natural Resources and Consoli- dated Thompson Iron Mines entered into a definitive agreement in mid- January hereby Cliffs will acquire Consolidated Thompson in an all-cash transaction valued at about C$4.9 bil- lion, including debt. Consolidated Thompson's board of directors recom- mended its shareholders support the transaction, and Cliffs has entered into a support agreement with China's Wuhan Iron and Steel, which owns nearly 19% of Consolidated Thomp- son's outstanding shares and is the company's largest shareholder. The companies expect the transaction to close in the second quarter of 2011.

Consolidated Thompson operates in the iron ore-rich area spanning north- eastern Quebec and western Newfound- land and Labrador. The company owns and operates the Bloom Lake open-pit iron ore mine, which started up in 2010, and has two adjacent develop- ment properties, Lamelee and Peppler Lake. Bloom Lake currently is ramping up to an annualized production rate of 8 million mt of iron ore concentrate, with an expansion in progress that is expected to double production to 16 million mt/y. The company controls approximately 580 million mt of proven and probable iron ore reserves at an average grade of 30%, as well as more than 1 billion mt of measured and indi- cated resources, with potential addi- tional resources to be proven via a near- mine drilling program.

Consolidated Thompson's operations are located close to Cliffs' existing Wabush Mines operations, which have rated capacity to produce 5.6 million mt/y of iron ore pellets and have inte- grated rail and port infrastructure. The close proximity of the companies' oper- ations is expected to provide significant operating synergies. Cliffs said it has identified opportunities to lower Consolidated Thompson's freight and ship-loading costs and to maximize the combined company's consolidated reserve and resource base by optimizing product mix between pellet and con- centrate products. Cliffs estimates the proposed transaction could generate annual pre-tax operating synergies of about $75 million.

Cliffs' also expects its acquisition of Consolidated Thompson to enhance its profile as one of the largest mining and natural resources companies in North America, with significant exposure to Asia. The combination of Cliffs' global iron ore operations with Consolidated Thompson's current operations and expansion projects is expected to posi- tion Cliffs to produce up to 30 million mt/y of iron ore pellets, up to 16 million mt/y of iron ore concentrate, and up to 11 million mt/y of lump and fines.

Cliffs Expanding in Australia
In mid-December 2010, prior to the announcement of its planned acquisi- tion of Consolidated Thompson, Cliffs announced all Australian Commonwealth and State governmental approvals had been finalized for it to mine the Mt. Jackson J1 iron ore deposit at its Koolyanobbing complex in Western Australia.

The deposit is an extension of Cliffs' existing Koolyanobbing deposits and contains an estimated 30 million mt of iron ore reserves at an approximate grade of 60% iron. It took the company over two years to complete obligatory environmental, mining and aboriginal heritages approvals.

Mining of the Mt. Jackson J1 deposit will contribute to an expansion of Koolyanobbing production from 8.5 million to 11 million mt/y that Cliffs announced in September 2010. Cliffs has budgeted A$320 million for the project, which will include enhance- ments to the existing rail infrastructure, an increase in rolling stock, and upgrades to various other operational constraints.

Cliffs anticipates the capital for the project will be spent over the next two years, with the bulk of the spending occurring in 2011. Cliffs expects the improvements to be fully implemented in the second half of 2012.
---
As featured in Womp 2011 Vol 01 - www.womp-int.com