The latest from the
World Mining Equipment
Video Library
View




Trade Dispute and Market Uncertainty Will Pass

Last year at this time, we were talking about how great the copper market looked. A perfect storm was in the making, one where stocks were low and falling, prices were rising, which is good for miners, but not necessarily the consumer, and rosy forecasts offered several reasons to be optimistic. Then, the trade rhetoric between China and the U.S. put copper and most of the other mined commodities in a holding pattern. This now seems to be a reoccurring theme for May.
Unlike the trade dispute between the U.S. and Canada, which impacted two countries and specific metals such as iron ore and aluminum, the discussions between the U.S. and China have greater macroeconomic implications. The fear is that protracted negotiations or an escalation in tariffs .... read more


Steve Fiscor, Publisher & Editor in Chief

2 Growth Projects Will Expand Norilsk Industrial District Output
Norilsk Nickel (Nornickel) has made final investment decisions on two growth projects to be developed by its Polar Division in the Norilsk industrial district of north-central Russia. New mining operations will be developed on the district's South Cluster deposits.... read more
Anglo Becomes Founding Sponsor of World Bank's Climate Smart Mining Fund
Anglo American has committed to the World Bank's Climate Smart Mining initiative by becoming a founding donor to the Climate Smart Mining Facility. It is the fi rst fund dedicated to making mining for metals and minerals a more sustainable practice that complements the energy transition. Building on the World Bank's initial $2 million investment, Anglo American joins partners from the private sector and governments as a donor .... read more

Top

Oberle Will Chair Independent Mine Tailings Review
Professor Bruno Oberle has agreed to chair an independent review of tailings storage facilities (TSFs), according to the International Council of Mining and Metals (ICMM), the Principles for Responsible Investment and the United Nations Environment Program, who are co-conveners of the review. The review will establish an international standard for the safe management of TSFs that can be applied to all tailings dams .... read more


Barrick, Newmont Goldcorp Nevada Joint Venture Clears Regulatory Conditions
Barrick Gold Corp. and Newmont Goldcorp's joint venture in Nevada, which will create the world's largest gold producing complex, has cleared all the regulatory conditions required. The U.S. Federal Trade Commission granted an early termination of the waiting period under the Hart-Scott-Rodino Act on April 19. The new business, named Nevada Gold Mines, will be owned 61.5% by Barrick and 38.5% by Newmont Goldcorp .... read more

| | |
| --- | --- |
| AROUND THE WORLD - USA & CANADA | |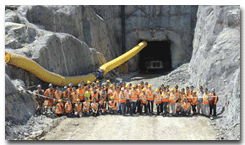 Eldorado Reaches Commercial Production at Lamaque
Eldorado Gold has reached commercial production at its wholly-owned Lamaque gold mine just southeast of Val-d'Or, Quebec. The mine produces ore from the Triangle deposit 2.5 kilometers (km) south of the historical Lamaque and Sigma mines, which are also on the .... read more


Kennecott Copper Switches to Renewable Energy
Rio Tinto will reduce the annual carbon footprint associated with its Kennecott Utah Copper operation by as much as 65% through purchasing renewable energy certificates and permanently shutting down its coal power plant, the company said. Kennecott's electricity needs of 1.5 million megawatt hours will be supplied by Rocky Mountain Power, primarily sourced from its Utah allocated portfolio, including wind power from Wyoming ....read more

Top
Freeport Advances Lone Star Project in Arizona
Freeport-McMoRan operates seven openpit copper mines in North America: Morenci, Bagdad, Safford, Sierrita and Miami in Arizona, and Chino and Tyrone in New Mexico. The company has significant undeveloped reserves and resources in North America and a portfolio of potential long-term development projects. Through exploration drilling, the company has identified a significant resource at its Lone Star project located near the .... read more

| | |
| --- | --- |
| AROUND THE WORLD - Latin America | |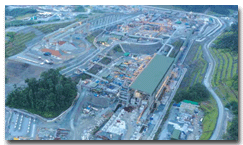 Cobre Panama Considers Expansion
First Quantum Minerals has filed an updated technical report for its Cobre Panama project in Panama that incorporates updates with respect to ramp-up and commissioning of the current operation and provides detail on a planned expansion of project throughput from 85 million .... read more


Top
AMSA Reports 22% Production Increase
Chilean mining company, Antofagasta Minerals S.A. (AMSA), one of the largest players in the world copper industry, reported a 22.6% increase in red metal production in the first quarter of 2019 and maintained its forecasts for the year. Antofagasta mined 188,600 tons of fi ne copper between January and March, compared to 153,800 tons produced in the same period last year, in line with estimates.... read more

| | |
| --- | --- |
| AROUND THE WORLD - Australasia | |

Tropicana JV Developing Boston Shaker Underground
Joint-venture partners AngloGold Ashanti Australia (70% and manager) and Independence Group (30%) have approved development of the Boston Shaker underground project beneath the currently active Boston Shaker open pit at their Tropicana gold operations in Western Australia. A feasibility study has confirmed that underground mining is technically and financially viable …. read more


Top

Rio Tinto Selects Mining, Processing Equipment for Koodaideri
Rio Tinto announced it has selected FLSmidth and Caterpillar to supply the equipment to develop what it claims will be its most technologically advanced mine, the Koodaideri iron ore operation in the Pilbara, Western Australia. This will be Rio Tinto's first Pilbara mine to be primarily operated using Cat equipment. Previously, Rio Tinto purchased Komatsu haul trucks for its Mine of the Future program. Through its local dealer WesTrac, Cat will provide a fleet of 20 autonomous …. read more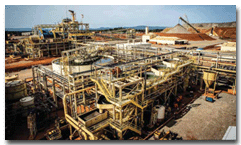 B2Gold Expanding Fekola Mine in Mali
B2Gold has started a project to increase processing throughput at its Fekola gold mine in southwest Mali from the current base rate of 6 million metric tons per year (mt/y) to 7.5 million mt/y. The expansion is based on an "Expansion Study Preliminary Economic Assessment" (PEA) conducted to evaluate the life-of-mine options for expanded …. read more
Top
Vale Files $2B Lawsuit Against BSGR Over Simandou
On April 23, a lawsuit was filed by Vale against BSG Resources Ltd. (BSGR) in the United States District Court for the Southern District of New York to enforce Vale's arbitral award against BSGR, totaling more than US$1.2 billion — with interest and costs exceeding US$2 billion — which was issued on April 4 by an arbitral tribunal with the London Court of International Arbitration …. read more



Australian Companies Create Joint-venture Project in Alaska
Australian companies White Rock Minerals and Sandfire Resources have signed an earn-in and joint-venture option agreement for Sandfire to participate in White Rock's multimetal Red Mountain project in central Alaska. The potential of the project is illustrated by 2018 field season results, which included drill-hole intercepts of more than 17% zinc, 6% lead, 1,000 grams (g)/metric ton (mt) silver, 6 g/mt gold, and 1.5% copper, as well as discovery of new …. read more


Top
American Pacific Mining enters agreement with OceanaGold
American Pacific Mining has entered into an earn-in agreement with OceanaGold with respect to American Pacific's Tuscarora gold project 50 kilometers (km) northwest of Elko, Nevada. Oceana can earn up to 51% of the project by investing $4 million over the next four years. Oceana will have 60 days thereafter to exercise an option to earn an additional 24% by investing a further $6 million over the following four years .… read more



| | |
| --- | --- |
| THIS MONTH IN COAL | |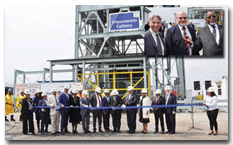 Sasol Opens New Mine in South Africa
Sasol officially opened a new colliery in Mpumalanga, South Africa, where it beneficiates coal into high-value fuel and chemical products at world scale. Meaning "success" in Nguni, Impumelelo is one of three world-class mines Sasol has constructed in the last decade as part of its R14 billion ($994 million) mine replacement program and includes Thubelisha and Shondoni .... read more


Top

Peabody Releases Learnings From North Goonyella Fire
After a comprehensive review of the events surrounding the mine fire at North Goonyella that began in September 2018, Peabody Energy has released initial learnings. High gas levels caused the evacuation of personnel during a planned longwall move from the No. 9 North panel to the No. 10 North panel. The company's review concluded that areas of the mine demonstrated both elevated methane …. read more


-->
| | |
| --- | --- |
| FEATURE - Gold Miners Round Up | |
Top Gold Producers Process More Ore, Produce Less Gold, Again, in 2018

By Jesse Morton, Technical Writer

Despite the fact that gold prices rose for the fourth year in a row in 2018, total gold output by top pure play gold miners fell 5% year-over-year (yoy). It was the third year in a row that production fell. Meanwhile, the miners, generally speaking, processed a bit more ore to get those lower production numbers, and saw costs creep higher for the fourth straight year. It further fueled the theory that world gold production, at least for most of the top miners, is cresting .... read more


| | |
| --- | --- |
| FEATURE - Maintenance | |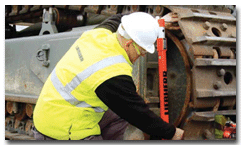 Maintaining the Pace
Fleet and plant operators can pick from a wide range of maintenance software, systems and platforms, but without a solid asset management strategy in place, even the best choice probably won't provide optimal results.

By Russell A. Carter, Contributing Editor.

Maintenance is a key element in achieving operational goals for almost every segment of mining activity. At the most fundamental stage of mine or plant operations, equipment performance and health have a direct role in assuring worker safety and productivity. And, at the highest echelons of mine management, maintenance planning demands a level of attention commensurate for an activity that accounts, on average, for about thirty cents or more of every operating- cost dollar. Too much or not enough "wrench time" — in other words, over- or under-maintenance — can sink carefully crafted production plans and punch holes in otherwise-solid operating budgets ..... read more

Top
| | |
| --- | --- |
| FEATURE - bauma 2019 Highlights | |
Metso Makes Waves at bauma 2019
Offering several new products for the mining sector, Metso CEO talks efficiency and sustainability.

By Carly Leonida, European Editor

One of the most interesting product launches at the bauma 2019 tradeshow in April was the Metso Truck Body (MTB). The company has provided rubber liners for truck boxes for decades and, having listened to customer requests for a product that combined the durability of a rubber liner with the capacity and strength of a lightweight steel body, it decided to develop its own solution. "Hauling is one of the most costintensive components of a typical mining or quarrying operation. In addition to fuel and labor, there's plenty of maintenance involved, too," said Lars Skoog, vice president of Mining Wear Lining and Screening, who led the MTB launch event.... read more

| | |
| --- | --- |
| FEATURE - Underground Mining | |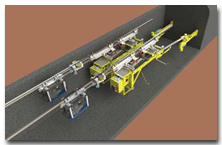 Torex Shoots the First Muckahi Blast
Novel underground technique could allow miners to extract ore from steep stopes.

By Steve Fiscor, Editor

Conducting field trials with a monorail-mounted jumbo, Torex Gold Resources recently drilled and shot the first rounds from its Muckahi mining system. This new mining method, which was conceived by Fred Stanford, president and CEO of Torex, combines face drilling and blasting with a slusher that feeds ore into a set of conveyors. The entire system has been designed to operate on a monorail system attached to the back on a steep (30°, 58%) incline in a narrow heading. Based in Canada, Torex is an intermediate gold producer engaged in the exploration, development and operation of .... read more



Top

| | |
| --- | --- |
| Video Presentations | |
The latest listings from the World Mining Equipment Video Library - to view the video, click the image.
For more details on the Video Hub -

Go Here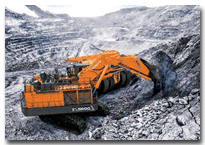 Tier 4 Excavators Offer Improved Hydraulic Efficiency, Reduced Fuel Use
Hitachi introduced the EX2600-7 and EX5600-7 excavators, the latest in the EX-7 series, to North and South America. The excavators deliver efficiency, reliability and durability improvements over predecessor competition, the company reported. Hitachi's Fuel Consumption Optimization technologies reduce fuel consumption up to 8% to 10% versus .... read more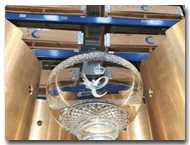 CMS Cepcor ® receive accolades for a second Queens Award
For the second time in the history of the company CMS Cepcor® have received a Queens Award. On this occasion the company have received the Queen's Award for Enterprise: International Trade 2019, for outstanding growth in overseas sales over the last three years ....read more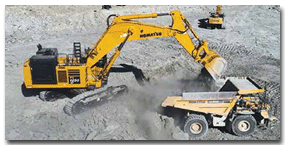 Tier 4 Excavators Offer Increased Power
Komatsu America Corp. introduced the PC1250SP-11 and PC1250LC-11 Tier 4 final emissions-certified hydraulic excavators. The excavators feature improved operator comfort, increased power, higher production, and a new operating mode, called Power +, which does not affect fuel consumption, the company reported. The excavators have SAA6D170E-7 engines with .... read more

Top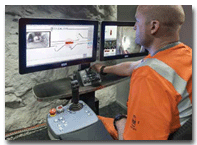 Chuqui Underground Adopts Sandvik Automation Solutions
Codelco adopted Sandvik's AutoMine and OptiMine solutions as a production automation system for Chuquicamata Underground. The system will allow Codelco to operate its new fl eet of Sandvik LH621 loaders in full automation. It will integrate manual operations and autonomous equipment and will enable full transparency and real-time control ....read more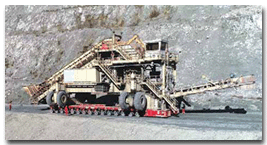 690 MT Rock Crusher Moved
Mammoet moved a 690-metric-ton (mt) granite rock crusher and primary conveyor inside the A.R. Wilson Quarry in Aromas, California, USA. Both pieces of equipment needed to be relocated from the top of the quarry to the new location downhill and 1,200 meters (m) away. Owner Graniterock previously attempted to drive the rock crusher, Mammoet reported. The crusher experienced a loss of braking .... read more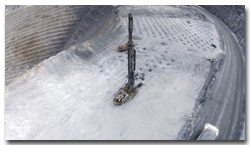 Epiroc - RCS 5 the next generation of the Rig Control System for Pit Viper Blasthole Drilling Rigs
Epiroc has introduced RCS 5, the fifth generation of the Rig Control system for the Pit Viper blasthole drilling rigs. Machine-to Machine Communication, Auto Tower Angle and Integrated Camera View are some of the early features introduced along with .... read more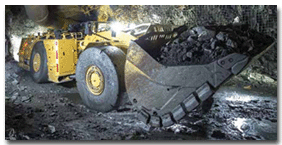 Cat to Build Electric LHD
Caterpillar reported it would develop a lithium-ion battery-powered R1700 LHD that would feature onboard charging. The R1700 was introduced in 2018 as a new design and featured a fuel-saving electrohydraulic system that provided increased loader forces for improved digging, the company reported. The battery-powered loader will leverage components from .…. read more

Top

Self-cleaning Tire for Loaders, Graders
Bridgestone announced the launch of its Firestone VersaBuilt All Traction (AT) 14.00R24 radial tire line for loaders and graders. The tire is engineered to provide improved traction, versatility and dependable performance, upping productivity, the company reported. The tire completes the VersaBuilt AT line ....read more
JUNE 3-7, 2019: 34th Annual Elko Mining Expo, Elko Convention Center, Elko, Nevada, USA. Contact: Web: www.exploreelko.com
JUNE 4-6, 2019: The 39th APCOM Mining Goes Digital conference, Wroclaw, Poland Contact: Web: www.apcom.info
AUGUST 27-29, 2019: AIMEX, Sydney Showgrounds, Sydney, Australia. Contact: Web: www.aimex.au
SEPTEMBER 6-7, 2019: Annual Meeting of the Mining Electrical Maintenance and Safety Association, Sheraton Sand Key, Clearwater Beach, Florida, USA. Contact: Web: www.miningelectrical.org
SEPTEMBER 9-12, 2019: Exposibram, the Brazilian Mining Expo & Congress, Expominas, Belo Horizonte, Brazil. Contact: Web: www.portaldamineracao.com.br/exposibram
SEPTEMBER 16-20, 2019: 37th International Conference and Exhibition of ICSOBA, Krasnoyarsk, Russia. Contact: Web: www.icsoba.org
OCTOBER 9-10, 2019: China Mining 2019, Tianjin Meijiang Convention Center, Tianjin, Peoples Republic of China. Contact: Web: www.chinaminingtj.org
NOVEMBER 19-20, 2019: Smart Mining Conference, Tivoli Conference Center, Aachen, Germany. Contact: Web: www.smartmining.info
For a full calendar of mining industry conferences and events - click here
| | |
| --- | --- |
| WHO'S MOVING WHERE | |

Anglo American plc announced the retirement of Norman Mbazima after 18 years. Mbazima will step down as deputy chairman of Anglo American South Africa on June 30. He has played a number of critical leadership roles, as CEO of Kumba Iron Ore and the South African coal business, and as joint acting CEO of the PGMs business.
Rio Tinto Group Executive Joanne Farrell has decided to retire after nearly 32 years with Rio Tinto and will leave the company at the end of September. Farrell joined Rio Tinto in 1987 and has worked in a variety of roles before joining the Rio Tinto Executive Committee as group executive, health, safety and environment, and managing director, Australia, in July 2016.

Royal Gold Inc. announced that Tony Jensen, president and CEO, will retire by the end of the first calendar quarter of 2020. Jensen joined Royal Gold as president and COO in 2003, was elected a director in 2004, and has served as president and CEO since 2006. The Royal Gold Board of Directors has appointed its Compensation, Nominating and Governance Committee to manage the process of identifying Jensen's successor.

Kerstin Konradsson, president Boliden Smelters, will leave Boliden in July. Konradsson has been responsible for the business area and member of Boliden's Group Management since 2012.

NorZinc Ltd. announced the appointment of Scott Fulton as the project manager for the Prairie Creek Mine and Cliveden Trading AG to provide concentrate marketing commercial support. Fulton has 25 years of multi-industry experience and has spent the last 12 years in mine construction and development as a project manager for Wood (formerly Amec Foster Wheeler).

Platinum Group Metals Ltd. appointed Stuart Harshaw to the company's board of directors. Harshaw was the vice president, Ontario operations, for ValeCanada Ltd. until 2017. He recently led the Sudbury operations of Vale through the largest transformation of surface facilities in their history.

Antofagasta plc appointed A.E. Michael Anglin as an independent non-executive director. He spent 22 years with BHP Billiton Ltd., most recently serving as vice president operations and COO of the Base Metals Group based in Santiago, Chile, before retiring in 2008.

Lars Bergström, currently senior strategy advisor and vice president Sandvik Machining Solutions, has been appointed acting president of Sandvik Machining Solutions as of July 1. Bergström will have full responsibility for the business area and he will be a member of the Sandvik Group executive management team.
About - providing an abreviated version of the current print edition of E&MJ, WOMP is distributed throughout the world to decision makers in the global mining industry, the last week of every month.

Subscribe to E&MJ - To receive your own copy of the print edition of E&MJ, click here , and complete your details. E&MJ is available free of charge to qualified readers.

Contact - if you have views, opinons or comments or editoral that you would like to submit, we would be delighted to hear from you - click here

Top