Metso Makes Waves at bauma 2019
Offering several new products for the mining sector, Metso CEO talks efficiency and sustainability

By Carly Leonida, European Editor
---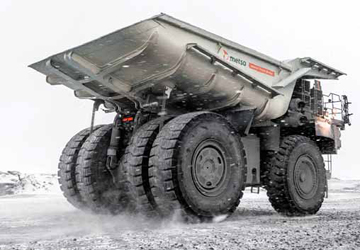 Finnish miners test the new truck body (above) from Metso at the Sotkamo mine.
(Photo: Metso).


Maintenance One of the most interesting product launches at the bauma 2019 tradeshow in April was the Metso Truck Body (MTB). The company has provided rubber liners for truck boxes for decades and, having listened to customer requests for a product that combined the durability of a rubber liner with the capacity and strength of a lightweight steel body, it decided to develop its own solution.

"Hauling is one of the most costintensive components of a typical mining or quarrying operation. In addition to fuel and labor, there's plenty of maintenance involved, too," said Lars Skoog, vice president of Mining Wear Lining and Screening, who led the MTB launch event.

"To ensure cost efficiency, a haul truck should carry as much payload as possible on every round. At Metso, we set out to tackle this challenge and designed a truck body that requires minimal maintenance while maximizing payload. The result is a lower operating cost per hauled ton." The MTB is currently available for off-highway trucks in the 100-plus-ton class, although Skoog said Metso will be looking to extend the range to smaller truck models in the future.

The rubber that lines the tray absorbs the energy created through material impacts, preventing it from reaching the frame and thus allowing a lightweight, high-strength steel structure to be used, instead of a traditional steel frame. The benefits include up to six times more wear life compared to bodies fitted with a steel liner, half the noise and 97% less vibration.

Skoog explained: "Many mines prefer lightweight truck bodies because they enable them to carry more payload. However, the problem with these traditional lightweight bodies is their lack of durability — they often have to be replaced in every one or two years, or repaired, which gets expensive. "The rubber lining and high structural strength steel frame [of the MTB] have been engineered in a seamless process, utilizing the best qualities of both materials."

Unlike the Duratray suspended dump body (the closest other hybrid design on the market) where the rubber lining is suspended above a lightweight steel frame, the rubber lining of the MTB is stud welded to the frame in pieces. The advantage of this is that each piece can be replaced individually as it becomes worn to help cut maintenance time and costs. The type of polymer used for each piece can also be customized to suit the application, and an optional flexible liner can be added for operations that have issues with carry back.

The biggest benefit is that MTB typically weighs 20%-30% less than a traditional steel-lined truck body. Depending on the application, this translates into a payload increase of several tons per truck, per cycle; extra dollars that will go straight to a mine's bottom line. Finnish miner Terrafame has been testing the MTB at its Sotkamo operation since December 2018 and has been pleased with its performance. The mine's ore is extremely abrasive and Terrafame was looking for a wear solution that would not decrease the payload of its trucks.

"So far, the drivers have only given positive feedback about the body," said Esa-Tapani Leinonen, head of mining at Sotkamo. "If this truck body proves to be cost-efficient, there's no reason why we would not invest in more units." The MTB was one of three product launches that Metso had in store for the bauma crowd. The company also added a new model to its MX range of Multi-Action cone crushers — the MX3 — and gave the Lokotrack ST2.3 mobile multiuse screen its global premier.

The MX3 is aimed at the midsized quarrying and aggregates market. It is suitable for secondary, tertiary and quaternary crushing stages in both hard- and soft-rock applications. Arto Halonen, vice president for Metso's Crushers and Aggregates business area, said that a stationary version will be available first, followed by a mobile solution.

The Lokotrack ST2.3 is suitable for a range of applications from multiuse to fine screening and recycling. It has a 5-ft-wide screen with matching feeder and conveyor, and aggressive stroke up to 13 mm with 5G acceleration. Metso said it is easy to set up and can be easily moved from one site to another using standard trailers. The product will be commercially available as of 2020.

Vauramo Means Business
In addition to the product presentations, Metso's president and CEO, Pekka Vauramo, was on hand to give an update on the company's progress and business trends. Vauramo joined Metso in May 2018 from Finnair, but is no newcomer to the mining industry, having worked at Sandvik for more than 20 years through the 1980-2000s.

The mining business area accounts for around half of Metso's overall sales, followed by aggregates, recycling and process industries (oil and gas). This was the core focus of Vauramo's presentation. He began by saying that Metso booked €3.8 billion of orders in 2018, a number that represents 17%-18% growth compared to 2017. In particular, its Q4 sales jumped by 35%; a trend that Vauramo attributed to increased metal consumption globally, driven by megatrends such as urbanization, digitalization and electrification. As a result, the company experienced a 12% growth in EBITDA last year and improved its profitability.

"2018 was a very active year. There's no slow down so far," he added. China and India are key markets for growth going forward, and expanding Metso's supply chain and R&D capabilities in these markets are important to Vauramo and his team. He explained that Metso recently invested in a new manufacturing facility in India for screens and pumps destined mainly for the aggregates market, and the Metso Minerals China Competence Centre opened its doors in September 2018. The latter is Metso's first R&D unit focused on local solutions for the Chinese market; an investment that signifies the weight of the company's intention in this space.

Vauramo was also keen to talk about sustainability and the role Metso's solutions can play in this area. "Every company needs to look at its impact on the planet and what it can do about it," he stated.

Having come from the airline industry, Vauramo chose this for comparison when explaining the Vertimill's achievement in reducing CO2 emissions: the company estimates that use of the Vertimill, which utilizes a vertical design to reduce its energy consumption during comminution, enabled mines to save 652,000 tons of CO2 during 2018. This figure equates to around 20% of what a small airline generates in one year.

Having spoken to a number of Vauramo's colleagues, it is clear that the new CEO is a big supporter of R&D. Metso has doubled its R&D spend for aggregates products over the past year, and Vauramo said he had similar plans to boost investment in the mining business area. Digitalization will be a big focus in this respect.

On his return from bauma, Vauramo presented Metso's January-March 2019 interim results to investors on April 25, and on April 29, Metso announced it had won an order to deliver two MTBs to Boliden's Aitik mine in Gällivare, Sweden. The company will also be kitting out a further five Aitik haul trucks with rubber bed liners.

"Metso and Boliden have been working together for several years to find solutions to improve the efficiency, convenience and working environment of the hauling process at Aitik," said Lars-Erik Bergman, Metso's sales manager for Northern Sweden. "The introduction of the Metso Truck Body is another milestone on this journey."

Judging by the positive numbers in Vauramo's presentation and some of the other mining equipment orders Metso has bagged recently, it looks like there is no stopping the Finnish powerhouse this year.

Normet Launches Smart Systems
Labeling itself a pioneer in tunneling and underground mining equipment, Finland's Normet debuted its SmartDrive battery electric vehicle architecture, SmartScan 3D laser scanning technology and SmartSpray — the next step toward automated concrete spraying technology.

Normet SmartDrive uses industrial-grade Lithium-Ion battery technology and electric motors specifically designed for harsh environments. The batteries have a long life and a fast charging capability. With the onboard charging system, it needs only 2.5 hours to load the batteries from 0% to 80%. The machine can be charged anytime from any typical underground AC-socket or in the matter of minutes by fast chargers. There is no need to swap batteries.

SmartScan combines the latest sensor technology with shotcreting equipment. Mounted inside a stainless-steel box at the front of the concrete spraying machine, the enclosure needs only to be opened for starting the scan via the touchscreen. The IP65-rated laser scans the face in 50 m maximum range, 0° to 180° horizontal and -60° to +140° vertical angle before spraying. With a second scan after spraying concrete, the software automatically compares both measurements and presents in real time, the thickness of the applied shotcrete.

SmartSpray is available in the three versions Lite, Pro and ProPlus. SmartSpray Lite allows the operator to control only one spraying nozzle by using only one joystick to perform basic spraying movements instead of handling two or four joysticks. With SmartSpray Pro, automatic movements are possible for regular spraying. The operator only needs to adjust the distance to the surface and to move to the next spraying segment. SmartSpray ProPlus automatically keeps the distance between the spraying nozzle and the wall profile, maintains the speed and achieves the demanded layer thickness. Normet said it makes a beginning sprayer operator look like a seasoned master.

Liebherr Mining Goes Electric
Liebherr offered bauma visitors a unique experience, starting a 200-metric-ton (mt) mining excavator live by flipping a giant switch. To achieve this, Liebherr's technical teams had to overcome a huge challenge, routing an electric cable to the excavator that can support the 6,000 volts needed to bring the machine to life, while ensuring an optimal level of safety for the thousands of spectators attending the three daily demonstrations.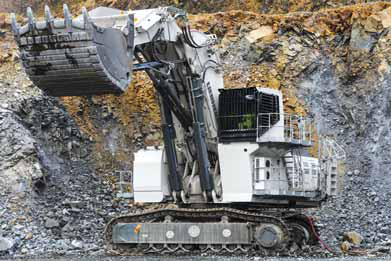 Liebherr R 9200 E with electric drive working in Eurovia's Lausitzer Grauwacke, Germany.


The R 9200 E has been designed to fully support the requirements of the mining industry. With a rated output of 850 kW (1,139 hp), the electric 210-mt R 9200 E balances performance with environmental consciousness. No exposure of people and the environment to diesel emissions and noise, longer engine life cycle, and up to 25% less maintenance costs compared to a diesel excavator. To reduce starting inrush current, all Liebherr Mining electric excavators are equipped with autotransformer starting devices to avoid disjunctions of the mine's electric network while starting the excavator.

Miners work in the most demanding conditions and the electric drive has its advantages for them, too, Liebherr explained. An electric excavator experiences less power loss than a diesel engine at high altitude and is much easier to start in a cold climate. Liebherr offers a cable reel option for all electric drive excavators. This concept offers better mobility and reduces the manpower required on site (moving the cable). The cable reel is totally autonomous and has a capacity of 245 m to 300 m depending on the excavator type.

With all these advantages, it's no wonder that some electric hydraulic excavators, in face shovel and backhoe configuration, have already achieved 70,000 operating hours without any major maintenance operation on the electric motor. Fitted with a 12.5-m3 (16.4-yd3) heavy-duty face shovel and patented Liebherr GET to load material with a loose density of 1.65 mt/m3, the R 9200 E efficiently loads 65-mt haul trucks in three passes and achieves great cycle times — the fastest measured at less than 20 seconds, Liebherr said.
---
As featured in Womp 2019 Vol 05 - www.womp-int.com