Eldorado Reaches Commercial Production at Lamaque
---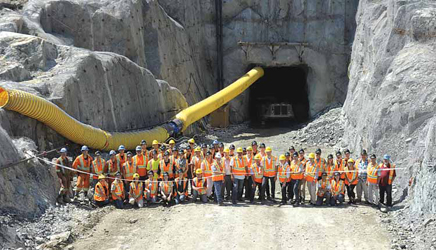 Lamaque miners will mine more than 500,000 mt to produce more than 100,000 oz of gold this year.

Eldorado Gold has reached commercial production at its wholly-owned Lamaque gold mine just southeast of Val-d'Or, Quebec. The mine produces ore from the Triangle deposit 2.5 kilometers (km) south of the historical Lamaque and Sigma mines, which are also on the property and produced more than 10 million ounces (oz) of gold. Ore from the Triangle deposit is being processed at the refurbished Sigma mill.

Lamaque is scheduled to mine and process more than 500,000 metric tons (mt) of ore during 2019 at an average grade of 7 grams/mt and cash operating costs of $550-600/oz of gold sold. Eldorado is estimating that the mine will produce 100,000 oz to 110,000 oz of gold in 2019 and 125,000 oz/y to 135,000 oz/y in 2020 and 2021. Initial mine life is estimated at seven years.

Exploration work by Eldorado increased its inferred resource at Lamaque by more than 50% during 2018, and the company is planning to conduct more than 37,000 m of exploration drilling on the property in 2019. Regarding reaching commercial production at Lamaque, Eldorado COO Paul Skayman said, "We are proud to announce the achievement of this important milestone just over 18 months after acquiring this asset. It is a testament to all of the hard work that has gone into the exploration, prefeasibility study, engineering, and construction that we have safely delivered commercial production ahead of schedule. I would like to thank everyone who worked on this project, especially Sylvain Lehoux, Lamaque general manager, and the rest of the team at site."

Eldorado Gold is headquartered in Vancouver, British Columbia. The company operates the Kisladag and Efemçukuru gold mines in Turkey and the Olympias and Stratoni polymetallic mines in Greece. Gold production during 2018 totaled 349,147 oz, including 35,350 oz of pre-commercial production from Lamaque. Guidance for company-wide production in 2019 is in the range of 390,000 oz to 420,000 oz of gold.
---
As featured in Womp 2019 Vol 05 - www.womp-int.com