Tropicana JV Developing Boston Shaker Underground
---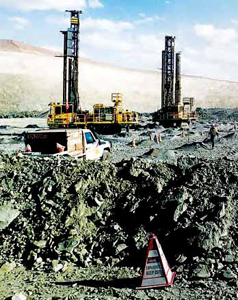 Development declines will begin soon under the existing
Boston Shaker mine. (Photo: AngloGold Ashanti)

Joint-venture partners AngloGold Ashanti Australia (70% and manager) and Independence Group (30%) have approved development of the Boston Shaker underground project beneath the currently active Boston Shaker open pit at their Tropicana gold operations in Western Australia. A feasibility study has confirmed that underground mining is technically and financially viable, with an anticipated IRR of 39% for a capital investment of $79.3 million. Boston Shaker underground will contribute higher-grade mill feed, resulting in an improved gold production profile and enhanced cash flow. Importantly, the underground mine will provide improved cash flow during 2021-2023, when the mine plan includes periods of higher waste stripping in the property's Havana open pit.

Ore from the underground mine will enable Tropicana gold production to be maintained at 450,000-500,000 ounces per year (oz/y) over the next five years. The project is getting under way in the second quarter of 2019, and first gold is scheduled for the third quarter in 2020. "Underground mining at Boston Shaker will leverage further value from this high-performing operation, achieving payback in just over three years," AngloGold Ashanti COO International Ludwig Eybers said. "An ongoing focus on operational excellence has enabled Tropicana to consistently exceed expectations, and I am sure this world-class performance will extend into the underground operation."

The expanded ore production from the mine will capitalize on investments made in the Tropicana processing plant, including a second ball mill commissioned in November 2018 that increased throughput capacity to 8.1 million metric tons per year (mt/y). The Boston Shaker orebody remains open at depth, and the JV partners will continue to test high-grade extensions to the mineral resource beneath the Tropicana and Havana pits to assess the opportunity for further underground mining operations. The Boston Shaker ore reserve is estimated at 2.8 million mt grading 3.84 grams/mt for 317,000 oz of contained gold. The mineral resource estimate stands at 12.5 million mt at 4.2 g/mt for 1.7 million oz.

The feasibility study was based on mining 6.58 million mt, grading 3.84 g/ mt, assuming the systematic conversion of mineral resources to reserves over the life of the mine. The average underground mining rate will be 1.1 million mt/y, including development over an eight years to 2026 to produce 732,000 oz. Mining methods will be based on conventional mechanized mining and underhand sublevel open stoping. The proposed mining fleet comprises two jumbos, two production drills, three remote-capable loaders and four trucks. An underground mining contract has been awarded to Macmahon Holdings, the mining alliance partner at Tropicana since commencement of open-pit mining in 2012. As Macmahon will operate both the open-pit and underground mines, significant operational and management synergies will be delivered.

The underground operation adds an additional year to Tropicana's mine life, taking it to 2029 based on current measured, indicated, and inferred mineral resources of 136.2 million mt at 1.76 g/mt for 7.7 million oz of contained gold. Decline development to access the Boston Shaker underground orebody is scheduled to begin before midyear 2019, with mining of the first stope scheduled to begin in August 2020. The portal for the decline will be located in the completed Tropicana pit to minimize interaction between underground equipment and the open-pit fleet working in the Boston Shaker pit.
---
As featured in Womp 2019 Vol 05 - www.womp-int.com