| | |
| --- | --- |
| | |
To receive your own edition of the print version of E&MJ -
Go Here





Politicians Subvert Federal Approval Process



Executives from Antofagasta Minerals fl ew to Washington, D.C., during May to meet with Minnesota lawmakers about the company's proposed Twin Metals copper mine. Antofagasta owns Twin Metals Minnesota (TMM), which hopes to open a copper mine south of Ely, Minnesota, near the Boundary Waters wilderness area. The group met with U.S. Rep. Rick Nolan, D-Crosby, who represents the region, and they reportedly gave him an update on what the company is committed to do as far as protecting the Boundary Waters. They also met U.S. Rep. Betty McCollum (D-St. Paul) and well…she was not as hospitable.
After the meeting, Rep. McCollum released the following statement: "The Boundary Waters Canoe Area Wilderness and Voyageurs National Park are federal lands that must be protected. There is no evidence that sulfide-ore copper mining can be conducted in this area without permanently damaging these national treasures. While I hope that this Chilean company will reconsider its plans to ..... read more


Steve Fiscor, Editor in Chief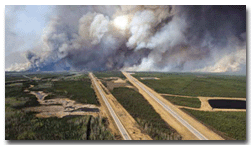 Canada's Oil Sands Hub City Begins Recovery From Wildfire
Fort McMurray, Alberta, Canada, began steps in late May toward recovery from a devastating forest wildfire that hit the city of 88,000 on May 1, forcing evacuation of the entire population on May 3. Fort McMurray is the hub city for oil sands production facilities located 25 kilometers and more north of the city. A large portion of oil sands production was shut down .... read more
Oyu Tolgoi to Restart Underground Development
Turquoise Hill Resources announced in early May that the boards of Oyu Tolgoi LLC, Turquoise Hill, and Rio Tinto have approved the restart of development for underground mining at the Oyu Tolgoi copper-gold-silver mining complex in southern Mongolia. Oyu Tolgoi LLC is jointly owned by the government of Mongolia (34%) and Turquoise Hill Resources (66%). Rio Tinto is 51% owner of Turquoise Hill and is the project manager. Oyu Tolgoi currently produces from an open-pit mine that came into production in July 2013 .... read more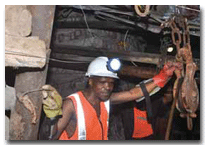 Looming Lawsuit Threatens South African Gold Industry
Embattled South African gold producers could face up to $3.4 billion in liabilities if they lose a lawsuit filed on behalf of tuberculosis and silicosis victims. In May, lawyers for the mineworkers won a court action allowing a class action suit on behalf of 69 claimants to proceed. While class action is commonplace in the U.S., Canada and Australia, it is rarely applied in South Africa. The mines had argued that claimants should file .... read more

Top
China Moly Will Acquire Freeport's Tenke Fungurume Interests
Freeport-McMoRan announced on May 9 it has entered into an agreement to sell its interests in TF Holdings Ltd. to China Molybdenum for $2.65 billion in cash and contingent consideration of up to $120 million, consisting of $60 million if the average copper price exceeds $3.50/lb and $60 million if the average cobalt price exceeds $20/lb, both during the 24-month period between 2018 and 2019. TF Holdings is a Bermuda holding company that indirectly owns an 80% interest in Tenke Fungurume Mining. Freeport has a 70% interest .... read more


| | |
| --- | --- |
| AROUND THE WORLD - USA & CANADA | |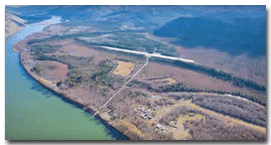 Goldcorp Buys Kaminak for its Coffee Gold Project
Goldcorp and Kaminak Gold announced a deal in May, in which Goldcorp will acquire all of the outstanding shares of Kaminak in an all-share transaction valued at approximately C$520 million. Closing of the transaction is expected to occur no later than August 15. Kaminak's key asset is its 100% owned Coffee gold project approximately 130 km south of Dawson City, Yukon Territory, Canada. The project is based on a structurally .... read more
Hecla to Purchase Mines Management
Hecla Mining has announced a friendly agreement to acquire Mines Management Inc. in an all-share transaction that values the latter company at about $37 million. Mines Management's key asset is its Montanore silver-copper project in northwest Montana, which hosts in-situ mineralization estimated at more than 230 million oz of silver and nearly 2 billion lb of copper, not considering dilution or subeconomic mineralized zones. The transaction is expected to close in the third quarter of 20 .... read more

Top
New Power Agreement Keeps Alcoa's Intalco Smelter Open
Alcoa announced in early May a new agreement with the Bonneville Power Administration (BPA) that will improve the competitiveness of Alcoa's Intalco primary aluminum smelter in Ferndale, Washington, and allow the plant to remain open. The amendment to the power contract is effective July 1 through February 14, 2018, and provides for additional access to market power during this period. "This short-term amendment with BPA, combined with the state of Washington's $3 million budget proviso for workforce training, are key factors in .... read more


| | |
| --- | --- |
| AROUND THE WORLD - Latin America | |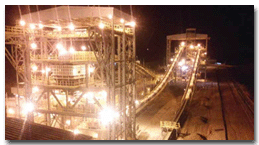 Anglo American Sells Brazil Niobium and Phosphates Businesses
Anglo American announced in late April that it has agreed to sell its Brazil-based niobium and phosphates businesses to China Molybdenum for $1.5 billion in cash, payable at closing. The wholly owned businesses are located in the Brazilian states of Goiás and São Paulo. The transaction is expected to close in the second half of 2016. Anglo American's niobium business includes .… read more

Top
Endeavour Silver Acquires El Compas Project in Mexico
Endeavour Silver has entered into a definitive agreement with Canarc Resource Corp. to acquire a 100% interest in Oro Silver Resources, a wholly owned subsidiary of Canarc. Oro Silver owns the El Compas gold-silver development property and has a fi ve-year renewable lease on the 500-metric-ton-per-day (mt/d) La Plata ore processing plant in Zacatecas, Mexico. Consideration for the transaction is C$10.5 million in Endeavour shares. Endeavour will assume Canarc's obligation to .... read more


| | |
| --- | --- |
| AROUND THE WORLD - Australasia | |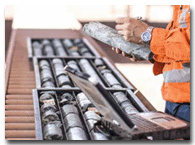 OZ Study Raises Carrapateena Mine Output to 4 Million t/y
OZ Minerals has increased the scope of an ongoing prefeasibility study of its Carrapateena underground copper-gold project in South Australia to include mine production of 4 million metric tons per year (mt/y), up from a previously considered 2.8 million mt/y. The study is also evaluating construction of a concentrate treatment plant at the port of Whyalla on the Spencer Gulf, about 200 km south of the Carrapateena project site …. read more


Top

Study Maps Future Path for Frieda River Project
PanAust Ltd. has reported the results of a new feasibility study of the Frieda River copper-gold project in Papua New Guinea that contemplates initial development of a large open-pit operation based on approximately one-quarter of the project's resources. Plant feed to a conventional processing plant would average about 40 million mt/y to produce averages of 175,000 mt/y of copper and 250,000 oz/y of gold in concentrate over a mine life of 17 years. The project would have life-of-mine average cash costs of $0.69/lb copper …. read more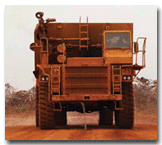 Rusal, Guinea Sign Bauxite/Alumina Production Agreements
Russian aluminum producer Rusal and the Republic of Guinea have signed agreements that will allow Rusal to restart currently suspended production at the Friguia bauxite/alumina complex and initiate mining of the Dian-Dian bauxite deposit in Guinea. The Friguia complex includes a bauxite mine, an alumina refi nery and a 160-km-long railway, as well as other infrastructure. Production was suspended in April 2012. Nameplate capacity totals 2.1 million metric tons .…. read more

Top
Simfer Joint Venture Submits Feasibility Studies to Government
Rio Tinto reported in mid-May that the Simfer joint venture has submitted mine and infrastructure bankable feasibility studies for the Simandou South iron ore project to the government of Guinea. The project is based on one of the world's largest untapped, high-grade iron ore resources, totaling more than 2 billion mt. Simfer is a joint-venture company ultimately owned by the government of Guinea (7.5%); Rio Tinto (46.6%); Chalco Iron Ore Holdings, a consortium of Chinese state-owned enterprises led …. read more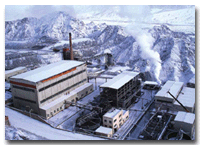 Eldorado Sells its Chinese Gold Mines
On April 26 and May 16, Eldorado Gold reported agreements to sell all of its gold mining operations and assets in China. The April 26 announcement reported sale of Eldorado's 82% interest in the Jinfeng underground mine in Guizhou province, south China, to a wholly-owned subsidiary of China National Gold Group for $300 million in cash. The mine is based on a Carlin-type deposit and has an expected mine life of 14 years based on current proven and probable reserves. In 2016, the Jinfeng plant …. read more


Top
Alacer Advances Çöpler Sulphide Gold Project
Alacer Gold's board of directors has approved construction of the Çöpler sulphide project at its 80% owned Çöpler gold mine in the Erzincan province, eastern Turkey. The Çöpler mine has been processing oxide ore via an open-pit, heap-leach process since late 2010. A definitive feasibility study of sulphide ore processing via whole ore pressure oxidation was completed in June 2014. Alacer is forecasting 2016 production from Çöpler's oxide operations at between 150,000 and 170,000 oz at all-in sustaining costs …. read more


| | |
| --- | --- |
| THIS MONTH IN COAL | |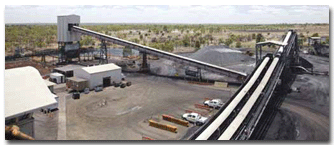 Anglo Delivers First Coal From Grosvenor
Anglo American recently commissioned its Grosvenor metallurgical coal operation in the Bowen Basin of Queensland, Australia. The Grosvenor project, which was approved for development at the end of 2011, delivered its fi rst coal from its longwall seven months ahead of schedule and more than $100 million below budget. Anglo American expects Grosvenor to produce 3.2 million saleable metric tons (mt) in 2016 …. read more

Hatfield Found Dead; 3 Arrested in Homicide
U.S. coal executive Bennett "Ben" Hatfield, 59, was found dead May 23 at a southern West Virginia cemetery, the victim of a failed robbery attempt. Hatfield, who was appointed to the board of directors for Foresight Energy, had most recently served as president and CEO of Patriot Coal. He stepped down last year, about a month in advance of the company's Chapter 11 bankruptcy filing. According to local media reports, Hatfield had been visiting the gravesites of his late wife and other family members …. read more

Top
Peabody Receives Approval for DIP Financing, Sells Interest in Prairie State
Peabody Energy received final approval from the U.S. Bankruptcy Court for the Eastern District of Missouri for its $800 million Debtor-in-Possession (DIP) financing facility. The approval, provides Peabody with access to capital to ensure the company can continue operating its business during the Chapter 11 process. The financing by a lender group, includes a $500 million term loan, a $200 million bonding accommodation facility, and a cash-collateralized $100 million letter of credit facility …. read more
| | |
| --- | --- |
| FEATURE - E&MJ 150 Years | |

Miners Persevere During Good Times and Bad
E&MJ reports on advances between the two world wars.

By Steve Fiscor, Editor-in-Chief

Similar to the mining industry, Engineering & Mining Journal (E&MJ ) survived the market swings of the Roaring '20s and the Great Depression. There was a huge sigh of relief as the world recovered from World War I. Germany and Britain had monopolized much of the minerals they imported for the war effort. As the rest of Europe, mainly France and Belgium, began rebuilding smelters and factories, the search for new sources of minerals extended into Africa, Canada and Latin America. During this period, the mining sector witnessed significant growth and mechanization …. read more

Top

| | |
| --- | --- |
| FEATURE - Fertilizer Minerals | |

The Vital Commodities
Despite rapidly increasing demand for food production around the world, fertilizer minerals have been hit by falling prices and weak markets. E&MJ looks at the reasons.

By Simon Walker, European Editor

Of the four key fertilizer raw materials, two—potash and phosphate rock—are mined, while the production of both sulphur and ammonia is closely linked to the oil and gas industry. And, while slowing consumer demand has been one of the main drivers for price falls in the major industrial metals and minerals, the need for ever-greater food production should mean that the companies producing potash and phosphates are in fi nancial clover. Yet a quick skim through the crop of 2015 annual reports that have sprouted over the past few months clearly shows that this is, in fact, far from the case. Now faced with global overcapacity as the latest tranche of investment comes to ..... read more

Top

| | |
| --- | --- |
| FEATURE - Industrial Minerals | |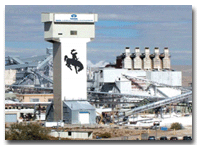 Progress in the Patch
Southwestern Wyoming hosts the largest known trona deposit in the world. Tata Group's North American chemical arm is intent upon making the most from its extensive holdings in what is commonly referred to as the Trona Patch.

By Russell A: Carter, Managing Editor

It's unlikely that motorists traveling along a certain stretch of interstate highway I-80 as it arcs across the southern half of Wyoming would guess there's a network of tunnels 1,600 ft below them that has more linear roadway than the city of San Francisco. And it's even more improbable that during the winter, when high winds, snow and frigid temperatures occasionally combine to close the freeway, stranded drivers would know that more than a quarter-mile beneath them, mining crews are hard at work in a comfortable 60° environment, ripping through thick beds of a brownish, crystalline mineral that forms an important ingredient in many commercial products .... read more

Top

| | |
| --- | --- |
| FEATURE - Mine Development | |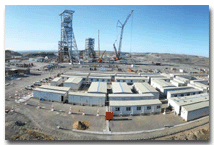 Arrested Development
Can technological advances relieve some of the economic pressure that's stifling greenfield mine development?

By Russell A. Carter, Managing Editor

Underground mine development is hard. It's a complex, time-consuming process that can involve hundreds of people, thousands of decisions and often upward of a billion dollars in investment. It requires workers with specialized skills, poses more than a modicum of risk, and despite careful preplanning and exhaustive engineering attention, doesn't always result in a favorable outcome. As new deposits are found at greater depth and in remote locations far from industrial centers or infrastructure, development becomes even more complex from logistical, labor, materials procurement and quality control aspects ..... read more

Top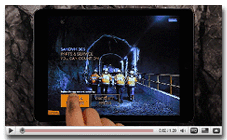 Trust The Numbers - The Sandvik 365 app
In the world of mining, success is all about the numbers. You need hard facts and concrete data to be able to make the best decisions for your operation. That's why we created the Sandvik 365 app. Explore it now .... watch the video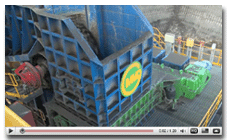 MMD - Semi-Mobile Sizing Stations
In 2015 nine primary Semi-Mobile Sizing stations were delivered into Southeast Asia: five units to handle overburden and four units processing coal. Each waste unit is capable of 4,500 TPH, with coal processing at 1,500 TPH. MMD's technology lowered the operating cost of moving overburden material .... watch the video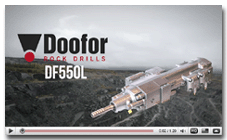 Doofor DF550L- Hydraulic rock drill


Doofor DF550L is a high frequency hydraulic rock drill specially designed for underground production drilling and tunnelling. The DF550L has a very low overhead, only 84mm from the drill center line. The rotation motor of the DF550L can be installed on the right hand or the left hand side. Optimal maximum hole diameter for the DF550L is 76mm [3"]

.... watch the video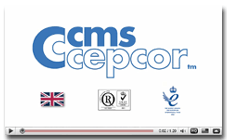 CMS Cepcor
CMS Cepcor are Europe's leading aftermarket manufacturer and supplier of crusher spare parts, premium manganese crusher liners and crusher service to mining, aggregate production and the crushing industry globally...... watch the video



New Top Hammer Bit Line has Longer Life, Extended Regrind Intervals
Sandvik Mining said its line of top center drill bits are now available as standard products in three sizes. Primary applications for these bits—using a design approach described as a technological breakthrough in bit effectiveness—include face drilling and bolting in both mining and tunneling environments, where long bit life is essential in cutting costs and improving productivity …. read more

Motor Analyzer Pinpoints Performance and Problems
The new Fluke 438-II power quality and motor analyzer uses innovative algorithms to analyze not only three-phase power quality, but also torque, efficiency, and speed to determine system performance and detect overloaded conditions, eliminating the need for motor load sensors. The Fluke 438-II simplifi es the process of motor performance diagnosis by providing analysis data for both the electrical and mechanical characteristics of the motor while it is in operation. Using proprietary algorithms, the 438-II measures the three-phase current and voltage waveforms and compares them against rated specifications to calculate motor .… read more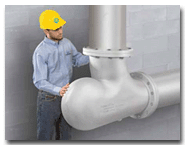 Deflection Elbows Now Available in Cast Aluminum
The cast aluminum line of Smart Elbow deflection elbows from HammerTek is now offered in tube and pipe sizes from 1.5 in. (3.8 cm) up to 12 in. (30.5 cm) in diameter. Engineered for dilute-phase and dense-phase pneumatic conveying, the deflection elbows prevent minerals, aggregate, sand, iron ore, and other abrasive materials from impacting the elbow wall, and causing wear, failure and downtime. The elbows feature a spherical chamber that protrudes partially beyond the desired 90º or 45º pathway, which causes a ball of pellets ore …. read more

Top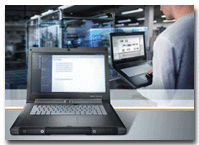 Rugged Industrial Computers for On-site Engineering
Siemens' new Simatic Field PG M5 programming device has been designed with pre-installed Simatic TIA Portal (Totally Integrated Automation) engineering software for fast and effi cient confi guration, commissioning, service and maintenance. There are two versions of this new notebook: The Comfort version is equipped with an Intel Core i5 processor and the Advanced version with a more powerful Intel Core i7 processor. The Advanced version can .… read more

New Roller Solves Belt Carryback Problems
Superior Industries offers a new solution for removing carryback material from the return side of a conveyor belt system—the Urathon Beater Roll. The unit's design couples a common, CEMA-rated return idler and a series of urethane lobed discs; in operation, these discs cause mild vibration, which dislodges carryback material from the conveyor belt. According to the manufacturer, ideal installation locations include above a stockpile, screen or bin so the ejected material hits a target .…. read more



Unload Heavy Bulk Bags Quickly, Safely
The BPS MTD-4K bulk bag discharger is designed for unloading very large capacity bulk bags. Built with 4-in. tubular construction, the robust design of this discharger allows for unloading of bulk bags up to 4,000-lb (1,800-kg) capacity. BPS bulk bag dischargers are also available in Model MTD-2.5K for unloading large bulk bags up to 2,500-lb capacity and the heavy-duty Model MTD BBD-4K discharger with vibratory motor agitation to assist in unloading hard-to-remove products …. read more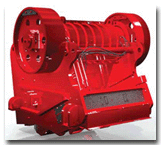 Jaw Crusher Line Gets Design Updates
McLanahan Corp.'s line of Universal jaw crushers has undergone a series of design updates that have been engineered to provide a safer, simpler, and smarter customer experience starting with installation and extending to maintenance. According to the Hollidaysburg, Pennsylvania, USA-based company, significant improvements have been made to the crushers' stationary jaw die. The new die design has a bevel that rests in a matched groove on the lower .…. read more

Top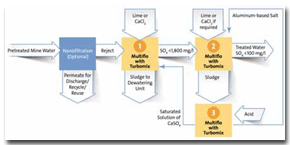 Innovation Boosts Process Efficiency for Mine Wastewater Treatment
Veolia Water Technologies said it has been awarded a patent for the recirculation of sludge for its LoSO4 sulphate removal technology, which is used primarily to treat wastewater from mining operations for discharge or reuse. The company said its proprietary LoSO4 process was developed to respond to increasingly stringent regulations limiting ….read more
JULY 26-28, 2016: Queensland Mining & Engineering (QME) Exhibition, Mackay Showground, Queensland, Australia. Contact: Web: www.queenslandminingexpo.com.au
SEPTEMBER 12–16, 2016: Electra Mining Africa 2016, Expo Centre, Nasrec, Johannesburg, South Africa. Contact: Web: www.electramining.co.za/
SEPTEMBER 14–16, 2016: The 2016 MEMSA Technical Symposium, Sheraton Sand Key, Clearwater Beach, Florida, USA. Contact: Web: www.miningelectrical.org
SEPTEMBER 26–28, 2016: MINExpo INTERNATIONAL 2016, Las Vegas Convention Center, Las Vegas, Nevada, USA. Contact: Web: www.minexpo.com
OCTOBER 18–21, 2016: 24th World Mining Congress, Rio de Janeiro, Brazil. Contact: Web: www.wmc2016.org.br
NOVEMBER 16-19, 2016: International Mining and Machinery Exhibition (IMME), Eco Park, Rajarhat, Kolkata, India. Contact: Confederation of Indian Industry; Web: www.immeindia.in
MAY 7-9, 2017: Haulage & Loading, Wigwam Resort, Phoenix, Arizona, USA. Contact: Web: www.haulageandloading.com
JUNE 13-15, 2017: Longwall USA, David L. Lawrence Convention Center, Pittsburgh, Pennsylvania, USA. Contact: Web: www.longwallusa.com
| | |
| --- | --- |
| WHO'S MOVING WHERE | |

Rio Tinto appointed Stephen McIntosh as the acting group executive, technology and innovation to succeed Greg Lilleyman, who will leave the company after 25 years of service. He has been with Rio Tinto for almost 30 years working on projects in more than 45 countries. Most recently, he was head of exploration.

Anglo American appointed Ruben Fernandes as CEO in Brazil. He will also lead the Iron Ore Brazil business (Minas-Rio).Pedro Borrego, who has served as interim CEO of Iron Ore Brazil since November 2015, will assist Fernandes with the transition over the coming months, prior to taking up a new role based at Anglo American's London headquarters.

New Millennium Iron Corp. appointed Howard Lutley as nonexecutive chair of the board of directors. Lutley joined the board in November 2015 and succeeds Lee C. G. Nichols, a co-founder of NML, director and chair since August 2003.

Dominion Diamond Corp. announced that Robert Gannicott has retired as chairman and Jim Gowans Jim Gowans has been appointed as nonexecutive chairman of the board of directors. Gannicott will remain as a director of the company. Gowans is currently president and CEO for Arizona Mining Inc.

IC Potash Corp. appointed Mehdi Azodi interim CEO. Azodi served as the company's director of investor relations since 2013. He replaced Randy Foote, who is retiring.

Orbite Technologies Inc. appointed Charles Taschereau as vice president and COO. Taschereau joins the company from Congo Equipment S.A.R.L. where he was CEO.
Pilbara Minerals announced that CEO Ken Brinsden has been appointed to the board and will now hold the dual roles of managing director and CEO.

Noront Resources Ltd. announced the addition of Ryan Weston as vice president, exploration. Most recently, he was chief geologist for Carlisle Goldfi elds and as senior geologist for Cliffs Natural Resources.
About - providing an abreviated version of the current print edition of E&MJ, WOMP is distributed throughout the world to decision makers in the global mining industry, the last week of every month.

Subscribe to E&MJ - To receive your own copy of the print edition of E&MJ, click here , and complete your details. E&MJ is available free of charge to qualified readers.

Contact - if you have views, opinons or comments or editoral that you would like to submit, we would be delighted to hear from you - click here

Top