Progress in the Patch
Southwestern Wyoming hosts the largest known trona deposit in the world. Tata Group's North American chemical arm is intent upon making the most from its extensive holdings in what is commonly referred to as the Trona Patch.
By Russell A. Carter, Managing Editor
---
Tata Chemicals North America's Green River, Wyoming, plant, shown here, ships
more than 2 million tons of soda ash per year processed from more than 4 million
tons of trona produced by its underground mining operation. (All photos: Larry Brown)


It's unlikely that motorists traveling along a certain stretch of interstate highway I-80 as it arcs across the southern half of Wyoming would guess there's a network of tunnels 1,600 ft below them that has more linear roadway than the city of San Francisco. And it's even more improbable that during the winter, when high winds, snow and frigid temperatures occasionally combine to close the freeway, stranded drivers would know that more than a quarter-mile beneath them, mining crews are hard at work in a comfortable 60° environment, ripping through thick beds of a brownish, crystalline mineral that forms an important ingredient in many commercial products.

The area where this peculiar convergence takes place is the Trona Patch, a 30- by 50-mile block of land in southwestern Wyoming that contains massive beds of trona (sodium sesquicarbonate), which is mined and refi ned into sodium carbonate—commonly called soda ash, used in the manufacture of glass, chemicals, paper, detergents and textiles.

Billions for the Beds
The patch has, in recent years, been a busy place for both mining and business transactions. Tata Chemicals established a presence there by purchasing General Chemical Industrial Products' trona operation in early 2008 for a little more than $1 billion, while FMC sold its trona business to Tronox in 2015 for $1.64 billion.

Tata Chemicals North America (TCNA) is one of four active trona producers in Wyoming. The others include Solvey, Tronox and a subsidiary of Istanbul, Turkey-based Ciner Group, which bought Korean chemical supplier OCI Corp.'s assets in the patch for $429 million in 2015.

TCNA conducts business in Wyoming as Tata Chemicals (Soda Ash) Partners, 75% owned by Tata and 25% by Owens- Illinois, a major global glass manufacturer. In addition to providing soda ash for its own product lines and markets, Tata's Green River mine also supplies all of chemical company Church & Dwight's soda ash requirements. TCNA is part of Tata Sons Ltd., a Washington, D.C.-based holding and market development company within the Tata Group. Overall, Tata Chemicals produces about 5.1 million metric tons per year (mt/y) of soda ash, with 63% of production coming from natural resources— mostly from the Wyoming deposits.

Tata, Solvay and Tronox all extract trona from Bed 17, the largest mineable seam of more than two dozen within the Patch, called the Known Sodium Leasing Area (KSLA). The KSLA is divided into a checkerboard pattern of mile-square land tracts, primarily owned by the federal government (48%), and Anadarko Minerals (48%), and the remainder by the state and private interests.

Across the KSLA, six beds, or seams, are the main focus of mining. Tata, Solvay and Tronox are working in Bed 17 while Ciner is active in the shallower Beds 25 and 24. Bed 14 contains an estimated 5.4 billion tons of recoverable reserves, while Bed 17 contains 7 billion tons and currently accounts for 75% of trona production. Depth-wise, these two beds are located within 100 vertical ft of each other: Bed 17 at a 1,500-ft mining depth and Bed 14 at 1,600 ft.

The seams tend to be at shallower depth at the north end of the patch— starting around 800 ft down—dipping toward the south to 2,000 ft.

New Shaft Extends Longevity
During an early April visit to Tata's Wyoming trona operation, E&MJ spoke with Martin Keighley, president and CEO of TCNA; Paul Peterson, vice president-manufacturing, Tata Chemicals (Soda Ash) Partners; and John Fackrell, Green River mine manager. Keighley outlined Tata Group's scope of global operations, with subsidiary companies ranging from automobile manufacturing to communications, lodging and insurance. The Indian conglomerate is the world's second largest soda ash supplier and fourth largest bicarbonate supplier.

Tata's holdings in the KSLA cover 23,000 acres composed of federal, state and private leases. Its largest mineable reserves are in Beds 17 (averaging 9-12 ft thick) and 14 (8-10 ft thick). The mine was opened in 1966 by Allied Chemical and over the years has steadily expanded to meet market demand. Mining activity has trended to the south and east from the main mine complex, with all current activity south of the I-80 freeway, which, along with a main line for the Union Pacifi c Railroad, bisects the property into north and south halves.

The Green River mine is a multishaft operation—seven shafts have been sunk in a northwest-to-southeast trend across the property. Three are air intake shafts and four are return shafts; Shaft No. 3 in the main complex is the ore hoisting shaft. E&MJ's visit to the mine took place roughly a year after the company commissioned Shaft No. 7, a ventilation shaft crucial to future mining activities in the southern half of the property.

According to Keighley, the $26 million shaft project was a complex engineering task that represented the largest capital expenditure made by the company in the past 20 years. It will allow TCSAP to open almost 1,000 miles of new rock face, extending life-of-mine by a decade.

The 1,400-ft shaft, constructed by DMC Mining Services, was built in two phases. The fi rst phase used a raise boring drill to complete an 8-ft-diameter raise, followed by slashing to 22 ft in diameter and then installing a concrete liner to the fi nal 20-ft fi nished diameter. The new shaft contributes about 400,000 cfm of ventilation to the mine's 1.4-million-cfm intake requirements.

The mine is classifi ed as Category III, a class specifi cally tailored for gassy, noncoal underground operations such as the Green River operation. The category applies to "mines in which noncombustible ore is extracted and which liberate a concentration of methane that is explosive, or is capable of forming explosive mixtures with air, or have the potential to do so based on the history of the mine or the geological area in which the mine is located." Methane sources are shale deposits above and below the trona beds.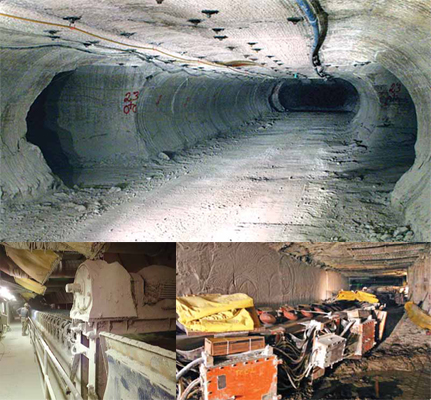 Clockwise from top: Most of the mine's trona production comes from its three Sandvik borer miners, which
cut oval, smooth-walled rooms and entries as they extract ore from the 9- to 12-ft-thick seam. Each of the
borer miners is coupled with a Joy Flexible Conveyor Train, which moves in concert with the miner and
feeds broken ore to the mine's main conveyor system. The multisegment main conveyor line dumps ore into
a 1,200-ton-capacity storage bunker located almost 13 miles away at the mine's main shaft complex, where
it is loaded into 22-ton skips for transport to the surface.


How It's Mined
Ore is extracted by room-and-pillar methods, using both Sandvik 780 borer miners and Joy 12HM12 drum-type continuous miners. Roughly 80% of ore produc- tion comes from bore mining, with the rest produced by the continuous miners during entry development or borer panel setups.

Normally, two continuous miner crews are assigned to entry development. The CM crews cut rectangular, 18-ft-wide entries to the height of the seam in patterns of three to seven entries. Pillar dimensions vary according to the type of mining and estimated working life of the entry; e.g., main development, CM advance/retreat and borer advance/ retreat. Standard pillar dimensions are 80 x 120 ft. Active mining areas generally measure a mile in length by three rooms wide. Three CM crews handle stubout development ahead of the three borer miners. The general plan for borer mining results in a herringbone pattern with long, thin pillars.

The mine has 180 underground production, maintenance and utility workers, with production crews working 14 days within each 28-day cycle, on an alternating day-and-night shift schedule culminating in an eight-day break. About 40 workers are underground during each 12-hour shift. About 200 workers are involved in surface operations.

Crews enter the mine from the No. 2 shaft in the main complex and then use a variety of diesel-powered pickups, personnel carriers and utility vehicles to reach their work areas. Visitors taking the 13-mile underground trip from the service shaft to the mining area fi nd it easy to identify the various techniques used to drive main roadways over the four-and-a-half decades since the mine opened in 1968—early roadway cross sections are rectangular and rough-walled as a result of the drill-and-blast methods in use early on. These transition to rectangular spaces with smoother walls as the mine switched to continuous miners of various types in the ensuing years. Entries cut by the borer miners are smoothwalled and oval in shape, about 8 ft high. Throughout the mine, Jennmar 5-ft grouted roof bolts are installed on 4-ft centers for ground control.

Production typically ranges between 13,000 and 15,000 t/d. At the work face, the borer miners advance at an average rate of 30 in./min, twin rotors turning at 17 rpm. Each borer is connected to a Joy 4FCT Flexible Conveyor Train—a continuous haulage system with variable-speed conveyor and powerful traction components that permit movement in concert with the borer miner, capable of navigating curves while breaking lumps and handling up to 15 t/min of material fl ow. The FCT transfers the ore to the mine's main belt system, comprising 12 segments that transport the material 13 miles back through the mine to the No. 3 shaft for hoisting to the surface. The continuous miners feed shuttle cars that carry the ore to a main-line conveyor loading point.

Each of the main conveyor segments employs a 54-in.-wide, four-ply belt moving at 600 ft/min. Four 300-hp electric motors drive each main belt segment. At the termination point, the belt dumps ore into a storage bunker, from which it is transferred by a shunt belt to one of the hoist's 22-ton-capacity skips. A project is currently under way to increase the underground bunker capacity by 700-800 tons to better accommodate production variances.

From Crusher to Crystals
Tata uses the monohydrate process to produce soda ash from trona, believing it to be less energy-intensive and, in general, lower-cost overall than other methods in use. In addition, the process only requires vessels made of mild steel, not of more expensive stainless steel. It is a multi-step operation that includes crushing, calcining, clarifi cation, evaporation, centrifuging and drying before shipment. The mine's 5-million-plus t/y of ore production nets slightly more than 2 million t/y of finished soda ash product.

Run of mine ore is reduced to minus 0.5 in. by two-stage crushing, using a horizontal shaft impactor followed by a roll sizer. The crushed ore is sent to a calciner and heated to 165°C, then dissolved in hot water and clarifi ed to remove insoluble materials such as shale. Evaporators remove water from the fi ltered "liquor" to begin formation of monohydrate soda ash crystals, and the resultant slurry is centrifuged for additional dewatering, with the liquor drawn from the centrifuges returned to the evaporators for additional product recovery. The soda ash crystals are then processed in rotary steam tube dryers to produce an hydrous soda ash.

In the dryers, 400-psi steam heats the ash to 205°C. With both the evaporators and rotary tube dryers being steam-heated and the plant itself powered by electricity from on-site steamdriven generators, the facility needs substantial steam capability—and has it, producing up to 1.35 million lb/h of steam, mostly by burning coal supplied from Westmoreland Coal's nearby Kemmerer mine, supplemented by natural gas as needed. Paul Peterson, TCSAP vice president of manufacturing, said the company has committed $40 million to upgrade its emissions-control equipment to continue using coal under new emissions guidelines. Although Tata generates most of the 30 megawatts of power its facilities demand, it also buys electricity from the regional utility as needed, and sells its locally generated power to the utility during nonpeak periods.

Peterson also noted that Tata recently made a substantial investment to install equipment for reclaiming and reprocessing its large tailings deposits, recovering additional soda ash, and converting the remaining tailings to a thickened paste for easier handling and less environmental impact.

The Green River operation ships the finished anhydrous soda ash crystals primarily by unit train for export, with about 5% delivered by truck to domestic customers. One unit train, composed of 100 100-ton-capacity bulk railcars, is loaded daily, fi ve days a week, bound for ports on the U.S. West Coast. Along with Tronox and Ciner, Tata's products are handled by American National Soda Ash Corp., a company headquartered in Westport, Connecticut, which operates as the sales, marketing and logistics arm for the three producers.

Martin Keighley is bullish on future prospects for the soda ash market, explaining that total global market demand is estimated at 56 million mt/y, and in the U.S. apparent consumption increased for the second year in a row from 2013-2014, with the 2014- 2015 period expected to show 3% growth year-over-year. With at least 50 years of future production and business growth anticipated, Keighley is eager to see what effect emerging trends and market forces will have on the products and industrial processes that require its product.
---
As featured in Womp 2016 Vol 06 - www.womp-int.com