Goldcorp Buys Kaminak for its Coffee Gold Project
---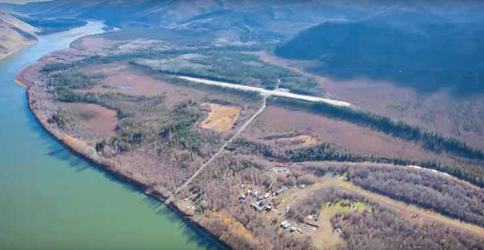 Kaminak Gold's Coffee land package, shown here, comprises more than 60,000 ha (148,000 acres) with 'significant
potential for near-mine discoveries,' according to the company. (Photo: Kaminak Gold)


Goldcorp and Kaminak Gold announced a deal in May, in which Goldcorp will acquire all of the outstanding shares of Kaminak in an all-share transaction valued at approximately C$520 million. Closing of the transaction is expected to occur no later than August 15.

Kaminak's key asset is its 100% owned Coffee gold project approximately 130 km south of Dawson City, Yukon Territory, Canada. The project is based on a structurally hosted hydrothermal gold deposit. Kaminak reported the results of a positive feasibility study of the project in early January.

The study considered development of a high-grade, open-pit, heap-leach mining operation, producing a total of 1.86 million oz of gold over a 10-year mine life. Initial capital expenditure to fund construction and commissioning was estimated at C$317 million. All-in sustaining cash costs of production were estimated at US$550/oz of gold produced.

Mining would be from four open pits mined by conventional shovel and truck methods at a nominal ore mining rate of 5 million mt/y. A total of 312 million mt of material would be mined at a strip ratio of 5.7:1 to produce 46.4 million mt of ore. Head grade to the crusher would average 1.45 g/mt gold. Run-of-mine ore would be crushed to a 2-in. feed size and placed on a heap-leach pad. Gold would be extracted from the leachate by an adsorption- desorption-recovery (ADR) carbon plant.

Coffee currently has total indicated gold mineral resources of 3 million oz, inclusive of total probable gold mineral reserves of 2.2 million oz. The Coffee land package of more than 60,000 ha demonstrates significant potential for near-mine discoveries, with mineralization remaining open along strike and at depth.

Goldcorp's operating assets include four mines in Canada, two mines in Mexico, and four in Central and South America. Production attributable to Goldcorp in 2015 totaled 3.46 million oz.
---
As featured in Womp 2016 Vol 06 - www.womp-int.com