Eldorado Sells its Chinese Gold Mines
---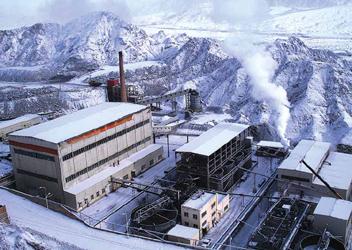 The Tanjianshan mine and plant, pictured here, are included in a two-part transaction
in which Eldorado Gold will sell all of its Chinese gold assets and interests for $900
million in cash. (Photo: Eldorado Gold)


On April 26 and May 16, Eldorado Gold reported agreements to sell all of its gold mining operations and assets in China.

The April 26 announcement reported sale of Eldorado's 82% interest in the Jinfeng underground mine in Guizhou province, south China, to a wholly-owned subsidiary of China National Gold Group for $300 million in cash. The mine is based on a Carlin-type deposit and has an expected mine life of 14 years based on current proven and probable reserves. In 2016, the Jinfeng plant will process about 930,000 metric tons (mt) of ore at a grade of 3.89 g/mt gold, resulting in production of 95,000 ounces (oz) to 105,000 oz of gold.

The May 16 announcement reported the sale of Eldorado's 90% interest in the Tanjianshan mine; its 95% interest in the White Mountain mine; and its 75% interest in the Eastern Dragon development project to an affi liate of Yintai Resources Co. for $600 million in cash.

Tanjianshan is an open-pit mine in Qinghai province, northwest China; White Mountain is an underground mine in Jilin province, northeast China; and Eastern Dragon is an advanced open-pit underground project scheduled to start production in the second half of 2016 in Heilongjiang province, far northeast China.

The Tanjianshan mine currently produces from two open pits. Mine life based on current proven and probable reserves is seven years. Mine production in 2016 is planned at approximately 1.1 million mt at a gold grade of 2.39 g/mt. Gold production for the year is forecast at 70,000 to 80,000 oz.

White Mountain is based on a sediment- hosted gold deposit. The mine has current proven and probable reserves suffi cient for a mine life of seven years. Mine production in 2016 is planned at 850,000 mt at a grade of 3.24 g/mt. Gold production is forecast at 75,000 to 85,000 oz.

The Eastern Dragon development project is based on a high-grade epithermal gold-silver deposit. Initial production will be from a small open pit, which will be followed by underground mining.

Eldorado Gold is a Canadian company headquartered in Vancouver, British Colombia. Following sale of its assets in China, it will have mining, development, and exploration properties in Turkey, Greece, Romania and Brazil.

China National Gold Group is China's leading gold mining company and the only central state-owned enterprise in China's gold industry.

Yintai Resources is engaged primarily in nonferrous metals mining and controls the Huaaobaote polymetallic mine in Inner Mongolia.
---
As featured in Womp 2016 Vol 06 - www.womp-int.com