Looming Lawsuit Threatens South African Gold Industry
---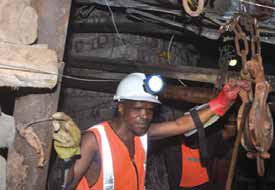 More than 30 South African gold producers are facing a miner
health-related class action lawsuit that could cost them up to
$3.4 billion. (Photo: Gavin du Venage)


Embattled South African gold producers could face up to $3.4 billion in liabilities if they lose a lawsuit filed on behalf of tuberculosis and silicosis victims. In May, lawyers for the mineworkers won a court action allowing a class action suit on behalf of 69 claimants to proceed. While class action is commonplace in the U.S., Canada and Australia, it is rarely applied in South Africa. The mines had argued that claimants should file suits individually.

Due to its novelty, the South African fi rm, Richard Spoor Attorneys, fighting the case brought in a U.S. law fi rm, Motley Rice, as consultants. "It's not common here at all—there have been very few class action suits to date," said Georgina Jephson, an attorney with Richard Spoor Attorneys in Johannesburg. "This one will be the biggest ever in South African legal history."

Silicosis is a respiratory disease caused by breathing in the crystalline silica dust that is released during mining operations. Lungs are scarred and the condition is progressive over time. There is no cure. The court also included claims relating to tuberculosis, another respiratory illness. Silicosis sufferers are three times more likely to contract tuberculosis than unaffected people, the court found.

The court set 1965 as the starting date for claims, when health and safety legislation surrounding respiratory illness was put into effect. Companies affected are 32 gold mining firms with 82 individual operations, including Anglo American, AngoGold Ashanti and Sibanye Gold. The mines will now have an opportunity to appeal, which means the process could be lengthy, Jephson said.

The case delivered the worst possible outcome for the mines that now potentially face billions of dollars in claims going back decades. According to Investec Securities, the eventual payout could top $3.4 billion, based on an earlier settlement offer in a separate case of $30 million that Anglo American and AngloGold Ashanti agreed to pay 4,388 miners affected by silicosis.

How many will ultimately join the class action suit is unclear, but the court also ordered that notice of the action be widely disseminated around southern Africa, including rural areas from where many of the migrant workers originate.

The court also said that former and current employees could join the action, as could the surviving heirs of deceased workers. The provision for heirs is especially signifi cant as most silicosis sufferers are now in their 60s, and of course many have since died. Mines had to place notices to this effect at prominent places around worksites, on the basis that mineworkers would have direct contact with far-flung rural communities, and so ensure word filtered back to these areas.

Peter Major, mining analyst at Cadiz Corporate Solutions in Cape Town, said the gold industry had already shrunk drastically and a lawsuit would put the survivors in peril.

"If you bankrupt the remaining six to eight gold mining companies in South Africa— what does that do for the current 120,000 men employed on them?" Major said. For this reason, the mining firms were likely to fight the class action "every step of the way."

At its peak, the industry employed 400,000 men and produced 600 tons per year, while now it mines perhaps 150 tons annually, Major noted. Also, during their prime, the gold mines were wellrun, well-financed companies, owned and overseen by large mining houses. Now they function as a shadow of what they were, Major added. "None of them now are held by a large mining house."

However, attorney Jephson said that any settlement would have to be agreed upon by the courts as well as all parties involved.

"The mines won't agree to a settlement that puts them out of business. Neither will the court that has to rule on a final agreement," Jephson added.
---
As featured in Womp 2016 Vol 06 - www.womp-int.com