To receive your own edition of the print version of E&MJ -
Go Here





Reversion to the Mean



One of the expressions we are hearing more frequently from mining companies when they talk about high-quality assets these days is the ability to return the cost of capital, make money, generate cash flow, etc., "throughout the commodity cycle." Many of the people making these statements believe that metal prices have now reached the bottom of the cycle. That generalization could be made easily looking at the last five years. Looking at 15 or 25 years, however, that benchmark for Tier 1 designation rises substantially.
The boom and bust trend for commodity prices is nothing new. Some argue that the Information Age has tempered the huge historical swings. People living along fault lines have a similar justification when it comes to earthquakes. Looking back historically, the trends are easy to spot, but they cannot be projected forward. Readers might be surprised to learned that 100 years ago (See E&MJ 150 Years), copper was trading at historic highs and E&MJ reported that ......... read more


Steve Fiscor, Editor in Chief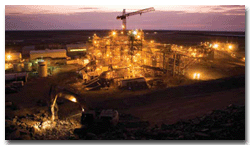 Kinross Proceeding With Phase One of Tasiast Expansion
Kinross Gold announced in late March that it is proceeding with Phase One of an expansion of its open-pit Tasiast operations in northwest Mauritania. Tasiast processes ore by milling, which accounts for 70% to 80% of production, and dump leaching. The Phase One expansion will increase mill throughput capacity from the current 8,000 metric tons per day (mt/) to 12,000 mt/d. Preparations are under way to add incremental crushing ...... read more
Rio Tinto, Sinosteel Extend Channar Joint Venture
Rio Tinto and Sinosteel announced an agreement on April 15 to extend their Channar Mining joint venture in Western Australia's Pilbara region. The joint venture is held 60% by Rio Tinto and 40% by Sinosteel, and is managed by Rio Tinto. The original Channar agreements for the production of 200 million mt of iron ore were signed in 1987 and represented the first major Chinese foreign investment in the Australian mining industry. First ore was produced in 1990. The Channar mine is located 60 km south of Tom Price ..... read more

Top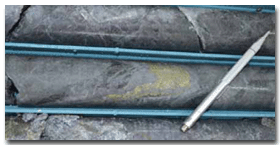 Nevsun Resources Acquiring Reservoir Minerals
Nevsun Resources and Reservoir Minerals announced an agreement on April 24 to combine their companies. The agreement assumes completion of Reservoir's right to first offer to obtain Freeport-Mc-MoRan's 55% interest of the Upper Zone and 28% of Freeport's 55% interest in the Lower Zone of the Cukaru Peki copper-gold deposit on the Timok project in Serbia. Reservoir owns the remaining 45% ..... read more


Stornoway Targeting 2016 Start at Renard
Stornoway Diamond Corp. is forecasting a start to ore processing at its Renard diamond project in the James Bay region of north-central Quebec by the end of September, with the project reaching commercial production by yearend. The Renard mine will be the first diamond mine in Quebec and will be the only diamond mine in Canada to be accessed by an all-season road. Renard's average diamond production in years 1 to 10 is forecast at 1.8 million carats/year, with 1.9 million carats to be produced and 1.4 million carats sold ..... read more

| | |
| --- | --- |
| AROUND THE WORLD - USA & CANADA | |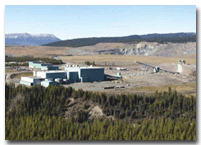 AuRico Advancing Kemess Underground Mine Project
AuRico Metals has reported the results of an updated feasibility study for the Kemess underground project at its 100% owned Kemess property in north-central British Columbia. The study contemplates development of a low-cost, panel-caving operation with a 12-year mine life. The Kemess underground project is located 6.5 km north of AuRico's previously mined Kemess South open-pit mining and processing operations and will benefit from the Kemess South infrastructure. Kemess South operations ended in ..... read more
Wheeler River Uranium PEA Forecasts 16-year Mine Life
Denison Mines has reported the results of a preliminary economic assessment (PEA) of its 60% owned Wheeler River uranium project on the eastern edge of the Athabasca basin in northern Saskatchewan. The project is a joint venture between Denison (60%), Cameco (30%), and JCU (Canada) Exploration (10%). The Wheeler River property hosts two deposits—Phoenix and Gryphon—which would be developed sequentially for underground mining. The Gryphon deposit .... read more

Top
Canadian Zinc Updates Prairie Creek PFS
Canadian Zinc Corp. has reported the results an updated prefeasibility (PFS) study of redevelopment of its 100% owned Prairie Creek lead, zinc, silver underground mine approximately 500 km west of Yellowknife in Canada's Northwest Territories. The study is based on optimization work completed over the past three years, including the results of a 2015 underground exploration program that increased total measured and indicated resources by 32%. The updated PFS indicates Prairie Creek can produce an average of approximately .... read more

| | |
| --- | --- |
| AROUND THE WORLD - Latin America | |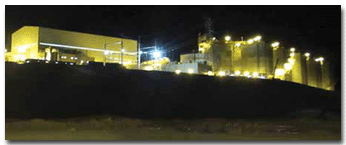 Torex Reaches Commercial Production at El Limón-Guajes
Torex Gold Resources' El Limón-Guajes open-pit gold-silver mine in Guerrero state, Mexico reached commercial production in late March, having operated for more than 30 consecutive days at an average plant throughput of 9,470 metric tons per day (mt/d). Design throughput capacity is 14,000 mt/d. At full production, the plant will produce an average of .… read more
Escondida's Third Concentrator Poised for Production
Minera Escondida recently inaugurated its third copper concentrate plant, the $4.2 billion Organic Growth Project One facility, at a ceremony held on-site. The plant will add 152,000 t/d to the capacity of Escondida's two other concentrators, resulting in the industry's highest copper processing capacity (422,000 t/d nominal). "The plant…follows a project that required 60 million labor hours and involved 9,200 people during its peak construction period. This project has been a huge challenge but was completed with an excellent …. read more

| | |
| --- | --- |
| AROUND THE WORLD - Australasia | |

Doray Nearing Startup at Deflector Gold Project
Doray Minerals began commissioning the 480,000-metric-ton-per-year (mt/y) processing plant at its 100% owned Deflector gold project in the southern Murchison region of Western Australia in early April, with expectations that commissioning would be complete by the end of May and that production would begin in June. Doray said the Deflector project is a high-grade/low-cost project with an initial mine life of six years, substantial copper by product credits, and significant exploration upside …. read more


Top

OZ Finds New High-grade at Prominent Hill
An OZ Minerals drilling program on the eastern end of its Prominent Hill orebodies in South Australia has returned strong results, including a 68.5-m intercept grading 3.2% copper and 0.5 g/mt gold located 40 m east of previous domain interpretation and outside of the existing classified mineral resource. OZ Minerals is spending $4 million in 2016 on a diamond drill program to increase the confidence level of the mineralization by infill drilling to a vertical depth of 700 m below surface, testing its potential for future conversion  …. read more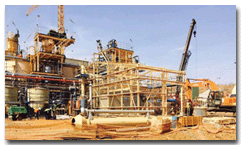 Yaramoko Gold Heading for June Production Start
Roxgold Inc. reported in early April that construction was 84% complete at its high-grade Yaramoko gold project in western Burkina Faso and that the first gold pour was scheduled for June. Plant commissioning was underway, and ore development in the underground mine was progressing well on four levels. More than 23,000 metric tons (mt) of ore had been placed on the run-of-mine pad. Yaramoko is designed to produce an average of 99,500 ounces per year (oz/y) of gold …. read more
Top
Construction Under Way at Houndé Gold Project
Endeavour Mining started construction of its 90% owned Houndé gold project in western Burkina Faso on April 11, the same day that True Gold Mining's Karma mine poured its fi rst gold in north-central Burkina Faso. Endeavour acquired True Gold in a transaction that was approved at special meetings of the companies' shareholders on April 21 and that closed on April 26. Acquisition of Karma adds 110,000 to 120,000 oz/y to Endeavour gold production over a projected mine life of 8.5 years based on current reserves …. read more



Eldorado Sells Interest in Jinfeng to Chinese Minority Partner
Eldorado Gold Corp. announced that it has reached an agreement to sell its 82% interest in the Jinfeng mine to a wholly owned subsidiary of China National Gold Group for $300 million in cash, subject to certain closing adjustments. Jinfeng is an open-pit and underground gold mine located in China's southern Guizhou Province. It uses BIOX technology and a conventional CIL circuit to produce gold doré. Construction of the mine began in 2005 and commercial production commenced in 2007. Eldorado acquired the mine in 2009 via its takeover of Sino Gold …. read more


Top
Access to High-grade Pit Ore Boosts Oyu Tolgoi Gold Output Estimate
Turquoise Hill Resources has increased its 2016 gold production guidance at the Oyu Tolgoi copper-gold project in Mongolia to reflect accessing of more high-grade gold benches in phase two of the open pit. The company estimates that 2016 gold production will be in the range of 255,000 oz to 285,000 oz, up from its original guidance of 210,000 oz to 260,000 oz. This follows strong first quarter production results with concentrator throughput reaching a quarterly high as well as better-than-expected gold production .… read more



| | |
| --- | --- |
| THIS MONTH IN COAL | |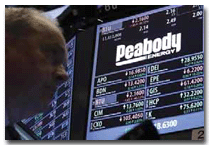 Peabody Energy Files Chapter 11 Bankruptcy
One month after warning of the potential outcome, top producer Peabody Energy confi rmed April 13 it has filed for Chapter 11 bankruptcy protection in the U.S. Bankruptcy Court for the Eastern District of Missouri in St. Louis. The voluntary filing includes a majority of the company's U.S. entities, but not its Australian platform; all of its global locations will continue to operate normally. What will be included in the filing, however, is Peabody's El Segundo and Lee Ranch mining …. read more


Top
STB Cuts Off Tongue River
The U.S. Surface Transportation Board (STB) has killed the future of the planned 42-mile-long Tongue River Railroad, citing the uncertainty of permitting, costs and a continued weak coal market. The unanimous STB decision was made public on April 26. The application for the line, which had a price tag of $405 million, was suspended by its backers—Arch Coal, BNSF and TRRC Financing—late last year. The origination and service point for Tongue River, which was first proposed more than 30 years ago …. read more

MSHA Delays Mine Dust Sampling
The U.S. Mine Safety and Health Administration (MSHA) announced it is temporarily delaying its respirable coal mine dust sampling because of a newly discovered interference issue between the sampling devices and proximity protection systems. Also on hold is the requirement that coal mine operators conduct respirable coal mine dust sampling in areas where both the sampling device and the proximity detection system are …. read more

| | |
| --- | --- |
| FEATURE - E&MJ 150 Years | |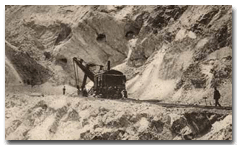 E&MJ Turns 50 at the Dawn of the 20th Century
The Great War pushes the prices for base metals higher as radical labor movements hamstring operations

By Steve Fiscor, Editor-in-Chief


A glimpse into the archives of Engineering & Mining Journal (E&MJ) as the title celebrates its 50th anniversary reveals a world on the edge of historic change. It's 1916, the Great War or World War I is in its second year. The U.S. has not yet joined the fray and stories in E&MJ still refer to it as the European War. It is consuming natural resources and pushing prices for base metals and steel-making metals higher. The automobile has replaced the horse-drawn carriage in urban centers. Trains and trolleys are consuming more steel and copper. A similar transition is occurring in the mines, where larger and larger electrically and diesel-powered equipment is starting to provide economies of scale ……. read more

| | |
| --- | --- |
| FEATURE - Support Equipment | |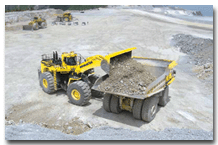 Working in the Background
At any mine, there will be a fleet of vehicles supporting the main production effort. E&MJ looks at some of these special-use machines.

By Simon Walker, European Editor

Surface mining involves much more than drilling, loading and hauling. Indeed, in numerical terms, the support equipment needed to run a mine efficiently will invariably outweigh the size of the primary production fleet. The range of input is extensive, with a non-exhaustive list comprising dozers, motor scrapers, graders, fuel and lube trucks, water bowsers, lighting sets, heavy transport equipment, fire trucks, supervisors' and engineering staff vehicles, cranes, and explosives-handling trucks. E&MJ asked a number of companies that specialize in supplying what are often niche machines, as well as some of the world's leading mining- and construction- equipment manufacturers, for an update on their current product ranges ..... read more

Top

For more companies with products in the Support Equipment market -
Go Here
| | |
| --- | --- |
| FEATURE - Crushers | |

New Crusher Models Enhance Process Design Flexibility
Manufacturers continue to make it easier to select the right combination of cost, capacity and power to satisfy any set of crusher-circuit criteria.

By Russell A. Carter, Managing Editor

Modern mine-duty crushers generally do their jobs amazingly well. In fact, it's possible that their broad versatility and effectiveness can sometimes mask deficiencies in upstream or downstream processes such as drilling and blasting during the mining sequence, or pebble handling from SAG mill grinding, respectively. This isn't the fault of the crusher itself or the companies that build these highly efficient machines. Crushers, when properly sized for the application and well maintained, can handle most—if not all—of the material dumped into them with very little outside assistance. It's up to mine management and technical staff .... read more


For more companies with products in the Crushers market -
Go Here
| | |
| --- | --- |
| FEATURE - Engine Technology | |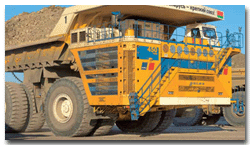 Simpler, Smaller—and Stronger
Diesel suppliers are preparing their engine platforms for the next set of emissions standards.

By Russell A. Carter, Managing Editor

The recent bauma trade fair in Germany provided a golden opportunity for diesel engine manufacturers to introduce new models and highlight product-line upgrades for an audience of show attendees estimated at just under 600,000. Among the names most familiar to mining- industry customers, MTU, Cummins, Volvo Penta, and Caterpillar all had new engines and/or services on display, and Liebherr highlighted its new diesel/gas engine platform, which has been in development for several years .... read more

Top


For more companies with products in the Engines market -
Go Here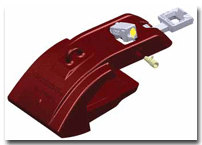 GET Set: MTG's New Ground Engagement Tools
Ground-engagement tool (GET) specialist MTG has continued to broaden its range of protective components for mining machinery with the recent inclusion of new designs. In particular, said the company, its range of ProMet bucket GET line offers an easily assembled and disassembled "MTGTwist" hammerless locking system, and comprises a wide range of protectors that have been designed specifi cally to maximize the performance of primary production machines operating in a variety …. read more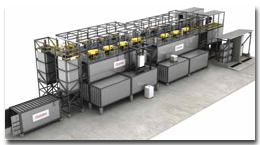 Outotec's Modular cPlant Concept Offers Affordable Flotation Solution
Outotec has launched a new flotation plant concept called cPlant, a modular and mobile flotation setup that the company said offers an affordable solution for small mine sites, or sites requiring additional capacity with low investment cost. According to Outotec, a cPlant comprises prefabricated and functionally tested modules mounted inside container-sized steel frames…… read more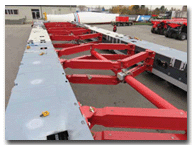 Expanding Transporter Design Adds Width Without Extra Units
Mammoet, a service provider specializing in engineered heavy lifting and transport, announced development of an SPMT (Self Propelled Modular Transporter) widening adaptor. This system makes it possible to increase the track width of a SPMT—thereby increasing the width of the loading platform without the need to add more SPMT trailer units to safely execute a job.  In heavy transport, high and wide loads with a high center of gravity are typically transported on multiple rows of SPMTs. Connecting …. read more

Top

Rock Drill Combines Percussive Power With a Low Physical Profile
Doofor said its newest model in the DF550/560-series of rock drill is the most powerful unit available in the company's product line. The DF560L-2M, a highfrequency hydraulic rock drill designed for production drilling in surface and underground applications, is equipped with two 160-cm3 Danfoss OMS-series rotation motors as standard equipment, and generates 20 kW of percussion power. Optimal maximum hole diameter for the DF560L-2M is 89 mm [3.5 in.] in hard rock; larger hole diameters may be achievable when drilling in softer.… read more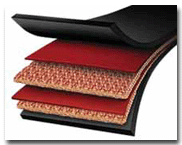 System Displays Belt Wear in Real Time
ContiTech describes its ContiAlert as a unique conveyor belt monitoring process that allows users to see belt wear in real time. "A red bonding layer below the top cover is exposed when it's time to change the belt," said a ContiTtech spokesman. "In addition, the ContiAlert system is complete with a calculator that enables customers to determine how much time is remaining before the carcass is exposed and the belt is in need of replacement. It takes the guesswork out of belt replacement, and helps prevent …. read more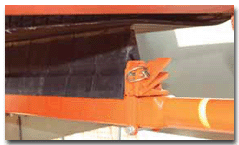 Belt Cleaner Offers Slide-in, Slide-out Servicing
Martin Engineering's new Pin Latch secondary belt cleaner is a tungsten carbide- tipped belt cleaner that slides in and out for service without requiring any tools. The design features a square, tabbed mainframe with segmented blades connected by a simple pin mechanism, allowing easy access and quick blade replacement by semi-skilled personnel. The pin latch design provides adjustable tension for varying conditions, such as belt …. read more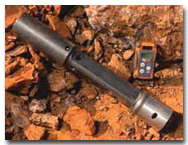 System Takes the Guesswork Out of Core Orientation
Boart Longyear's TruCore orientation system is the first product in its instrumentation line and enables drillers to provide more accurate data, as it addresses the challenges that drillers and geologists face while conducting core orientation— the process that marks and determines the precise position of core while in the ground. According to the company, Tru- Core has been rigorously tested to ensure that the handheld device lets drillers know when to activate it; this minimizes the risk of missed orientations .…. read more

Top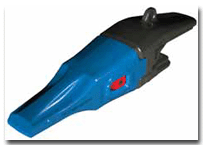 Bucket Tooth Stays Sharper, Longer
Keech Australia has introduced Keesharp, a bucket tooth that has been designed to get sharper with use, featuring a design providing a longer tooth life than previously seen in the market. The hammerless system is designed with a pin on either side of the tooth for a more balanced locking system. The tooth and adapter absorb the force of digging, keeping the pins free of pressure for optimum performance ….read more
JUNE 6–10, 2016: Elko Mining Expo, The Elko Convention Center, Elko, Nevada, USA. Contact: Web: www.exploeelko.com
JUNE 7–10, 2016: Ugol Rossii Mining 2016, Kuzbass Fair Exhibition Center, Novokuznetsk, Russia. Contact: Web: www.ugol-mining.com
JUNE 14–16, 2016: Euro Mine Expo, Skelleftea, Sweden. Contact: Web: www.bauma.de/
JULY 26-28, 2016: Queensland Mining & Engineering (QME) Exhibition, Mackay Showground, Queensland, Australia. Contact: Web: www.queenslandminingexpo.com.au
SEPTEMBER 12–16, 2016: Electra Mining Africa 2016, Expo Centre, Nasrec, Johannesburg, South Africa. Contact: Web: www.electramining.co.za
SEPTEMBER 14–16, 2016: The 2016 MEMSA Technical Symposium, Sheraton Sand Key, Clearwater Beach, Florida, USA. Contact: Web: www.miningelectrical.org
SEPTEMBER 25–28, 2016: Solution Mining Research Institute (SMRI) Fall Technical Conference with optional Technical Class on "Elements of Rock Mechanics related to Salt Caverns," Salzburg, Austria. Contact: Web: www.solutionmining.org
SEPTEMBER 26–28, 2016: MINExpo INTERNATIONAL 2016, Las Vegas Convention Center, Las Vegas, Nevada, USA. Contact: Web: www.minexpo.com
For a full calendar of mining industry conferences and events - click here
| | |
| --- | --- |
| WHO'S MOVING WHERE | |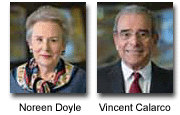 Newmont Mining Corp appointed Noreen Doyle to succeed Vincent Calarco as chair of the board of directors. Calarco will continue as a director. Doyle has been a director since 2005 and previously served as vice chair and head of the board's audit committee.

Mozambi Resources appointed Alwyn Vorster as an independent nonexecutive director. He is currently the CEO of API Management.
MZI Resources appointed Ronnie Beevor as a nonexecutive director. Beevor is currently chairman of Bannerman Resources Ltd., as well as a nonexecutive director of Wolf Minerals Ltd. and Riversdale Resources Ltd.

Carl Pollastro was appointed president of Norwest Corp .'s U.S. operations, following the retirement of Bob Evans. Pollastro joined Norwest in 2009 and worked as senior vice president, engineering/ international.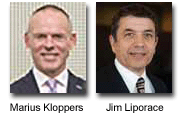 Marius Kloppers, former CEO of BHP Billiton, has been appointed as a new member of the board of FLSmidth. The company also appointed Jim Liporace as vice president of systems in the company's Minerals division.

Amec Foster Wheeler appointed Dr. Jonathan Lewis as CEO, effective June 1. Ian McHoul will cease to be interim CEO and will remain as CFO. Lewis has been employed in a number of senior roles at Halliburton Co. Inc. since 1996. He is currently senior vice president and member of the Halliburton Executive Committee.

Richard Diaz has joined Minemax's Americas team in the Denver office. For the past five years, he has worked as a sales mining engineer in the field of mine planning software.

Avanti International hired Jacob Swanson as the Midwest regional manager. Swanson has more than 10 years of injection grouting experience for companies such as BDA & Associates and Structural Group, including Structural Specialty Contracting and PULLMAN.
About - providing an abreviated version of the current print edition of E&MJ, WOMP is distributed throughout the world to decision makers in the global mining industry, the last week of every month.

Subscribe to E&MJ - To receive your own copy of the print edition of E&MJ, click here , and complete your details. E&MJ is available free of charge to qualified readers.

Contact - if you have views, opinons or comments or editoral that you would like to submit, we would be delighted to hear from you - click here

Top