New Crusher Models Enhance Process Design Flexibility
Manufacturers continue to make it easier to select the right combination of cost, capacity and power to satisfy any set of crusher-circuit criteria
By Russell A. Carter, Managing Editor
---
thyssenkrupp's new KB 63-130 gyratory is
30% more productive, in terms of throughput,
than its predecessor


Modern mine-duty crushers generally do their jobs amazingly well. In fact, it's possible that their broad versatility and effectiveness can sometimes mask deficiencies in upstream or downstream processes such as drilling and blasting during the mining sequence, or pebble handling from SAG mill grinding, respectively.

This isn't the fault of the crusher itself or the companies that build these highly effi cient machines. Crushers, when properly sized for the application and well maintained, can handle most—if not all—of the material dumped into them with very little outside assistance. It's up to mine management and technical staff to decide what goes in them and what comes out in order to achieve optimal process performance.

Several speakers at a recent mining conference touched upon the real possibility that when it comes to optimizing mine-to-mill product flow, a simple shift in focus may produce significant improvements in overall cost control and asset utilization—and as an added benefit, crusher availability and effi ciency might be improved even more.

For example, one speaker offered the example of a mine manager focused solely on "getting tons to the crusher." Optimal fragmentation size from drilling and blasting isn't a primary consideration, as in: "We have this gigantic gyratory crusher. It can handle pretty much anything. Why worry about fragmentation?" The actual issues related to poor fragmentation, the expert noted, aren't primarily associated with the crusher; they take the form of loading and haulage inefficiency, high secondary blasting costs and accelerated equipment wear and failure, to name a few.

Looking further downstream, another speaker suggested that a mill might expend a lot of energy and money on crushing and rehandling those troublesome, grind-resistant pebbles that come out of the SAG mill—and which may not contain enough metal to make their treatment a significant contributor to overall recovery rates.

And yet another pointed to site-specific quirks of mineralogy that can lead to unnecessary crushing and rehandling. At one mine, a study found that fines accounted for a surprisingly large portion of available metal content, with larger fragments being much lower in value. By taking advantage of the natural segregation of material in the ore stockpile—with fi nes remaining at the top while larger fragments worked their way to the bottom— the mine could harvest the top 20% of the pile and maintain recovery rates, while the larger fragments could be crushed and handled on a more selective and cost-effective basis.

Mine operators have high stakes riding on the suitability-for-purpose, reliability and effi ciency of their crushers, particularly those used in primary crushing applications. The economic forces currently in play across the hard rock mining sector put additional pressure on operators to get the most out of their equipment in terms of performance, cost of ownership and safety. Are crusher manufacturers meeting the challenge? Here's a brief rundown on recent product announcements from the industry's leading suppliers.

Giant Gyratory
At the bauma 2016 trade fair held earlier this year in Munich, Germany, thyssenkrupp's Industrial Solutions group introduced the industry's largest gyratory crusher. The KB 63-130 features a design, which, despite a roughly 14% larger mantle diameter of 130 in. (3.3 m), weighs less than its predecessor, the KB 63-114, at 490 tons. Its rated throughput of up to 14,000 metric tons per hour (mt/h) is more than 30% higher than that of the preceding model, said the company. It also noted that the new unit achieved this level of compactness and performance because thyssenkrupp's crushing technology specialists moved beyond customary design principles during its development.

The increase in throughput and significant weight reduction was made possible by combining proven Finite Element Method (FEM) with advanced Discrete Element Method (DEM) simulations. "In the past, the rule of thumb was the bigger the diameter, the taller the crusher," said Detlef Papajewski, head of mineral processing at thyssenkrupp Industrial Solutions. "But, because users generally only need a bigger diameter to increase output, the KB 63-130 is exactly the same height as the other crushers in the 63-in. series despite the larger mantle diameter."

Technical highlights of the new crusher include a rotatable countershaft assembly for setting tooth clearance, and an eccentric bearing assembly with top bevel gear. Along with enabling better balancing of the machine, the new bearing system permits a much more compact design as well as maintenance-friendly assembly and disassembly.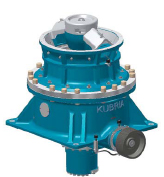 Models in the updated Kubria cone crusher
line can be equipped with the Kubriamatic
control system option, which monitors gap
width, output and pressure as well as
temperatures and oil flow.


The KB 63-130's housing exhibits the "fi sh belly" design seen on other large thyssenkrupp gyratory crushers, intended to reduce stress and increase the overall strength of the housing. However, when used in a semimobile crushing plant (SMCP), for example, crusher weight can be reduced by around 200 mt prior to relocation by removing certain parts. These parts, such as the heavy main shaft fi tted with crushing tools, can also be easily removed for maintenance purposes.

Introduction of the gyratory follows the company's revision and standardization of its Kubria line of cone crushers. On display at bauma was the Kubria F/M 90, whose nomenclature stems from the size of the machine's lower cone diameter of 90 cm. The "F/M" indicates that crushers of this type are used for fine and medium crushing; i.e., mainly as secondary and tertiary crushers. Depending on requirements, the F/M 90 can be equipped with a feed opening of 180 mm and can achieve throughputs of up to 200 mt/h.

Thyssenkrupp refined and optimized the Kubria line to increase the crushers' throughput rates, while at the same time standardizing certain modules—a change that will provide customers with both lower prices and shorter delivery times for the Kubria models, according to the company.

On the updated models, the cone is mounted in an eccentric bearing and driven by a spiral bevel gear with Cyclo-Palloid toothing, which permits the transmission of high crushing forces while ensuring smooth operation. The hydraulic cylinder beneath the machine serves both to adjust the crusher gap and to protect against overloading of the crusher.

Less Care Required
Telsmith describes its T900 cone crusher as a true mine-duty machine. Offering output rates ranging from 550 mt/h to 2,100 mt/h with up to 15-in. (38-cm) feed size, the company said the T900 offers the largest in-class clearing stroke, the highest in-class crushing force, and features 900-hp performance.

Fewer cylinders on the Telsmith T900
mean potentially less maintenance will
be needed.


Among the crusher's reliability and ease-of-maintenance features, Telsmith noted that the T900 is designed with eight cylinders (versus 12 cylinders in conventional units) for reduced maintenance time and costs. The crusher also offers an improved anti-spin feature that prevents head spin, thus extending manganese life. According to Telsmith, the T900 also has the largest-in-class hybrid bearings, which, unlike roller bearings, offer both a static and dynamic lift to efficiently carry the crushing forces. Hybrid bearings feature a washer and ramp design that replaces the conventional use of a socket, socket liner and head ball—all of which typically require time-consuming removal when servicing the machine.

The T900 is equipped with a release system that eliminates the need for maintenance- intensive hydraulic accumulators. Further operational cost savings stem from features such as a concave (bowl liner) retention system, which consists of a specially designed and positioned lip ring that centers the bowl and achieves retention without the use of hammers and other hand tools. The T900 also can reduce inventory costs because it enables the use of a single bowl for all liners over its range of operation, providing versatility in any hard rock mining application.

Upgrade Hardware, Upgrade Performance
Metso recently launched a new generation of upgrades aimed at improving the productivity of older crusher models while reducing maintenance costs and bringing equipment in line with enhanced safety practices. They come in kits with installation instructions; alternatively, Metso can provide the customer with a fi eld service team for support or for the complete upgrade installation.

"Metso understands the tough nature of the current mining market for our customers, so we made it our goal to design a new generation of crusher upgrades that would enable them to generate more ROI without the need for expensive capital investments," said Jaakko Huhtapelto, sales development director for Metso's spare parts business.

The available upgrade kits for Symons/ Nordberg cone crushers and Superior gyratory crushers are as follows: • Symons cone crushers – Advanced bowl adjustment control – Hydraulic motor bowl adjustment system – Hydraulic tramp release and clearing system • Nordberg HP800 and MP cone crushers – Jack screw locking nut – Top mount clamp cylinder – Heavy duty head – MP1250 retrofi t kit – Head maintenance stand • Superior gyratory crushers – Super spider – Arched spider – Shimmed spider bushing – Hydraulic shell separators – Dual balance cylinder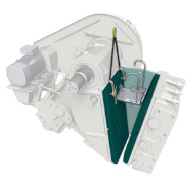 Metso's new jaw-crusher maintenance platforms
are available in versions to match either single
or twopiece jaw die models.


Metso said installing the upgrades can improve productivity through increased product rate capability, easier setting adjustments, better crusher reliability and reduced bridging from oversized materials. Maintenance can be reduced through the improved lifetime of components, more reliable crushing and easier maintenance procedures. Safety can be enhanced through better maintenance practices, reduced stoppages from bridging, and the usage of automatic or remote settings.

Also available from Metso are new maintenance platforms that enhance worker safety when changing wear parts in jaw crushers. The maintenance platforms, for all C Series jaw crushers, include hand rails, a sturdy work platform and a control mechanism that enables precise placement at the desired height of the jaw opening. The aluminum platforms are light enough for one person to move; depending on model size, they weigh between 12 kg and 23 kg.

"With a small investment, Metso's new maintenance platform offers a huge improvement in safety when making jaw changes. When the platform is installed correctly into the opening, it holds the jaw in place so that it cannot drop, even if the jaw's upper mounting hardware is loosened or even removed. The platform is lightweight and it is easy to handle and adjust to fi t the desired level in the crusher cavity," said Ilkka Somero, product manager of Metso's jaw crusher line.

Product Lines Cover the Crushing Spectrum
Sandvik's latest crusher models include the CH860 cone, designed for high-capacity secondary crushing, and the CH865 cone for high-reduction tertiary and pebble applications; both feature higher crushing forces relative to mantle diameter and a 500-kW motor. According to the company, both new crushers combine a range of advanced automation features for a more secure and productive process.

"We scaled down our larger Sandvik CH890 and Sandvik CH895 mining cone crushers to create two mid-range models," said Andreas Christoffersson, product line manager for cone crushers at Sandvik Mining. "Depending on the application, the CH860 and Sandvik CH865 outperform competing equipment in the midrange segment by as much as 30% and deliver a twofold increase in performance range."

FLSmidth offers a comprehensive line of cone crushers, starting at the smaller end of the capacity spectrum with the Raptor 200, which features a low-profile design suitable for mounting on a portable chassis, inverted tramp release cylinders that keep hydraulics cleaner than conventional designs, and a single accumulator for less maintenance. At the other end of the Raptor line is the Raptor 2000, a candidate for "world's largest" and configured with model-specific features such as spiral bevel gearing, double-acting tramp release and clearing cylinder, easy access to critical load-carrying bearings, design elements that include substantial eccentric throw and high pivot point crushing action, and 2,500-hp direct drive with a variable speed option.

In the gyratory crusher market, FLSmidth continues to offer its line of TS gyratories, built around the principle that major crusher service and maintenance functions should be made as safe and convenient as possible. Accordingly, in the TS line the eccentric assembly, bushings and hydraulic piston are easily accessible and removed through the top of the crusher.

The TS line has two variations available, depending on the application and customer requirements. Heavy Duty TS units are suitable for most mining applications, while Ultra Duty TSU units are designed for extreme applications where additional motor power and heavier sections are necessary.

Substantial Sizers
TAKRAF now offers standardized primary and secondary sizers for various crushing applications. The primary sizer product range covers inlet sizes from 2.5 m to 4 m with throughputs of up to 10,000 mt/h, while the secondary sizer range offers inlet sizes from 2 m to 4 m with throughput rates up to 3,500 mt/h.
TAKRAF's primary and secondary sizers are
suitable for all types of feed material,
according to the company.


TAKRAF said it paid close attention to ease of maintenance, reduced downtime and extended service life during the line's initial development. Some of the innovations resulting from this focus are provisions for convenient changeout of crushing segments, and the use of advanced wear-resistant items such as hard-faced segments and tungsten picks. Other features include an inching drive for roll maintenance, a heavy-duty drivetrain and an efficient oil lubrication system.

Meanwhile, Thyssenkrupp announced that its complete RollSizer series—capable of crushing medium-hard rock as well as sticky and soft material—has been standardized and new models added. As a result, according to the company, the entire range of crushing applications can now be handled by RollSizers.

The company highlighted its RollSizer DRS 660X3000 S at the bauma show. With a roll length of 3 m and shaft center distance of 660 mm, the RollSizer DRS 660X3000 S is the second largest member of the family of secondary and tertiary RollSizers. The DRS 660X3000 S features a direct drive system consisting of two spur gears with fl uid couplings. The couplings allow startup even under the load of a full crushing chamber, and also provide overload protection; when the sizer encounters an uncrushable object, the fluid slip provided by the couplings protects the machine against damage. Drive torque is provided by two 250-kW electric motors.
---
As featured in Womp 2016 Vol 05 - www.womp-int.com