GET Set: MTG's New Ground Engagement Tools
---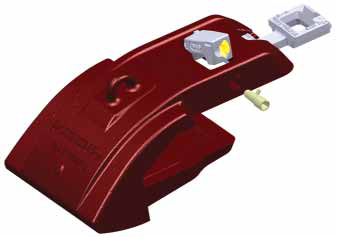 MTG's ProMet line of bucket shrouds features the company's MTGTwist
hammerless locking system.


Ground-engagement tool (GET) specialist MTG has continued to broaden its range of protective components for mining machinery with the recent inclusion of new designs.

In particular, said the company, its range of ProMet bucket GET line offers an easily assembled and disassembled "MTGTwist" hammerless locking system, and comprises a wide range of protectors that have been designed specifi cally to maximize the performance of primary production machines operating in a variety of terrain conditions.

In addition to ProMet mechanical shrouds, MTG offers a range of weldable and bolt-on shrouds that provide increased bucket protection and ensure improved performance for large earthmovers such as excavators (100-350 tons) and loaders (95-250 tons).

The features of the company's blade shrouds for mining applications include:
• A design that can include up to 30% more wear material, compared with competing products.
• Reduced blade exposure to impacts and abrasions, increasing bucket wear life.
• More steel—from 10% to 20%—in the front area of the shroud.
• A fastening system that only requires welding a base for each shroud, thus making installation easy and quick while reducing machine downtime.
• An innovative hammerless locking system that ensures optimum locking for aggressive applications.

MTG's wing shrouds for mining equipment also provide a robust design that is well suited for heavy-duty applications in highly abrasive terrain. This line includes a 1,000-mm wing shroud that is reversible, specifi cally designed for use on mining- class wheel loaders.

In addition, the company recently introduced two new tooth designs for rope shovel buckets. The RSS and RSXX teeth, in combination with MTG's other products, represent a complete solution for protecting rope shovel buckets, according to the company, which claims the RSS tooth is ideal in tough, high-impact applications and is particularly suitable for cases in which the tooth may be subjected to extreme leverage. The RSXX is specially reinforced with wear material, providing longer life in applications that pose an extreme level of abrasion along with high impact.

The two new designs join the existing tooth lineup (RS, RSX and EX), and when combined with the MTG StarMet range of adapters and shrouds for rope shovel buckets, offer a comprehensive approach for protecting shovel buckets that meets common lip confi gurations. The products are designed for use on the most popular rope shovel models, including Cat's 7395 (BE395), 7495 (BE495) and the P&H 2800 and 4100.
---
As featured in Womp 2016 Vol 05 - www.womp-int.com