Working in the Background
At any mine, there will be a fleet of vehicles supporting the main production effort. E&MJ looks at some of these special-use machines.
By Simon Walker, European Editor
---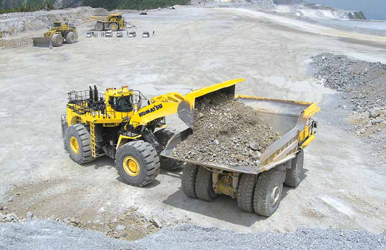 Komatsu's WA1200-6 wheel loader can be fi tted with 18-35 m3 buckets, with an optional
high-lift boom for working with 240- and 320-st haulers


Surface mining involves much more than drilling, loading and hauling. Indeed, in numerical terms, the support equipment needed to run a mine effi ciently will invariably outweigh the size of the primary production fleet.

The range of input is extensive, with a non-exhaustive list comprising dozers, motor scrapers, graders, fuel and lube trucks, water bowsers, lighting sets, heavy transport equipment, fire trucks, supervisors' and engineering staff vehicles, cranes, and explosives-handling trucks.

E&MJ asked a number of companies that specialize in supplying what are often niche machines, as well as some of the world's leading mining- and construction- equipment manufacturers, for an update on their current product ranges.

Komatsu Wheel Loaders
While wheel loaders are infrequently used as primary loading machines, they are more often found as backup for excavators and for general duties such as stockpile rehandling. And while many of the world's manufacturers focus on the lower-capacity end of the market, some, such as Komatsu, offer wheel loaders that can be very much at home on a large surface mine.

The WA1200-6, as an example, can carry buckets with capacities ranging from 18 to 35 m3 (23.5–45.8 yd3), with the capability of four-pass loading a 150-st-class haul truck when equipped with a 20-m3 bucket. A high-lift boom option also allows the machine to service 240- and 320-st-class trucks, with seven or eight passes, respectively.

The high cab position and pillar-less windscreen design allow the operator a clear view for digging, and inside the dump body on a 240-st truck for loading. Komatsu also noted that the machine has the widest tread in its class, giving maximum stability.

Earlier this year, Komatsu introduced the latest version of its smaller WA600 wheel loader, the WA600-8. Powered by a Tier 4f engine and with a standard 7-m3 (9.2-yd3) bucket, the machine uses up to 13% less fuel than its predecessor model, the company claims. A redesign means that the bucket fi lls easier, retains material better and provides better visibility.

"With signifi cant enhancements in production capacity and fuel economy, the WA600-8 is designed to maximize production effi ciency in loading off-highway trucks or load-and-carry applications," said Rob McMahon, product manager for Komatsu America, at the machine's launch.

Meanwhile, Komatsu is one of the world's major suppliers of heavy dozers for mining, with three models to offer: the 71.6-mt D375A-6; the 108.4-mt D475A-5; and the 113.2-mt D475A-5SD Super Dozer. In each case, the weights shown are all-up, including the blade, ripper and other equipment. The company claims that the Super Dozer blade produces about 15% more than a conventional blade, combining high capacity with low dozing resistance.

Liebherr Debuts New Dozer
Launched in January, with its fi rst public event at bauma in April, Liebherr's 70-mt-class PR776 dozer offers signifi - cantly lower fuel consumption than the industry standard while producing comparable pushing performance, the company claims.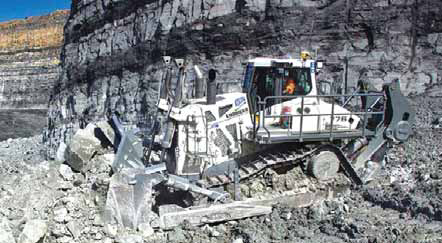 Designed for mining, the Liebherr PR776 takes hydrostatic-drive dozing to a new level.


Designed for mining and quarry operations, the PR 776 is powered by a Liebherr 12-cylinder diesel engine developing 565 kW (768 hp), has a maximum operating weight of 74 mt and is equipped with blade capacities of 18 m3/23.5 yd3 (semi-U blade) or 22 m3/28.8 yd3 with a U blade. The infi nitely variable hydrostatic travel drive optimizes pressure fl ows, with the hydraulic servo pressure being based on demand, according to the task.

It also has an ECO function that allows the operator to choose between high performance and maximum effi ciency. Together with an intelligent engine-management system, this helps to optimize all the machine's systems and processes to maintain a constant engine speed, increase overall machine effi ciency, and reduce fuel consumption, according to Liebherr.

The company noted that another major advantage of hydrostatically powered crawlers is their good maneuverability, with continuous power to both tracks, when working in restricted spaces. Control is through a multifunction joystick that houses all of the operating and steering movements. The operator can adjust a range of machine settings as required, including the travel drive, blade and rear ripper, while from a safety aspect, the seat detects and adjusts to the operator and deactivates the machine when exiting the cab without a safety lever having to be actuated.

From the cab, forward visibility is completely unobstructed, while the side view of the working area is clear and unobstructed by the work platform that allows access to the cab, service points and fl uids fi ller necks. ROPS/FOPS protection is integrated directly into the cab structure, with cab access provided by newly developed illuminated safety ladders. Working area illumination comes from high-performance LEDs.

Cat's Lineup
According to Cat, wheel dozers are the ultimate utility machines for mines using shovels. Highly mobile, a wheel dozer can move in quickly to clean up around loading shovels and to clean up spillage on access roads—so there is less truck tire damage and trucks can spot more easily. The company introduced its 824K wheel dozer in late 2014, with the new machine available with six blade confi gurations ranging in capacity from 5 to 16.2 m3 (6.6-21.1 yd3) to customize it for production dozing, stockpile dozing or cleanup work.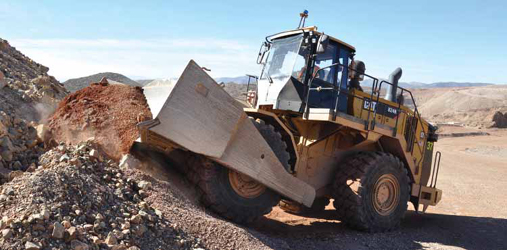 Highly versatile wheel dozers, such as Cat's 824K, handle cleanup around a mine.


Cat followed this last October with the launch of the 18M3 motor grader, designed for mines using trucks with capacities of up to 172 mt (190 st). On average, the 18M3 has 5% more power in each gear than the 16M3, and is equipped with a 5.5-m (18-ft) moldboard rather than one 4.9-m (16 ft) wide, to give greater coverage per pass.

For dust control or haul road maintenance, Cat's Water Delivery & Control System (WDS) is available for the 777G and 785D bare chassis equipped with water tanks. The WDS is independent from the engine speed, providing fuel and water savings, spray pattern control and an end to overwatering, Cat said, with an automatic shutoff when the truck speed falls below 4.8 km/h (3 mph). Seven different automated spray patterns, including intermittent sprays, allow the operator to concentrate on driving safely.

Since 2011, Caterpillar and Arch Coal's Black Thunder mine have been working together on the development and operation of the MineStar Command for dozing system that allows one operator to run several dozers remotely. The mine now has four D11T dozers equipped with the system, which it used first for reclamation work and more recently for production overburden removal ahead of dragline operations.

As of August last year, the system had logged more than 25,000 hours of teleremote and autonomous operation time, and had moved more than 17.5 million loose m3 of material. Cat reported that enhanced operator safety is a key benefit, with less chance of injury while accessing the equipment and from ergonomic challenges while ripping. To take advantage of the benefi ts of automation, the mine altered part of its production sequence so the dozers could continue working in the cast overburden.

Transporter for Drills and Dozers
Building on the experience gained from its E-series transporters for moving large hydraulic excavators within surface mines, two years ago, Finnish company Sleipner launched a four-wheel transporter designed to handle dozers and blasthole drills.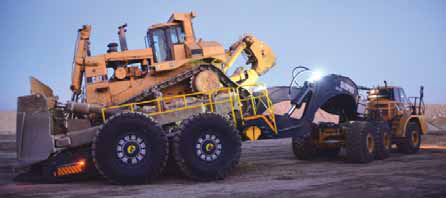 Sleipner's DB-series transporters give extra fl exibility to big machines.


The Sleipner DB-series is designed for moving large dozers, drills and other heavy tracked machines weighing up to 120 mt. With a tilting trailer bed and high ground clearance, the DB allows onsite transport speeds of up to 30 km/h. Machines can be used with greater operational fl exibility and less undercarriage maintenance, the company stated.

Towed by an articulated dump truck (ADT), the trailers can be used on rough terrain and where haulages have tight corners. The hydraulically tilting bed means that drills and dozers can be driven on to the DB120 in less than two minutes. Once loaded, the bed is leveled for transport using independent hydraulics powered by the ADT. The wide wheel gauge provides good stability, and there is no risk of overturning even if the wheels drop off the roadway, Sleipner said.

With a full load, the ADT can handle uphill grades of up to 10% in regular on-site conditions. Transporting downhill with a full load is safe up to 14%, with brake surfaces at the tail of the trailer being lowered to touch the roadway: the ADT actually has to pull the trailer downhill with the brake force being monitored and controlled automatically.

Water Tanker Innovation
Wyoming-based Mine Rite Technologies offers all sizes of water tankers for surface mines within its product portfolio. All of its tank bodies feature an "open-access" engineered baffl ing system for stability, with the water tankers being secured to the carriers' standard chassis mounting points.

The company's director of sales and marketing, Dennis Frank, told E&MJ that it has recently submitted a patent application for its new design of water tank that does away with one of the bugbears of traditional designs. "Confi ned entry to these tanks has always been a problem, especially when repairs are needed to the antisurge baffles inside," he said.

"The removable cylindrical baffles that we have designed do away the need for repairs to be done inside the tank itself. Individual baffles—all of them, if need be—can be lifted out and worked on in the shop, with no need for anyone to go inside the tank at all."

The open-access water tank truck body is conventionally styled, but has a baffl e system made up of a series of perforated steel cylinders that are stacked horizontally within a tubular steel support system in the tank. Traditional designs use a walled steel baffl e system within the tank.

Water will always surge in the tank during use, and over time, this can result in the baffles being damaged. Mine Rite pointed out that with a conventional walled steel baffl e system, this requires people to enter the tank to undertake any repairs needed, creating a "confined space" hazard situation that increases as they have to move from chamber to chamber within the tank.

Since the open-access baffle system is removable, no personnel entry is needed. With all the perforated steel cylinders removed, the entire tank is open at the top, allowing for inspection or maintenance of the internal support structure—and there are no confined spaces within the tank.

Flexible Transport With TowHaul
TowHaul Corp. manufactures off-road lowboys specifi cally designed for open-pit mining. The company told E&MJ that it currently has more than 230 units operating worldwide, handling payloads ranging from 100 to 600 st.

TowHaul's gooseneck attaches to lowboys and special trailers, and can tow haulers too.


TowHaul's flagship product is the removable gooseneck and lowboy. The key feature of the system, the gooseneck disconnects from the lowboy and can be used for a range of tasks. Its primary function is normally to connect with and pull the lowboy, but it can also be reconfigured at the touch of a button to tow disabled haul trucks with an optional towing conversion package—a feature fitted to around 80% of the lowboys the company has supplied.

Thus, with a single dedicated haul truck, mines can accomplish a range of crucial tasks, the company pointed out. Equipment regularly hauled on Tow- Haul lowboys includes excavators, drills, crawler and wheel dozers, graders, pipelayers, highwall miners, and continuous miners. As well as being used for towing disabled haul trucks, the multipurpose gooseneck can connect to specialist Tow- Haul trailers such as the company's Dragline Bucket Transporter or Water Tank Carrier.

TowHaul lowboys are designed, manufactured and shipped in modular form, making the parts easier to handle and cutting shipping costs. Once on site, the modules are pinned together, with lowboy installation typically taking just three to five days. The design features a single, haul-truck type axle, with options of either dry drum braking or wet brakes with a patented brake cooling system. For loading, the lowboy's low-profile ramps are designed so as to reduce the "breakover" as the equipment transitions from the ramps to the deck.

The company can customize its lowboy confi gurations to operate more effectively under specific conditions: examples include several that are currently operating in the Alberta oil sands industry, while for units working in the high-temperature environment of Western Australia, Tow- Haul upgraded the brake cooling system for its 450-st-capacity lowboys to improve the cooling of the oil used.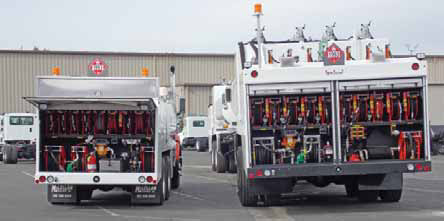 Hydraulically operated hose reels on McLellan's standard (left) and mining (right) lube trucks.


Specialist Lube Trucks
Big mining machines need regular maintenance, with the replenishment of lubricants and fuels a key aspect of this. And, of course, it is simpler to take the lubricants to the machine rather than having to bring the machine to the shop—which may indeed be completely impractical in any case.

California-based McLellan Industries has come up with a solution to this challenge, based on the concepts developed by the company's founder, Dale McLellan, for other industries—but bigger. Sales manager Joe DeBattista told E&MJ that while its standard lube truck is based on a conventional chassis, some of its mining customers have specifi ed a heavier-duty, off-road body for mine-site use.

Designed for on-site heavy-duty refueling and service, McLellan's mining lube truck carries large volumes of both fuel and service lubricants. Fitted as standard is a 5,300-U.S. gallon (20,000-liter) fuel tank, plus outlets for all of the different tubes of lubricants needed. A hydraulically driven dispensing system handles all of the products, with metered diesel filling, and oil delivery including used oil retrieval. Water and antifreeze can also be carried. A key feature is the use of hydraulically operated hose reels, which make the operator's job much easier and safer than having to rewind hoses manually.

DeBattista said the largest single fleet of these vehicles is now working at the Semirara coal mine in the Philippines, where four 11,000-gallon-capacity trucks service the mine's equipment. Mining lube trucks have also been sold to Barrick for use in its gold operations, to Bridger Coal in Wyoming, and to Freeport's Sierrita copper mine in Arizona. Options for off-highway applications include the 6×4 Kenworth C500 and Western Star chassis, while mines with less severe conditions can select a conventional roadgoing design for their trucks, he added.

For Moving Big Machinery
Some of the largest items of equipment to be found in surface mines, semimobile primary sizers and crushers are designed to operate from a fixed location for as long as the mine plan dictates, then to be moved to a new location as required. Heavy and traditionally awkward to handle, relocating semimobile sizer components need special equipment.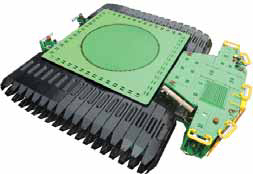 MMD's Atlas 500T can carry 500-mt loads.


According to MMD, its Atlas 500T Transporter enables mines to take full advantage of cost-effective short-haul shovel-and-truck operations by relocating semimobile structures in a safe and controlled manner. Compact in design, the 500T can negotiate gradients of up to 10% with a payload of up to 500 mt. A single transporter can serve several units and structures around a mine, and can safely lift and move a module having a maximum center of gravity height of 7.3 m (24 ft) relative to the ground surface.

Itself weighing 145 mt, measuring 7.1 m wide with a minimum height of 1.6 m, and carried on MMD-designed heavy-duty crawlers, the transporter has been designed to provide a firm foundation for lifting large, heavy structures. The upper table of the transporter can slew fully in both clockwise and anticlockwise directions, independent of the crawlers, and can lift and rotate payloads at any height for optimum travel.

Utilizing more than 80 sensors, the MMD transporter can monitor and maintain its payload's center of gravity automatically while traveling over different terrain and gradients. In-line and cross gradients of up to 10% can be handled, with a built-in inclinometer monitoring the angle of the transporter during transit.

The transporter is controlled by a wireless unit that provides live feedback and maximum control while traveling, lifting or slewing, with the operator able to adjust the travel speed within the system's safe working limits. MMD cited the example of relocating a semimobile sizing station at a mine in Africa, using the 500T to move the five main modules a distance of 5.5 km. Individual module weights were 112, 120, 145, 230 and 465 mt, with the route involving grades of 5%-8%.

Lighting Towers: Safety and Security
Having effective lighting is critical to safe nighttime operations in surface mines, especially in high traffi c-volume areas such as crusher dumps and haulage intersections. Security can also be a major concern, with adequate lighting essential to help combat unwanted activities.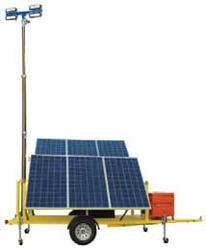 A tower of solar power for LED security lighting,
from Larson Electronics


As an example, the SP366A-600 solar- based light tower system from Larson Electronics is used at open sites primarily for security. Comprising an 18-ft (5.5-m)- tall aluminum mast and 590-W solar panels, the equipment is typically equipped with wireless repeaters and cameras for remote surveillance, the company's CEO, Rob Bresnahan, told E&MJ. With fuel costs for a comparable diesel- powered generator unit running at some $6,000 per month, the payback period on a solar system can be very quick, Larson pointed out, with no noise, fumes or diesel-engine maintenance.

For something larger, Larson offers a 1.8-kW solar power generator with a 30-ft (9.1-m) pneumatic light tower mast carrying four 160-W LED lights. A full charge can be generated in 5.5 hours of full sunlight, and according to Bresnahan, these are used for security purposes in mines in Utah.

Bresnahan added that Larson's WCDE- 11-PLM50-16X500LTL-LED 50-ft (15.3-m) tower carries 16 500-W LED light heads and can replace five standard 4 × 1,000-W light towers. Primarily used on oil-sands build sites, these units can run off grid power or a small 10-kW genset, with the 150-gallon (570-liter) fuel tank giving long run times between refueling. The entire assembly is mounted onto a 21 × 8-ft tandem-axle trailer for easy intersite transport.

Meanwhile, the WCDE-4-4X400LTLLED is an LED version of the company's standard light tower, with its four 400- W lamps capable of illuminating an area of 6-7 acres (2.5 ha). The diesel engine will run for up to 80 hours before refueling, with the LED fl oodlights being fi eld serviceable.

Firefighting Technology Transfer What do airports and open-pit mines have in common? For a start, lots of large, very expensive equipment that needs rapid reaction in the event of a fire.

In 2012, the Iron Ore Co. of Canada (IOC) bought an Oshkosh Striker 8 × 8 aircraft rescue and firefighting truck for use at its Labrador operations. The IOC evaluated a range of traditional fire apparatus systems, then selected the Striker because of its ability to travel on rough haul roads and its onboard water capacity.

IOC's Striker is equipped with an independent suspension system, triple agent firefighting capabilities and Command Zone advanced electronics. It has a 4,500-U.S. gallon water tank, a Snozzle high-reach extendable turret, a foam system, a dry chemical system and a structural firefighting package with preconnected hand lines. The vehicle is also winterized for use in temperatures down to -40°C.

The Striker is available in 4 × 4, 6 × 6 and 8 × 8 confi gurations, with all-wheel drive and rear-axle steering to improve maneuverability and reduce tire wear. A large panoramic windscreen provides clear visibility for the driver, while the optional Snozzle boom is available in lengths of 50 ft and 65 ft (15 and 20 m), allowing the fire crew to place water, foam or other agents directly into the heart of a high-level fire on, say, a 320-st truck or a shovel.

IOC's Striker has an Eagle Eye driver's enhanced vision system that combines a moving map display with an infrared thermal imager for better visibility and situational awareness in poor conditions. With a wireless data link, it also provides real-time critical information between the crew and the command center.
---
As featured in Womp 2016 Vol 05 - www.womp-int.com