Eldorado Sells Interest in Jinfeng to Chinese Minority Partner
---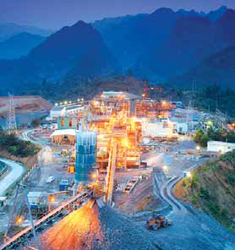 The Jinfeng mine will process stockpiled and
underground- mined ore going forward, after surface
mining came to a halt in 2015. (Photo: Eldorado Gold)


Eldorado Gold Corp. announced that it has reached an agreement to sell its 82% interest in the Jinfeng mine to a wholly owned subsidiary of China National Gold Group for $300 million in cash, subject to certain closing adjustments.

Jinfeng is an open-pit and underground gold mine located in China's southern Guizhou Province. It uses BIOX technology and a conventional CIL circuit to produce gold doré. Construction of the mine began in 2005 and commercial production commenced in 2007. Eldorado acquired the mine in 2009 via its takeover of Sino Gold.

In 2016, Jinfeng is expected to process 930,000 metric tons (mt) of ore at a grade of 3.89 grams per mt (g/mt) of gold. The ore will be sourced from the underground operations and a small amount of stockpiled material; surface mining was halted in April 2015. As underground development opens additional working faces, underground ore mining will increase to an eventual target of 1.2 million mt/y of ore, bringing production back above 130,000 oz/y gold.

Sustaining capital costs for 2016 are estimated at $15 million. Major capital items include underground development to increase mine capacity for the processing of 1.2 million mt of ore by 2018 and the facilities required for the expanded underground work.

"We are pleased to have reached an agreement which we believe mutually benefi ts both companies. China National Gold has been our minority partner at Jinfeng for more than 14 years and is the logical buyer as the operation transitions fully into the underground," said Paul Wright, president and CEO of Eldorado Gold.

The transaction is expected to close in the third quarter of 2016 and is subject to obtaining various regulatory and other approvals and other customary closing conditions.
---
As featured in Womp 2016 Vol 05 - www.womp-int.com